Whether you are an educator looking for distance learning solutions, or a parent looking for ways of keeping your little ones engaged, or someone who cares about children having uninterrupted access to reading resources even during school closures due to the COVID-19 outbreak - StoryWeaver is here to support you.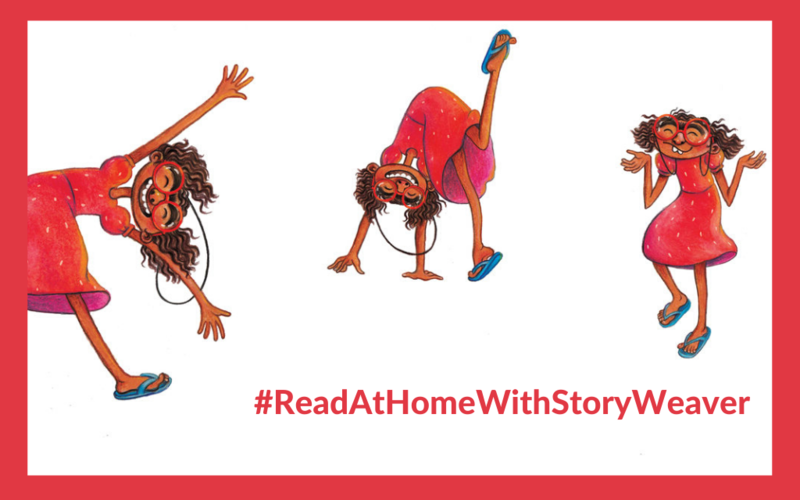 Illustration by Ekta Bharti, for I Love Me, written by Menaka Raman and published by Pratham Books.

We have more than 19,000 storybooks in 230 languages, available on our platform www.storyweaver.org.in which you can read online, on your phone, download or print PDFs, all for free. Here are some of the other ways that you can use StoryWeaver:
--> The Reading Programme is an easy-to-use, curated collection of books, themes and activities, tailored to suit the learning needs of children from Grades 1 to 8. Sign up for free and help children fall in love with books and reading! http://bit.ly/33jYdMl
--> The STEM Reading Lists have a collection of storybooks that spark curiosity and interest in children to explore concepts related to science, math and technology: http://bit.ly/3aR5RR9
--> The Readalongs are audio-visual storybooks that early readers can listen to as they learn to read. These books have subtitles that mirror the audio narration of the story, which help children build language acquisition skills: http://bit.ly/3aS5Nk2
--> StoryWeaver's English and Hindi YouTube channels have delightful, artfully narrated video stories to engage children and nurture their thinking and imagination.

Explore StoryWeaver's local language digital libraries that are available in Amharic, Assamese, Bahasa Indonesia, Bangla (Bangladesh), BasaJawa , Bengali, Chinyanja, Farsi, French, Gondi, Gujarati, Hindi, Igbo, Kannada, Khmer, Kiswahili, Kolami, Konkani, Korku, Luganda, Macedonian, Marathi, Nepali, Odia, Punjabi, Serbian, Tamil, Telugu, Tibetan, Urdu, Vietnamese and Yoruba, to name a few.

If you are looking for more distance learning solutions, here is a comprehensive list shared by UNESCO.

Thanks to the power of open licensing, technology, and our network of wonderful authors, illustrators, translators and partners, we can give children around the world free access to joyful reading material, even during school closures.

Keep calm, stay safe and #ReadAtHomeWithStoryWeaver.
P.S. Do share your 'read at home' moments with us on Facebook, Instagram and Twitter using #ReadAtHomeWithStoryWeaver, and inspire our community!
Be the first to comment.
---
Pratham Books (www.prathambooks.org) is a not-for-profit children's book publisher that was set up in 2004 to publish good quality, affordable books in many Indian languages. Our mission is to see 'a book in every child's hand' and we have spread the joy of reading to millions of children in India. As a publisher serving every child in India, Pratham Books has always pushed the boundaries when it comes to exploring innovative ways in which to create access to joyful stories and have been fortunate in finding partners to collaborate with who share this vision.
In 2015, Pratham Books' increased its footprint by going digital. As an industry leader, we were one of the first publishers in the country to open license our content. All this content is now available on StoryWeaver, which is a digital platform that hosts stories in languages from India and beyond, so that every child can have an endless stream of stories in her mother tongue to read and enjoy. The stories can be read, translated, versioned or downloaded for free. All stories on the platform are openly licensed.
We are looking for a Content Manager for the StoryWeaver team.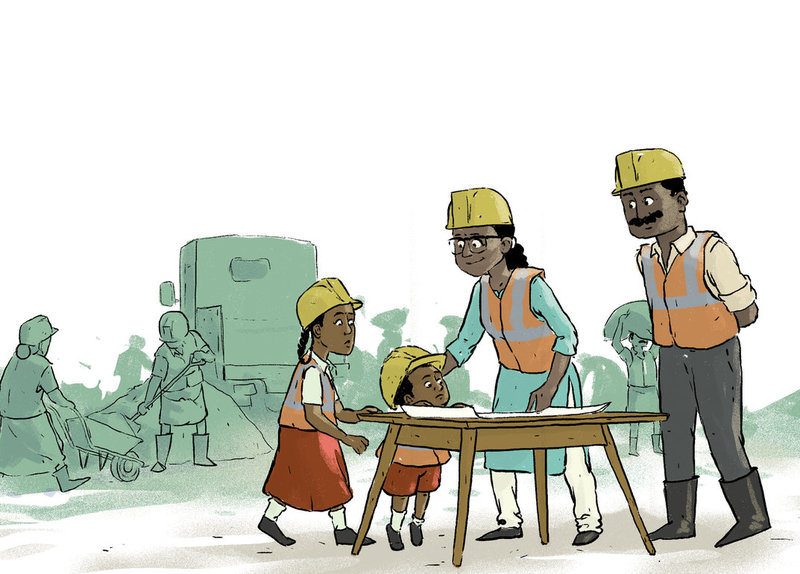 Illustration by Mohith Mohan from Building a Building, written by Kavitha Punniyamurthi, published by Pratham Books
We are looking for a dynamic individual for the position of Content Manager - StoryWeaver. A self-motivated individual with experience and skills in curating content from multiple sources, forging strategic partnerships and anchoring the process of migrating content to the platform. The person will lead a team and be responsible for timely execution to expand the content available on the platform to serve the needs of children globally. The role will report to the Director - StoryWeaver and will work closely with different internal and external stakeholders. This is a full time position based out of Bengaluru.
Key Responsibilities:
Lead the strategic planning, development, and management of content on StoryWeaver

Curation of Content

Continual development of new, innovative ideas to curate the content on the platform

Curate content based on requirements of organisations and partners so as to ensure users access quality content

Licensing and Sourcing Content

Create partnership opportunities with other publishers to open license their content on the platform

Work closely with the content team for sourcing children's storybooks under open licences from across the globe

Create, implement and showcase the best practices around open licensing of content through easily replicable frameworks

Orienting to Curriculum

Liaison with educational and governmental partners and teachers on curating content based on curriculum and structured frameworks.

Collaborate with internal and external stakeholders and subject matter experts to create and source curriculum based content.

Hygiene and Maintenance

Liaison with collaborators and internal and external stakeholder to ensure that high quality standards are met for crowd-sourced content - including review processes and red flagging of inappropriate content

Work closely with operations and studio teams to ensure processes and work-flows are created and well implemented

Work closely with the editorial, research and marketing teams on promotions and campaigns and to deliver the project goals

Other Tasks

To take on other tasks or responsibilities, as required for the project

Archiving and documentation
Required Skills
Post graduate in Literature / Education / Journalism with 6-8 years of experience in related fields. Experience with digital platforms is favourable

Experience in curriculum development or classroom experience

The candidate must have hands-on experience in review, proofreading and production related processes.

Exceptional communication skills

Highly organized and detail oriented

A proven track record to manage, lead and deliver large-scale operations

Proven ability to build consensus and work effectively within a cross-departmental team
Nice to have but not mandatory
Experience working with non-profits

1-2 years working in a partner-facing role

Indic language and digital publishing experience
Location:
This is a full-time position in our Bangalore office.
Compensation:
Salary will be commensurate with qualifications and experience
Write to us:
Email your resume with 'Content Manager - StoryWeaver' in the subject line to [email protected]
---
Be the first to comment.
---

Today is World Storytelling Day, which means it is time for our annual storytelling contest: Retell, Remix, Rejoice - this time, with a twist! This year's edition of Retell, Remix, Rejoice will focus on translating some wonderful storybooks on StoryWeaver, and adding to the pool of multilingual children's literature.
Translate storybooks and share the joy of reading in 10 languages
At StoryWeaver, we believe that every child deserves joyful storybooks in her own language. In order to work towards this, Retell, Remix, Rejoice 2020 will nurture the translator community, to find and encourage translation talent in 10 languages: Bahasa Indonesia, Hindi, Gondi, Gujarati, Kannada, Malayalam, Marathi, Tamil, Telugu, and Vietnamese.
If you are fluent in one or more of these languages, just fill in the participation form (link below), and we shall assign you a storybook. All you have to do is translate the book into the shortlisted language and submit it!
This year's prize
The winner(s) will have a one-on-one mentoring and feedback session with an editorial expert. The winner(s) will also receive a print copy of the translated book (only for participants based in India), and the winning translation will be published and highlighted as a Recommended title on StoryWeaver.
How to enter
Enter the Retell, Remix, Rejoice 2020 contest here: https://bit.ly/RRR_Contest
Guidelines for submission
1. The contest will run from March 20, 2020 to May 20, 2020
2. All translations submitted must be your own work.
3. Translations must be in Bahasa Indonesia, Hindi, Gondi, Gujarati, Kannada, Malayalam, Marathi, Tamil, Telugu, or Vietnamese.
4. Participants must be over the age of 18 to participate.
5. By submitting your work to Retell, Remix and Rejoice 2020, you are agreeing to a CC-BY 4.0 license being applied to it. This license lets others distribute, remix, tweak, and build upon your work, even commercially, as long as they credit you for the original creation. To know more about CC-BY 4.0, click here.
6. Terms and conditions apply. All final decisions rest with Pratham Books' StoryWeaver. For more read here.
---
FAQs
1. I am an individual - can I take part? What will I need to participate?
Yes! Your translating skills are very helpful. All you will need is a WiFi connection and a desktop or laptop.
2. I represent an organisation. Can we take part?
We encourage you to spread the word in your network, to participate as individuals if they are fluent in one (or more) of the listed languages.
3. I have no prior translation experience - is that okay?
It is absolutely fine if you have no prior translation experience - if you are fluent in one of the listed languages for RRR 2020, you are all set! Refer to our translation resources here, for some useful tips on the nuances of translating children's storybooks and for a guide on how to use the StoryWeaver Translator tool.
4. Is there prize money to be won?
There is no prize money. However, the winner(s) will receive a print copy of the translated book (only for participants based in India), and the submitted translation will be published and highlighted as a Recommended Translation on StoryWeaver. The winner(s) will also have a one-on-one session with a Pratham Books' editorial expert.
5. How will I get credited for the book(s) I translate?
Once you create your own, individual account on StoryWeaver, this ensures that you receive an attribution for your translation.
6. Can I translate more than one book?
Absolutely! Do mention this in the entry form. However, while multiple entries are allowed, every translation will be taken on its own merit at the time of evaluation.
7. Can we translate books into more than one language?
Yes! Do select the languages accordingly in the entry form.
8. What if the book that is assigned to me already has an existing translation? Does my contribution still count?
Yes, it does!
9. Can I write my own story?
This edition of Retell, Remix, Rejoice is focussed only on translation, and not original submissions.
Enter the Retell, Remix, Rejoice 2020 contest now!: https://bit.ly/RRR_Contest
For any queries, do write to us at [email protected]
---
Do join the conversation by leaving your thoughts in the comments section below. You can also reach out to us through our social media channels: Facebook, Twitter and Instagram.
comments (8)
---