International Mother Language Day is celebrated annually on 21 February to promote awareness of linguistic and cultural diversity, and multilingualism.
---
The ability to read is the ability to learn, to explore, and to imagine. But without books to read, how will children become readers?
In many parts of the developing world, millions of children still lack access to books in their mother tongue, that they can easily read, understand, and learn from.
UNESCO reports that children learn better in their mother tongue, for all the benefits created in supporting reading skills acquisition among children, and building a strong foundation for learning. The disruption of education systems due to COVID-19 has deepened inequities, and the need for high-quality, multilingual children's books is more urgent than ever.
Every year, StoryWeaver marks International Mother Language Day in an effort to highlight that learning to read in one's mother tongue early in school helps reduce dropout rates and makes education more engaging, meaningful and enjoyable for children.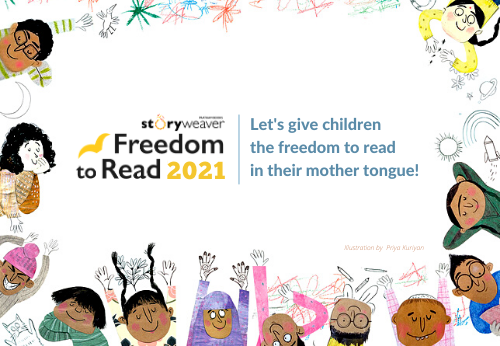 .

In keeping with UNESCO's theme for the 2021 International Mother Language Day - "Fostering multilingualism for inclusion in education and society" - we are renewing our commitment to progress towards Sustainable Development Goal 4: Quality Education For All, by enabling the creation of and open access to local language children's books.
We are delighted to announce that entries are now open for the 5th edition of our 'Freedom to Read' campaign, which focuses on the translation and sharing of open digital libraries in local languages.

This year, we look forward to collaborating with government education departments, state education ministries, government language and culture promotion boards, civil society organisations, language promotion organisations, NGOs and large advocacy groups that work with children.

StoryWeaver will train and skill each of the selected partners to translate and share an open digital library of at least 50 high-quality books, in a language of their choice.
How will we do this?
By supporting our partners with the selection of suitable books for their children. The books encompass a range of reading levels and themes, including Early Readers, Bilinguals, STEM storybooks, as well as the Curated Reading Programme.

Training them to translate quickly and efficiently.

Conducting editorial masterclasses tailored to their needs, and more
A

pplication timelines and guidelines
The last date for applications: March 07, 2021

Pratham Books reserves the final rights to select partners.

Selected partners will sign a letter of understanding with Pratham Books.

Only selected partners will be eligible for translation support and mentoring.

Applications for building digital libraries in languages with few or no books will be given preference over those in mainstream languages or languages that already have a digital library of 100 storybooks on StoryWeaver.

Applicants with basic digital infrastructure and language resources to create a local digital library will also be given preference.

All content created and published by you / your organisation on StoryWeaver as part of the 'Freedom to Read 2020' campaign will by default be licensed under CC BY 4.0.
Fill up the application form here: APPLY NOW

---
If you have any queries about Freedom to Read 2021, you can access the FAQs here or write to us at [email protected], or send us a message on WhatsApp at +91-9886110408.
comment (1)
---