Pallavi Rao has done her MA in English and loves music, literature and painting. She is the daughter of well-known Kannada writer Vaidehi, and has worked on a compilation of talks by eminent theatre personality Sri B.V Karanth (edited by Sri Muralidhar Upadhya). Pallavi has been teaching PU students in several places and currently resides in Delhi. She has translated several storybooks to Kannada including The Night the Moon Went Missing and A Whistling Good Idea on StoryWeaver.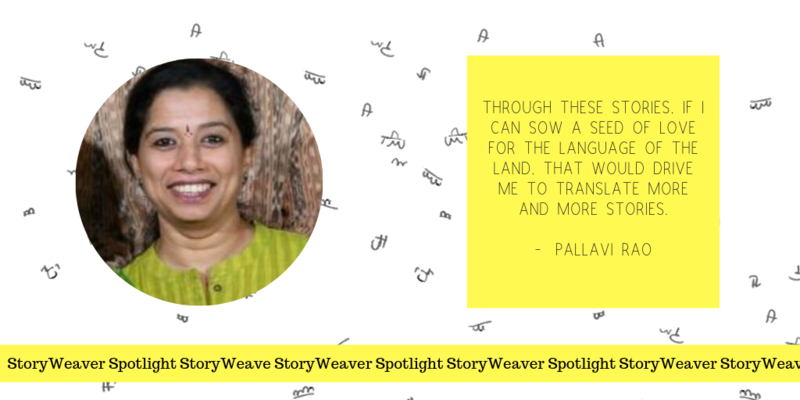 Q: You carve out time for translating children's books from a busy life. What do stories in translation bring to young readers?
Young readers unknowingly come to know the culture, way of life and language at a young age itself. I think it is very important to imbibe these qualities at a young age.
Q: What is your personal relationship to language and/or translation?
Kannada being my mother tongue, I have read and listened to several great writers and thinkers in Kannada. I breathe my language and this helps me bring stories into Kannada.
Q: What is your take on translation?
Translation is a very responsible task. You have to translate the story keeping its original flavour intact and at the same time giving it the flavor of the language it is translated into. One should have a grip on both the languages i.e., from which you are translating and the one to which it is being translated into.
Q: Translating certain stories must have required a lot of research, especially when it came to STEM-related terms and concepts. For example, stories like A Whistling Good Idea. How did you explore new objects and concepts?
When I read a story to be translated, I dwell on it and begin thinking it in my language. It helps me to understand the story in local circumstances so that I can translate accordingly. While translating concept-oriented stories like 'A Whistling Good Idea', I felt it was such a nice way to make a child understand the concept in a playful manner. Difficult concepts are quite hard for children, but when the same concept is told through games, it becomes simple and hence is more understandable and easy for a child.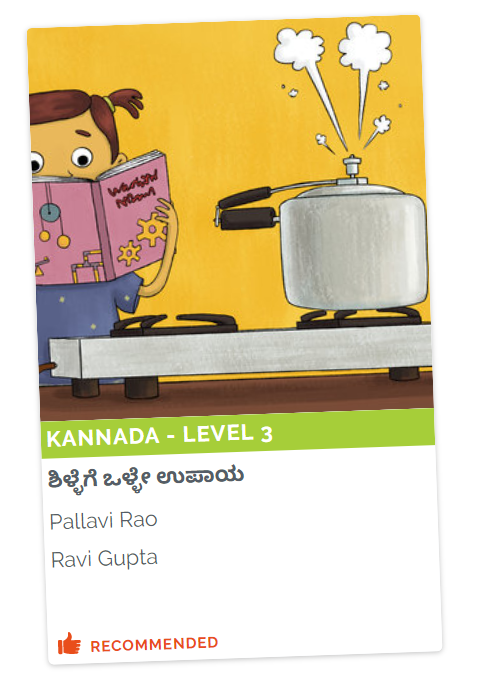 'A Whistling Good Idea', translated by Pallavi Rao
Q: You have contributed for us immensely. How has the StoryWeaver journey been? What is one big takeaway from this experience?
Overwhelming. By repeatedly wearing a child's shoe while translating, it has made me more observant and my mind keeps weaving stories for children from whatever I observe around me!
Q: How do you feel when your story reaches the child?
If I can ignite the imagination of a child and add to the child's vocabulary through my stories, nothing would be more satisfying.
Q: What is your key driver in taking up translation of stories into Kannada?
I have a very strong feeling towards my language. Children in big cities in my state rarely speak Kannada, which is very disturbing. Through these stories, if I can sow seed of love for the language of the land - that would drive me to translate more and more stories.
Q: How else do you think we can join hands to take more stories to more children in more languages?
India has abundant folk stories and poems for children in regional languages. They have to be made reachable to more children in other languages too. For example, in Kannada, we have stories of Panje Magesh Rao, Hoysala, Ullala Mangesh Rao, Ugrana Mangesh Rao, Rajaratnam and so on. Apart from translating stories from English to regional languages, I feel that we should also translate stories from regional languages to English and to other regional languages as well.
Q: When you have been given a story to translate, what is your process, and how long does it generally take?
I read the entire story two or three times, linger on the story and try to visualize the same while working on other chores. I try to keep the language simple, use more of sound words to make it more attractive and increase the vocabulary in children.
Q: What is the hardest thing about translating from English into Kannada? How do you navigate words or phrases that are tricky to translate?
Certain English concepts are not present in Kannada. For example, we don't have a 'cape' in our costume. In such times we have to coin a word in Kannada and ensure that the image is translated successfully to the child.
Q: Do you have any advice for anyone interested in becoming a translator?
Keep the language as simple as possible and make it interesting for children by visualising the story yourself to get the best output.
Q: A book you'd like to recommend to other translators?
From the ones that I have translated it would be 'A Whistling Good Idea'.
Q: Can you tell us anything about yourself and your job that would surprise us?
Cooking and painting interests me to a large extent. Experimenting techniques in both the fields are the same, I feel.
---
We would love for you to join the conversation by leaving your thoughts in the comments section, or on social media: Facebook, Twitter, Instagram
Be the first to comment.
---
Karthigeyan Sivaraj is a Google Serve campaign volunteer who has worked with StoryWeaver to help translate several storybooks into Tamil, including I Can Climb! and My Best Friend.
In this Q&A, Karthigeyan shares his experience about translating on StoryWeaver, his insight into the translation process, and his love for children's literature.
---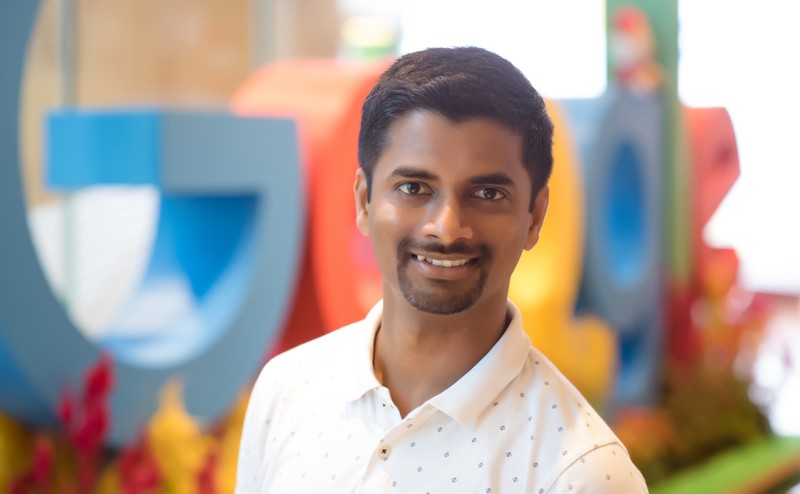 Q: Do tell us a little bit about yourself, your interests, your work
I'm a Googler by profession and by practice, and I'm proud of that! At work, being a Googler means respecting my colleagues and welcoming their opinions and ideas, howsoever different they may be to my own, and keeping things necessarily simple to my stakeholders, and I attempt to do the same outside the walls of my office as well. Having learned how to analyze data on the job, I brand myself as a data story-teller - i.e., processing data and presenting meaningful information in a way that pushes the audience to take the desired action. The interesting aspect of my job is that it allows me to improve the existing processes through imaginative ways and take ownership of some of the workflows in my organisation, thereby ensuring candidates joining Google have a lasting positive impression about their onboarding experience.
Q: Do you remember the first time you heard about StoryWeaver? What are your thoughts about the platform?
Of course, it's quite vivid in my memory the first time I heard about StoryWeaver. The concept of weaving children's stories is quite dear to my heart, and it's really gladdening to see the team working behind crafting stories as well as making them available in multiple different languages for the young audience to read and relish. I personally nurtured a similar idea a few years ago when I was an avid blogger but didn't have the imaginative power nor the enterprising capabilities to venture into this domain - I was really happy to find the StoryWeaver team doing some marvellous work in this field. Kudos to all!
Q: What was your experience of the GServe campaign, and translating books with fellow Google volunteers?
It's always a very humbling experience to take part in any GServe campaign, no matter what the cause that's being championed. The StoryWeaver campaign was very well thought through in many ways - for one, it didn't require us to sacrifice the luxury of our desks and we could contribute while at work or on the move. It was also so much fluid socializing with fellow Googlers who were taking up similar translation work. Overall, it was a rewarding experience to be able to contribute our might in little ways possible to make a huge change!
Q: We are so glad that you came on board as a commissioned translator even after the GServe campaign! What prompted you to stay in touch?
As I had mentioned previously, contributing to children's literature was always dear to me, and when I got to know about StoryWeaver's mission and their robust infrastructure, I felt relieved knowing that I didn't have to worry too much about the modus operandi, but rather focus on the work itself. With a major piece of work shouldered by the StoryWeaver team, I wanted to work with the team even after the GServe campaign, so that I could do what I like to do - writing, crafting and translating.
Q: What was your experience of being a commissioned translator? Did you pick up any new tips and techniques?
A lot I must say! One very important technique I adopted pretty early on was that I realized that translating the original work into the language of my preference required knowing the cultural nuances deeply. For instance, while translating a story from English targeting the Hindi speaking audience and translating it into Tamil would mean we will have to take into account the various cultural aspects such as the equivalent idioms used in the region. Internalizing all these cultural & regional nuances in the local language while translating is imperative if the audience has to relate to the stories. Else, they wouldn't 'stick'!
Q: How tricky is it to translate stories to Tamil? Are there any phrases that you particularly spent time on because they were difficult to translate?
Tamil, for all its richness, is a very unique language in that there are several different dialects in use across the Tamil diaspora. It becomes even trickier when you realize that the written form of the language is very different to the conversational style, and even the conversational style assumes a different shade when it comes to young audiences. Stories will have to be narrated to children in a style that's neither too formal nor too conversational and we should be ready to use a few English words that are in daily use, so they can relate to them. Also, unfortunately, tools such as Google Translate provide very literal translations of phrases which is sometimes very challenging even to the mature audience, hence you have to take a judgement call based on your own intuition and observation. I bet this is true for many Indic languages!
Q: What has been your favourite book to translate on StoryWeaver?
That's a tough one! Each of the books takes you down memory lane and makes you relive your childhood :) Be it Rani's First Day at School or the restless lad who couldn't wait to open this birthday gifts the next day or the fearless little girl - each provides a glimpse of your own childhood. For the sake of picking one, I would go for I Can Climb! which is packed with a lot of positive self-talk for young kids who are taking baby steps as they encounter different activities for the very first time in their lives.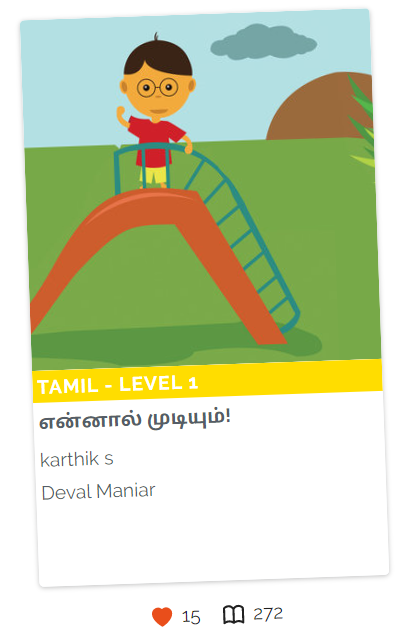 Q: What are some of your favourite books from childhood? Is there any memorable reading moment that you would like to share?
I relished reading across different genres in both English and Tamil. In Tamil literature, especially that was taught to us in school, all messages were delivered in a cryptic fashion replete with metaphors and similes. That allowed for deep learning, situational paraphrasing and lateral thinking. For that very same reason, I preferred the works of John Milton, Rudyard Kipling & John Keats in English and innumerable poets in Tamil.
As a kid, I was an avid read of Tinkle Kids' magazines, and I used to eagerly await the next monthly edition. I am really glad to see that same level of curiosity now possessed by my niece. It seems the magazine hasn't lost its attractiveness to date!
Q: The translations you have contributed to our platform have been read over 1800 times - thank you! How has your StoryWeaver journey been? What is one big takeaway from this experience?
The biggest takeaway for me has been that we shouldn't shy away from walking in the little shoes of our young audience to truly understand what holds their curiosity and interest. Many a time, we - adult learners - tend to wear our own caps, and view children's literature in a rather lop-sided manner. However, we should be ready to speak the language of the kids (sometimes even practise prattling), simplify the language (without over-simplifying at the cost of losing the essence) to suit them and be more imaginative (what helped me to feel the pulse of the audience was to subject my work to, what I like to call, the 'niece'-test - i.e., talking to my nieces and having them vet some of my initial works)
---
Do leave your thoughts in the comments section below. You can also reach out to us through our social media channels: Facebook, Twitter and Instagram.
Be the first to comment.
---
C.P. Ravikumar grew up reading translated stories. He translates at least one story or poem on his blog every day to keep the child in him alive. He has translated for National Books Trust and Pratham Books. Navakarnataka Publications has adopted his series of short stories translation in a book called "Kadinalli Beladingalu". His translated poetry collection has been published by Abhinava Prakashana. He has translated several works by famous authors in English and Hindi into Kannada and received appreciation for the same. He toggles between Hindi-Kannada-English, often translating simply for the joy of it.
On StoryWeaver, he has translated many books into Kannada including I Want That One and I Can Help!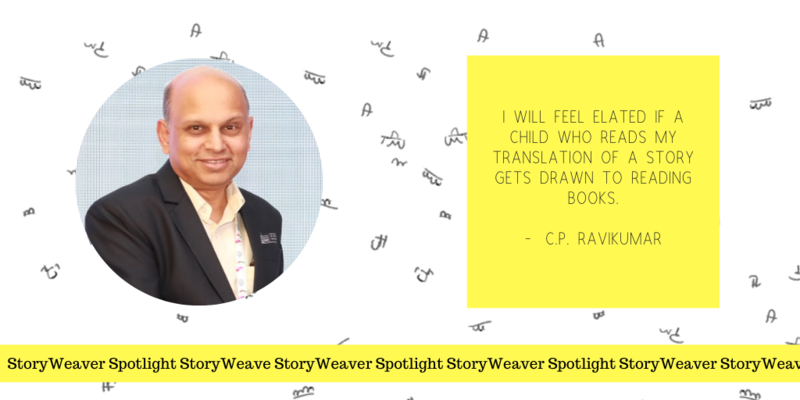 Q: With more than 4 decades of experience in translation, how did you cultivate the skills needed for translating children's books?
I grew up in a literary environment. My father was a journalist and a writer. He was an avid reader and our house was full of books. I picked up the habit of reading at a young age. When Samudaya, a drama troupe, was looking for someone to translate the Hindi play Bakri (written by Late Sarveshwar Dayal Saxena), my teacher K.N. Nagaraju asked me if I could do it. I had finished my pre-university exam and was awaiting results. I took on the challenge. There were many songs in the play, which is written in the Nautanki style. I adapted Purandara Dasa's songs in my translation. The songs became a big hit under the music direction of Rajeev Taranath. The play Kuri, directed by M. S. Sathyu, also became a big success.
I got my second break when Navakarnataka Publishers contacted me. They were planning a big project called Vishwa Kathakosha which would have 25 volumes of stories from across the world. The original stories were translated first into English and the manuscripts were handed over to Kannada translators. My father knew the editor of the series Late Niranjana. Niranjana had heard about "Kuri," and gave me my second big break. I was asked to translate the volume of stories from Vietnam. The volume was called "Kadinalli Beladingalu." Interestingly, my father also translated a volume of stories from Holland for the series.
When I went to Los Angeles for pursuing my Ph.D., I started translating poetry and stories from Kannada to English. These became instantly popular with the readers of the Usenet group (the precursor of social media in the eighties). I had a large readership and I received a lot of encouragement from many erudite readers. Some Hindi-speaking readers requested me to translate stories and poems from Hindi to English. I have translated hundreds of poems and scores of stories from English to Kannada, Kannada to English, Hindi to Kannada, and Hindi to English. I have collected them in my blogs and they are available online. I have a large number of readers and you will be surprised to know that a big chunk of them are from USA! I enjoy translating. It is an opportunity to get to know a writer and to understand another culture. I also enjoy the challenge of preserving as much of the original flavor in the translation. There is a great sense of satisfaction when translating the classics – poems of Wordsworth, Yeats, and Auden, or sonnets of Shakespeare, Keats and Browning. I have attempted to translate poems from all countries to give Kannada readers a flavor of world poetry. For example, I translated the poems of Xu Lizhi, a young Chinese worker who committed suicide from depression coming from overwork and stress. I have also translated many American poems that have been written for children and adolescents.
Q: You carve out time for translating children's books from a busy life. What do stories in translation bring to young readers?
It is a pleasure to translate stories for children of all ages. I love spending time with children. My own two children will vouch for my ability to enthrall them with stories. When they were growing up, not a single night went without telling them a story. In the times of globalization, we see that children across the world are exposed to stories from different regions through movies, television and books. In this sense, children today can accept other cultures more easily. There is also an opportunity to pick up some values from other cultures. Take the story of Cinderella, for example. She never weeps, no matter how miserable her life is. She may feel a sense of despair, but she wants to win, nevertheless.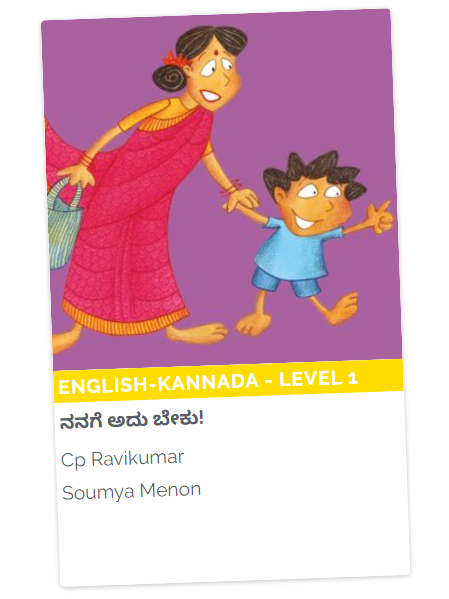 ನನಗೆ ಅದು ಬೇಕು!, translated by C.P. Ravikumar
Q: You are known for translating verses into Kannada, English and Hindi. What is your process while translating these gems? For Eg: Jerry Pinto's Ming-Ming, Fat Little Bear.
I thoroughly enjoy translating verse. Translating Ming-Ming, Fat Little Bear was a delightful experience. I suppose I ask myself, how I would narrate that story in Kannada to a toddler. In Kannada, like any other language, there are some meters or rhythms that are very popular in children's verse. It may be best to use one of them in the translation, so that we can build a connection with the child. Sometimes, it may be all right to use our poetic license to do a little bit of adaptation to make the translation seem natural.
Q: We see your fresh translations everyday. What inspires you? We have read your observations on teaching curriculums. According to you, how do stories influence children?
I love to read poems and stories when I am commuting. The commute in the city is long and arduous due to traffic, but it can become interesting if we have internet connectivity and a mobile phone in our hand. Today, there are repositories of literature that one can easily access on the Internet. I am tempted to translate poems or stories that I instantly like when I read them. I share these translations on my blog.
Stories that we grow up with influence our morality and our attitude. I will give you an example. My father used to tell us stories from a well-known book called Neeti Chintamani. There were very simple stories in that book. For example, there is a story of two women, one who was very careful with her resources and another who was careless. Listening to such stories at an early stage can help mold our character.
Q: What is your personal relationship with language and/or translation?
My father was an avid reader and encouraged his children to read. I spent five childhood years in Delhi. When we visited Bangalore once during this period, my father picked up a huge collection of children's books for us. We had this huge collection of books on our train journey back to Delhi and I and my brother were both hooked. In Delhi, there was a large public library in the vicinity of our house and I spent my summer months reading children's books in the library. I recall retelling those stories to my classmates. I suppose there is still some of that child in me still.
Q: You have translated / reviewed a handful of stories for us. Which one has been your favourite and why?
I enjoyed translating Ming-Ming, Fat Little Bear. It is a funny little story related in verse form. It is meant for children who are say five or above. That is the age group that is easiest to entertain!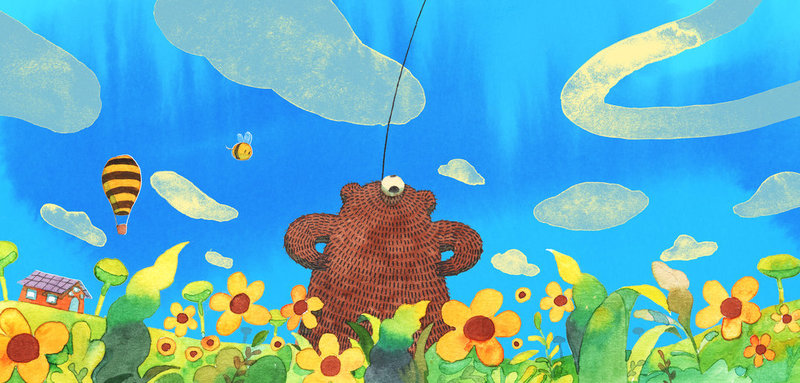 An illustration from the book 'Ming-Ming, Fat Little Bear' translated by C.P. Ravikumar into Kannada.
Q: You have translated stories by well-known authors into Kannada. How do you think a translation can reach a child as opposed to original stories?
To recount my own experience, I read "Robinson Crusoe," "Oliver Twist," "Treasure Island" and "Gulliver's Travels" in Kannada before I read them in English. These Kannada translations were among the books that my father bought us for the train journey. I was enchanted by these stories. I felt the same sense of exhilaration that an English-speaking child may feel when reading the story in English. Reading a story in our native language is easier and more appealing. I hope the best of world-literature becomes available to children through print media as well as digital media.
Q: You have translated a play from Hindi which has successfully been performed with 200 shows. According to you, what form of storytelling is most effective for children - stories told through books, plays or poetry?
Toddlers love stories and rhymes. They love the colorful illustrations in books. Just about anything can happen in these stories! Small children also take naturally to acting a part in a story. As they grow up, children will enjoy stories that will appeal to their sense of logic Teenagers love adventure and fantasy. If the child is lucky, he or she will get exposed to poems from a good teacher and will develop a liking for poetry. Every child should have an opportunity to be part of a school play! Reading a play can be as much fun as reading a story!
Q: What is the experience of translating a children's book like? Especially as opposed to translating for adults?
Anyone who loves spending time with children, narrating stories to them or reading poems to them, will enjoy translating children's literature. If you ask me, when I translate a story or poem for children, I imagine narrating that story or poem to a young child. When we translate for children, we have an additional responsibility – we are trying to get a child interested in literature. I will feel elated if a child who reads my translation of a story and gets drawn to reading books.
Q: A book you'd like to recommend to other translators?
I feel many great writers like Roald Dahl have not been translated into Indian languages. What fun it would be to translate Matilda!
Q: You have contributed for us immensely. How has the StoryWeaver journey been? What is one big takeaway from this experience?
The platform you have built is absolutely amazing. It is a pleasure to use the tools and see a book take shape in front of your own eyes!
Q: How do you feel when your story reaches the child?
It is most satisfying to find a like-minded reader. When it comes to a child, I suppose we have the additional challenge of inspiring the child. The illustrations and color go a long way in motivating the child to pick up the book. But if the child can relate to the story or the poem and picks up interest in reading, that would be most gratifying.
Q: How else do you think we can join hands to take more stories to more children in more languages?
You can consider doing reading workshops for children. It is equally important to get the word out about your books to young parents.
Q: You have contributed a piece of an article on the role of a translator for Kannada translation handbook in collaboration with Shabdana, centre for translation under Sahitya Akademi. How relevant do you think are such initiatives?
I am hopeful that such a handbook can be used as the resource material when conducting workshops for budding translators who feel the need to be mentored. Today, we find so much "how to" material online and the younger generation seems to be hooked to them. People are learning how to cook, how to solve math problem or how to troubleshoot their equipment. I suppose there will exist some people who want to know how to translate literature!
Q: What is the hardest thing about translating from English into Kannada/ Hindi to Kannada? How do you navigate words or phrases that are tricky to translate?
English language has borrowed from all other languages and has a very large vocabulary. In English, it is perfectly all right to create new words by combining other words, such as "Bus Stop" or "Hard Disk" or "Read Only Memory." When we try translating "Bus Stop" literally into Kannada or Hindi, it somehow does not sound right. Either we must shed these inhibitions and create a larger vocabulary or we must look for a word that seems more natural. A long English sentence where predicates are combined with "and" or "or" may seem natural, but appears artificial in a regional language.
Q: Can you tell us anything about yourself and your job that would surprise us:)?
I am a technologist with a background in Electronics and Computer Engineering. I have also published technical papers and books. I have written a technical column called "Janamukhi Tantraloka" for the Kannada daily Vijaya Karnataka.
---
Do join the conversation by leaving your thoughts in the comments section below. You can also reach out to us through our social media channels: Facebook, Twitter and Instagram.
Be the first to comment.
---