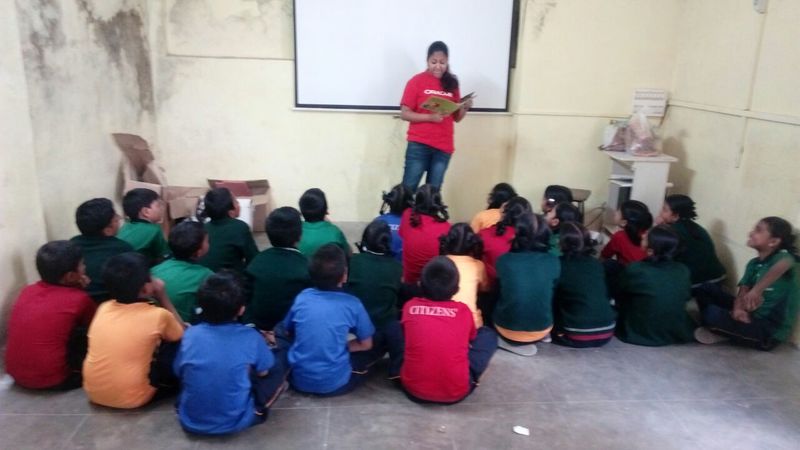 A quiet, young boy begins to visit his school library every day after classes are over. At first, he goes to just look at the colourful illustrations in the books brought to the school by smiling didis and bhaiyyas. When asked why he stays back, he replies, "This is the world I want to stay in. This makes me happy." He slowly begins interacting with his fellow students who came to the library abd begins to make friends. The books have opened up his world; at school and beyond. The didis and bhaiyyas who stocked the library are from the NGO, Mantra4Change.
The idea for Mantra4Change took shape in the minds of Khushboo Awasthi and her partner Santosh More in 2010. "Deep inside us was the strong belief that if there is anything that can change the future, it is education. When children don't have access to quality education their life choices shrink. It was these beliefs that triggered the concept for Mantra4Change." Khushboo elaborated. At the time, Santosh was a Teach For India (TFI) fellow while Khushboo was pursuing a Masters programme. But they both knew that they wanted to start something of their own in the development sector.
It was 2013 when Khushboo and Santosh founded Mantra4Change and started working on their education project in part-time capacity. In 2014, Santosh joined Mantra4Change full-time and in 2015, Khushboo did the same. They began formally recruiting members through the TFI career portal and Azim Premji University campus recruitment process. In a span of a few years, Mantra4Change has grown from a 2 member team to a small organisation of 12 passionate individuals.
Mantra4Change's key initiative is 'STEP': School Transformation and Empowerment Project. Through STEP and a two-year partnership to ensure its efficacy, Mantra4Change has till date had a positive impact on over 9000 students and 350 teachers in 13 schools. Most of the schools they work with cater to underserved children in the not-so-popular narrow alleys of urban and peri-urban Bengaluru.
A trickle down effect
To effectively implement STEP, the organisation first contacts the head of the school and then works down from there, connecting with each part of the school team on a personal level to understand their needs and challenges. In one of the schools, teachers in the primary school mentioned the need for better books for children to read. Mantra4Change reached out to Pratham Books and helped acquire Library in a Classroom kits. This kind of rapport building, ensures that within 4-6 months 70% of staff are onboard with the programme.
Empowering children
Khushboo and her team believe that students must be empowered and encouraged to step out of their comfort zone. She shared a story of how 12 students from Mantra4Change partner schools attended an International Geography Youth Summit.
"We had to convince the teachers that the children were indeed ready to take the stage. At the conference, to the surprise and delight of the children, two of their groups got standing ovations from the audience. When they came back, you could see the confidence in them. They came up to the team and their teachers, and said, 'thank you so much, ma'am, for giving us this opportunity. We would never have experienced this.' We saw an an opportunity and took it to our students and they grabbed onto it. It's their hard work at the end of the day." remembers Khushboo.
Joyful reading material in their mother tongue
Under STEP, Mantra4Change is also implementing a library programme in which they set up libraries to make books more accessible to children. Mantra4Change has teamed up with Pratham Books to provide the children colourfully illustrated, multilingual stories. Describing the books and the library programme, one student told us, "The illustrations are very nice, the story is funny!" adding that she had begun reading at home more after the library had been set up.
In addition to the libraries, content from StoryWeaver is downloaded onto computers in the library for children to read and enjoy. There is an added excitement when the children get to read the e-books on the computers. Mrs. Morris, a librarian who conducts weekly storytelling sessions at the Citizen's School, Bengaluru said, "The e-books work like a reward. The kids love operating the computer because they do not get a lot of opportunities to do so otherwise. I use the e-books for partner reading and it is working great. Children read, then discuss what they read. This helps develop their comprehension and communication abilities."
"The whole atmosphere in the library when the children come is magical! Even those who can't read fluently yet like to come and touch the books, see the pictures and make up their own stories using their imagination. It's beautiful to see." Khushboo added.
Mantra4Change's passionate team is determined to make a difference in the lives and learning of the children in the schools they work with "Our team is here because they really want to make a change and affect education at the school level." Mantra4Change hopes to double the number of schools they work with as well as the team's size by May 2017. We're sure they'll get there, one step at a time!
Be the first to comment.
---
Every year, the entire Pratham Books family (including our lovely community) gears up for the biggest celebration of the year – our 'One Day, One Story' campaign. Celebrated on the occasion of International Literacy Day every year, the campaign aims to take stories to as many children possible on a single day throughout the country (and beyond!)
This initiative is part of the Pratham Books' Champions program where we encourage our community of volunteers to conduct reading sessions. These sessions are conducted free of cost and mostly with children from under-served communities. The Pratham Books' Champions program is a one-of its kind volunteer program that has scaled to a national & international level with more and more volunteers joining in each year. For this year's edition of 'One Day One Story', volunteers from Oracle Bangalore joined us to take stories into classrooms, thanks to our partners Mantra4Change.
On the bright morning of September 10th, about eight volunteers from Oracle's Bangalore facility reached the Nirmal Vidyalaya on Hosa Road. The school had an ongoing Teacher's Day celebration which included dances and skits put up by students, a friendly cricket match between students and teachers and of course our storytelling sessions ☺ The volunteers divided themselves in six groups and headed to groups of children from Grades 4th, 5th and 6th. The story of 'The Elephant Bird' by Arefa Tehsin, Sonal Goyal and Sumit Sakhuja enthralled children of Grade 5 as they wondered if brave Munia could save the giant bird! In the Grade 4 classroom, children were actively participating in identifying the different seeds they find in the fruits they eat as they went on a seed collecting journey with Tooka, Poi and Inji in 'Let's Go Seed Collecting' by Neha Sumitran and Archana Sreenivasan. In Grade 6, the children kept interrupting volunteer Senthil to confirm and re-confirm if Jadav 'Mulai' Payeng in 'Jadav and the Tree-Place' by Vinayak Varma is a real man who actually built an entire forest on his own. The story telling sessions were followed by impromptu singing sessions, chit-chat with the students and a lot of idea and noise exchange!
Here is a short video that captures the day that features
Hear Khushboo Awasthi, Co-Founder of our partner organisation Mantra4Change talking about the importance of such sessions for the children underlining the exposure the corporate volunteers bring into classrooms.
Meet Sandhya, a first time storytelling volunteer from Oracle and her experience with the One Day One Story event. –
Our sincere thanks to all the volunteers from Oracle, children and teachers of Nirmala Vidyalaya and the Mantra4Change team in making this session memorable!
Together we can take a story to every child in every corner of the country.
Here are a few pics from the event.
Be the first to comment.
---