When Pratham Books launched StoryWeaver two years ago and openly licensed all the content on the platform under CC-BY4.0, we had an inkling of the potential the idea had. In the last 24 months we have been blown away by the amazing ways our community members have used the power of open licensing to adapt the content on StoryWeaver to answer certain needs in classrooms and other learning spaces.
BooksThatSpeak.com is one such initiative. The platform hosts audio and video versions of children's stories in Marathi, Hindi, English and Gujarati. Many of the stories are from Pratham Books. Asawari Doshi, who runs the platform lives in Pune with her husband and two daughters and works part-time on reading and creating audio and video versions of stories for BooksThatSpeak.com.
Q: Tell us a little bit about why you started BooksThatSpeak.com
A: My aim behind starting this initiative was to create a medium through which more kids can listen to and read the fantastic stories that are published by Pratham Books. I currently read out books in four languages that I am familiar with (Marathi, Hindi, Gujarati and English).
But wait, my daughters (age 9 years and 4 years) and my niece (3 years) also are part of the Books That Speak team. You will hear their sweet little voices at the beginning and at the end of the stories, along with their signature tunes.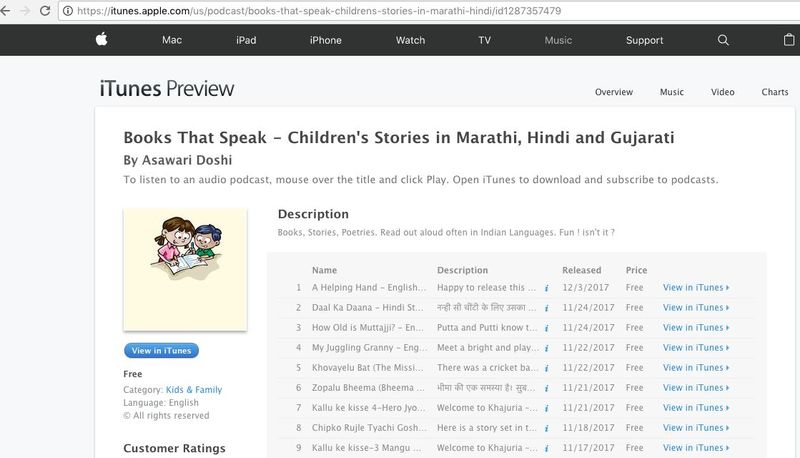 Q: How did you discover the StoryWeaver platform?
I got introduced to the lovely books published by Pratham Books around 6 years ago when my daughter brought some books home from her school library. I (even more than my kids) have been in love these books since then. We must have around 30 books published by Pratham Books in our little book cupboard at home!
From Pratham Books website and blog, I got to know about the StoryWeaver platform around 2 years ago. I was so happy to know that so many of these books are now freely available for everyone to read and also to re-purpose in multiple ways.
Q: What made you want to create audio versions of the books and make videos with them for YouTube?
A: My kids were the inspiration to start this initiative. They just love stories. But more than reading the books themselves they keep asking me to read stories to them. I love reading the stories to them too. My husband suggested why not share this joy with many more children. That was the start of BooksThatSpeak.com
Initially, I started creating audio versions of the books but as I read the books, I felt that the creative illustrations add so much to the experience so that's why I started creating video stories as well using the illustrations.
I must say that I personally enjoy the process of selecting which book to read next. As part of this process, I get to read to a lot of books from the StoryWeaver platform. All of the books are so good, that it makes the decision making very hard :) but I am not complaining because I get to read all these fantastic books.
Q: Where does your love for storytelling come from?
My background in in IT. But, I have been an actor in amateur theatre in my village in Konkan for many years. I think that may have been my accidental training in storytelling. Also, thanks to the inspiration from my father, ever since I was a child I used to read lots of books. I also remember that as a child I used to be mesmerized listening to Pu La Deshpande (A renowned Marathi author and my personal favourite) reading out and enacting his books. I think I might have picked up the liking for reading books aloud from those early years.
5. Do you have any plans for taking these stories to children?
As of now, Books That Speak are available as podcasts on the several platforms like iTunes, Sticher and Player.fm. The stories are also available as videos on our YouTube channel. I read stories in Marathi, Gujarati, Hindi and English. In future, I would love it if I can find other volunteers who want to join BooksThatSpeak.com and read out stories in other languages like Bengali, Urdu etc.
I hope to connect with government schools so that they can download and play these audio or video stories for children in their schools.
6. What kind of feedback have you received from the online community for your recordings?
I am getting to hear a lot of positive feedback from the children and their parents for these stories. I think though that most of the praise really is deserved by Pratham Books, StoryWeaver and the authors, translators and illustrators who have created these books and made their work Open Source.
Some feedback for BooksThatSpeak.com:
"Aunty, I love these stories! Why do you record only one story every day, start recording 2 or 3?"
"Beautifully narrated stories. The changes in voice for different characters make the stories a lot of fun."
"My kid's goodnight sleep starts with these stories, thank you Asawari!"
"My child loves the stories and enjoys the ae-roo-waao-ee signature tune at the beginning and end of the stories"
"These audio stories are very helpful to keep kids engaged during long travels. It's much better than them playing games on the phone all the time"
Here's a photo of me reading my favourite Pratham Books to my daughters!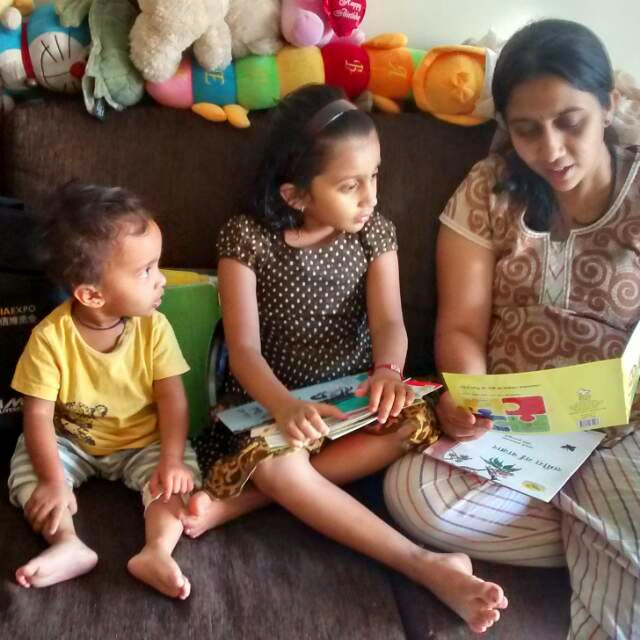 Thank you Aswari for this wonderful platform and taking the joy of reading to more children with your efforts! If you'd like to get in touch with Asawari head over to BooksThatSpeak now!
Are you using StoryWeaver content in interesting ways? Write to us at storyweaver@prathambooks.org and tell us so we can feature you on our blog.
comment (1)
---
In The Night the Moon Went Missing, written by Shreya Yadav and illustrated by Sunaina Coelho, a young girl sets out on a grand adventure to find her missing friend. Shreya is a marine biologist who studies coral reefs. One of her favourite things to do is cling onto a rock underwater and spy on all the fish and plants and crabs and coral that live there.
In this short interview, Zeba Imtiaz, assistant editor at Pratham Books, talks to Shreya about life under water, her favourite children's books and the process of writing The Night the Moon Went Missing, a truly enchanting picture book.
Excerpts from the interview:
How did your interest in the ocean and creatures in the ocean begin?
Growing up in Madras, the Bay was always quite central to our lives. My brother and I would trot off to the beach every other day after school and spend hours in the water. We lived very close by - there was always a sliver of the ocean visible from our balcony - so I think we took the salt and sand for granted. I started diving when I was 19 on a family holiday to the Andaman islands. My father, who SCUBA dives, asked if I wanted to do my beginner course at Havelock island. I remember seeing an octopus and an eel and all kinds of other impossibly bizarre life on my first dive and being totally blown away. Even though I was studying zoology at the time, that was the first time I really wondered about the ecology of a coral reef without it being some kind of abstract concept.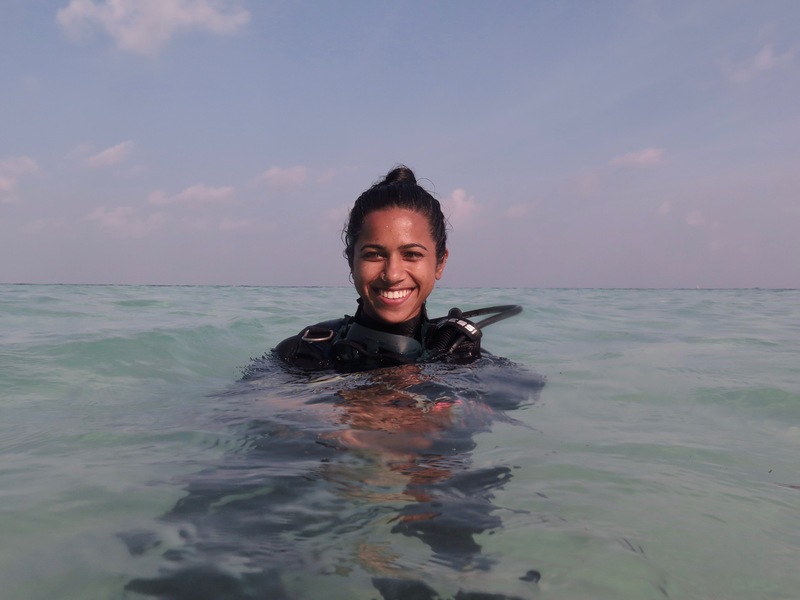 If you had to pick, which would be your favourite ocean creature, and why?
I definitely have a thing for the small and cryptic critters that live on a reef. Often, I will be swimming over something, and will catch a tiny eye peering at me from behind something. I always wonder what their lives are like. Blennies and gobies are probably my favourites.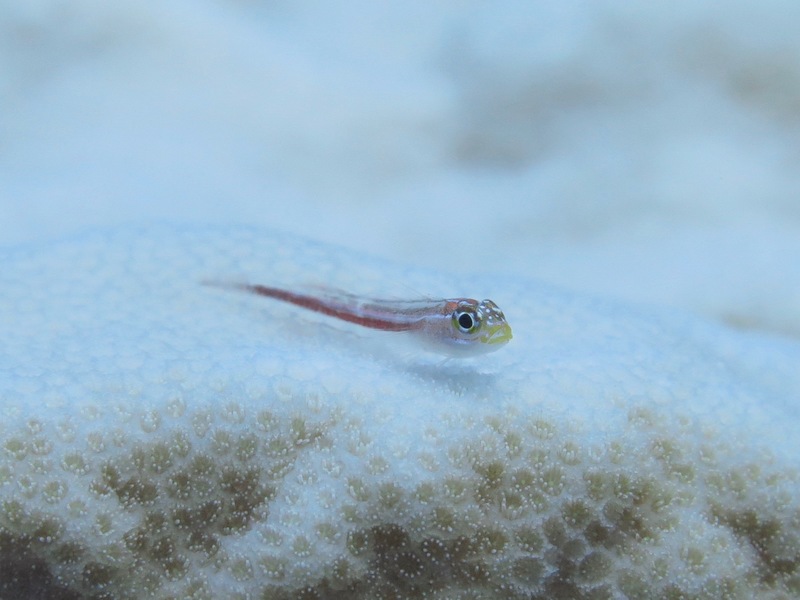 What sort of books did you read as a child? What was your favourite book growing up?
I was lucky to grow up with great books and a family that enjoyed dramatic readings of them! I remember being obsessed with Ekki-Dokki (Sandhya Rao; Tulika) when I was very little and then by a book called Trash! (Anushka Ravishankar and Gita Wolf; Tara Books) when I was a bit older. I also read a lot of Roald Dahl. I think I found Quentin Blake's illustrations very weird as a kid, but there was something so different about them that it was hard to put down.
What was your writing process for your book The Night the Moon Went Missing?
I think we had discussed that bioluminescence would be an interesting topic to explore for this book, but the story actually took a while to come. I knew I wanted it to be taking place on an island and I had a list of creatures I thought were interesting in terms of their biology, but I didn't know how to make it all come together. I think it finally came to me after a few conversations on the phone with friends - saying things out loud always helps.
Later, when I read the first draft out to my parents, my mother told me it reminded her of a story my great-grandmother had written for children which also involved the moon and three young girls on a nighttime adventure. As soon as she said it I remembered that book. Now I feel like I subconsciously plagiarized my great-grandmother!
What was you favourite part of writing this story? What was the most challenging bit?
I had so much fun writing this. I think the most challenging bit was trying to stick to the word limit - I was worried that it would be hard to visualize in so few words, since it was all taking place underwater at night with a bunch of strange glowing animals. But Sunaina's beautiful illustrations more than took care of that. I think my favourite thing about the book now are her illustrations.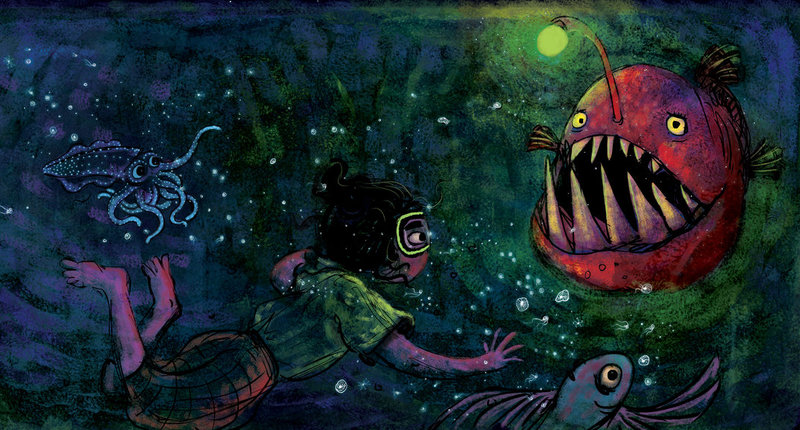 If you were to write another children's book, what would it be about?
I think it would be fun to profile a bunch of marine critters in limerick form, Ogden Nash style.
Do you think your childhood was different from how children live today?
I'm not sure - I have a feeling everyone who is asked this question will probably say yes. I remember having a lot of time in the day to play and climb trees and run around the beach and I hope that that is still the case today.
Who are some of the authors you enjoy reading today?
Big fan of Italo Calvino, Jorge Luis Borges, Loren Eisley, Peter Godfrey-Smith, Robert Macfarlane, WS Merwin.
Any favourite illustrators?
Closer to home, I really like the work of Sonali Zohra, Renuka Rajiv, Vinayak Varma, Orijit Sen, Sarnath Banerjee and the geniuses behind Crocodile in Water, Tiger on land - whoever they are.
Have you read The Night the Moon Went Missing? It is available on StoryWeaver for free, in English, Kannada, Marathi, Tamil and Hindi, and will soon be available in print.
Be the first to comment.
---
Pratham Books is a not-for-profit children's book publisher that was set up in 2004 to publish good quality, affordable books in many Indian languages. Our mission is to see 'a book in every child's hand' and we have spread the joy of reading to millions of children in India. We are now looking to expand out Outreach Team to make our impact wider and are on a lookout for a passionate individual based out of our Delhi office.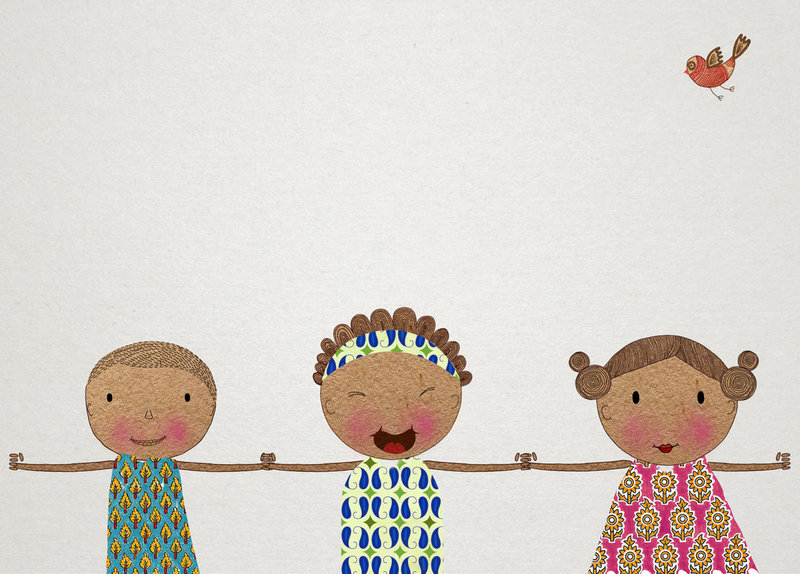 Image by Sonal Gupta from 'Why Does a Poori Puff Up?'
About the Project
StoryWeaver is a digital platform that hosts children's stories in multiple Indian and international languages, so that children have access to reading resources in their mother tongues to learn and practice reading. All the stories are available under open licences and not only can they be read for free, they can also be translated or versioned, using simple tools embedded on the platform. StoryWeaver is being recognized as an emerging innovation that can transform the early literacy reader ecosystem globally. Recently, StoryWeaver was featured in the World Bank's report on 20 innovative EdTech projects from around the world, and was also the recipient of the prestigious Library of Congress Literacy Award 2017 International Prize.
Job Description
We are looking for a Partnerships Manager who can forge strategic partnerships to facilitate the use of StoryWeaver's digital resources with organizations that have programs which promote reading and learning among children, specifically in the North and East of India.
The Manager will be responsible for strategizing and executing plans to increase the user base of StoryWeaver and also provide the necessary training and support to the partner network and work closely with internal stakeholders
Key Responsibilities
• Identify potential partners and strategize, design and execute plans to onboard them as StoryWeaver users.
• Create and execute robust work plans for achieving monthly, quarterly and annual goals including specific targets.
• Build and nurture networks of partners working in the field of Education/ with Children / Ed-Tech.
• Provide training and support to the partner network.
• Provide information and feedback to the internal team based on partner feedback and essentially be a bridge between the internal and external stakeholders
• Help with research and documentation for impact assessment
• Plan, execute and own book/event specific campaigns, on-ground events and CSR volunteering activities.
• Help build strategy for the function, contribute in new ideas for both the function and platform.
Qualifications
• A Post Graduate Degree preferably in Marketing and Management
• 3 to 5 years work experience in Sales, Marketing, Outreach, Partnerships or related areas.
• Experience in a programmatic function in the development sector (preference for experience in Education)
Competencies
• High level Communications Skills :- Exceptional interpersonal and verbal/written communication skills
• Organisation/Time Management Skills – Planning, working systematically & efficiently and keeping information organized and accessible
• Project management skills – Multi-tasking and prioritising, planning and organizing, perseverance, working with multiple teams that are interdependent, ability to work with timelines and targets.
• Ability to gather data, analyze information, and prepare reports and documents
• Experience in classrooms and/or working with Education Orgs
Good to have
• Ability to network and make connections
• Interest in books, education and publishing.
• Should be open to travel
Location: This role is based out of Delhi and is full-time.
Salary: Compensation will be commensurate with experience.
How to Apply: Interested candidates are requested to send in their resume to [email protected] with the subject line – Partnerships Manager_North and a short note outlining why they are suitable for this position.
Be the first to comment.
---