In a world dominated by print, images and videos, imagine not being able to access content vital for your day-to-day functioning: weather updates, homework assignments, timetables… This is the reality for an estimated 285 million people worldwide who are visually impaired. Accessible content is even harder to come by if you belong to the 90% of print impaired individuals who come from low-income settings.
Harnessing technology for the greater good
Enter Benetech. The U.S based organisation isn't your run of the mill tech company. It's a nonprofit whose mission is to empower communities in need by creating scalable technology solutions. Their work is varied: from providing a safe space for human rights defenders in over fifty countries to document human rights violations to equipping environmental conservationists to protect ecosystems and species all over the world. One of Benetech's projects is Bookshare: and it's transforming how over 400,000 people with disabilities read.
Bookshare is the world's largest online library of accessible ebooks for people with print disabilities.
A print-disabled person is "a person who cannot effectively read print because of a visual, physical, perceptual, developmental, cognitive, or learning disability". Through its extensive collection of educational and popular titles, specialized book formats, and reading tools, Bookshare offers individuals who cannot read standard print materials the same ease of access that people without disabilities enjoy. The Bookshare library now has over 475,000 books and serves more than 400,000 members.
BookShare works in 70 countries across the globe, with India having particular focus, as it has the largest number of persons with disability in the world. With outreach in all states, they are providing accessibly content in English, Hindi, Tamil, Telugu, Gujarati and Marathi with plans to add Kannada to their offering.
Providing children joyful reading material in many languages
BookShare is sourcing its multilingual content for children from StoryWeaver. Since all content on the digital repository of multilingual children's stories is openly sourced and available in open formats, BookShare has been able to take ePubs from the platform and convert them to the DAISY Format. DAISY (the Digital Accessible Information System) is the emerging world standard for digital talking books for people who are blind or have a print disabilities. This format has been under development for over ten years, with most of the world's talking book libraries now employing the standard in some form or the other.
Dr. Homiyar Mobedji, Disability Expert, Program Management [India], Benetech says "Daisy is the most accessible format, for persons with print disability as a Daisy Book can be in various forms. Bookshare offers its members the opportunity to download content in either daisy text only, daisy with images, audio or BrF formats (embosser-ready electronic braille files). A reader can either download the book and read it on his own device, such as laptop, desktop, Android or IOS device, or use a dedicated Daisy player. Users can also read our content online using our web based reader."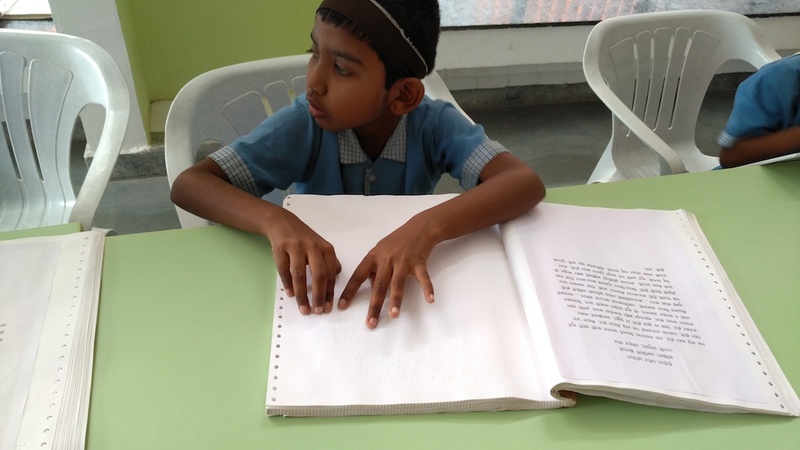 "Our strategy is to empower individual organizations so that they can reach out to many more on our behalf. This leads to a multiplier effect, which can be difficult to monitor in a country as vast as India. However, if our membership numbers give the indication that we are moving in the right direction." shared Dr. Mobedji.
Bookshare's outreach work brings them into close proximity with schools, colleges and institutions working with the print disabled. They have more than 7500 members in the country, and approximately 500 new members every month.
The nonprofit's main focus in India is to create textbooks and children's books, as these are both in high demand. The organisation has already shared the syllabus from a number of states including Maharashtra, Himachal Pradesh, NCERT and IGNOU.
More stories in more languages
"For our section on children's books we are uploading titles in Indian languages from StoryWeaver." shared Dr. Mobedji
Bookshare is working directly with a selection of schools in Pune, where a curated list of Marathi titles have been chosen from StoryWeaver as part of the All Children Reading Project which promotes early grade reading with the help of technology.
"The stories were loved by our children of 2nd, 3rd and 4th grade, who can now almost recite all the stories by heart. The teachers have observed that as the children loved the stories, they accepted braille reading, which was difficult when the children were only given textbooks to read. Some of the children have improved their braille reading tremendously, which is a major achievement." Dr. Mobedji recounted.
By openly licensing all the content on StoryWeaver and making them accessible in open format, we are proud to be associated with Bookshare and their efforts to take reading to ALL children.
Be the first to comment.
---