Pratham Books is a not-for-profit children's book publisher that was set up in 2004 to publish good quality, affordable books in many Indian languages. Our mission is to see 'a book in every child's hand' and we have spread the joy of reading to millions of children in India. We are now looking to expand out Outreach Team to make our impact wider and are on a lookout for a passionate individual based out of our Delhi office.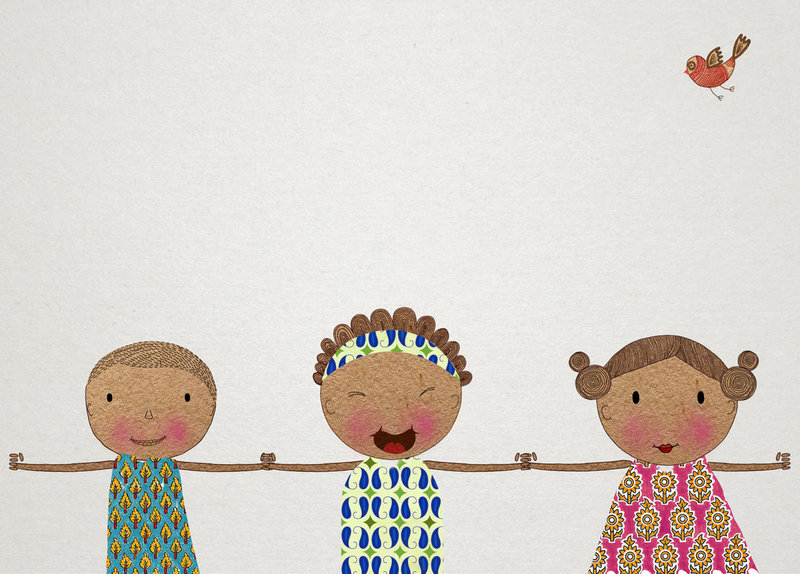 Image by Sonal Gupta from 'Why Does a Poori Puff Up?'
About the Project
StoryWeaver is a digital platform that hosts children's stories in multiple Indian and international languages, so that children have access to reading resources in their mother tongues to learn and practice reading. All the stories are available under open licences and not only can they be read for free, they can also be translated or versioned, using simple tools embedded on the platform. StoryWeaver is being recognized as an emerging innovation that can transform the early literacy reader ecosystem globally. Recently, StoryWeaver was featured in the World Bank's report on 20 innovative EdTech projects from around the world, and was also the recipient of the prestigious Library of Congress Literacy Award 2017 International Prize.
Job Description
We are looking for a Partnerships Manager who can forge strategic partnerships to facilitate the use of StoryWeaver's digital resources with organizations that have programs which promote reading and learning among children, specifically in the North and East of India.
The Manager will be responsible for strategizing and executing plans to increase the user base of StoryWeaver and also provide the necessary training and support to the partner network and work closely with internal stakeholders
Key Responsibilities
• Identify potential partners and strategize, design and execute plans to onboard them as StoryWeaver users.
• Create and execute robust work plans for achieving monthly, quarterly and annual goals including specific targets.
• Build and nurture networks of partners working in the field of Education/ with Children / Ed-Tech.
• Provide training and support to the partner network.
• Provide information and feedback to the internal team based on partner feedback and essentially be a bridge between the internal and external stakeholders
• Help with research and documentation for impact assessment
• Plan, execute and own book/event specific campaigns, on-ground events and CSR volunteering activities.
• Help build strategy for the function, contribute in new ideas for both the function and platform.
Qualifications
• A Post Graduate Degree preferably in Marketing and Management
• 3 to 5 years work experience in Sales, Marketing, Outreach, Partnerships or related areas.
• Experience in a programmatic function in the development sector (preference for experience in Education)
Competencies
• High level Communications Skills :- Exceptional interpersonal and verbal/written communication skills
• Organisation/Time Management Skills – Planning, working systematically & efficiently and keeping information organized and accessible
• Project management skills – Multi-tasking and prioritising, planning and organizing, perseverance, working with multiple teams that are interdependent, ability to work with timelines and targets.
• Ability to gather data, analyze information, and prepare reports and documents
• Experience in classrooms and/or working with Education Orgs
Good to have
• Ability to network and make connections
• Interest in books, education and publishing.
• Should be open to travel
Location: This role is based out of Delhi and is full-time.
Salary: Compensation will be commensurate with experience.
How to Apply: Interested candidates are requested to send in their resume to [email protected] with the subject line – Partnerships Manager_North and a short note outlining why they are suitable for this position.
Be the first to comment.
---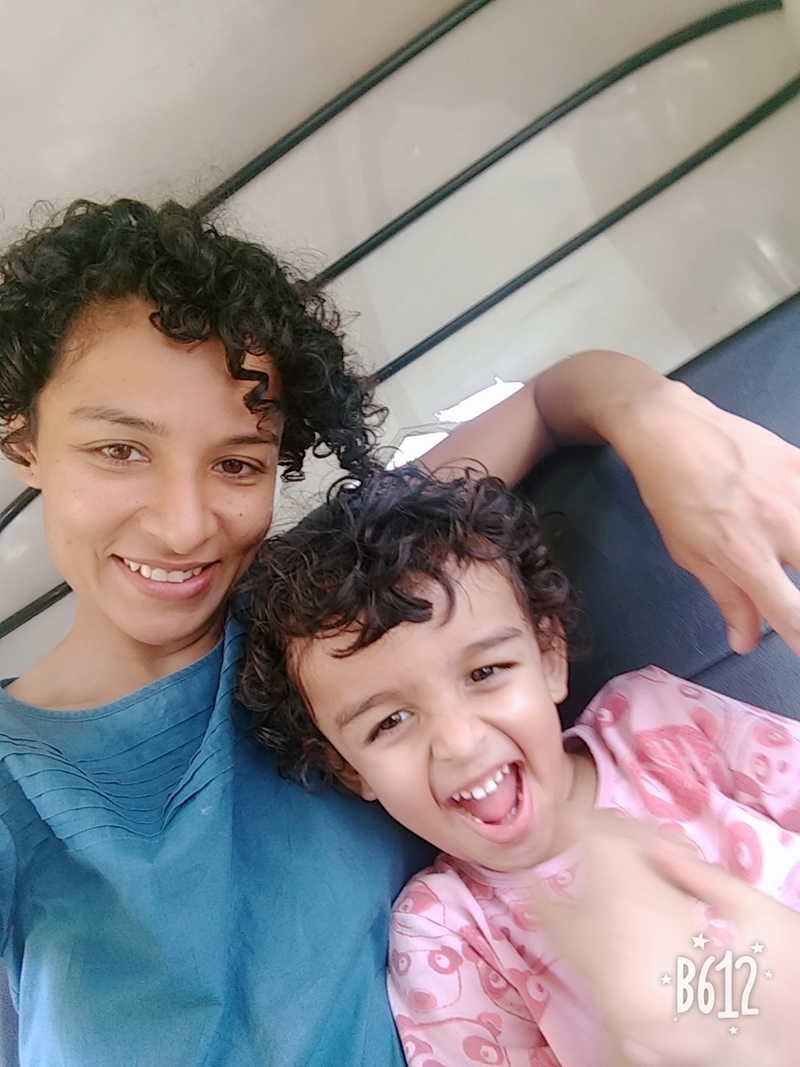 Bhavana Vyas Vipparthi, has lived and studied in Bangalore all her life. Having finished a Fine Arts course at Srishti, School of Art Design And Technology, she went on to do a masters in animation film design at NID in Ahmadabad. Her mind is now consumed by her terribly talkative three and a half year old son and perfect dog. She makes up a million stories a day to stay sane. You can find her work on https://vimeo.com/thestudiospaceman. She has illustrated two books for Pratham Books, 'A Cloud of Trash' by Karanjeet Jaur and 'Absent-minded Ajja' by Arundhati Venkatesh.

Graphic Designer Vriddhi Chaudhry had some questions for Bhavana about her work in mixed media, and her ideal 'art day' at home and shared them with her over email. Here are Bhavana's answers.
1.How did you develop your personal style? Have there been any significant events or projects that led to this development?

I have always been comfortable working with mixed media. If given a free reign without any client restrictions on style and treatment, the mixed media monster always takes over the playing field. From my diploma project in Art School (a wordless picture book) to animation art-boards that followed , the wonderful play of drawings, cutouts and reality has always excited me.

2. What is your creative process like? Are there any practices you follow during when creating?

I usually always start visualizing any project, be it an animated spot or a book by making really rough thumbnails of the ideas that come into my head. Just quick doodles to get the initial images and scenes down on paper. Some pages in the book haven't changed at all from that early initial doodle, while others have completely transformed.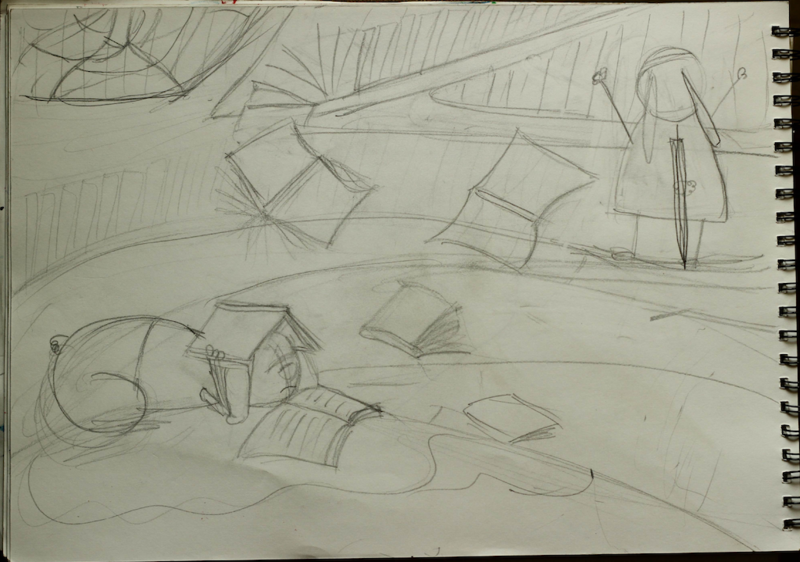 After that I work out what the characters will look like, and their environment. This takes a lot of scribbling and ideating. When I have come to a place that I am happy with, I make a final storyboard of the book. Then I start to gather my materials. Different kinds of paper, leaves to be shot etc. The final page layouts are final drawings of the whole page, made from the client approved storyboards. They are made to the print page specifications, as this also works as my template of the cutouts. Using these as a guide I make cutouts for each page. The characters, roots etc are made in parts, painted in, and I stick them onto OHP sheets to keep them organized by pages. Some parts are really small and tend to get lost. These sheets are then photographed, cleaned up and composited with all the other elements(backgrounds/leaves) on Photoshop.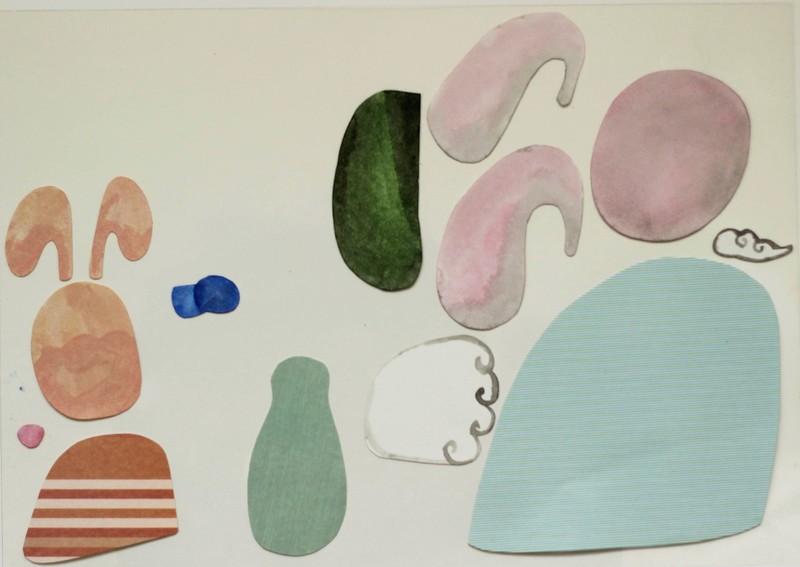 3. What is the most challenging part about being a mixed media artist?
I can usually see how the end result will look as I start to doodle. The challenge is to convince the client about your idea. Fortunately I had a wonderful editor who was not only incredibly patient, but also gave me her total confidence. I had a great time making the art for "Absent minded Ajja" thanks to Bijal.

4. What was your inspiration for Absent-Minded Ajja? How would you say your surroundings have influenced your work in Absent Minded Ajja?
When I read the story, I know I wanted to make them more then just a regular family. I wanted to have fun and make it a bit quirky. Ajja is dressed like my father, in a kurta pajama, but I added the beard in last minute to make him a bit more lovable. The things around the burrow are inspired by things my son is into right now. Crayons, the golf ball (which is an asteroid at home) and the broken fork etc, were things I thought Sujju would like to collect. I love ferns and mushrooms and plants and bits of all these things are in there.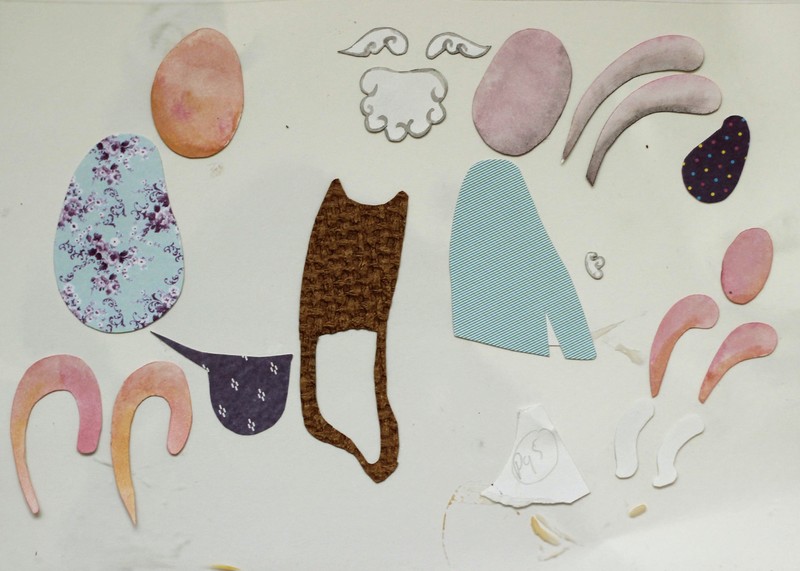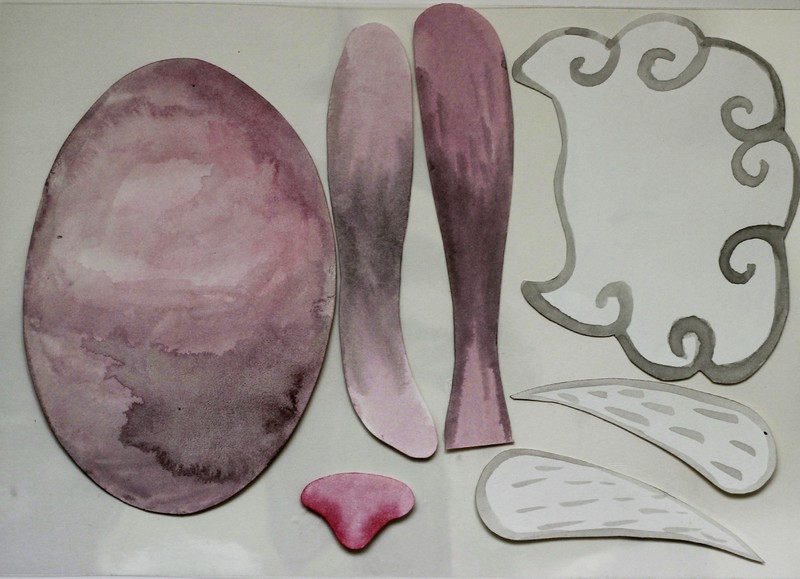 5. How do you go about selecting texture, materials and patterns?
All the leaves in the book are from a picnic we had in Lalbagh. I just filled up a small bag and took pictures when I got home. The clothes of the rabbits and the roots are different kinds of paper. I have a big soft spot for all kinds of paper, handmade/recycled/printed…anything. And any excuse to buy more paper works for me. Most of the time I have a clear idea of what I need to source, and sometimes the paper inspires its own use.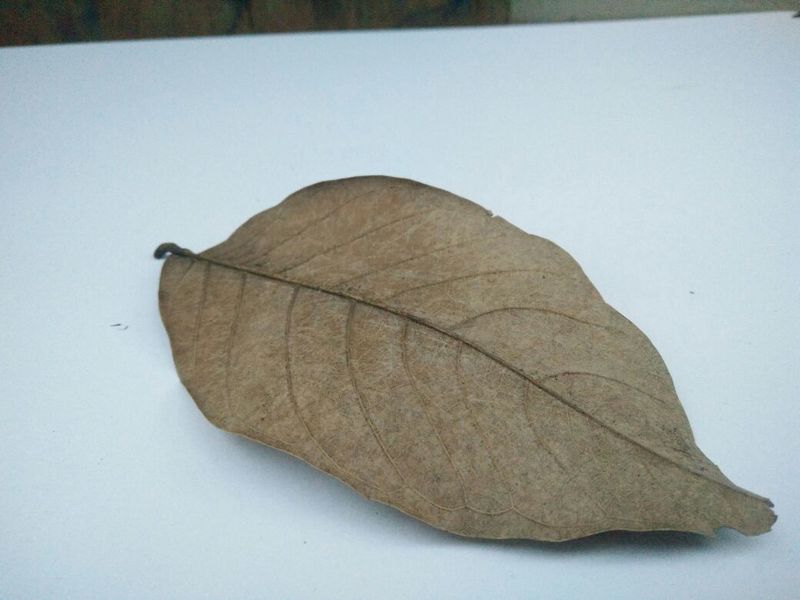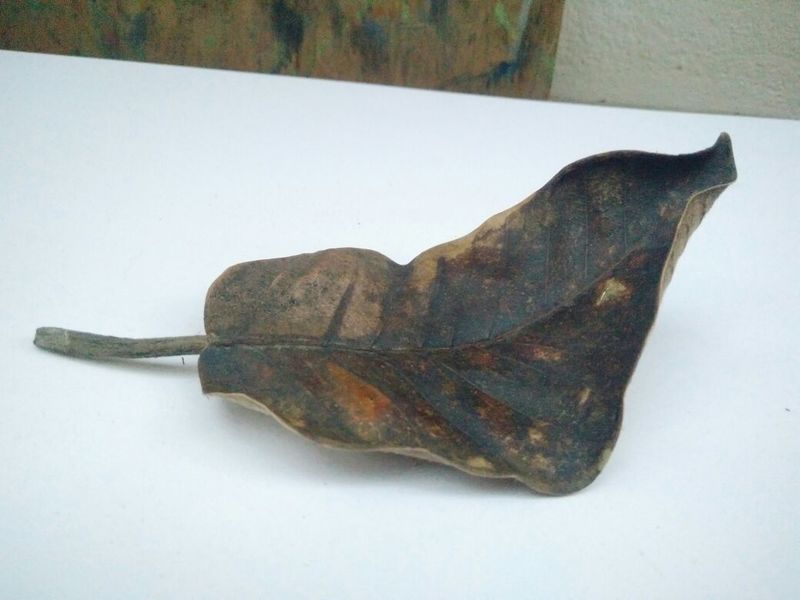 6. Often working in an organization gives you a supportive feedback system. While working by yourself what criteria do you use to critique your work?
Funnily enough, my three and a half year old was my constant critic for the art on Ajja. He would ask about what was happening on each page and narrate the story back to me as I worked on Photoshop. My husband is also an animator and artist, and an approving nod from him is always hard-earned, so that keeps me on track too.

7. What is the one thing you learnt while working on Absent Minded Ajja?

Working within the constraints of a story while setting up your own challenges was a good learning experience on the book.

8. What do you hope to accomplish with your work?

I love children books. I buy lots of them mainly for the art. Now I end up reading the same ones a 100 times over to my son. I really enjoy the ones where there are many things to look at in a page and every-time you revisit them they seem new.

9. If you could imagine the "perfect art day" for yourself, what would it be like?

The perfect art day is an impossible dream for me right now. With a home schooled toddler in a small nuclear family, time management is my biggest enemy. I really struggle to juggle all my mom jobs and get enough time to do everything else. But a perfect art day would be to just sit undisturbed and get lost in the job with a few hours in-between of paper shopping.
Be the first to comment.
---
1. Put a face to that name!
Click on your name on the top right of the menu. Select "Dashboard" from the drop-down. You should see "My Details" - everything you'd like your audience to know about you! First off, upload a picture of yourself!
2. Tell us a little bit about yourself, will you?
See that field marked "Profile Description"? Fill the box with a short description of yourself. Things you like. Stuff you loathe. You get the drift.
3. Where do you live on the web?
Have a website? A portfolio? A social media footprint that will help people know more about your creative accomplishments? Just fill in the address in the box labelled "Website."
Just one last thing - hit "Submit," and your brilliant, updated profile goes live. Enjoy!
Take a look at author Roopa Pai's profile page below for some inspiration!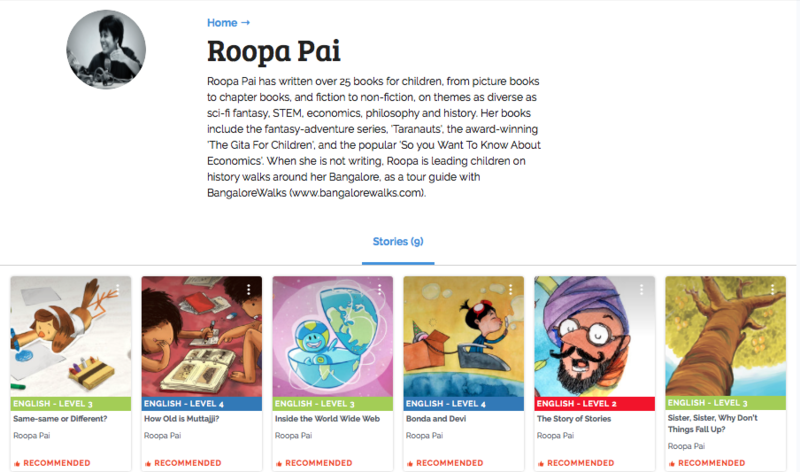 Be the first to comment.
---