UPDATE: 'The Elephant Bird' is available to read in Assamese , Hindi, Kannada, Marathi, Odia, Sanskrit , Tamil , Telugu , Bengali, Malayalam, Punjabi, Konkani and English .
Pratham Books' One Day, One Story is back! The nationwide storytelling campaign is in its 5th year. Through the campaign, we encourage our community of volunteers to use one book to conduct reading sessions, free of cost with children from under-served communities. For more details about the event click here.
This year's chosen story is The Elephant Bird by Arefa Tehsin, Sumit Sakhuja and Sonal Goyal. The story about a magical bird, and a brave, curious child is also the tale of an unlikely friendship and rare courage. We totally love this one!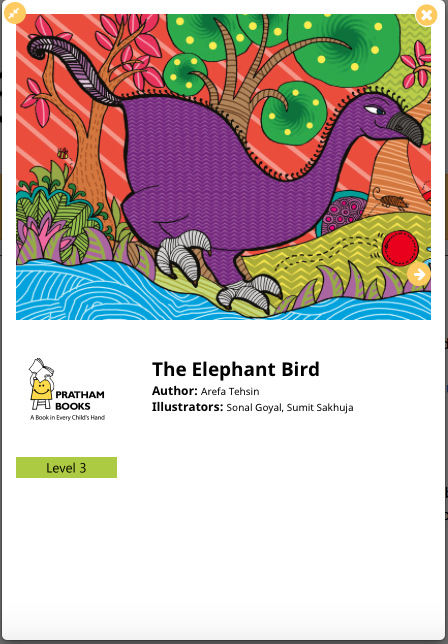 Last year 2500+ storytellers joined us to take The Boy and the Drum across India (and some other parts of the world!). This story was translated to 7 languages on StoryWeaver. The more languages a story is translated in, the more it will travel to be read and enjoyed by children.
This is where we need your help.
Yes, you guessed it right - we need translation volunteers for this year's story. The Elephant Bird' is already availble in English, Hindi, Kannada, Gujarati, Telugu, Urdu and Marathi. Your contribution to add a version of this story on StoryWeaver will go a long way in multiplying the number of PB Champs' reading sessions and in turn, help reach more and more kids. Wouldn't that be lovely?
We need all the translations to be on the site before 20th August, 2016.
If you have any queries please write to us at [email protected]
Here's a quick and easy video tutorial on how to translate stories on StoryWeaver. Once you've seen it, you can head over to the site to start translating 'The Elephant Bird'
P.s: If you're interested in joining us as a PB Champ this year, click here to enrol.
Be the first to comment.
---