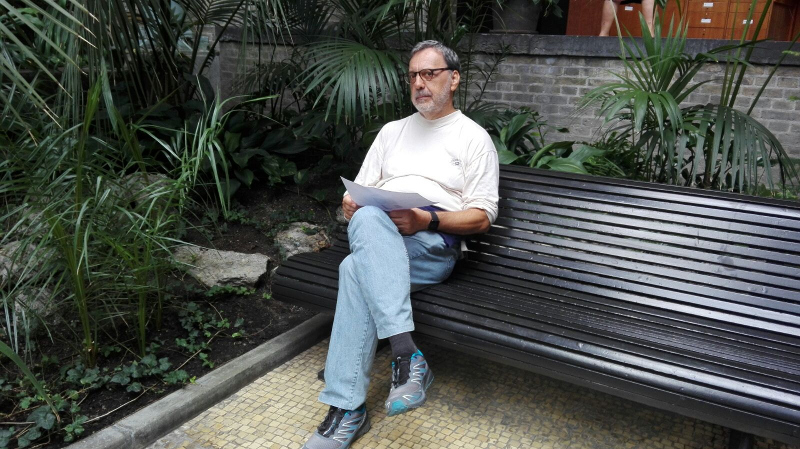 Roberto Marcolin is a High School teacher near Milan, Italy. He's been doing some very interesting things with StoryWeaver both inside the classroom and out! Read on to find out more.
"I'm a teacher in a high school near Milan, Italy and I'm in charge of the school library. Our school recently participated in Libriamoci a Ministry of Education project to promote reading aloud. Many different classes in the school took part, with some students reading out loud stories from StoryWeaver in English. At the end of January, we took part in Piazze Solidali (Solidarity Squares), an event held in the public library of our city. At the event some of my students read StoryWeaver stories in six different languages: Albanian, Romanian, Arabic, Spanish, French and of course Italian."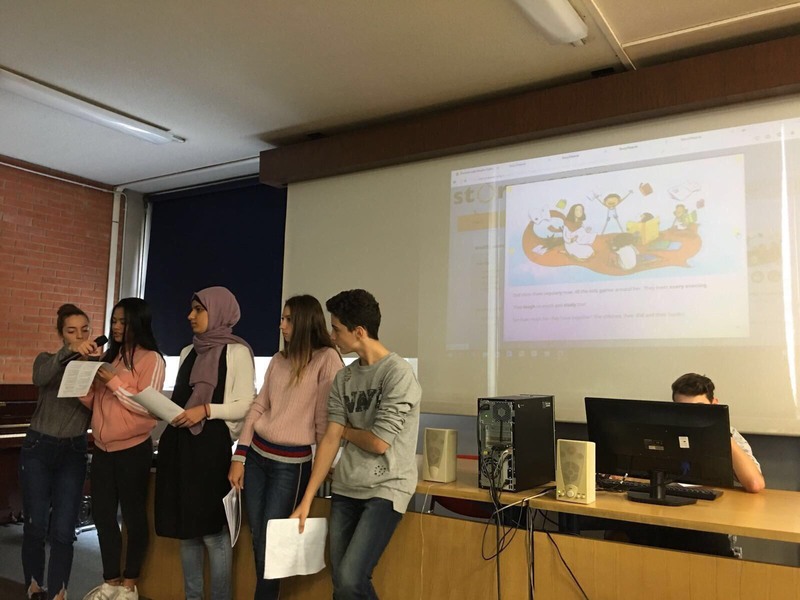 A class from Roberto's school is participating in Etwinning a European project, students from the Czech Republic, Spain and Sweden. "Through this project they will translate books from English to their mother tongue on StoryWeaver. You can find the first seven stories translated to Italian on StoryWeaver."
Students read aloud stories from StoryWeaver at the Libriamoci event held in October, 2017.
Roberto has also made an audio version of 'Ghum Ghum Gharial's Glorious Adventure' in Italian with Canoprof an open source software created by the French education ministry.
"Framapad is an open source software for collaborative writing which I used when preparing for the Piazza solidale event. I made some recordings of stories like this one and I hope to do others. I think they could be used to promote reading amongst students."
Roberto has a few other ideas on how he would like to use StoryWeaver. "In 2018, I would like to organize a collaborative translation of some stories of StoryWeaver involving other teachers and students. The translators could meet in a place at school like the library and collaboratively translate some stories together. I would also like to create free digital libraries using StoryWeaver stories as my French colleague Cyrille Largillier has already done here."
We look forward to hearing more from Roberto and his students this year!
If you are using stories in your classroom or library and would like to share it with our community, write to us at [email protected] and we'll feature you on our blog!
Be the first to comment.
---
Khyati Datt, a member of our outreach team writes about two of our recent workshops in Mumbai and Mysore.
It's not often that you have 25 Master Teachers from different walks of life, speaking 5 different languages, living in 4 different states and still engaging with each other and sharing their thoughts.
This was the scene at our recently conducted StoryWeaver Workshop in Mysore. Pratham Education Foundation invited their wonderful Master Teachers for a training workshop in Mysore and we, at StoryWeaver, got the chance to interact with them on the last day of their training. Our facilitators, Mala, Shruthi and Payoshni ensured that the session was multilingual- in Kannada, Tamil, Telugu, English and Hindi.
The beautiful weather at Mysore served as the perfect setting for a 3-hour long session where interesting teacher practices came to light. As the session progressed, we deep dived into the intriguing world of stories and explored how stories open a child's eyes to a world filled with joy and learning.
The teachers, then, went on to try their hands at StoryWeaver. They decided on themes and explored the platform for five stories/flashcards that talked about their theme. Their biggest takeaway from this exercise was that they can use the platform in their classrooms and combine storytelling with teaching. The second part of their task was getting down to becoming authors! Each group was given a task sheet with a specific theme and encouraged to create a story/flashcard. The most exciting bit was teachers realizing how easy it is for them to create in their regional languages and taking it to their classrooms back home.
We got some great stories from the teachers, who presented their idea for the story and the flow behind it. With so many tongues in the room, everyone promptly translated what was being spoken in the room which ensured language was not a barrier for a fantastic session of idea-exchanges.
A discussion ensued on what are the different ways in which the teachers can use StoryWeaver in the classrooms. It was wonderful to see how the teachers could align their existing classroom ideas with storytelling practices, like by getting their students excited about a topic by narrating them a story about it. Using illustrations as writing prompts, and spotting books for teaching sight words were one of the many ideas that the teachers dwelled on.
We closed the session by showing the participants videos of teachers using StoryWeaver to build a reading culture in their classrooms. The rain shower that followed was the perfect end to a wonderful workshop!
In the previous week, a similar workshop was conducted in Bombay with 30 teachers from Pratham's ECE wing from Maharashtra and Gujarat. The crackling energy in the room led to a session that was interactive and fun! The teachers came up with ideas to use stories in the classroom to make the lessons engaging and to ensure that the students learn in a different manner. As Smitin Brid, Program Head of Early Childhood Program for Pratham Education Foundation, puts it, " I'm thankful to the StoryWeaver team for conducting wonderful and useful sessions at Mumbai and Mysore workshops. The key resource people in both these regions have got information about this platform and we'll ensure continuous engagement with them on using the resources available on StoryWeaver."
A big thank you to Pratham Education Foundation and its ECE wing for giving us the opportunity to interact with the teachers and their consistent support.
If you are interested in hosting a similar workshop for your organisation, drop us an email on [email protected]
Be the first to comment.
---
My first StoryWeaver workshop took me to Hyderabad. I was officially on the training side of the workshop, but since this was my first, I experienced those two days with two different batches as a participant too.

50+ educators, resource people, librarians and program managers from 12 different organisations and schools poured into the room and were brimming with energy even before the workshop began. Payoshni, Senior Outreach Manager and trainer for the workshop, talked about StoryWeaver - our open repository of free children's books, its practical uses in a classroom, and the way it can be used to enhance a child's world from all aspects like cognitive approach, social skills, comprehension, logical thinking and aesthetics.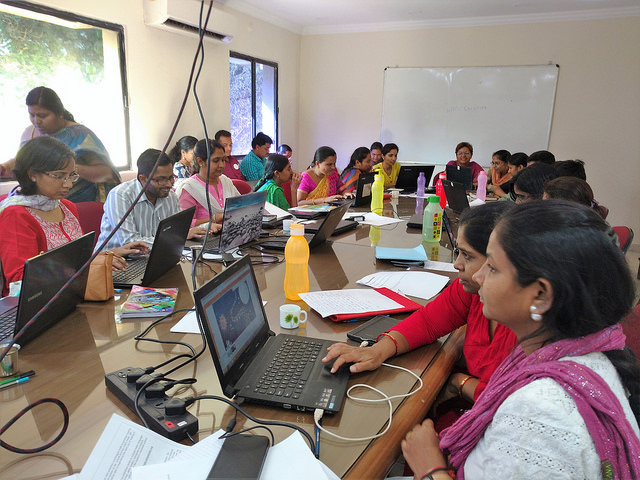 Teachers became curious students and asked us countless questions that spanned across queries about our features, to the efficacy of the platform itself. It was a delight to see them realize the applications of StoryWeaver in the classroom. Once they understood the intricacies of creating, translating or releveling (simplifying or making a story complex) stories on the platform, all of them were eager to try their hand at bringing about their own creation on StoryWeaver.

Sandhya Damodar, Pudami Schools, Hyderabad talks here about the various applications of StoryWeaver in a classroom and specifically the advantages of being able to 'relevel' stories:


The fact that the stories on StoryWeaver are free to use, read, download and print was exciting and important for teachers who came from schools based in rural settings. Active discussions ranged from how to preserve the accuracy and sanctity of a language through translations. Concerns unfolded about how some languages need more original content for the children, and one way could be to create and translate in that language on platforms like StoryWeaver.
In this short video, workshop participant Shadab Ahmad, Focus High School, Hyderabad talks about how StoryWeaver will help him in getting Urdu stories across to his students and also about the ease of publishing good stories on the platform.


The childlike joy of the teachers working in teams with fellow educators whom they didn't know previously, and raising their hands to read their created stories out loud was infectious. They proudly presented their work in front of everyone and laughed along with everyone at the bits they got wrong or where they themselves had added humor! Some of them are still active on the platform and creating/translating/releveling stories for their students, for fun, or to contribute in some way to their favorite language.

As we wrapped up the two-day workshop, it was a comfort to know there are educators who are eager to learn about how to improve a child's experience in classrooms. And not just that, they want to do it through the art of stories.

Here are a few pictures from the event!
A big thank you to Dr.Reddy's Foundation who made this wonderful workshop possible and all their efforts in bringing the best opportunities to their children. If you are interested in hosting a similar workshop for your organisation, drop us an email on [email protected].


Be the first to comment.
---