It's FINALLY here! The moment you've been waiting for… drumroll please… the results of the Pratham Books Retell, Remix and Rejoice content 2016, Children's Category.
Before we get to the fun bit, a sincere apology for the delay in announcing the results. But with so many amazing entries in two categories (children and adult), we wanted to make sure our internal and external judges had enough time to do full justice to each and every story written.
This year we received a whopping 119 entries. 30 of those entries were by children and we were pleased to see 4 Hindi stories entered by these budding authors! You can see all the entries in the Children's Category here.
CONGRATULATIONS to…
Shristuti Srirapu for 'Night Trouble' and Aviral Sood for 'An Escapade'!


That's right, we have two winners! Shristuti and Aviral will each receive a printed copy of their winning story and a hamper of Pratham Books' latest titles. Read on to find out who our judges were and what they had to say about the winning entries.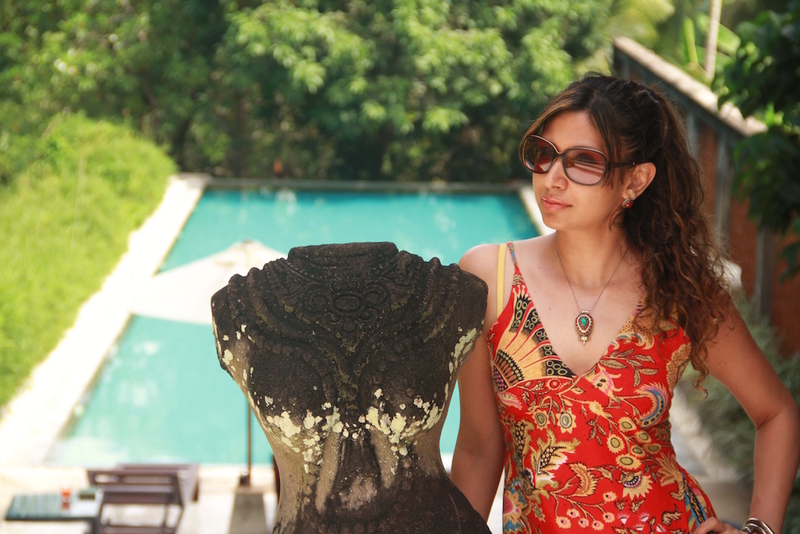 Arefa Tehsin spent her childhood treading the Aravali jungles with her naturalist father. As a child, she was often found trying to catch a snake or spin a yarn. She grew up to be a traveller, storyteller and was appointed the Hon. Wildlife Warden of Udaipur for a term. She is the author of several fiction and non-fiction books including The Elephant Bird. Her latest book is Wild in the Backyard published by Penguin. She writes columns and articles for various national dailies and magazines like The Hindu, Outlook Money, Deccan Herald, TerraGreen etc. A dreamer and rationalist, she is a serial traveller who wants to go on an endless journey starting with planet earth.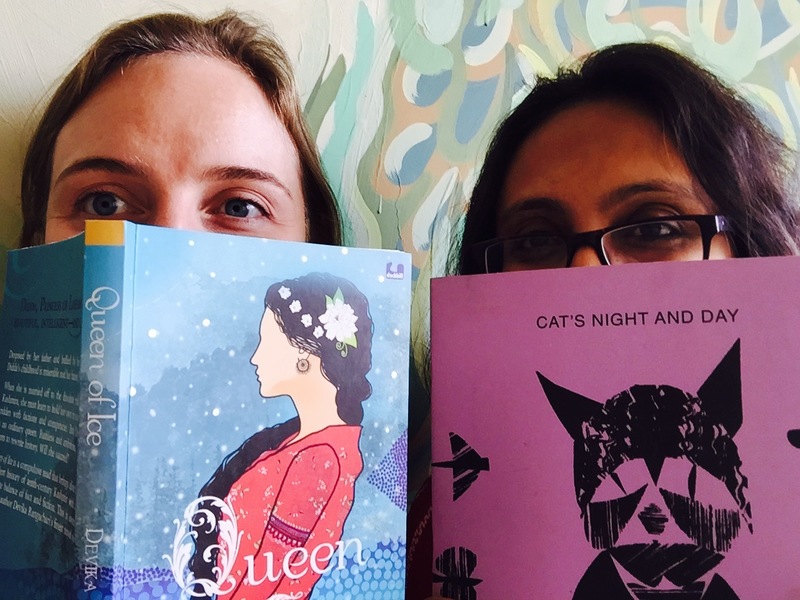 BAM! Books is an Instagram-led project which talks about children's and Young Adult books, curated by Bangalore-based writers Bijal Vachharajani and Maegan Dobson Sippy. Focusing largely on books with a South Asian context, BAM! aims to help parents, educators and young readers find books they can meaningfully connect to. Find out more at: https://www.instagram.com/BAM_Books/
What the judges had to say
BAM!Books
On 'Night Trouble' A wonderful story about animal behaviour and the illustrations work wonderfully with the text. The idea of the dog asking advice from other animals on how to sleep is also sweet, and well-executed. We also loved the effective rhyming refrain which gives a rhythm to the dialogue.
On 'An Escapade' An imaginative and original interpretation of the images, which nonetheless manages to make good sense of the art. The repetition of 'or so his mother would have said' gives a good rhythm to the story, as well as giving credibility to the direction which the story took in the end!
Arefa Tehsin
On 'Night Trouble' Night Trouble has a lovely humourous angle to it, especially coming from a 9-year-old!
On 'An Escapade'
An interesting tale of a pup running away from home in search of better lands. What for? Due to his nagging mum, obviously. Good story, dialogues, similes and a connect with most of the illustrations.
A big thank you to our amazing judges for taking the time to read each entry and share their feedback and marking. Also, thanks to everyone who took part in the contest, your stories are now on StoryWeaver for you to share with friends and family!

You can read the results for the Adult's Category here.
comments (3)
---
Nayana Adarkar, a graduate in commerce, working as a Sr. SubEditor for Daily Bhaangarbhuin, has published 3 poetry collections, 2 literary essays, a collection of short stories and 16 books for children. Her songs have been included in chilren's audio CDs and her poetry is a part of the Goa Higher Secondary syllabus as well as B.A. syllabus. One of her poems has been included in the Maharashtra Higher Secondary Board syllabus. She has received two awards for children's literature, six awards for her poetry and one for her for story collection. She is also the recipent of the Goa State Yashodamini Award for Literature.
Nayana Adarkar, our Konkani enthusiast lovingly shares with us her many adventures in the World of Stories. She carries us along, right back to the very beginning of her wonderful tryst with poems and stories. We trot alongside as she tells us about how she became and remained the animated, child-like storyteller that she is (Touch Wood:)); how the audience kept changing through the different phases of the growing up years, to marriage, to motherhood - but the stories, they always remained by her side.
We find ourselves eagerly listening in to our favourite Manikantan's story as she narrates it to a room full of enthusiastic children…and just like her very young audience, we want to hear more and more stories from you, Nayana. Keep weaving magic with the stories, like only you can!
Join us, on this wonderful journey with Nayana…
हांव भुरगेपणांत खूब मस्ते, भरपूर खावप, वाचप , अभिनय करप आनी नाच करप म्हाका आवडटालें. चांदोबा, काणयांची पुस्तकां, पेपर... हाची आवड निर्माण जाली ती म्हजी आजी आनी म्हज्या आज्याची भयण बा कडल्यान. बा मुंबय सावन गोंया येताली. तेन्ना आमी तिका म्हणप, बा, काणी सांग. तिणें मागीर म्हणप, काणी दिल्लीक बसल्या राणी आनी मागीर ती काणी सुरू करताली. म्हजी आवय शिवलिला, भगवतगिता बी वाचून दाखयताली तेंवूय कानार पडटालें.
चवथेंत आसतना एकदां फॅमिली पिकनिकेक गेल्ले कडेन म्हजी पयली कविता जल्माक आयली. मागीर काणयो, नाटकुलीं. आमच्या बाबान वाड्या वयल्या भुरग्यां खातीर शाळा काडिल्ली. ते शाळेंत हांव भुरग्यांक काणयो सांगपाक वतालें. म्हजी वाचनाचे, अभिनयाचे आवडीक सारें मेळटालें.
हांव व्हड जालें खरें पूण म्हज्यांतलें भुरगें तशेंच म्हज्या मनांत उरलें. तें पिकनिकेक, इश्ट-इश्टिणीं मदीं भायर येतालें आनी मस्तेंपणा करतालें. भुरगींय म्हजे कडेन म्हज्या सभावा खातीर ओडटाली. जायत्या जाणांक म्हज्या ह्या प्लस पॉयंटाचो अदमास आयलो. तीं म्हाका काणयो सांगपाक आपोवंक लागलीं. कोंकणी भाशा मंडळ, शाळा, क्लब, ग्रंथालय...
हांव भुरग्यां मदीं वता तेन्ना भुरगें जाता. आनी तेन्नाच म्हाका कळटा भुरग्यांक कितें जाय आसता. नव्यो नव्यो काणयो, तातूंत हांसप आसपाक जाय, नाटक आसपाक जाय, पूण शिकोवणी आसपाक जायना. तूं अशें कर, तशें कर म्हणल्यार भुरग्याक (आनी म्हज्यांतल्या भुरग्याकूय) राग येता. ते परस आडवळणान ती गजाल भुरग्यांच्या मनार घाली, जाल्यार तांकां दुसऱ्यांचे काणयेंतल्यान त्या गजालीचें म्हत्व कळटा. त्या भुरग्याच्यो चुकी आपल्या कडल्यानूय घडटात हें ताच्या लक्षांत येता. आपणें तशें केल्यार कितें जातलें हें नकळटा ताका समजता. आनी तें शाणो जाता.
आतां भुरगीं कसली आसची काणी सांगपा खातीर हाका म्हजे नदरेन अर्थ ना. भुरगें भुरगेंच आसता. हां कांय जाणांची लेव्हल मातशी वेगळी आसूं येता. पूण भुरग्यांक मारप, बडोवप, मरप, दुख्ख जावप ह्यो गजाली आवडनात. चड करून त्या परिस्थितींतल्यान आयिल्ल्या भुरग्यांक. भुरग्यांच्या कलान घेवन तांकां काणयो सांगपाक म्हाका आवडटा. तांचे भशेन नाचून बी काणी सांगल्यार तांकां हांव मागीर तांच्यांतलें एक भुरगें कशें दिसता आनी तिवूंय मनमेकळीं काणयेचो आनंद घेतात. एक थर्ड पर्सन जावन तांचे मदीं काणी सांगूंक गेल्यार भुरगीं तुमकां आपणायनात. हो म्हजो अणभव.
म्हज्या भुरग्यांक काणी सांगता सांगता हांवूय काणयो घडयत गेलें. पेपरांत कामाक आसतना हांव बालसाहित्य विभाग सांबाळटालें. तेन्नाय म्हजे कडसून काणयो घडत गेल्यो. वट्ट 14 काणयांचे संग्रह जाले. आनीकूय काणयो घडटात. बालकविताय करतां. भाशा मंडळान म्हज्यो कविता सी.डी. खातीरूय घेतल्यात. हांव कथा, कविता वांगडा बालसाहित्यूय रचता. त्या बालसाहित्याचो बिंब प्रकाशन, आनी कुडचडें केंद्रांन पुरस्कार दिवन भोवमान केला.
हांव ज्या जाग्यार काणी सांगूंक वता थंय चडश्यो म्हज्यो काणयो सांगतां. आनी केन्ना केन्ना म्हाका आवडटात आनी भुरग्यांक सांगपाक म्हाका बरें पडटात, त्या काणयांतल्यान मनरिजवण जाताच पूण नवें गिन्यान मेळटा, तातूंतल्यान भुरग्यांच्यो भावनाय समजतात. अश्यो काणयो हांव घेता. म्हाका राजीव तांबे हांच्यो काणयो आवडटात. वेगळे तरेच्यो . जनावरांक, वस्तूंक मनशाच्या रुपान पेश करपी. मनिकंठन ही काणीय म्हाका आवडली. आयच्या धांवपळीच्या जगांत भुरगीं फकत अभ्यास, करियराच्या फाटल्यान घुस्पल्यांत. तांच्या मदल्यो भावनांय आमी पालक समजून घेनात. सैमाचीं तरेतरेचीं रुपां तांचे पसून पयस उरतात. तांचे मुखार आसता तें बेगडी टिव्ही, कंप्युटरा वयलें जग. हांवें मणिकंठनाची काणी भुरग्यांक सांगली आनी त्या भुरग्यां मदली मातयेची उदकाची , आजी-आजो हांची ओड पळोवन मन भरून आयलें.
म्हजी इश्टीण रत्नान एकदीस आमनाबायचो फोन येतलो म्हूण सांगलें. आमनाबायन म्हजे मुखार तरातरांच्या काणयांचें भांडार दवरलें. आगळ्यो वेगळ्यो काणयो. वेगवेगळ्या लेखकांच्यो. तांचो अणवाद बी करतना मजा आयली.
Watch Nayana Adarkar in action:
Be the first to comment.
---
UPDATE: 'The Elephant Bird' is available to read in Assamese , Hindi, Kannada, Marathi, Odia, Sanskrit , Tamil , Telugu , Bengali, Malayalam, Punjabi, Konkani and English .
Pratham Books' One Day, One Story is back! The nationwide storytelling campaign is in its 5th year. Through the campaign, we encourage our community of volunteers to use one book to conduct reading sessions, free of cost with children from under-served communities. For more details about the event click here.
This year's chosen story is The Elephant Bird by Arefa Tehsin, Sumit Sakhuja and Sonal Goyal. The story about a magical bird, and a brave, curious child is also the tale of an unlikely friendship and rare courage. We totally love this one!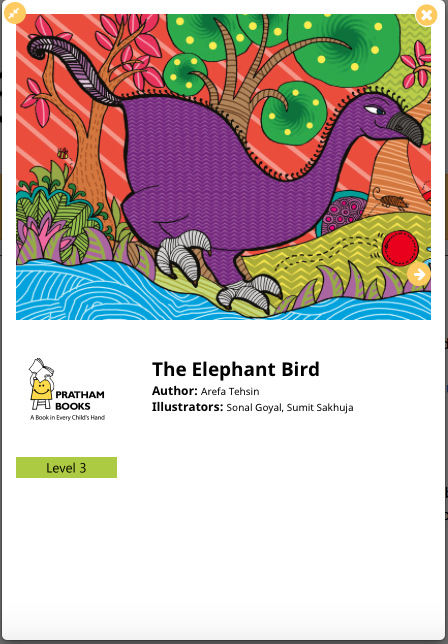 Last year 2500+ storytellers joined us to take The Boy and the Drum across India (and some other parts of the world!). This story was translated to 7 languages on StoryWeaver. The more languages a story is translated in, the more it will travel to be read and enjoyed by children.
This is where we need your help.
Yes, you guessed it right - we need translation volunteers for this year's story. The Elephant Bird' is already availble in English, Hindi, Kannada, Gujarati, Telugu, Urdu and Marathi. Your contribution to add a version of this story on StoryWeaver will go a long way in multiplying the number of PB Champs' reading sessions and in turn, help reach more and more kids. Wouldn't that be lovely?
We need all the translations to be on the site before 20th August, 2016.
If you have any queries please write to us at [email protected]
Here's a quick and easy video tutorial on how to translate stories on StoryWeaver. Once you've seen it, you can head over to the site to start translating 'The Elephant Bird'
P.s: If you're interested in joining us as a PB Champ this year, click here to enrol.
Be the first to comment.
---