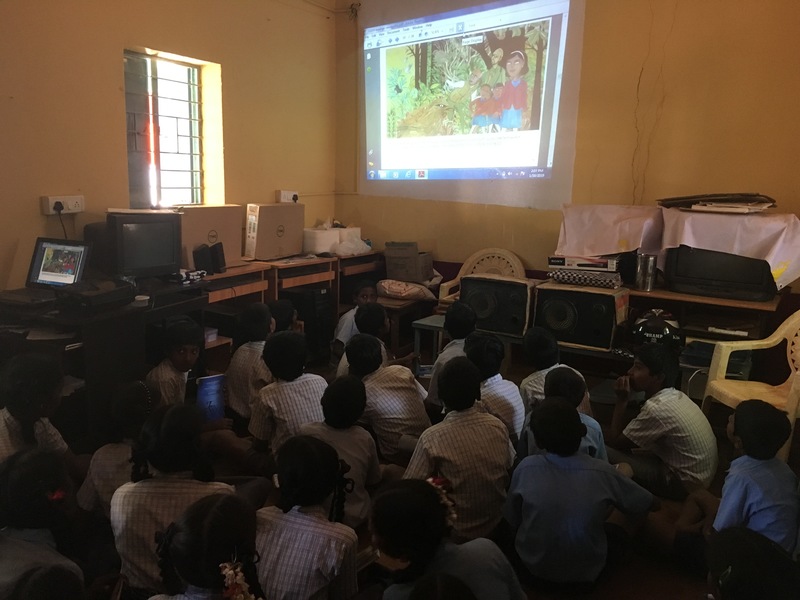 Suganya, from the Partnerships team, takes us on a journey to Tumkur where India Literacy Project is implementing a Multi-Dimensional Learning Spaces program with the government schools.
Getting there
The two-hour ride to Tumkur through traffic and on roads under-construction had taken a toll on our energy levels. But meeting children filled with enthusiasm for the read-aloud instantly put a smile back on our faces.
We were greeted by Latha, an India Literacy Project (ILP) Facilitator. She has been instrumental in implementing StoryWeaver content as a part of their Multi Dimensional Learning Space (MDLS) programme. Over 16 facilitators who work across 30 schools in Tumkur, Karnataka, identify schools in need, coordinate with partner organisations and develop a programme to help children not only with academics but also overall personality development. They provide schools with digital infrastructure, reading material and teacher guides, and also help them implement the programme in the classroom.
Story reading
Children were excited to get started with the read-aloud session. They had picked Smile Please for this. One of the children volunteered to read the story, and the others joined in. Whenever she had difficulty with a sentence or the pronunciation of a word, the class teacher and the ILP facilitator chipped in to help her out.
We were awed by the children's enthusiasm and decided to do an impromptu reading session for them. One of our team members stepped in and interacted with the children in Kannada, doing another reading. It was way past the children's lunch time, but they wanted their fill of stories first.
While the students were getting ready to enjoy their mid-day meal, we bid goodbye and continued our journey to visit more children.
More stories…
Once we reached the next school, we met with the headmaster and the ILP facilitator, Tejaswini. Teachers there have found it easier to introduce science and mathematics concepts using our STEM books. Children operate the computer and the projector during their free time to read stories on their own.
Without further ado, we began another read-aloud session with the children. This time, children had decided on Welcome to the Forest. Children enjoyed the narrative and also gained insights about the forest and animals that call it home. We asked the children, "What is your favourite book and which story do you enjoy reading aloud in class?". We were happy to hear varied responses, but Dum Dum-a-Dum Biryani! turned out to be everyone's favorite.
We were glad to see the children read and relate to the characters portrayed in our books. We believe that an incredible future awaits the children. With partners like ILP, we get that much closer to making our vision a reality.
Be the first to comment.
---
Written by Chetana Divya Vasudev and Sherein Bansal, Assistant Editors, Pratham Books
Even a kilometre away from Agastya Foundation's Science Campus in Kuppam, we're greeted by the fresh scent of its green landscape. We all wake up (or are made to) after a three hour journey, and look out the windows to see hills and farmland all around. As we reach the gate, we see their motto 'Aah Aha! Haha!' inscribed on it - a philosophy that drives their 18 year old science education programme.
Children from under-served backgrounds experience the wonderment of discovery (Aah!), to understanding the concept (Aha!), to having fun with learning (Haha!) here. The science campus, situated on the border of the three Southern states- Andhra Pradesh, Karnataka and Tamil Nadu, attracts about 600 children from neighbouring villages, who come to the campus about once a week to experience learning.

Pratham Books and Agastya Foundation have been collaborating for years, driven with a common philosophy of making children curious. With the launch of StoryWeaver, getting books into the hands of the hundreds of children that visit the campus has been made even easier. The digital library sits in the computer center where the children can choose a book to read in either Tamil, Telugu, Kannada or English, including many of our STEM titles, along with learning animation and mastering basic computer skills. The Pratham Books team is on a visit to the amazing campus to get a sense of all the initiatives Agastya Foundation has undertaken to nurture this curiosity further.
We roll ahead and everyone is looking out of the van windows pointing at the sculpture of a dismantled batsman, or a huge ant hill with child-sized ants crawling over it, or a mini-bus randomly sticking out on a pole. We come to know later that all the sculptures and installations across this beautiful 172 acre land were created by the renowned architect, Sharukh Mistry and Agastya Design team.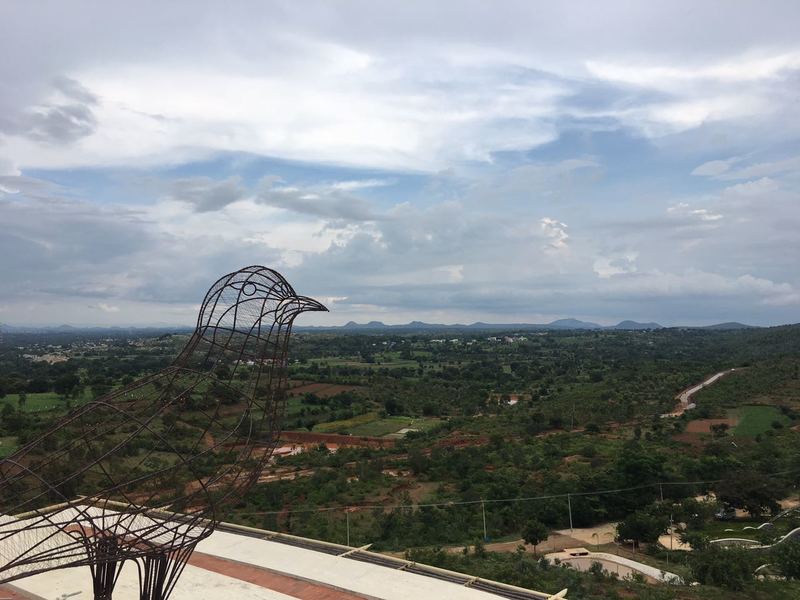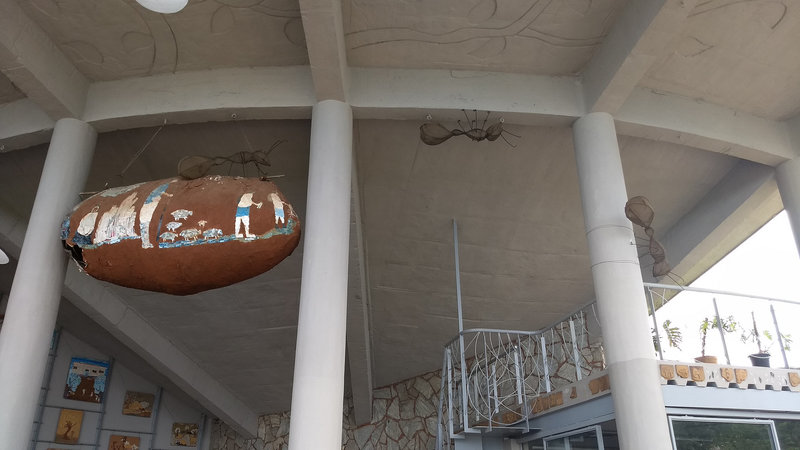 We have our fill of the sight of the faraway hills that circle us, and reach the stone-walled auditorium situated in the midst of this biodiversity. It's nearly lunch time when we walk into the cool auditorium. Jagadeesa, an ace storyteller and head of the library program at Agastya Foundation, has just finished the narration of 'Kottavi Raja and His Sleepy Kingdom' in English and Telugu. His audience of about 200 children, scattered across the space, are clearly delighted. One girl even volunteers to tell the story in English again.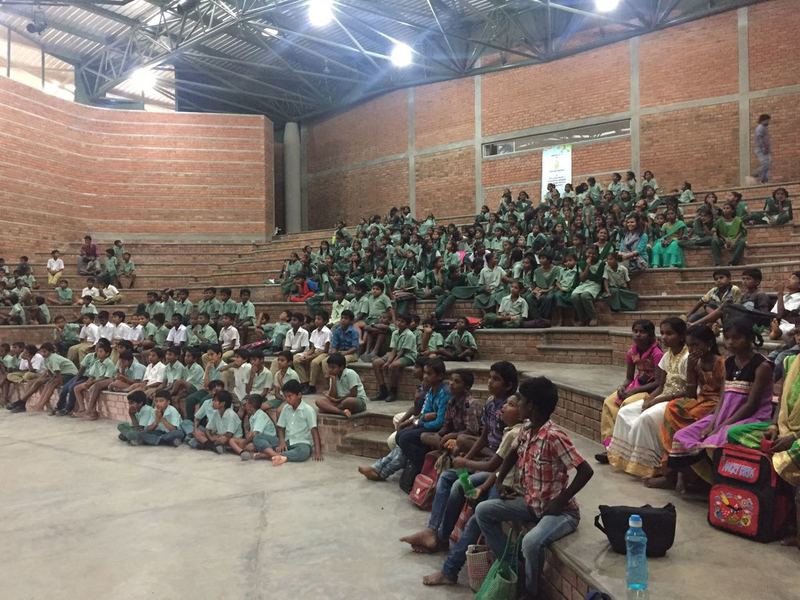 Once she's done, our team spreads out among the children, and an easy chatter resumes. Soon, they start filing out for their noon break. We meet some of the Agastya staff members, and they tell us more about the work they do.They lead us out, along a concrete path strewn with imprints of leaves of the Indian almond tree, up to the canteen. By the door are tyre and metal pawns that go with an outdoor chess board! The meal is simple yet delicious and we discuss Agastya's philosophy behind setting up this campus in detail.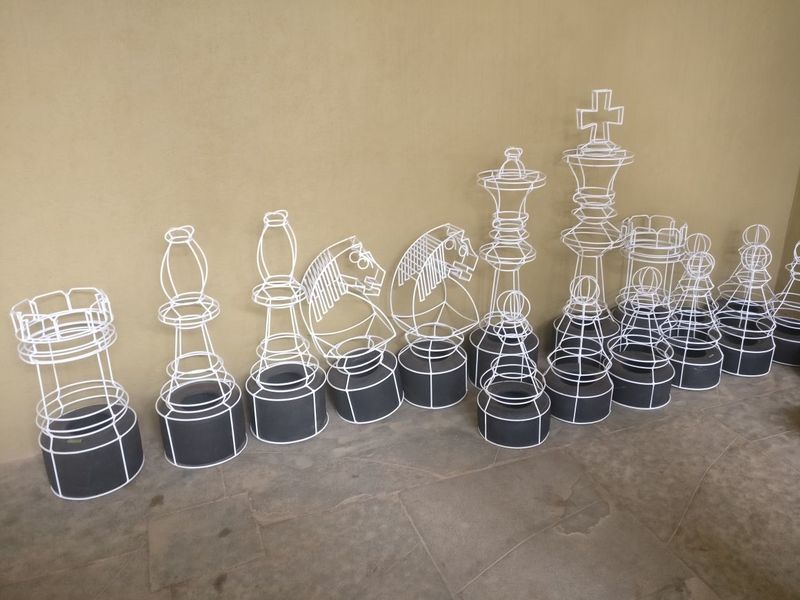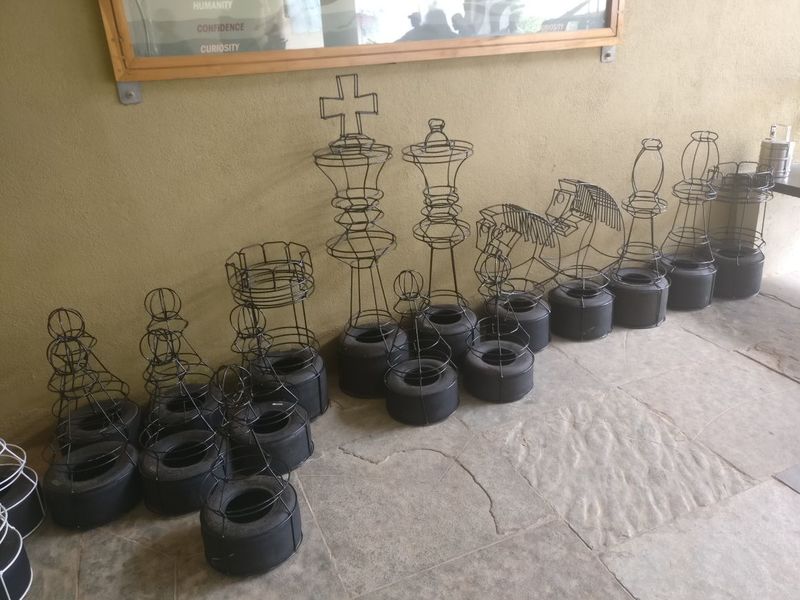 A little later, Aparna Kapur, author of 'Ghum-Ghum Gharial's Glorious Adventure', takes the stage and narrates the story of Ghum Ghum, a baby gharial who separates from her family in the river and must make her way back to them somehow! The children giggle their way through the animal sounds that punctuate the book. Jagdeesa live-translates the story into Telugu.
Our Editor, Bijal Vachharajani is up next. She makes the children laugh with the narration of her story 'What's Neema Eating Today?'. We watch children repeat after her. Funny expressions and sounds of 200 satisfied tummies, and the auditorium goes "Mmm-mmmmmmmmmmm!" Everybody has fun identifying their favorite seasonal fruits in the colourful picture book.
The final session with the children is the Food Rakshasa Activity conducted by Bijal and Aparna. Children are divided into groups and together they draw their idea of a monster on paper by substituting body parts with fruits and vegetables -- chilli, ladies' finger, bottle gourd, apple, carrot and more. And what lively, scary, yummy monsters we get to see by the end of it!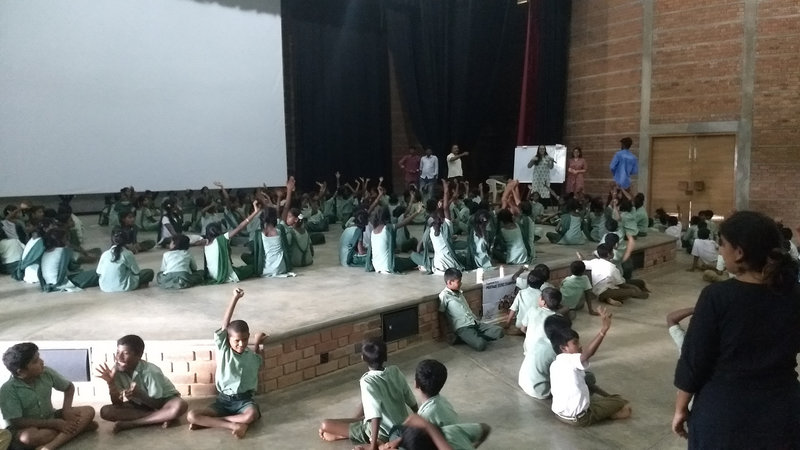 Post the session, the Pratham Books Team follows Subramanya Shastry, a key team member of the Foundation who has generously agreed to give us a detailed tour of the campus. "The children observe the nature around, pick up things from their surroundings, and create art from it," our host is explaining. But his words nearly skip our attention; the display around us is distracting.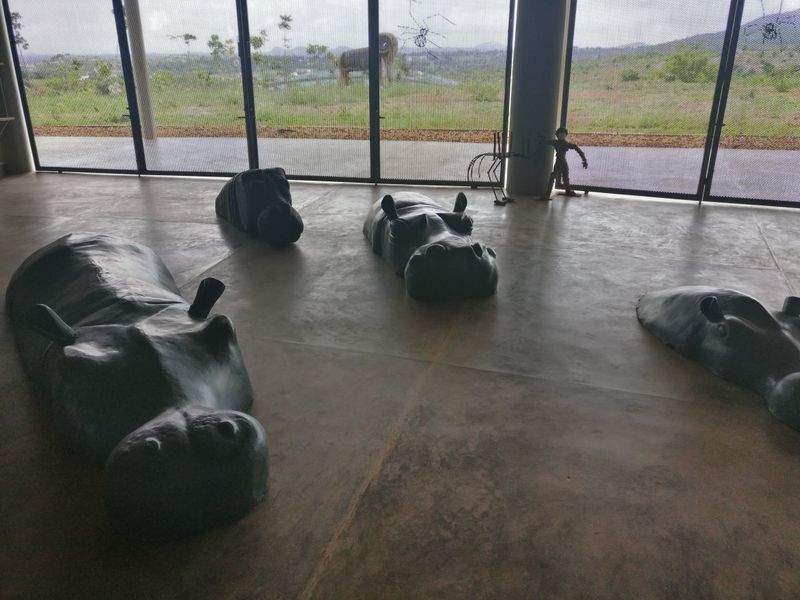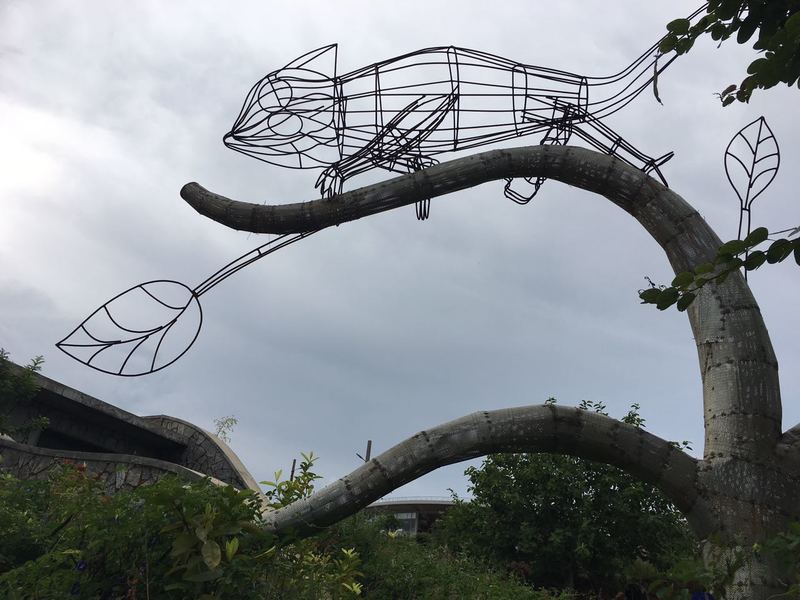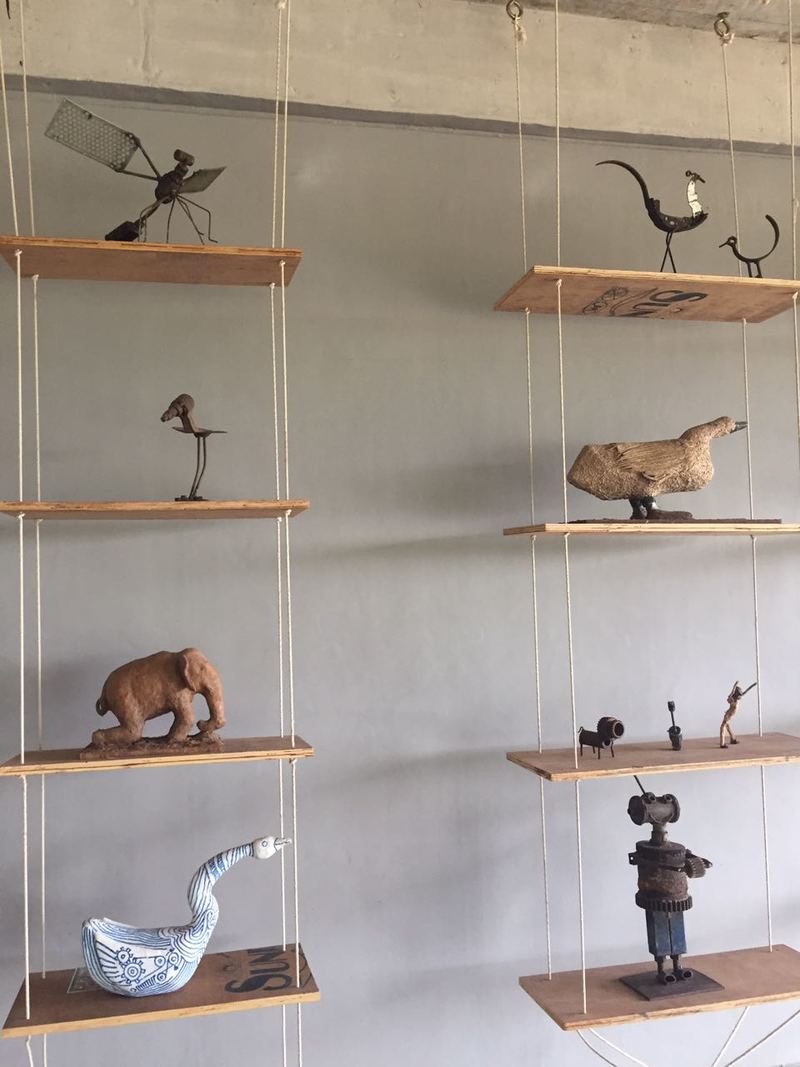 We tear ourselves away from this building with some difficulty and head to the innovation centre. Here the children, in groups, come up with devices or social interventions that impact their day-to-day life. For example, since water supply is erratic in most villages, one group has devised a sensor to alert people when water has been released. In the summer months, the supply can be as infrequent as once in ten days, so it's crucial not to miss every opportunity to fill up the buckets. Another group's device, to be installed at bus stops, would indicate how many buses of a certain route have passed.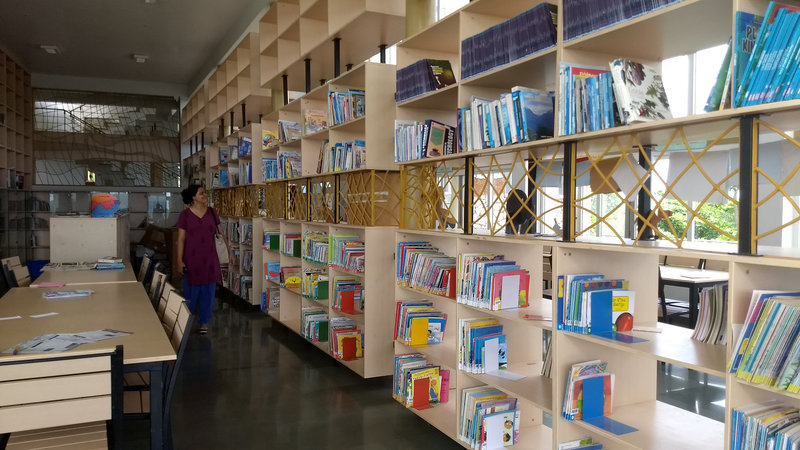 Our tour includes the media centre where we get to see photographs, animations and short films by the children. We wrap up with a short visit to the library and the robotics lab.
Too soon, it's time to get back on the bus. As we wave goodbye to the staff and children, we're certain we'll be back here before long.
More pics from our visit can be seen here: https://flic.kr/s/aHsm4sDAMf
Be the first to comment.
---
The best part of spending time with kids is if you smile at them, sooner or later, even the shiest of kids will turn and smile back at you. No barriers, no divides, they don't know what categories are. So they haven't divided people into them… yet. So let's catch the kids at that warm welcoming age when they can learn about different cultures and lifestyles, and can take such things in their stride as casually as they take their mother's repeated request to stop throwing things around! Only books can take you through lives of people who look, live and believe differently than us. So here is a list of stories where beauty lies in the differences:
Where Did Your Dimples Go? By Radha HS and Kruttika Susarla
Have you ever tilted your head in all directions and stared hard at your parents trying to figure out how you look like them? Langlen didn't have to look so hard. Her Manipuri mother and Tamil father were ready with all the answers her curious mind could think of! Available in ten Indian languages!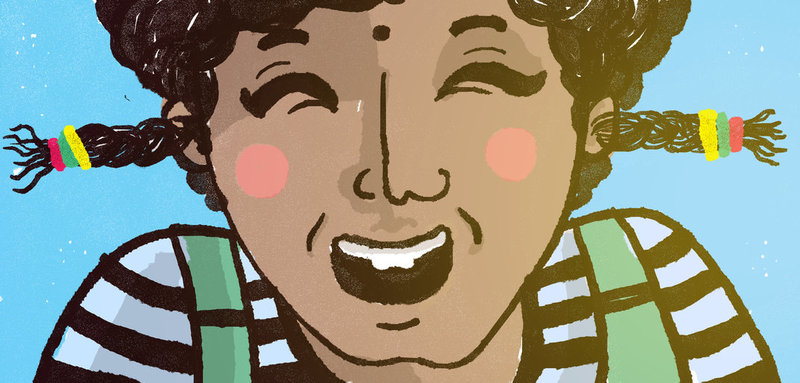 बारिश में क्या गाएँ? By Mala Kumar and Manisha Chaudhry
You can almost hear the earthy tones of a wind-swept Rajasthani voice in this story. And then a dinosaur comes in. No, seriously. See how these two contrasting elements literally make it rain in this story, translated in French, Italian and Japanese too!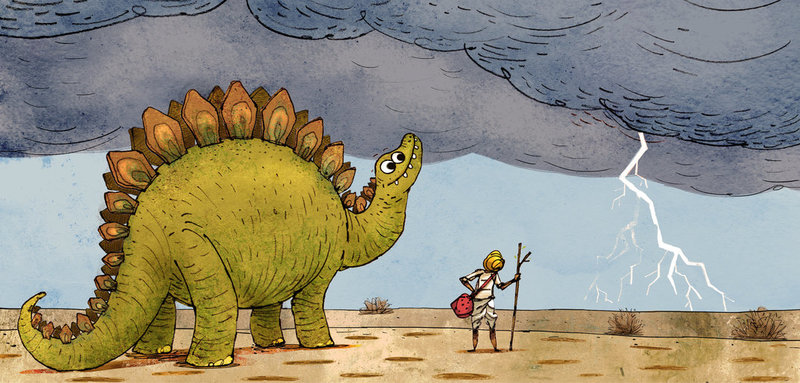 My Car By Phidi Pulu
He loves his car. Angry mother or broken teeth, come what may, he will drive it everywhere. Take a ride to the moon and the stars with Khaidi. Read about his car in Telegu and Konkani too!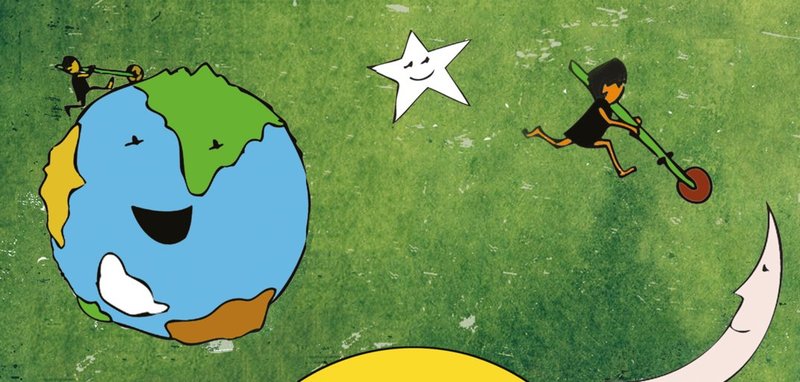 Sam's Christmas Present By Annie Besant and Alicia Souza
It's Christmas! And what do most kids care about during Christmas? Presents! Sam has been looking for his present…. In every corner of the house. Will you help him? Available in Hindi and Marathi!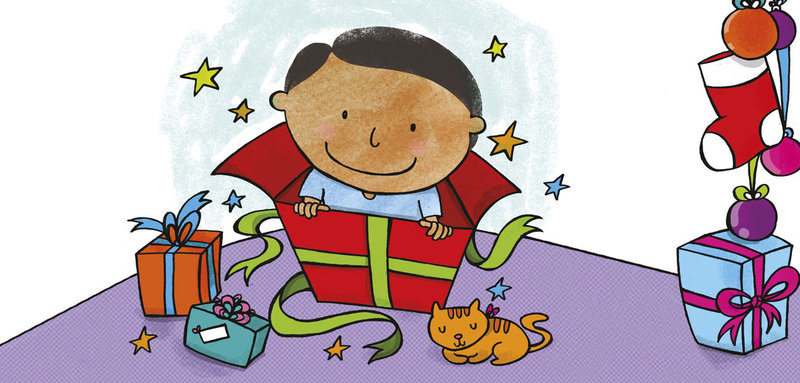 Chuskit Goes to School! By Sujatha Padmanabhan and Madhuvanti Anantharajan
This here is a heart-warming one. Chuskit wants to go to school. Seems simple enough for most of us reading this through our digital devices. But for a girl on a wheelchair with the rough landscape of Ladakh, this basic wish soon becomes a matter of privilege. Read how one smart and kind gesture of a little boy helped Chuskit go to school.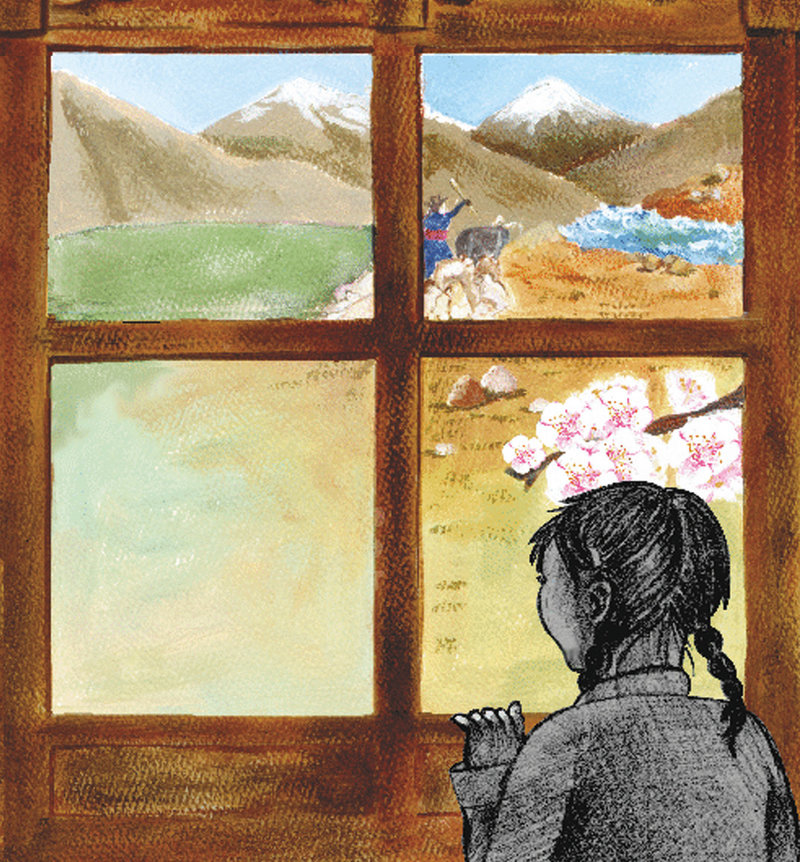 The Boink Mystery By Mala Kumar, Manisha Chaudhry and Soumya Menon
You get a huge mixing pot of traits, complexities and cultures when you look at a basic classroom. The Boink Mystery translated in Bengali, Kannada and other languages, will speak to you through a child's perspective of a cluttered world; it will even speak to you through a small blue alien!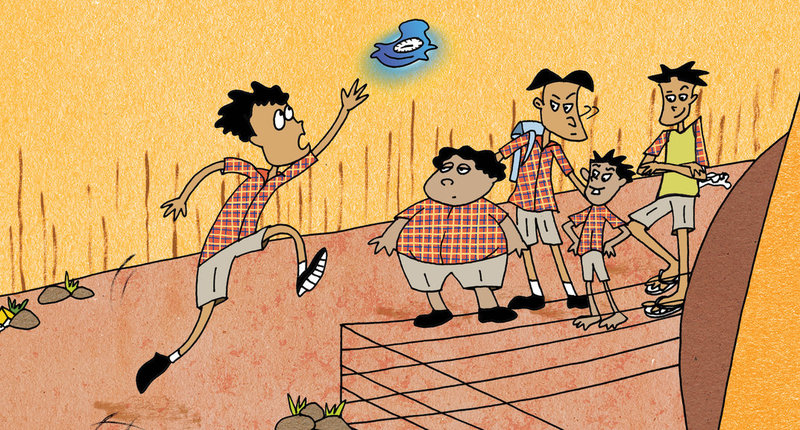 How Old is Muttajji? By Roopa Pai and Kaveri Gopalakrishnan
Grandparents are old. Sure. But HOW old exactly? Too many grandparents around us don't know their exact age. When Putta and Putti found out that their sweet Muttajji doesn't know her age, they decided to embark upon an investigation that led them through some of the most fascinating chapters in Indian history. Read this popular story and be enthralled in Bengali, Gujarati, Tamil, Marathi and many more languages!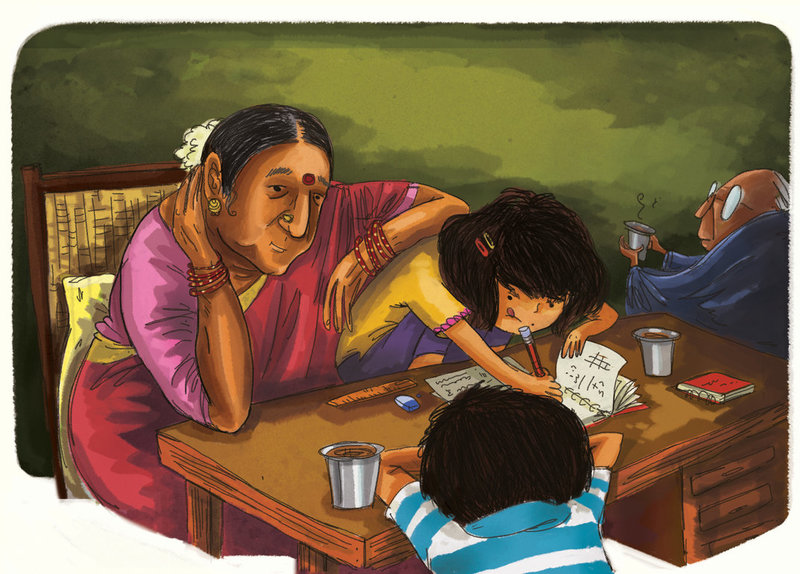 Susheela's Kolams By Sridala Swami and Priya Kuriyan
Imagine making kolams so pretty, so popular, that they make their way to the skies. Susheela is exceptionally proud of her kolams, now that even the Air Force has taken special interest in them! Read this story in 9 languages and enter her visually beautiful world that's tied together with traditions.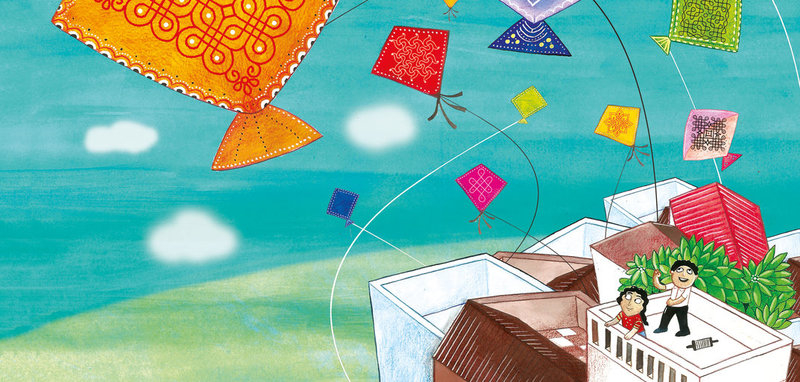 Mangoes And Mischief By Sreedevi Gopakumar and Sahitya Rani
You know how they say that when we are hungry, we eat like a monster. So what happens when an actual monster gets hungry? Maangasura, the lover of Mangoes and all Mango meals, is here! Moidootty and Malu must gather their wits… and lots of mangoes… to break his curse. Read this latest upload on StoryWeaver to find out if they succeed!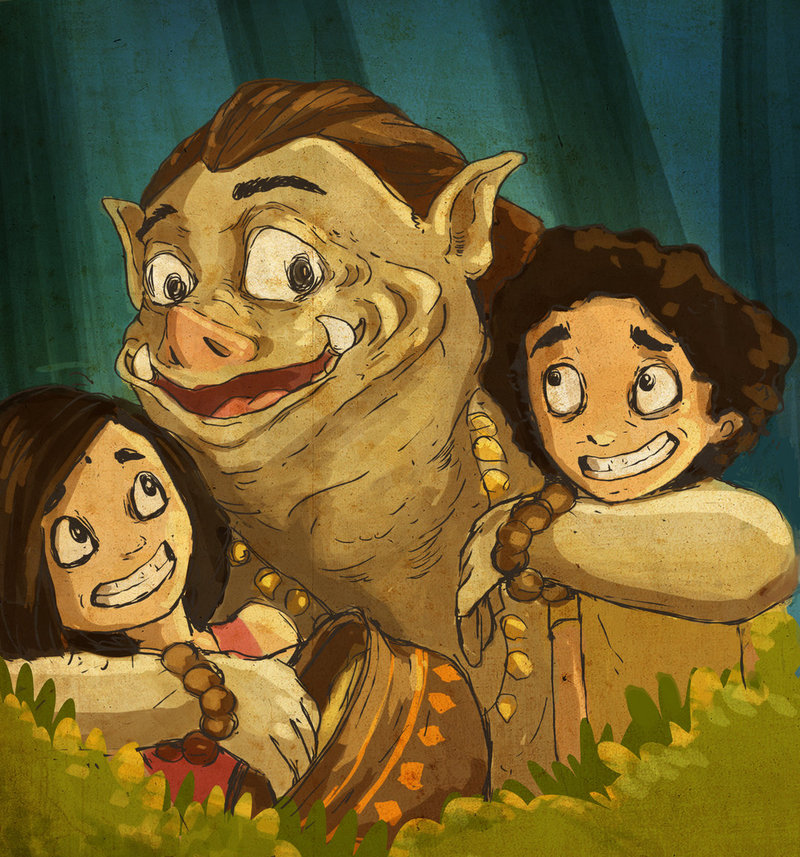 First House By Nabanita Deshmukh and Phidi Pulu
Our journey of increasing our comforts is possibly never-ending. We didn't always have four walls around us to keep us warm and a roof over our heads to keep the sun and rain away. Then how was the first house made? This story, set in present day Arunachal Pradesh, imagines the answer to that question, and even involves the beautiful creatures of that area. Read in Tamil and Kannada too!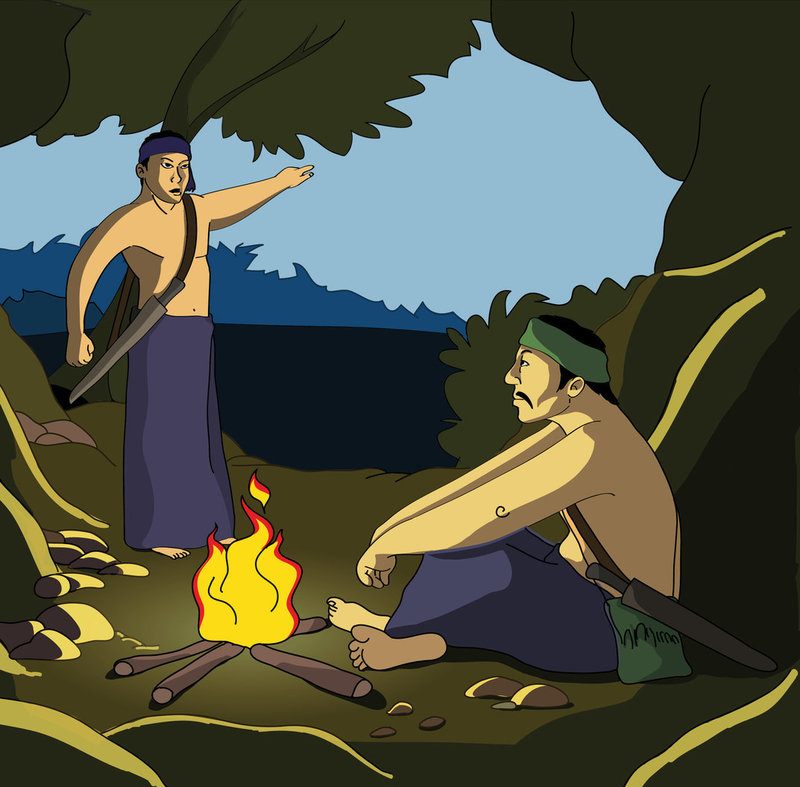 I am Tashi By ROGPA NGO, Dhasa
Want to see the stunning landscape and lifestyle of Tibetans through a nine year old's perspective? Let's take you through the Tibetan Himalayas, meet some Buddhist pilgrims on the way, and have some tea and momos too! Read this beautifully illustrated story that's written by our community member in English and Tibetan.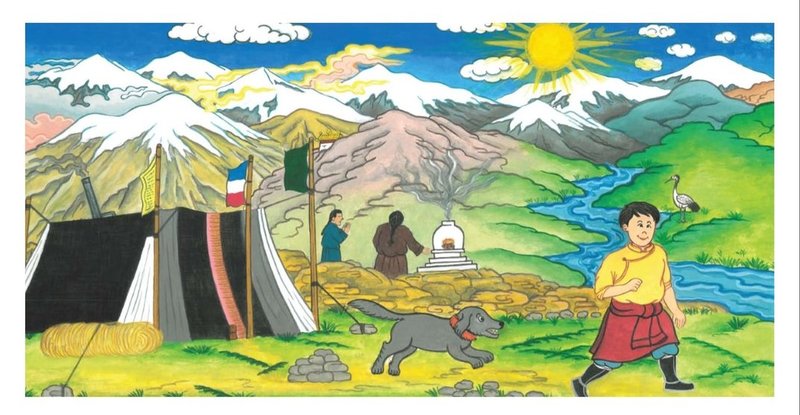 Do you have a favourite story that talks about different kinds of good? Tell us what it is in the comments, or on Twitter and Facebook!
Be the first to comment.
---