There are over 6000 stories to read and love on StoryWeaver. But which stories did our community love best in 2017? Here are the ten most read books of the year!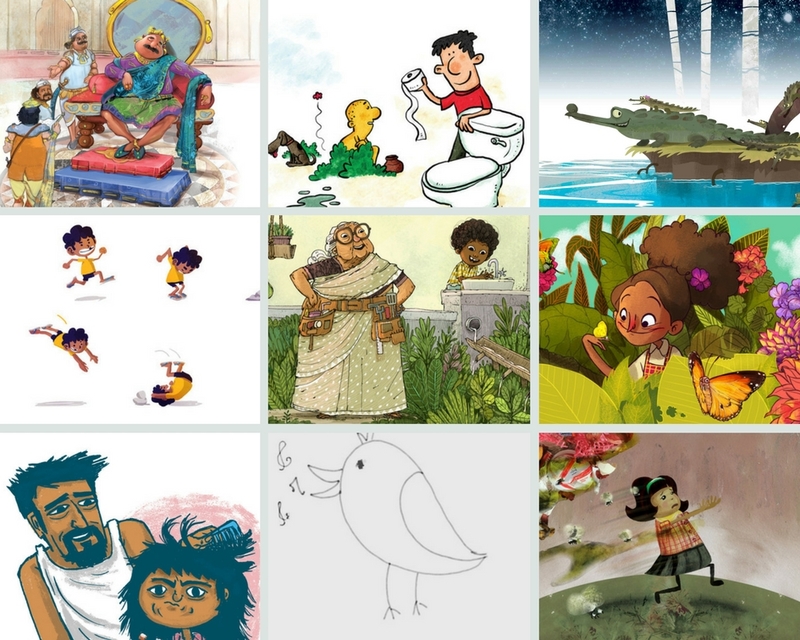 Number one or number two, they are always big jobs! But do you ever wonder what toilets looked like in the olden times? And are they different in other countries? Get ready to take a peek into toilets across space and time!
9. Courage by Drishti Kashyap and Jai Bhagwan Gupta
A tale of bravery inspired by our winged friends.
A traditional story retold with openly licensed illustrations from the platform!
Ghum-Ghum Gharial is out on her very first swim when she realizes that her family has swum off without her. Will she find them? Swim along the river Ganga with Ghum-Ghum and meet many amazing creatures along the way!
Jump and crawl and climb with Satya as he goes along with his mother to the farm where she works. A story about the different and wonderful ways in which we move.
Kottavi Raja had trouble sleeping. Only at night. During the day, when his ministers discussed complex problems, he'd find himself nodding of f. He asked everyone for remedies. Nothing seemed to work. Until... Travel to Kottavi Raja's land through this book and see what happened next.
A cloud of trash is hanging over Cheekoo's head, making her the unhappiest girl in the world. Read this wonderful story to find out how Cheekoo gets rid of this horrible trash cloud.
Akku is having an awful day and it's making her very, VERY angry. Read this book to find out how Akku's anger melts away, and get ideas on what to do when YOU are very, VERY angry.
Kavya's family has just moved from her village to Bengaluru and she is the newest girl in her class. Go along with Kavya as she visits a butterfly park where she discovers a special connection with butterflies and also makes a new friend.
Sooraj and his grandma LOVE inventing! Join them on their latest adventure: using simple machines to make coconut barfi!
We've been publishing some amazing new stories in the last couple of the weeks and will continue to do so well into the new year! You can find them under 'New Arrivals' on our home page. Happy reading!
Be the first to comment.
---