Last week, while I was at a government office on some personal work, I got a call from my colleague Zeba, also an editor at Pratham Books.
"Listen, I wanted to ask about the Oviraptor's eggs," she began.
And while I waited, got my photo taken and submitted heaps of documents to government officials, Zeba and I spoke softly and grimly about the finer details of the oviraptor, the T-rex and the mammoth. It was a strange experience, talking about extinct creatures in the middle of a dusty office where people were hanging around, trying to get all sorts of practical things done.
"Have you brought your Aadhaar card? Do you have 3 passport-size photos? Where are your bank statements?"
"Is the mammooth looking too tall?"
---
Around February every year, we're in a great state of excitement and nervousness because the books we've spent months and months creating are finally being released to the world (that should explain our conversations about dinosaurs and mammoths). At Pratham Books, this is our third year of creating STEM picture books in a focussed manner. In three years, we have created over 50 STEM titles (more than 250 books!) for early readers in English, Hindi, Marathi, Kannada and Tamil. And we're delighted that these are part of 300 STEM libraries that we have helped set up around the country.
So what do we have for you this year?
Our aim for this year was to continue creating simple and engaging picture books that explore STEM topics creatively. The idea, in essence, remains the same: to nurture curiosity in children.
We strongly feel that it's important to highlight the more playful aspects of math and science. So we're very pleased with this amazing book on different kinds of animal tongues. We are also excited about these upcoming books: a book of patterns by Aditi Dilip in which the reader has to spot the odd one out, and a book on the concept of heavy and light by physicist Sukanya Sinha and Hari Kumar Nair.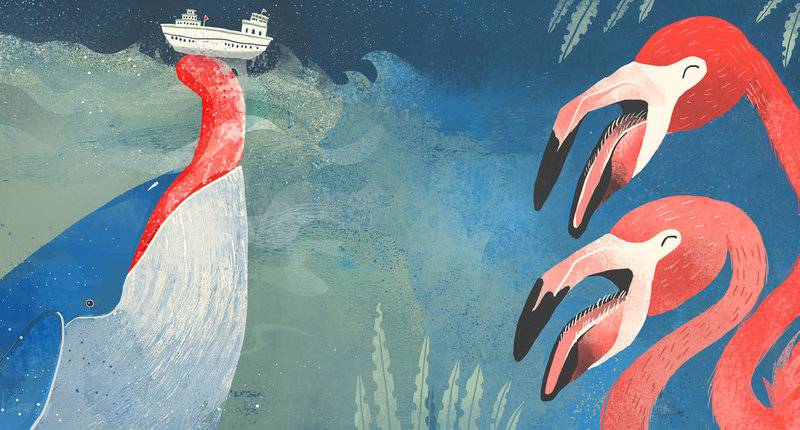 We do refer to the school curriculum as well though, and pick topics that have picture-book potential. This year, after sifting through a bunch of textbooks, we decided to make books on friction, magnets, bones, blood, time, division and electricity.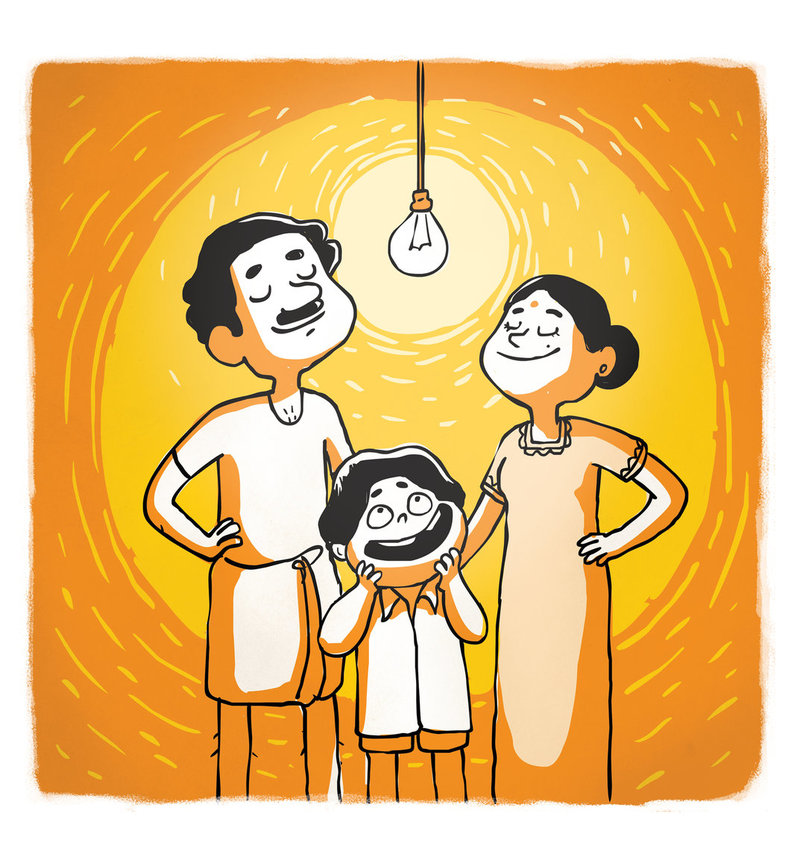 Have you noticed that children have a natural affinity for books about animals, birds and insects? Goby's Noisy Best Friend explores the idea of symbiosis through the friendship between a goby fish and a pistol shrimp. This year, we have also made books on crabs, spiders and blue whales – all written by accomplished subject-matter experts and illustrated by artists who are incredible with getting all the intricate details right. And not to miss --- an enchanting island adventure by marine biologist Shreya Yadav and illustrator Sunaina Coelho which features flying fish, angler fish, firefly squid, plankton, and the moon – who makes a last-minute appearance!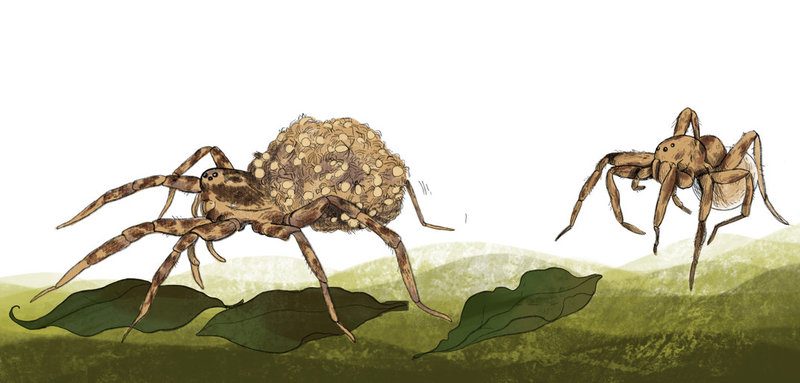 We've been told by our wise outreach team that children enjoy stories inspired by real life. So we are mighty pleased to have two short biographies based on the lives of two inspiring people: Anna Mani, a meteorologist who invented nearly a hundred weather gadgets (by Nandita Jayaraj and Priya Kuriyan), and Zakhuma, a forest guard and wildlife photographer (by Sejal Mehta and Barkha Lohia).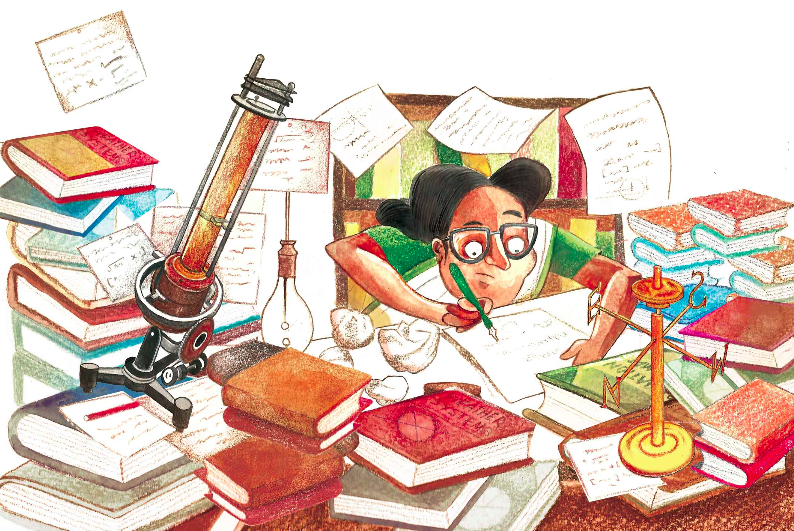 This year, we also wanted a couple of stories that demonstrate the importance of building and creating. Upcoming titles to look out for are: 'The Grand Patch Up' in which a girl uses her building-skills to make up with her friend, and 'A Whistling Good Idea' which is centred around the concept of a Rube-Goldberg machine.
Then there are the books that introduce children to interesting STEM careers. Shalini Srinivasan and Upamanyu Bhattacharyya's book on water conservation features a spunky girl who aspires to be a sanitary engineer. Aashima Dogra and Fahad Faizal's story on 'animals in space' features a woman who is always dreaming about exploring space. And, we finally have a book on paleontology (this has been on our wishlist) and all the marvellous things you get to do as a paleontologist.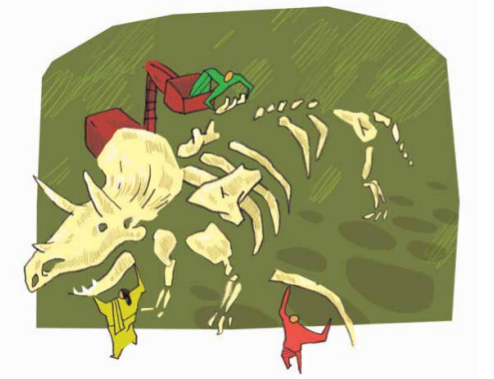 Stories around technology are always tricky because of how rapidly technology evolves. Don't forget to read Lazy Mama -- a story by Vidya Pradhan and Rohit Kelkar on Virtual Reality.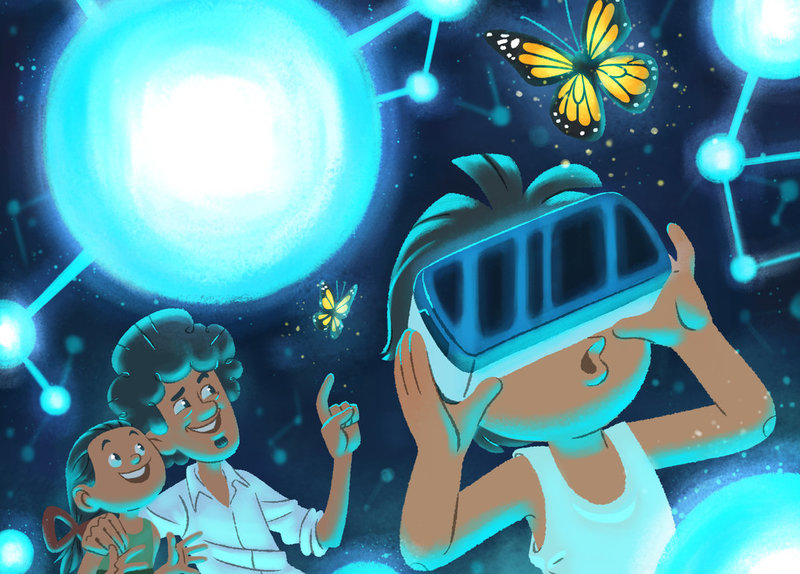 All these stories will be available on StoryWeaver in at least 5 languages. You can read, download and print them for free! You can also translate it to any language that you are fluent in.
Below are the titles we have already published this year. We'll continue to update this last as we publish more books so that you can see all the titles in a single place.
5. Unni's Wish
7. Lazy Mama
(Yamini is an editor at Pratham Books. The development of these books has been supported by Oracle.)
Be the first to comment.
---
Since its inception, Pratham Books has published a range of picture books that explore STEM (Science, Technology, Engineering and Math) topics in interesting ways. But it is since 2015 that we have been doing this in a much more focussed manner. The main reason for this was the realization that there aren't enough multilingual information books available for early readers in India. The fact that many children find science and math slightly daunting made this even more of an interesting challenge because we felt that we could help change this perception by creating fun, memorable books around STEM topics.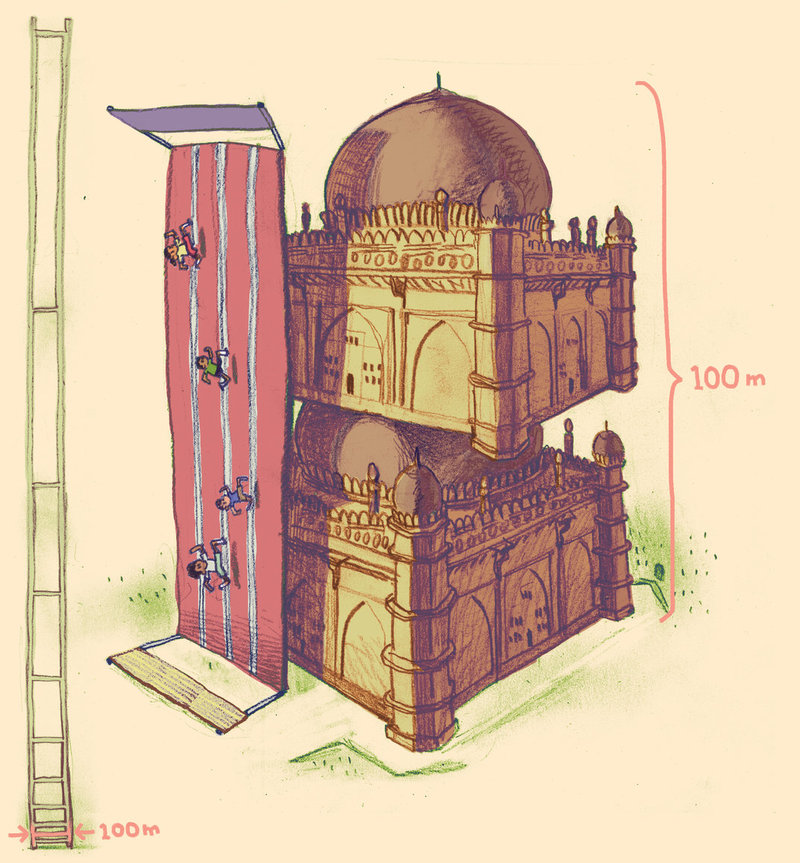 While we've been exploring a number of ways to introduce STEM topics to children, one of the biggest challenges has been to present information accurately, imaginatively and in a simple way without making it seem 'textbookish'. So it was essential that we paid attention to the narrative, plot and tone of each book so that children are drawn to it.

Since we work extensively with children from economically disadvantaged backgrounds, it is important that our books are relevant to these children. Conversations with partner organizations who work closely with these children reveal the need for simpler books as their reading fluencies are still developing. Bearing that in mind, our focus has been on creating simple books that encourage children to explore the world around them with an open mind, ask as many questions as they possibly can and find ways to apply their knowledge.

We continue to be keen to create STEM books, so we thought it might be interesting to highlight a few books that were created over the last couple of years, mainly as a way for us to reflect and share our learnings. So what worked?
Clarity of concept – An important aspect of a STEM book is its ability to demonstrate the concept clearly. I Spy! (by Samvida Venkatesh & Sandhya Prabhat) explains the concept of subtraction wonderfully - using play and humour.
Simplicity – Most of our conversations with our outreach partners lead us to the same conclusion: the need for simpler books that match the reading levels of the children we work with. Sunando Chakraborty's Sniffles, a story about how flu spreads, is an excellent example of this. Also, we adore the central character of this book. Satya, Watch Out! is another good example of simplicity of narrative and plot.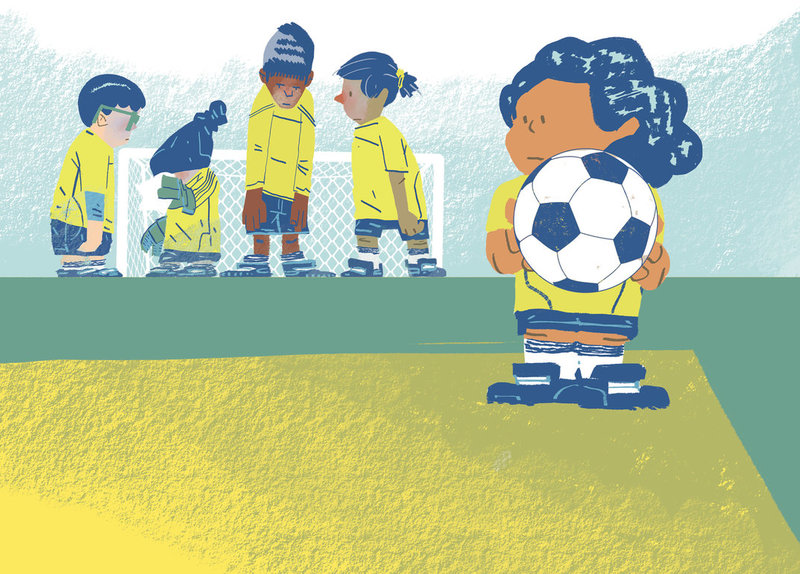 Good storytelling – Jadav and the Tree-Place won the Best Digital Book award at the Publishing Next conference last year. This story – about forester Jadav 'Payeng' Molai - stood out for us as well mainly because it is an inspiring story narrated powerfully by Vinayak Varma.
Using humour – Rajiv Eipe's Ammachi's Amazing Machines has been a big hit with our readers for many reasons! But one reason for its popularity is the gentle humour that runs through the story, especially in the art. While it can be challenging to include humour in STEM books (imagine having done this in a story about simple machines!), we can tell you that it works wonders.
Seamlessly blending fiction and non-fiction – It isn't easy to strike the right balance between fiction and fact, so we were delighted to publish A Butterfly Smile (by Mathangi Subramanian & Lavanya Naidu) which has managed to achieve this. In this, a girl who is new to the city shares her knowledge of butterflies with her classmates and also learns new facts about them. At the same time, it highlights migration due to environmental and economic reasons. Another story that managed to do this successfully is Dum Dum-a-Dum Biryani! (by Gayathri Tirthapura & Kabini Amin) which explores the fascinating relationship between math and cooking.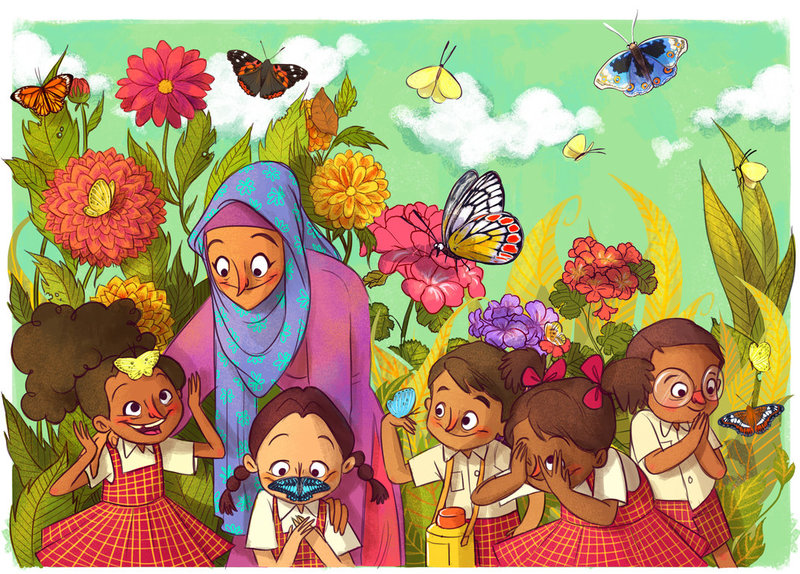 Widening the imagination – What better way to talk about this than directing you to How Far is Far? A book about distances, big numbers and measurement, Sukanya Sinha and Vishnu M Nair have created an exceptional math book which stays true to the core ideas of math: play and exploration.
Memorable characters – Being able to create characters that stick in our memory is an admirable skill. Including memorable characters naturally makes it easier for children to retain the concept and story. In that regard, some of our favourite characters are: the quirky grandmother from How Old is Muttajj? (by Roopa Pai & Kaveri Gopalakrishnan), the endearing gharial from Ghum-Ghum Gharial's Glorious Adventure (by Aparna Kapur & Roshan K), adventurous Arya from Arya in the Cockpit (by Nandita Jayaraj & Upamanyu Bhattacharyya) and the perpetually hungry Neema from Bijal Vachharajani and Priya Kuriyan's What's Neema Eating Today?.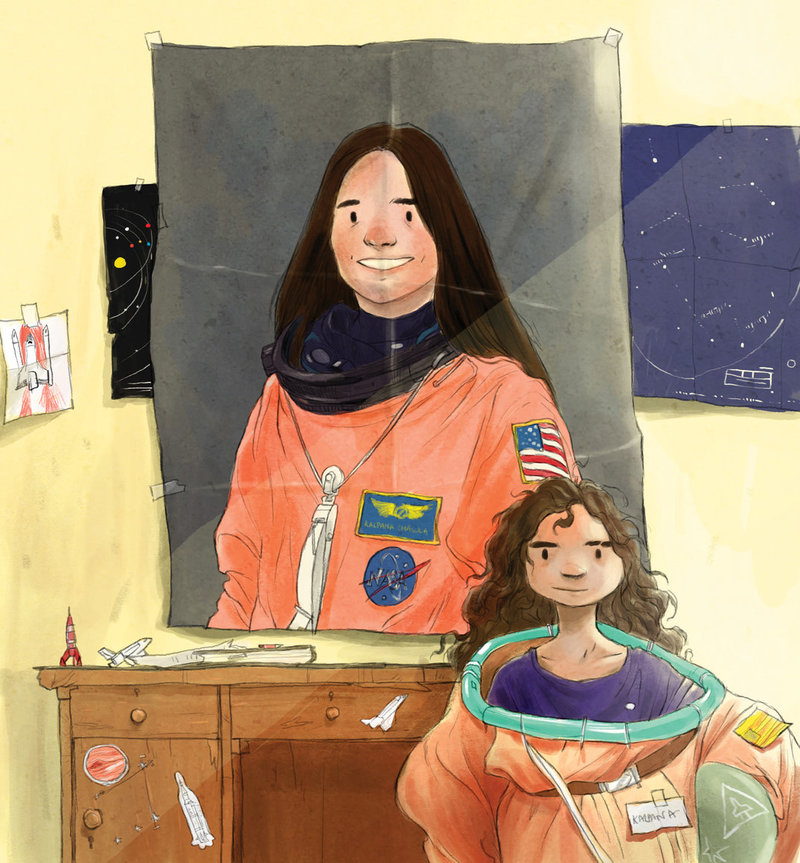 Reinforcing the concept through activities – In the case of STEM books, it's very helpful to have fun, practical activities at the end of the book. Children seem to enjoy this as it allows them to engage with the concept in a real way and not be passive consumers of information. A Butterfly Smile has a really fun activity at the end of the story. We've been told by teachers that How Old is Muttajji? was well received because children enjoyed the interactive nature of the narrative which challenged them to think, much like solving a puzzle.
Pure non-fiction – Although we haven't done much in terms of straightforward non-fiction, we are beginning to see the massive potential of this. The only reason we didn't do much of this is for the fear of seeming 'textbookish'. But the response to books like How Does Toothpaste Get Into the Tube? (by Veena Prasad & Rajiv Eipe) has made us realize that we should look at publishing more of these. This book has certainly done well in choosing the right question – a question that is likely to baffle us, and one that doesn't have very obvious answers.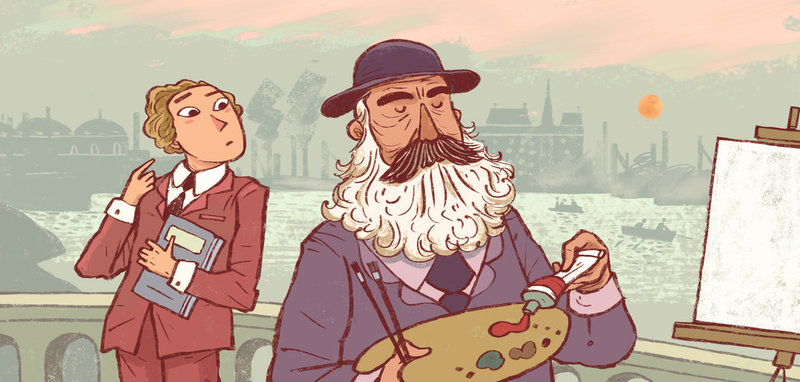 Ability to relate – Some of the stories that children have quickly taken to are the ones that they find easy to relate to. For instance, One by Two (by Maya Bisineer & Shreya Sen) which is essentially about division but involves a lot of food sharing which is familiar to most of us.
Fascinating topics – Very often, finding a theme that is of interest to children is half the battle. Of course, this is an old trick! But, it's a useful one – especially for STEM stories. Just last year, we commissioned Gul in Space (by Richa Jha & Lavanya Karthik) and Kaakaasaurus (by Shalini Srinivasan & Prabha Mallya) because... well, space and dinosaurs!
Good for Read Aloud – We decided to include this point only because we find that a lot of our books are read aloud in schools. So it's always wonderful to have STEM stories that are fun to read aloud. A perfect example of this is Anupama Ajinkya Apte's Gulli's Box of Things - a STEM book we published a few years ago (in print).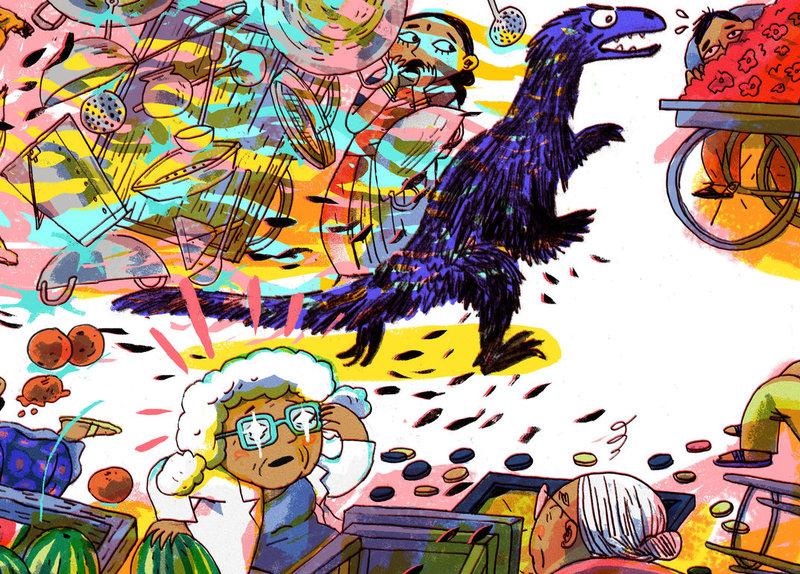 All the STEM books that are mentioned here are available for free on StoryWeaver in English, Hindi, Marathi, Kannada and Tamil.
Be the first to comment.
---
It's important to share engaing books with children that have math learning as a primary goal.
Via MindShift.
When reading books, it's important to realize that math is a broad subject. Clearly, a counting book or a shape book describing circles and squares are both explicitly about math, in the sense of the kind of formal math we usually learn in school. Although not explicitly about school math, Goldilocks entails relatively complex math ideas— order and correlation. Other storybooks deal in an informal way with patterns, spatial relations, measurement, addition and subtraction, and division — all of which are "math." Indeed, it would be hard to find a non-math storybook that does not include everyday math in this broad sense. In fact, ordinary storybooks may contain more interesting math than do explicit math storybooks (and textbooks, too!).
This in turn raises the question of the type of math you want your child to learn — school math or embedded math? The answer is both. Children need to memorize the counting words, but also need to know that their order specifies relative magnitude. They need to memorize 1, 2, 3, 4, but also need to know that 3 is a bigger number than 2 because it comes after 2, but it is also a smaller number than 4, because it comes after 3. Memorizing symbols is not enough, just as knowing the everyday story is not enough. Eventually, the child needs to know how the informal ideas provide the meaningful basis for the formal math.
Read books that you both find interesting, amusing and full of wonder, books that will grow the child's budding love of reading. Bypass boring stories, even if you think they are "educational." Enjoy the story!
You can read the rest of the article here.
StoryWeaver recently created a series of openly licensed, digital-first books that celebrated math concepts from the simple to the slightly abstract. Created under an Oracle Grant, these books were guest edited by renowned children's author Roopa Pai and dealt with every day fractions, Fibonacci series, dates and distances small and great. Roopa wrote one of the stories, 'How Old is Muttaji?' - a delightful concoction of math, history and culture!
The books were part of a larger set of STEM books that were created to fill a gap in children's publishing in India: engaging non-fiction books and joyful, non-fiction narratives.
How Far is Far by Sukanya Sinha and Vishnu M Nair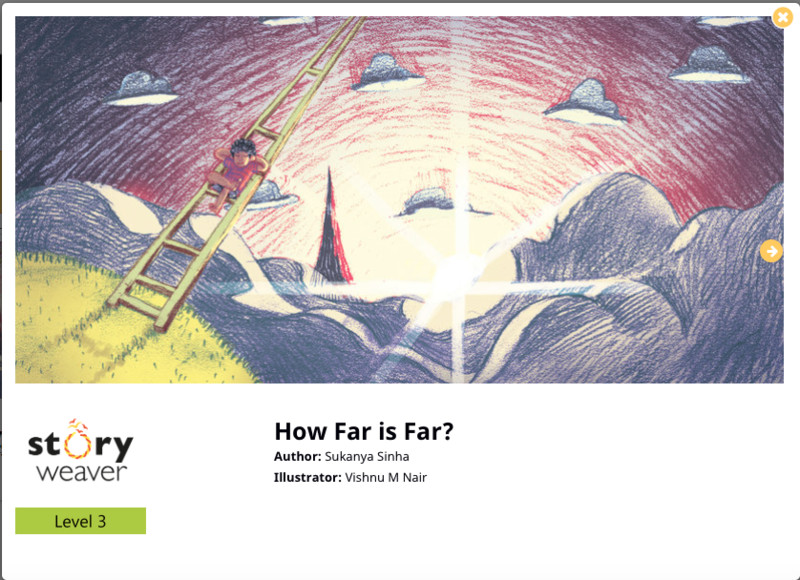 If you thought your friend's house on the other side of town was far away, you have clearly not read this book. Climb the Magic Math Ladder to get from where you are to the top of Mount Everest, to Kashmir, to the moon, the Sun, and ultimately, to the edge of the Universe, which is very, very, VERY far away indeed. Ready, steady, go!
Dum Dum-a-Dum Biryani by Gayathri Tirthapura and Kabini Amin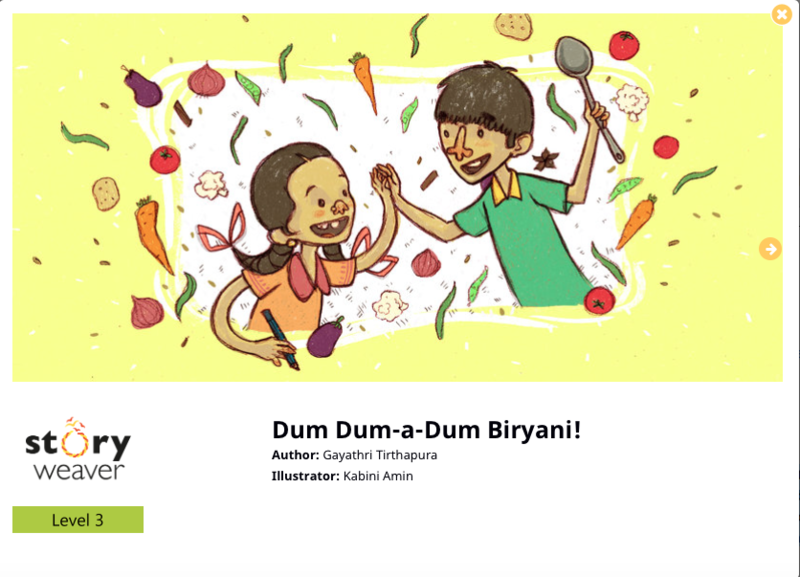 Basha and Sainabi are in a panic. Ammi is ill, and Saira aunty has just announced that she is arriving for lunch - with 23 other people! Budding chef Basha thinks he can cook Ammi's Dum Biryani, but her recipe only makes enough for 4 people. Math wiz Sainabi jumps in to help, declaring that she knows how to turn a 4-person recipe to a 24-person recipe. Do the siblings succeed in serving up a truly Dum Dum-a-Dum biryani? Read this book to find out!
The Fascinating Fibonaccis - by Shonali Chinniah and Hari Kumar Nair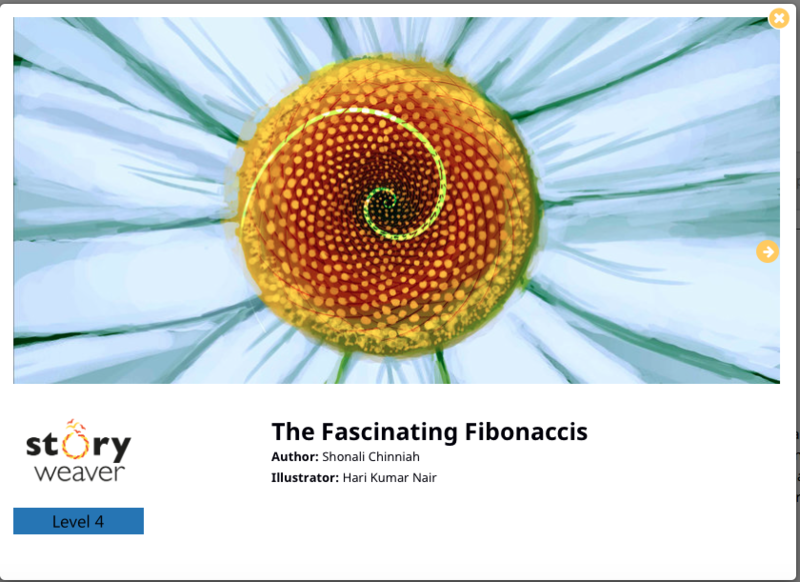 Almost a thousand years ago, an Indian scholar called Hemachandra discovered a fascinating number sequence. A century later, the same sequence caught the attention of Italian mathematician Fibonacci, who wrote about it. The Fibonacci sequence, as it began to be called, was straightforward enough - what made it fascinating was that this particular set of numbers was repeated many, many times in nature - in flowers, seashells, eggs, seeds, stars... Find out more inside this book!
How Old Is Muttaji? by Roopa Pai and Kaveri Gopalakrishnan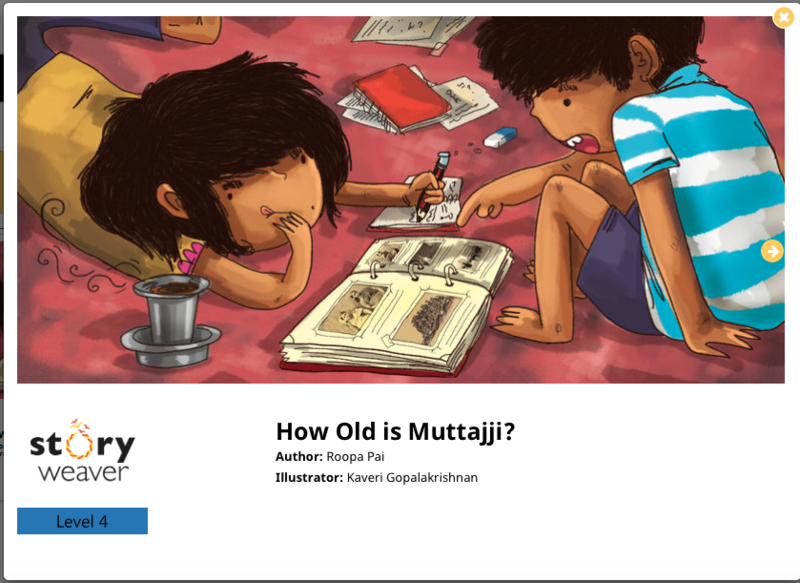 Putta and Putti know that Muttajji is really, really old. But exactly HOW old is she? Join the twin detectives on an exciting mathematical journey through Muttajji's memories and India's history in their quest to crack the big question.
Have a look at these digital books, which are all available to read, download and print for sharing absolutely free! The books are also available in a number of Indic languages, and if you'd like to translate the book in to a language you're fluent in, you can use our translate tool!
Be the first to comment.
---