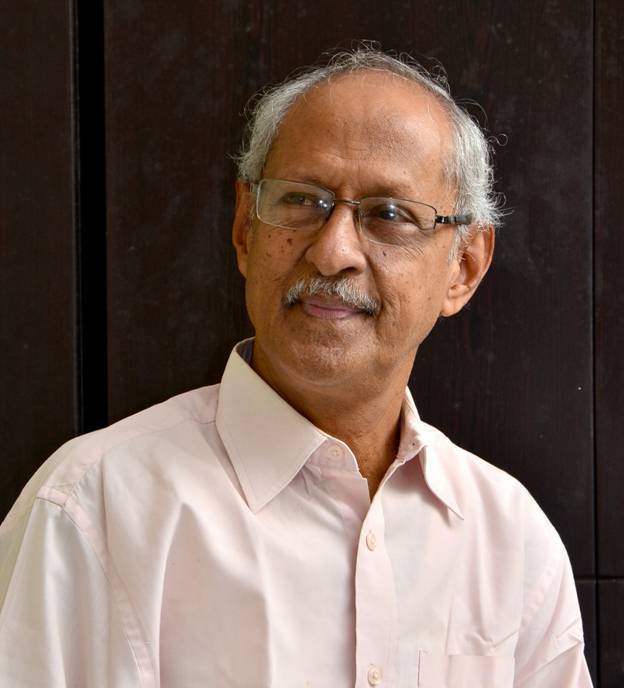 Sahitya Akademi Award winner for his novel 'Karmelin' and also, the recipient of the Vimala V. Pai Vishwa Konkani Sahitya Puraskar award for his novella 'Tsunami Simon', Damodar Mauzo is a novelist, a short story writer, a critic and a script writer. His collection of stories 'Teresa's Man' was nominated for Frank O' Connor International Award in 2015. Co-founder of Goa Art & Literature Festival and also a co-curator of the litfest, Damodar Mauzo, would perhaps, best introduce himself as an activist for Konkani. He has presided over the All India Konkani Sahitya Sammelan, a literary conference in 1985 and also, served as president of the Konkani Bhasha Mandal, Goa's premier organisation endeavouring the promotion of language, literature and culture.
I am a bit worried over the vulnerability of my language, Konkani. Not that it is losing its vibrancy. Not because it faces any threat from globalization nor because the number of speakers is on decline. What worries me is intergenerational transmission process getting disrupted or halted.
In spite of the imposition of the Portuguese by the colonial regime by passing the Decree in 1684 to ban the use of Konkani even in speech, the language remained Lingua Franca, thanks to its speakers. Konkani has also survived the threat from the neighbouring language Marathi that had claimed it to be its dialect. The language has paid huge price for sustained existence. Today, Konkani is part of the Eighth Schedule of the Constitution and also is the Official Language of the state of Goa. With Jnanpith and Sahitya Akademi awards coming her way meritorious Konkani literature is being taken cognizance of nationally and internationally. Yet, when threat of extinction looms large on many leading languages, I do become apprehensive, not without grounds. The first scare I felt was in February 2010, when the last speaker of Bo language of Andaman islands, Boa Sr. died. Death of a language is the death of a culture. People the world over strive to safeguard their culture as their language is their identity. They have already taken a proactive stand to preserve their linguistic identity anticipating the hegemony of the English language in the wake of the Internet Era. Aware of the situation moving towards monolingual world UNESCO had started a project called Universal Networking Language (UNL), that would thwart the monopoly of one language. Vide UNL, the content in one language would be codified and then would be transferred into any desired language by decoding it. At some stage it was noticed that this project was not moving on at the behest of the perpetrators of domination of English. It was only when Japan, France and Germany raised their voice at this mischief that the project picked up momentum.
It is true that there are, the world over, around seven thousand spoken languages, over half of which are feared to die by the end of the present century. Of these about 2000 languages are seriously endangered as they have fewer than 1000 speakers. In India itself 191 languages are classified as vulnerable or endangered. 1961 Census of India recorded total number of languages as 1,652. However, 1971 Census eliminated many of them following the decision to ignore the languages with less than 10,000 speakers. Dr. Ganesh Devy of Peaple's Linguistic Survey of India (PLSI) says, "As per the 2011 Census, there are about 122 languages spoken by more than 10,000 people. Of them 22 are the scheduled languages. Other than the 122 languages, the survey has come up with languages that are spoken by less than 10,000 people many from tribal areas, nomadic communities and from the interiors of north-eastern part of the country." The PLSI is a rights-based movement, which sees language as crucial for the effective development of fragile communities and for stemming the erosion of India's diverse, multilingual, and composite heritage.
For Konkani, the major jolt is the shift in the medium of instruction. People prefer to send their wards for primary education to either Marathi medium or the English. Marathi because it has been a tradition and English because it is trendy. Masses that follow the classes blindly believe that their wards will immensely benefit by this shift, not realizing that the ward will never master the OTHER language. A UNESCO report says, "In a situation where the medium of instruction in school is a language that is not spoken at home the problems of learning in an environment characterized by poverty are compounded, and the chances of drop-out increase correspondingly." At yet another UN meet on the subject it was asserted that 'states have an obligation to preserve and protect the child's cultural identity, as an essential element for his or her development.' It is a proven fact that Mother tongue literacy classes improve students' writing and higher-order language skills in their first language. Research has shown that many of the skills learned in the native language can be transferred easily to the second language later. In this type of program, the native language classes do not teach academic subjects. The second-language classes are content-based, rather than grammar-based, so students learn all of their academic subjects in the second language. But obviously the words of wisdom go unattended. In Goa, the Government does not realize that by promoting English at the primary level it is depriving the students of mastering Konkani and of learning Hindi as well. Leaving the choice of medium of instruction to parents is a grave mistake. Parents can be given the choice of choosing the physician, not the medicine. Similarly, parents can be given the choice to choose which school their ward would go, not the medium of instruction.
Goa is fast turning into a city state with its fast pace urbanization. The common dream of the youth is to go abroad or aboard ship. Greener pastures woo them and hence they feel no need of the proficiency in Konkani. In view of this confusing situation, the second generation classes are seen moving away from the language of the soil. The natural transmission is therefore interrupted. Though teatr, the popular form of theatre, is vibrant in Goa, the masses are seen blindly following the classes that are in favour of English in public and at home.
Konkani is rich in vocabulary and idiom. Our speakers live in diaspora in four different states. Their dialects help enrich the language. The multiplicity of scripts is yet another hurdle that limits the readership though conscious attempts are on to adopt a common script. As compared to the rest of the languages included in the Eighth Shedule, Konkani is spoken by hardly 4 to 5 million people. So in relative terms, Konkani is more vulnerable than many other languages, unless mindful and premeditated efforts are made to reach out to those who are on the verge of losing her.
Be the first to comment.
---
Nayana Adarkar, a graduate in commerce, working as a Sr. SubEditor for Daily Bhaangarbhuin, has published 3 poetry collections, 2 literary essays, a collection of short stories and 16 books for children. Her songs have been included in chilren's audio CDs and her poetry is a part of the Goa Higher Secondary syllabus as well as B.A. syllabus. One of her poems has been included in the Maharashtra Higher Secondary Board syllabus. She has received two awards for children's literature, six awards for her poetry and one for her for story collection. She is also the recipent of the Goa State Yashodamini Award for Literature.
Nayana Adarkar, our Konkani enthusiast lovingly shares with us her many adventures in the World of Stories. She carries us along, right back to the very beginning of her wonderful tryst with poems and stories. We trot alongside as she tells us about how she became and remained the animated, child-like storyteller that she is (Touch Wood:)); how the audience kept changing through the different phases of the growing up years, to marriage, to motherhood - but the stories, they always remained by her side.
We find ourselves eagerly listening in to our favourite Manikantan's story as she narrates it to a room full of enthusiastic children…and just like her very young audience, we want to hear more and more stories from you, Nayana. Keep weaving magic with the stories, like only you can!
Join us, on this wonderful journey with Nayana…
हांव भुरगेपणांत खूब मस्ते, भरपूर खावप, वाचप , अभिनय करप आनी नाच करप म्हाका आवडटालें. चांदोबा, काणयांची पुस्तकां, पेपर... हाची आवड निर्माण जाली ती म्हजी आजी आनी म्हज्या आज्याची भयण बा कडल्यान. बा मुंबय सावन गोंया येताली. तेन्ना आमी तिका म्हणप, बा, काणी सांग. तिणें मागीर म्हणप, काणी दिल्लीक बसल्या राणी आनी मागीर ती काणी सुरू करताली. म्हजी आवय शिवलिला, भगवतगिता बी वाचून दाखयताली तेंवूय कानार पडटालें.
चवथेंत आसतना एकदां फॅमिली पिकनिकेक गेल्ले कडेन म्हजी पयली कविता जल्माक आयली. मागीर काणयो, नाटकुलीं. आमच्या बाबान वाड्या वयल्या भुरग्यां खातीर शाळा काडिल्ली. ते शाळेंत हांव भुरग्यांक काणयो सांगपाक वतालें. म्हजी वाचनाचे, अभिनयाचे आवडीक सारें मेळटालें.
हांव व्हड जालें खरें पूण म्हज्यांतलें भुरगें तशेंच म्हज्या मनांत उरलें. तें पिकनिकेक, इश्ट-इश्टिणीं मदीं भायर येतालें आनी मस्तेंपणा करतालें. भुरगींय म्हजे कडेन म्हज्या सभावा खातीर ओडटाली. जायत्या जाणांक म्हज्या ह्या प्लस पॉयंटाचो अदमास आयलो. तीं म्हाका काणयो सांगपाक आपोवंक लागलीं. कोंकणी भाशा मंडळ, शाळा, क्लब, ग्रंथालय...
हांव भुरग्यां मदीं वता तेन्ना भुरगें जाता. आनी तेन्नाच म्हाका कळटा भुरग्यांक कितें जाय आसता. नव्यो नव्यो काणयो, तातूंत हांसप आसपाक जाय, नाटक आसपाक जाय, पूण शिकोवणी आसपाक जायना. तूं अशें कर, तशें कर म्हणल्यार भुरग्याक (आनी म्हज्यांतल्या भुरग्याकूय) राग येता. ते परस आडवळणान ती गजाल भुरग्यांच्या मनार घाली, जाल्यार तांकां दुसऱ्यांचे काणयेंतल्यान त्या गजालीचें म्हत्व कळटा. त्या भुरग्याच्यो चुकी आपल्या कडल्यानूय घडटात हें ताच्या लक्षांत येता. आपणें तशें केल्यार कितें जातलें हें नकळटा ताका समजता. आनी तें शाणो जाता.
आतां भुरगीं कसली आसची काणी सांगपा खातीर हाका म्हजे नदरेन अर्थ ना. भुरगें भुरगेंच आसता. हां कांय जाणांची लेव्हल मातशी वेगळी आसूं येता. पूण भुरग्यांक मारप, बडोवप, मरप, दुख्ख जावप ह्यो गजाली आवडनात. चड करून त्या परिस्थितींतल्यान आयिल्ल्या भुरग्यांक. भुरग्यांच्या कलान घेवन तांकां काणयो सांगपाक म्हाका आवडटा. तांचे भशेन नाचून बी काणी सांगल्यार तांकां हांव मागीर तांच्यांतलें एक भुरगें कशें दिसता आनी तिवूंय मनमेकळीं काणयेचो आनंद घेतात. एक थर्ड पर्सन जावन तांचे मदीं काणी सांगूंक गेल्यार भुरगीं तुमकां आपणायनात. हो म्हजो अणभव.
म्हज्या भुरग्यांक काणी सांगता सांगता हांवूय काणयो घडयत गेलें. पेपरांत कामाक आसतना हांव बालसाहित्य विभाग सांबाळटालें. तेन्नाय म्हजे कडसून काणयो घडत गेल्यो. वट्ट 14 काणयांचे संग्रह जाले. आनीकूय काणयो घडटात. बालकविताय करतां. भाशा मंडळान म्हज्यो कविता सी.डी. खातीरूय घेतल्यात. हांव कथा, कविता वांगडा बालसाहित्यूय रचता. त्या बालसाहित्याचो बिंब प्रकाशन, आनी कुडचडें केंद्रांन पुरस्कार दिवन भोवमान केला.
हांव ज्या जाग्यार काणी सांगूंक वता थंय चडश्यो म्हज्यो काणयो सांगतां. आनी केन्ना केन्ना म्हाका आवडटात आनी भुरग्यांक सांगपाक म्हाका बरें पडटात, त्या काणयांतल्यान मनरिजवण जाताच पूण नवें गिन्यान मेळटा, तातूंतल्यान भुरग्यांच्यो भावनाय समजतात. अश्यो काणयो हांव घेता. म्हाका राजीव तांबे हांच्यो काणयो आवडटात. वेगळे तरेच्यो . जनावरांक, वस्तूंक मनशाच्या रुपान पेश करपी. मनिकंठन ही काणीय म्हाका आवडली. आयच्या धांवपळीच्या जगांत भुरगीं फकत अभ्यास, करियराच्या फाटल्यान घुस्पल्यांत. तांच्या मदल्यो भावनांय आमी पालक समजून घेनात. सैमाचीं तरेतरेचीं रुपां तांचे पसून पयस उरतात. तांचे मुखार आसता तें बेगडी टिव्ही, कंप्युटरा वयलें जग. हांवें मणिकंठनाची काणी भुरग्यांक सांगली आनी त्या भुरग्यां मदली मातयेची उदकाची , आजी-आजो हांची ओड पळोवन मन भरून आयलें.
म्हजी इश्टीण रत्नान एकदीस आमनाबायचो फोन येतलो म्हूण सांगलें. आमनाबायन म्हजे मुखार तरातरांच्या काणयांचें भांडार दवरलें. आगळ्यो वेगळ्यो काणयो. वेगवेगळ्या लेखकांच्यो. तांचो अणवाद बी करतना मजा आयली.
Watch Nayana Adarkar in action:
Be the first to comment.
---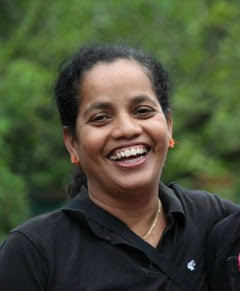 Ms. Ratnamala Divkar of the Konkani Bhasha Mandal writes in...
On this day, 29 years ago, Goa was declared a state. This was the culmination of a long struggle of the Goans - a struggle to establish identity to reclaim the origins of expression and belonging. The struggle of Konkani as the official language of its land has been intrinsically intertwined with this journey. And in a lot of ways, the struggle to populate our expressions in Konkani is still on..
As part of our Konkan journey, we were introduced to StoryWeaver, Pratham Books and its efforts to enrich children's literature with stories across many, many languages. It was a great pleasure collaborating with them for their venture in Konkani. The opportunity came to us at the Konkani Bhasha Mandal at the right time, as we had been struggling to find ways in which we could contribute to children's literature in our language, Konkani. It was a great experience interacting with like-minded people such as the StoryWeaver team.
Konkani unfortunately has suffered greatly since pre-independence and the language has not received the patronage it deserves. Konkani was not been recognised by many as an independent language but was considered a dialect of Marathi for too long. Konkani language enthusiasts and writers have had to spend much of their resources on the fight to get recognition for Konkani as a language, thus, diverting their energy from contributing to the development of the language. Finally after long drawn struggle, Konkani was included in the eighth schedule of our Constitution in 1992. There is much more to express, a struggle that still continues till today. Our Leader Dnyanpeeth Awardee Shri Ravindra Kelekar always used to say that we are fighters first and then writers.
Children's literature in Konkani was a casualty of this struggle. It's something we have been keenly aware of and we are consciously trying our best to contribute to this area. While doing so we know that children's literature is not an easy job.
Plus, like any other state the issue of medium of instruction did surface in Goa and we at Konkani Bhasha Mandal( KBM) realised that we have to provide supporting material in education besides academics. We have made an attempt to meet the expertise in this field. We conducted workshops, had interactive sessions, produced material required in education. We are still working on this mission with our committed and passionate group of writers. There is much more to be done.
The books* created by StoryWeaver cover a wide range of topics, catering to children with all types of interests. The illustrations are lively, very attractive and makes the stories more interesting.
I'd like to take this opportunity to thank you for allowing us translate these beautiful stories to Konkani and reach out to our children. We look forward to working with you on original stories in Konkani.

Cheers to that!

*The books mentioned were created under a grant from Oracle India.
Be the first to comment.
---