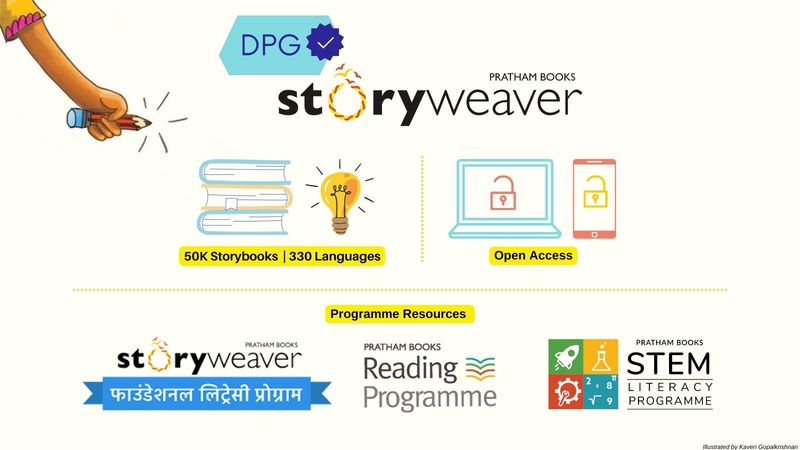 StoryWeaver, is an open source digital repository of multilingual stories for children from Pratham Books launched in 2015, that hosts 53K storybooks in ~330 languages today. In 2020, StoryWeaver was India's first recognised Digital Public Goods for Foundational Literacy and Early Grade Reading in 2020. This year, we were reviewed by Digital Public Goods Alliance (DPGA) and found to be a digital public good in alignment with the Digital Public Goods Standard for the third year in a row!
The Digital Public Goods Standard, requires a project to be an open-source software, with open data, open AI models, open standards, and open content that adhere to privacy and other applicable best practices, do no harm by design and are of high relevance for attainment of the United Nations 2030 Sustainable Development Goals (SDGs).
The Digital Public Goods Alliance is a multi-stakeholder initiative endorsed by the United Nations Secretary-General, working to accelerate the attainment of the Sustainable Development Goals in low- and middle-income countries by facilitating the discovery, development, use of, and investment in digital public goods.
StoryWeaver is one of the 36 DPGs recognised by the alliance that are working towards Sustainable Development Goal 4: Quality Education, and as such is available on the digital public goods registry alongside other open source projects that are meaningfully contributing to bringing about quality education in the world.
Through the power of collaboration, technology and open licensing, StoryWeaver seeks to provide children with the very first step in their reading journey - storybooks. Our approach to creating book security is three-pronged: creating storybooks, enabling open access to these books and providing free resources to encourage the use of these books to help children read.
For almost a decade now, StoryWeaver has been publishing books under open licences. We are one of the world's largest platforms for children's books in mother tongue languages. As India's first vetted digital public good for early reading, we are extremely delighted to be recognized by the Digital Public Goods Alliance for three consecutive years. Initiatives such as the DPGA have provided the much needed spotlight and conversation around the urgent need for public digital goods to help solve societal problems.

-Purvi Shah, Senior Director, Pratham Books StoryWeaver
comment (1)
---
This World Book Day, we wanted to share the power of books to inspire children to be lifelong readers. Our aim? In many languages, and from far flung places, to #GetChildrenReading.
According to the ASER 2022 survey, 80% of children in third grade cannot read at second grade level. Yet by reading for as little as 30 mins every day, a child's reading age can improve by nearly two years. Keeping that in mind, our #GetChildrenReading initiative aims to nuture children to become lifelong readers, by providing an endless stream of stories and bringing together a community of advocates for the joy of reading.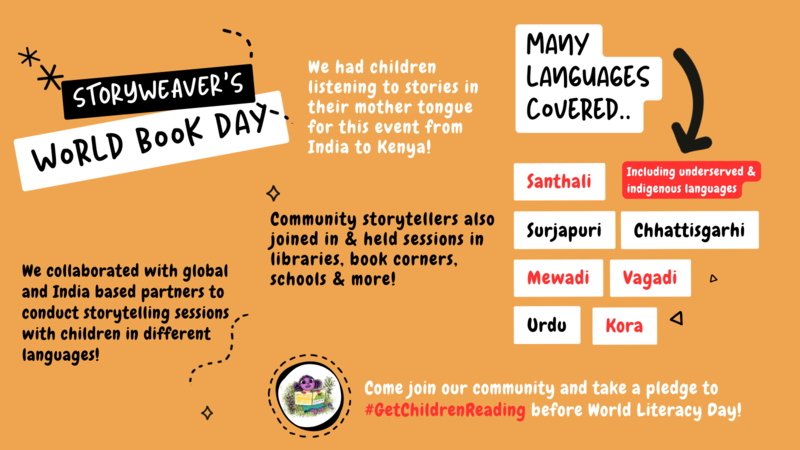 This year's World Book Day theme was indigenous languages. Our impact partners brought some wonderful storytellers to the children they work with in underserved and indigenous languages. Our partners in Africa, African Library and Information Associations and Institutions (AfLIA) was specially attracted to the book, 'Mouse in the House', by Soumya Rajendran and held a translation sprint to make the book accessible in Akuapem Twi, Luganda, Ewe, Krio and more… to be read across the public libraries of Africa. Our partners Suchana, in Birbhum West Bengal read aloud 'The Very Wiggly Tooth' to a group of children in Santhali, one of the two official tribal languages in the country, and Kora, which is deemed to be an endangered linguistic community by UNESCO.
Vilas Janve, a renowned mime artiste, and Upendra 'Annu' were invited to read aloud by Gayatri Seva Sansthan in Mewadi and Vagadi. Promod Sahu, a Social Entrepreneur read aloud 'What Neema is Eating Today' in Chhattisgarhi. You can watch the incredibly lively sessions, as well as storytelling sessions in Urdu, Hindi, Punjabi and English here.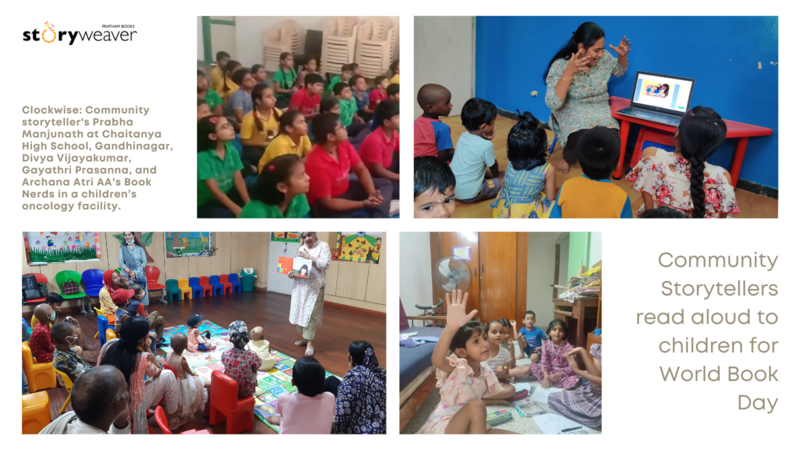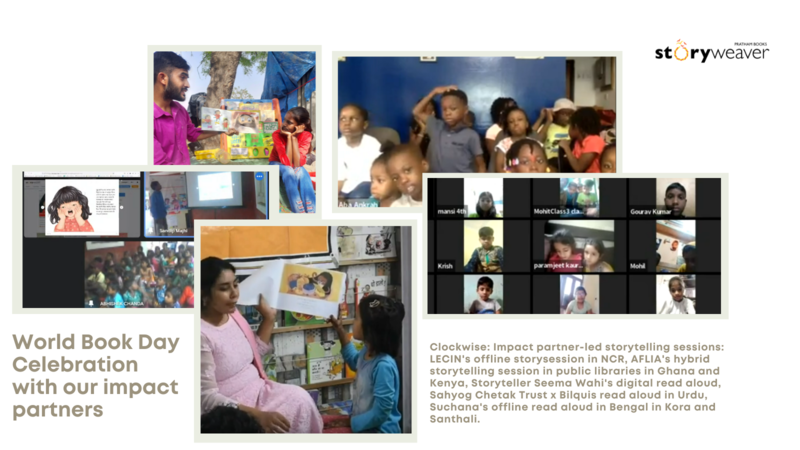 For us, there is nothing more heartwarming than hearing children from Ghana and Kenya reading our stories in unison, or watching a child's eye light up as he rushes to bring more of his friends on a sunday afternoon to listen to Seema Wahi's animated reading of 'A Book for Puchku'.
Our aim however, is to make such moments an everyday occurrence. This celebration is a part of our ongoing #GetChildrenReading initiative, a six month long effort by StoryWeaver to bring together our partners, and the larger community of storytellers, parents, teachers and all those who believe in the power of reading to build the habit of reading in the lives of children around them. Find out more on how you can join us here.
comment (1)
---
On the occasion of International Mother Language Day, 2023, we launched our Urdu Digital Reading Programme in collaboration with UNICEF Maharashtra, State Council of Educational Research and Training, Maharashtra, and Regional Academic Authority, Aurangabad (RAA).
UNESCO reports that 40% of the world population does not have access to education in a language they speak or understand1. This year's International Mother Language Day theme2 emphasises the importance of 'promoting multilingualism and multilingual education' in order to 'foster quality, inclusive, and equitable learning' for all.
We at Pratham Books Storyweaver are deeply committed to the vision of SDG 4: Quality Education for All, and to the path set out in India's National Education Policy3 from Learning to Read to Reading to Learn. We firmly believe that learning to read in one's mother tongue helps make education more engaging, meaningful, and enjoyable for children.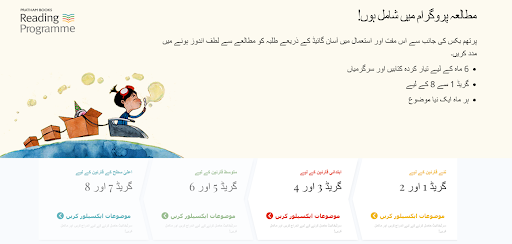 Pratham Books Reading Programme in Urdu on StoryWeaver
Pratham Books Urdu Digital Reading Programme on StoryWeaver offers open-source, high quality, digital, structured, reading resources in Urdu language to increase access to mother-language libraries and promote a culture of reading. The digital library comprises thematically diverse and grade-levelled storybooks for young learners to access freely.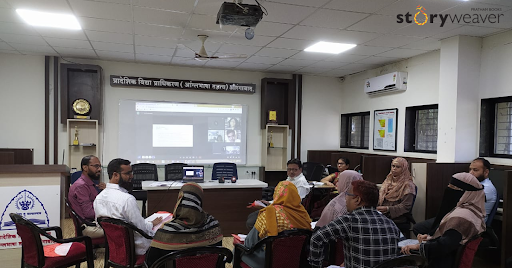 RAA Aurangabad team at Pratham Books Capacity Building Workshop
These Urdu story books have been created by the partner resource team at Regional Academic Authority, Aurangabad after participating in Pratham Books StoryWeaver's capacity building workshops. These workshops included editorial translation and review capacity building training, and training for digital translation and publishing to help create level appropriate picture book translations.
---
References:
[1]https://en.unesco.org/news/40-don-t-access-education-language-they-understand
[2] https://en.unesco.org/sites/default/files/imld-2023-concept-note-en.pdf
[3]https://www.education.gov.in/sites/upload_files/mhrd/files/NEP_Final_English_0.pdf
comments (3)
---