Zarif Hussain, is a first year student at the Symbiosis Law School, Noida. As part of his course he is doing an internship with Servants of the People's Society that runs Balwadis for very young children from underserved communities across Delhi-NCR. Read on to find out how Zarif used StoryWeaver in his sessions with the children.
I was asked me to take interactive sessions with the children at Trilokpuri Balwadi and I currently conduct one-hour sessions everyday with the little kids on different topics like GK, math and health education. The children love to listen to the stories and they ask me bring a new story almost every day for them.
At first finding stories for them was a difficult so I asked my mom to help me out. She recommended Pratham Books' Storyweaver platform where she translates stories to Surjapuri for children and uses them extensively in education centers in Kishanganj, Bihar.
I checked the StoryWeaver platform and found that it was simple and beautifully done with stories across reading levels in multiple languages. I downloaded stories from StoryWeaver and the first story I narrated was "Fat King, Thin Dog" in Hindi. During the session I realised that StoryWeaver was just what I needed. The children loved the story and did a drawing of the Mota Raja. One of the children Faizan recited the story back to the class. In fact, when I did a recap of the story after few days they all remembered the story so well.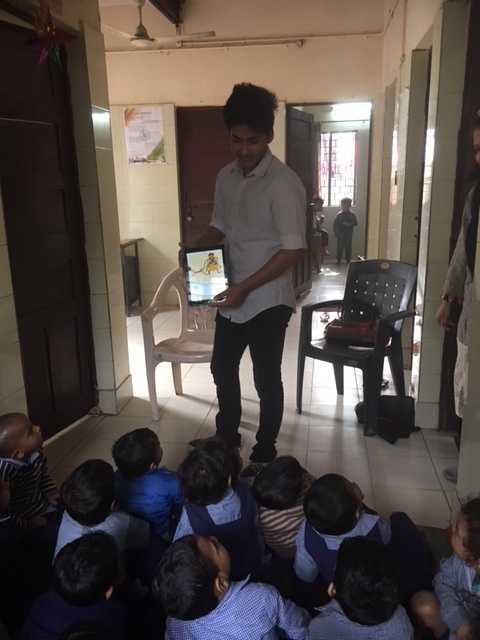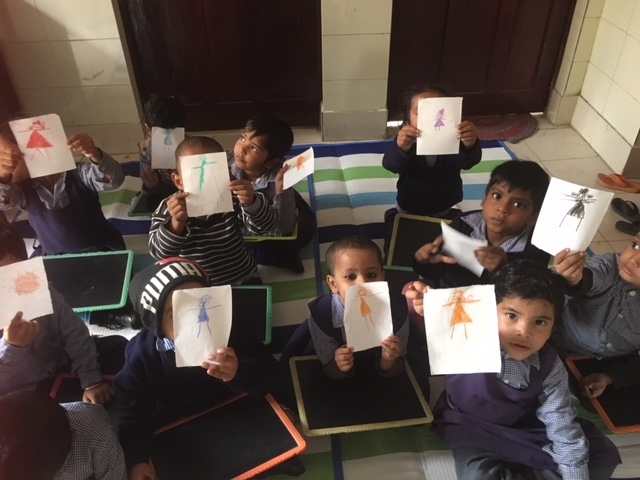 The next story we did was "Bunty aur Babli" which was about washing hands with soap with an emphasis on personal hygiene. The children learnt to wash their hands before eating food and after using toilet.
The most impressive thing I found about the stories on StoryWeaver was that they all had large, colorful pictures. The easy-to-use interface made it simple to download stories. I prepared activities for each story I narrated and that helped me retain the interest of the young children in class. Listening to the stories is the most enjoyable part of their day!
The stories on StoryWeaver are a great tool for teaching children. Thank you for making my sessions interactive and fun-filled with the children!
If you are using StoryWeaver in your classroom, library or after-school centre and would like to share your story on our blog write to [email protected]
Be the first to comment.
---
When Pratham Books launched StoryWeaver two years ago and openly licensed all the content on the platform under CC-BY4.0, we had an inkling of the potential the idea had. In the last 24 months we have been blown away by the amazing ways our community members have used the power of open licensing to adapt the content on StoryWeaver to answer certain needs in classrooms and other learning spaces.
BooksThatSpeak.com is one such initiative. The platform hosts audio and video versions of children's stories in Marathi, Hindi, English and Gujarati. Many of the stories are from Pratham Books. Asawari Doshi, who runs the platform lives in Pune with her husband and two daughters and works part-time on reading and creating audio and video versions of stories for BooksThatSpeak.com.
Q: Tell us a little bit about why you started BooksThatSpeak.com
A: My aim behind starting this initiative was to create a medium through which more kids can listen to and read the fantastic stories that are published by Pratham Books. I currently read out books in four languages that I am familiar with (Marathi, Hindi, Gujarati and English).
But wait, my daughters (age 9 years and 4 years) and my niece (3 years) also are part of the Books That Speak team. You will hear their sweet little voices at the beginning and at the end of the stories, along with their signature tunes.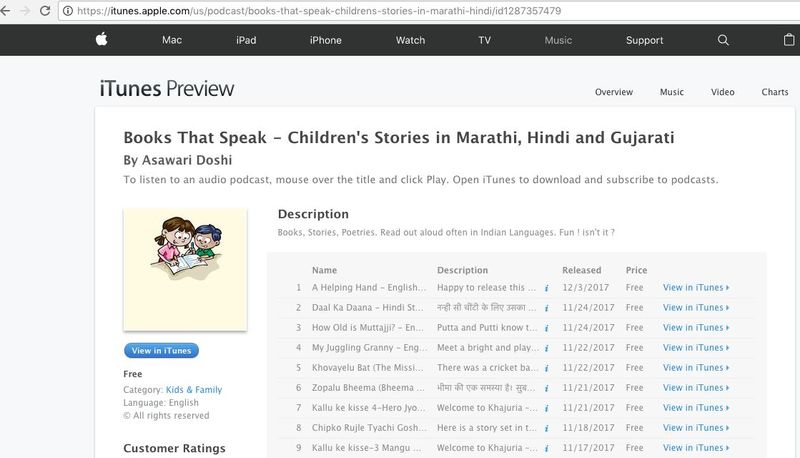 Q: How did you discover the StoryWeaver platform?
I got introduced to the lovely books published by Pratham Books around 6 years ago when my daughter brought some books home from her school library. I (even more than my kids) have been in love these books since then. We must have around 30 books published by Pratham Books in our little book cupboard at home!
From Pratham Books website and blog, I got to know about the StoryWeaver platform around 2 years ago. I was so happy to know that so many of these books are now freely available for everyone to read and also to re-purpose in multiple ways.
Q: What made you want to create audio versions of the books and make videos with them for YouTube?
A: My kids were the inspiration to start this initiative. They just love stories. But more than reading the books themselves they keep asking me to read stories to them. I love reading the stories to them too. My husband suggested why not share this joy with many more children. That was the start of BooksThatSpeak.com
Initially, I started creating audio versions of the books but as I read the books, I felt that the creative illustrations add so much to the experience so that's why I started creating video stories as well using the illustrations.
I must say that I personally enjoy the process of selecting which book to read next. As part of this process, I get to read to a lot of books from the StoryWeaver platform. All of the books are so good, that it makes the decision making very hard :) but I am not complaining because I get to read all these fantastic books.
Q: Where does your love for storytelling come from?
My background in in IT. But, I have been an actor in amateur theatre in my village in Konkan for many years. I think that may have been my accidental training in storytelling. Also, thanks to the inspiration from my father, ever since I was a child I used to read lots of books. I also remember that as a child I used to be mesmerized listening to Pu La Deshpande (A renowned Marathi author and my personal favourite) reading out and enacting his books. I think I might have picked up the liking for reading books aloud from those early years.
5. Do you have any plans for taking these stories to children?
As of now, Books That Speak are available as podcasts on the several platforms like iTunes, Sticher and Player.fm. The stories are also available as videos on our YouTube channel. I read stories in Marathi, Gujarati, Hindi and English. In future, I would love it if I can find other volunteers who want to join BooksThatSpeak.com and read out stories in other languages like Bengali, Urdu etc.
I hope to connect with government schools so that they can download and play these audio or video stories for children in their schools.
6. What kind of feedback have you received from the online community for your recordings?
I am getting to hear a lot of positive feedback from the children and their parents for these stories. I think though that most of the praise really is deserved by Pratham Books, StoryWeaver and the authors, translators and illustrators who have created these books and made their work Open Source.
Some feedback for BooksThatSpeak.com:
"Aunty, I love these stories! Why do you record only one story every day, start recording 2 or 3?"
"Beautifully narrated stories. The changes in voice for different characters make the stories a lot of fun."
"My kid's goodnight sleep starts with these stories, thank you Asawari!"
"My child loves the stories and enjoys the ae-roo-waao-ee signature tune at the beginning and end of the stories"
"These audio stories are very helpful to keep kids engaged during long travels. It's much better than them playing games on the phone all the time"
Here's a photo of me reading my favourite Pratham Books to my daughters!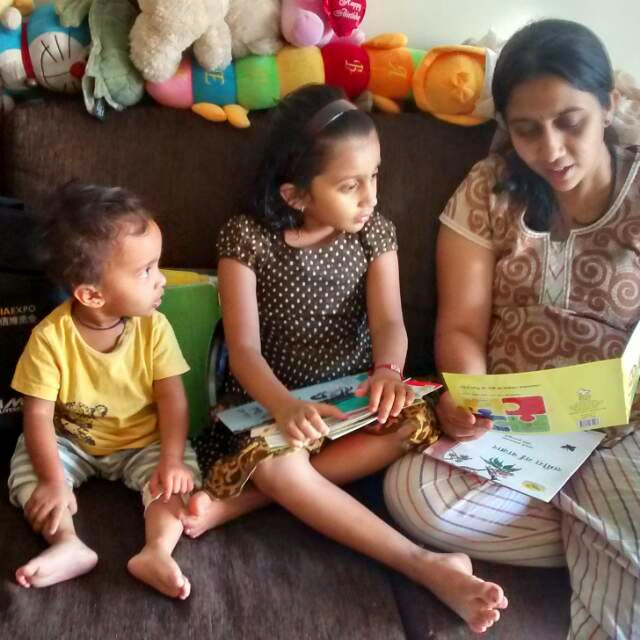 Thank you Aswari for this wonderful platform and taking the joy of reading to more children with your efforts! If you'd like to get in touch with Asawari head over to BooksThatSpeak now!
Are you using StoryWeaver content in interesting ways? Write to us at storyweaver@prathambooks.org and tell us so we can feature you on our blog.
comment (1)
---
THIS POST HAS NOW BEEN FILLED. THANK YOU FOR YOUR INTEREST.
Pratham Books is a not-for-profit children's book publisher that was set up in 2004 to publish good quality, affordable books in many Indian languages. Our mission is to see 'a book in every child's hand' and we have spread the joy of reading to millions of children in India.
In the last 3 years, we have increased our impact by investing deeply in technology based initiatives to further our mission. We are now looking to hire a Manager: Strategy & Insights to help develop innovative strategies as we scale up these initiatives.
About the Project
StoryWeaver is a digital platform that hosts children's stories in multiple Indian and international languages, so that children have access to reading resources in their mother tongues to learn and practice reading. All the stories are available under open licences and not only can they be read for free, they can also be translated or versioned, using simple tools embedded on the platform. In two years, StoryWeaver has grown from 800 stories in 24 languages to 6500 stories in 104 languages. We have built a robust global community that uses our content as well as contributed to creating more content on the platform.
StoryWeaver is being recognized as an emerging innovation that can transform the early literacy reader ecosystem globally. Recently, StoryWeaver was featured in the World Bank's report on 20 innovative EdTech projects from around the world, and was also the recipient of the prestigious Library of Congress Literacy Award 2017 International Prize. Our vision is for StoryWeaver to be the largest multilingual open library in the world for children by creating a collaborative publishing model that can address the scarcity of reading resources in their mother tongue languages.
Job Description
This position will work closely with the senior leadership to understand and shape the strategic direction StoryWeaver. There will be significant opportunities for innovation, working closely with internal and external stakeholders to further develop, nurture and scale a world-class digital platform that is redefining the way reading resources can be created and distributed globally. In a 2 year time-frame, the project outcomes are expected to scale by 10x and this position will play an important role in helping the organization meet this objective.
Key Responsibilities
Work closely with the internal teams to design strategies to implement the StoryWeaver's strategic and operational plans
Align processes and resource-planning with overall strategy

Develop plans to materialize strategy and analyze strategic partnership opportunities

Track and monitor user trends and usage data to develop insights that will drive future product enhancements

Monitor and analyze industry trends and market changes
Requirements
Masters in Business Administration, Marketing or a related field

Proven experience as a Strategic Planner or Business Consultant

Understanding of market research and data analysis

Knowledge of business operations and procedures

Demonstrable strategic thinking abilities

Analytical mind with problem-solving attitude
Excellent organization skills

Excellent verbal and written communication skills in English

Sophisticated ICT skills

Willing to travel to all project locations

6-8 years of experience
Nice to have but not mandatory
Experience working with non-profits

BTech/MSc/MCA degree in Computer Science or related disciplines will be a plus
Location: Position is based out of Bangalore and is full-time. Project is expected to complete within a 2 year time-frame.
Salary: Compensation will be commensurate with experience.
Write to us: Email your resume with Manager: Strategy & Insights in the subject line to [email protected]
Be the first to comment.
---