Varsha Seshan is a children's writer, author of The Prophecy of Rasphora and The Story-Catcher, among others. She has twice been shortlisted for the Scholastic Asian Book Award, and a collection of her short stories, Dragonflies, Jigsaws and Seashells, was a finalist for the Best Middle-Grade/Young Adult Book at the Singapore Book Awards 2019. She conducts reading and writing workshops for children and adults at schools and libraries. She is also a classical dancer, with over 25 years of training in Bharatanatyam. Varsha has written two storybooks for Pratham Books - Today I Am and What Will Happen?
In this blog post, Varsha writes about a training workshop that she conducted with librarians of municipal schools around Mumbai, and using StoryWeaver to chalk out a library reading programme for these schools.
---
As a British Council trainer, I've conducted numerous reading workshops and facilitated many interactive sessions for theme-based reading challenges. I've worked in schools as well as at the British Library itself, interacting with a range of children, from those who devour books to those who yawn at the sight of a library.
So, when Anubhooti Learning Solutions (then 'Experiential Learning Solutions') asked me whether I would chalk out a reading programme to be administered by librarians at municipal schools in Mumbai and Navi Mumbai, I was interested. The project was a CSR initiative by D-Mart and the crux of the idea was to support a few schools through a library programme.
Excited, I drafted a detailed outline of what we could do. I devised a theme-based approach with detailed assessment criteria, for that was something that the reading programme team felt was crucial. I also worked out the learning outcomes, outline and structure of three training sessions for the librarians. All of them had worked in different capacities earlier and were to be associated with the library space for the first time. The purpose of my training sessions was to introduce them to their role beyond classroom management and discipline, emphasising that inculcating the habit of reading and a love for language is as much a part of a librarian's role as the issue and return of books.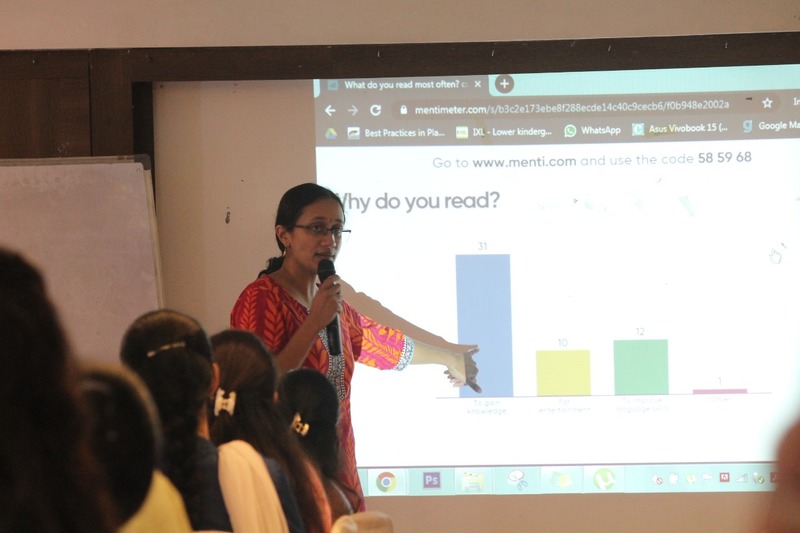 Varsha Seshan conducts a workshop for librarians from municipal schools around Mumbai
Yet, it was only as we launched the programme and began the first workshop that I began to understand how many problems the librarians face. A theme-based programme with assessment criteria was all very well. How would we deal with the other big issues, including the fact that many children did not even attend school regularly? As we went on, there were three problems that I was determined to address through the reading programme:
One, children come from multiple linguistic backgrounds. For instance, in a predominantly Hindi-speaking area, children attend a school where the medium of instruction is Marathi. "In my class of forty, only five children speak Marathi," one librarian said to me.

Two, every class has students with varied reading levels. "The children who have been with us for some time are okay, on the whole, but new children come in all the time. If a child is ten years old, the school administration puts him in class five, even if he has not even learnt the alphabet yet!"

Three, some schools have different languages of instruction running concurrently. "My first period is with Hindi-medium children, then semi-English, then Marathi, then Hindi again. Each week, I have Urdu-medium, English-medium, Hindi-medium and Marathi-medium children coming to the library!"
What could we do? How could we hope to tackle such a wide range of problems?
Additionally, what started as a small group of eleven librarians soon began to grow. This is the third year of my association with Anubhooti and the D-Mart initiative, and we work with 47 librarians: D-Mart now supports 68 schools through its reading programme.
It is at this stage that my use of StoryWeaver in libraries comes in. D-Mart's vision for the reading programme includes providing a minimum of 200 hard copies of Pratham Books in three focus languages (English, Hindi and Marathi) for each library that it supports. Five schools also use StoryWeaver books offline. This was a huge boon to me, for at least I had a starting point. I could access the same story in many languages, and thanks to the Creative Commons licence, I could encourage teachers to work with each story in multiple ways. Teaching requires so many resources that access to free material is invaluable!
Reading Levels
I was first attracted to StoryWeaver by the clear levelling of stories, and so, this was the first thing I introduced to the librarians too. In a single class, librarians deal with students struggling to read the alphabet as well as students who read stories confidently. With such a wide range of readers thrown together in one room, I find it particularly relevant that the reading level of books on StoryWeaver is not clearly linked to an age-group. This is important to me because slow learners are often targets for bullies. Reading a "kiddish" book, marketed as one for younger readers, leads to the shaming of slow learners, and a simple indication of reading level rather than age is an important step towards addressing (though not solving) this problem.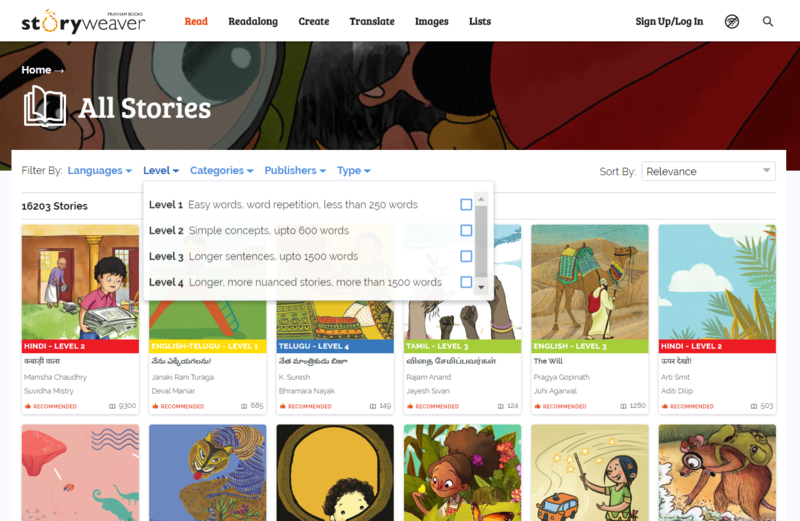 StoryWeaver has over 16,000 storybooks that are classified into four levels based on a child's reading level.
The first time we used StoryWeaver, we worked with three stories I love – I Am Not Afraid, Ammachi's Amazing Machines and Farida Plans a Feast. We read each story many times, in three languages. Bilingual books are particularly wonderful in the context of this reading programme, for when a child is required to read in one language, even though s/he is more comfortable in another language, having both on the same page is a great aid to reading comprehension. All of us loved the simplicity and artwork of I Am Not Afraid. It allowed us to explore and enjoy the story without being daunted by complexity of narrative and vocabulary.
The main activity we engaged in after reading the books was to create simple stories of our own. Inspired by the sweet simplicity of I Am Not Afraid, librarians created wonderful picture books about conquering fear. This was just the first step because they took the idea back to their libraries and asked children to make books of their own. This was a huge boost to the reading programme, as it encouraged children to read more and write more. The most wonderful outcome was that even if they read nothing else, children wanted to read what their friends had created. An added bonus was that there were suddenly many more books in the school library!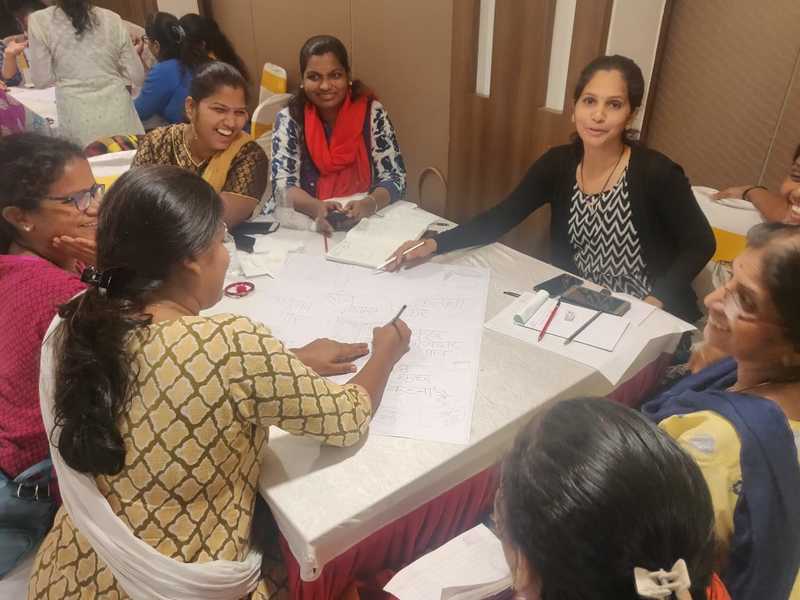 Librarians work on activities as part of the workshop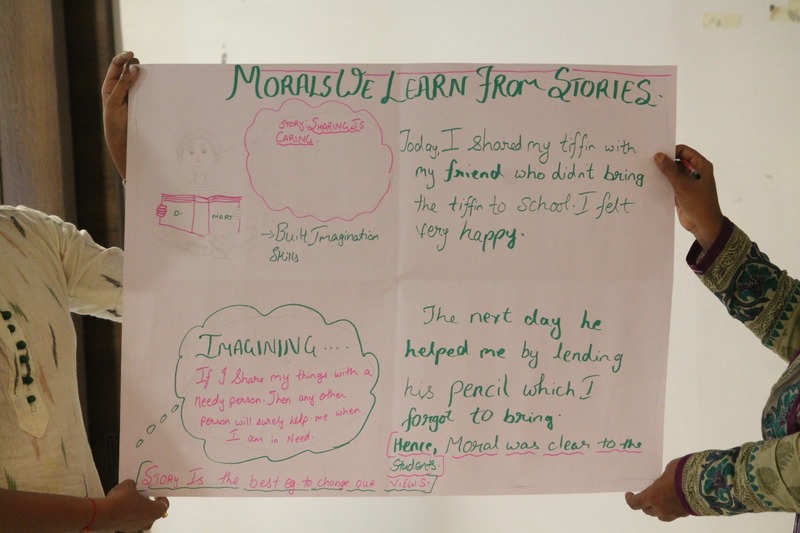 Librarians at the workshop prepare a chart on morals learnt from stories.
Wordless Picture Books
Wordless picture books are all kinds of lovely. We "read" the charming I Can Dress Myself! and then looked at how to work on language skills using a book that is written in none of the focus languages. Beginning with simple questions and answers – giving the girl a name and naming all the pieces of furniture in the room – we went on to a storytelling session, where the pictures in the book became visual aids.
Next, to continue our exploration of the use of StoryWeaver without language, I showed the participants Deepa Balsavar's vibrant picture of a busy market. With so much happening in a single image, the librarians could explore a range of vocabulary. Consequently, they came up with various ideas of how they could use pictures in class to increase attention and concentration. We discovered that wordless picture books and the visual treat of any detailed image would include both children with very low language proficiency and confident readers who want something new.
Lists
The lists on StoryWeaver allowed me to modify the reading programme in the third year, making the entire programme much more accessible. In the first year, the feedback I received from the librarians indicated that a huge majority of older students did not want to read fiction. Working with non-fiction and stories that clearly reflect the world we see around us thus became important to the reading programme as we moved forward.
And so, for the third year, I chose to begin with three themes – Environment, Science and Technology, and Mathematics.
For the first theme, we read What's Neema Eating Today? in English, and A Cloud of Trash and Anand in Marathi. Once we had read all three stories, it was time for our next activity.
In groups, the librarians chose a story to work with and present in a novel way. Some took the story further, imagining what would happen next. Others analysed the story in different ways, changing the setting to their own schools. Soon, through skits and quizzes, we had Chhakuli (the lead character in the Marathi translation of A Cloud of Trash) sorting out the garbage problem in a neighbouring village. We had Anand talking to his friends about taking pride in his work, and about there being no shame in working as a rag-picker. We had questions and answers about character motivation and themes. We discussed segregation of garbage and the role each of us must play in the process.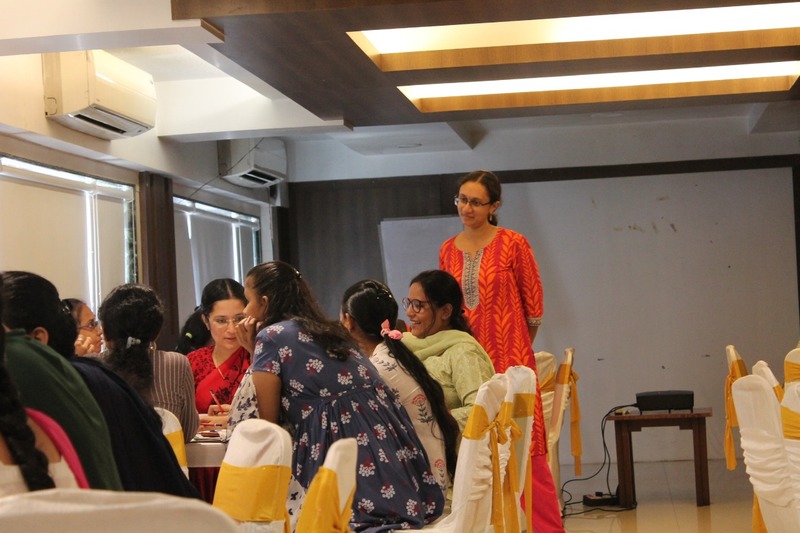 Varsha Seshan watches the prep for a play based on the book 'A Cloud of Trash'
For Mathematics, we read It's a Laddoo Party! enjoying the repetition and humour in the tale. Working with maths stories was an intriguing idea for many, one that they could not wait to take to their classrooms.
As a quick recall activity for vocabulary, we also played a ballgame. When a ball is thrown to a participant, s/he must quickly say a word that is clearly related to one of the four stories we read. So we remembered what Neema ate, recalled characters like Peter Uncle and Mihir, and discussed seasons of the year.
What happens next?
While I work with only the librarians, the proof of the pudding is, of course, in the eating. As the librarians do not have easy access to audio-visual equipment, working with StoryWeaver remains, for the moment, limited to schools that have computer labs with books downloaded on the systems. Children read independently – either using StoryWeaver offline or hard copies of books in the library. Eventually, I hope that infrastructural changes will allow librarians to use StoryWeaver to the fullest, including the Readalong feature and YouTube channel.
Yet, exposure to all this material has ensured multiple gains. For one, the librarians themselves have begun to read. Their purpose is clear: using stories actively in the library so as to move beyond the rather monotonous role of distributing and collecting books. Secondly, a theme-based approach allows them to look at books in their collections in a new light and create new books that then encourage reluctant readers. Thirdly, access to the same book in all three languages makes the act of reading less daunting, especially when it comes to reading in a language that is not one's mother tongue or first language.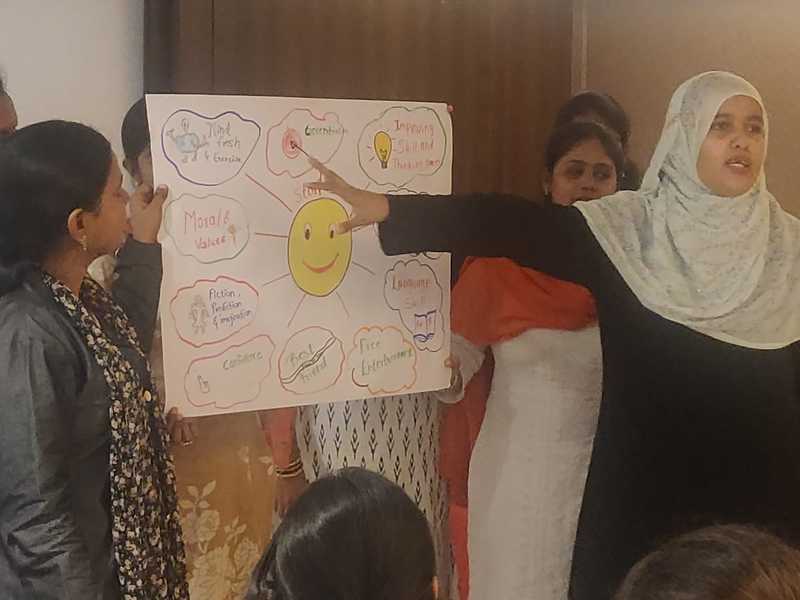 Librarians create charts based on stories discussed at the workshop.
And finally, feedback from the reading programme team at D-Mart is promising. Librarians and programme managers assure me that children now enjoy the books tremendously, and isn't that the greatest victory of all?
---
Do join the conversation by leaving your thoughts in the comments section below! You can also reach out to us through our social media channels: Facebook, Twitter and Instagram.
Be the first to comment.
---
Communities Rising runs after-school programmes for children attending government primary schools in underserved rural villages in the Villupuram District of Tamil Nadu. The not-for-profit reaches out to over 1,600 students in ten villages in the area, with a focus on English, Tamil, math and computer education. In addition to this, they provide enrichment programmes in art, music and leadership skills. Two years ago, Communities Rising started a new reading programme for students. Betsy McCoy, founder and President of the not-for-profit, asked students "How many of you ever read books for pleasure?"
"Communities Rising was struggling to find affordably-priced, beginner reader books in English and Tamil that the children would enjoy reading," shares Betsy.
This is a common problem faced by organisations working in education and literacy at the grassroots level: not enough books, in not enough languages, compounded by poor access and issues of affordability.
Most publishers cater to middle and upper income audiences in urban areas, often to the detriment of creating joyful books for underserved communities of children. StoryWeaver's relationship with Communities Rising started earlier this year, when they attended a workshop and demonstration in Bangalore. Via the platform, Betsy and her team have access to a wealth of books in both English and Tamil, which they can download quickly and print to share with children. A choice of titles in a variety of genres, including books on STEM subjects, are available across reading levels to suit the needs of all students.
Communities Rising has downloaded 100 stories in English and Tamil, and is in the process of printing one set of all titles and distributing the same to each of its centres, thus reaching 360-400 students.
"We especially love the bilingual books printed in both Tamil and English that allow our students to read in both languages on the same page. These books are a tremendous help with comprehension – it's like getting two books for the price of one!" says Betsy. "Plus, if a particular title is not available in Tamil, we can translate it on the platform and have it ready for the children to enjoy."
Printing is often expensive and another roadblock so, Communities Rising experimented with a number of formats before narrowing down on one that worked best for them.
"We tried printing the books in two formats. One with single pages hole-punched and attached with rings, and the second with the pages stapled in the center. Durability is an issue so we printed samples on heavy, cardstock," shares Betsy.

The organisation believes that reading makes children learners for life, and encourages reading in a big way in their after-school programme. They have just opened their first community library in an area where there there are no other such spaces.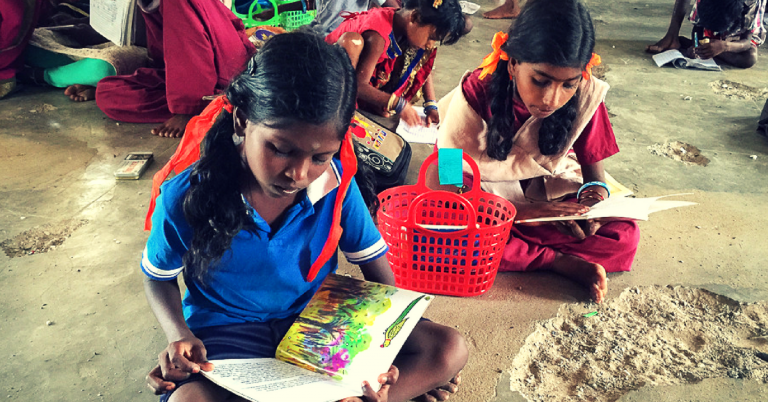 The organisation is running two other initiatives to great success. One is the 'Daily 5,' a reading programme developed by educators in the US; and the other is 'CR Super Readers,' a homegrown reading incentive programme. Both programmes are working wonders! Students are first taught how to pick 'Good Fit Books' that they can read comfortably. The books are then kept in a book basket which they share with a friend.
Each day the students have to read to themselves for 5 to 10 minutes. Other days they have to read to their partner. In this way they can help and learn from each other.
Students keep a list of all the books they read and have it checked by a teacher for comprehension. This forms the basis of the 'Super Reader' program.
"In addition to the book basket which contains books, we also give the children a 'reading necklace.' They get a bead for each book that their teacher certifies they have actually read. After reading 10 books, they get 'Readers Are Leaders' pencils, and after 20 books, they get pins that proclaim them 'CR Super Readers'."
"I'm happy to say that we are giving out many pencils," says Betsy, who believes that the necklaces, reading pencils and Super Reader pins help build a sense of community and sense of belonging to Communities Rising, amongst the children.
"At the end of the year, the top readers from each center will travel to Chennai to visit Tara Books for a program there and the top reading center will have a book party!" she says. "All of our students are now reading everyday; story books, non-fiction books, biographies, all kinds of books. They are discovering the joy of reading! Without StoryWeaver, this remarkable change in our students' reading habits would not have been possible," shares Betsy.
"Last year, I told some of our kids, that I was looking forward to hearing complaints from their parents that they were spending too much time reading, instead of playing or helping at home. We aren't quite there yet, but with access to so many stories now, I have no doubt those complaints aren't far away," says Betsy.
We look forward to hearing those complaints too!
Be the first to comment.
---