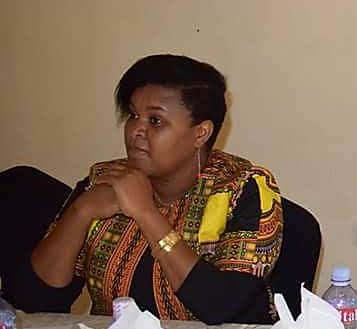 Writer, translator, editor and poet Agnes N.S. Nyendwa has always been best friends with books — right from her days as a warehouse clerk where she read up all the books in stock to her rise to an editor with publishing houses. Along the way, she was always passionate about her mother tongue Chinyanja, a language belonging to the Bantu language system of Africa and spoken widely across Malawi, Zambia and the Mozambique. Agnes is translating books on the StoryWeaver platform to her mother tongue and tells us in an email interview on why children need to read more stories in Chinyanja in her country and how she plans to make sure that more of them have access to these books.
Tell us a bit about yourself?
I am a writer, translator, editor, poet (English and Chinyanja), president of the Zambia Women Writers Association and Vice chairman of the National Arts Council, and have been in publishing circles since 1994. I started off as a Warehousing clerk being the first employee to have been engaged in that position at Macmillan Publishers Zambia Limited. I studied Purchasing and Supply (CIPS) and emerged as best student in the field. In my job as a warehouse clerk, I became friends with a bunch of books which I took time to read and enjoy. I cultivated the culture of reading each and every book that was in the warehouse. I later knew each book by its content and what to present if anyone wanted to buy any book in any field. I made it a point after that to read any new title as it came.
Due to the immense interest that I had in books, I was promoted to be Assistant Editor when the Zambia curriculum transitioned into a new one. My first assignment was to handle local languages because the whole project was a challenge. I managed to have the project take off and in the process I was seconded for an in-house training at Oxford Macmillan Education in the UK, which later catapulted me to be an Editor of the organisation back home.
What is your personal relationship to Chinyanja and to translation?
Apart from learning the language at school, Chinyanja/Chichewa is actually my mother's language. As it is truly my mother's tongue – my parents (my mother being a teacher by profession) made sure we honed the skill of speaking and writing it. They would not allow us to mix any other language when speaking with them, let alone writing to them. We were encouraged to read Chinyanja/Chichewa books, which I certainly do even now. This made us know the language without measure. Our home was our training ground for the local language where neighbours would be amazed at how we spoke it even when we grew up in a low density area where only people with high education lived. Friends would laugh at our tongue because sometimes they would request us to interpret the words we spoke.
Later in life I still had a challenge convincing my husband that the words I spoke were actual Chinyanja/Chichewa. He thought that as a family we had developed a language that we alone would understand not until I bought a dictionary from a bookstore in Malawi. He took time to refer to it on every word that he thought was specific to my family. He was amazed to have found the very words in the dictionary.
That is the power of teaching a child her mother tongue. It is easy for me to understand other languages because I can relate them to my own. I now thank my parents for imparting that priceless skill to me. I look at myself as one of those who is open to learning and embraces criticisms when it comes to the local languages. I have written and translated a number of books that are currently being read in schools.
You have been translating STEM stories. Describe the process to us. Would this process be different for a joyful picture book?
The process is not easy when you are just starting as a translator of STEM books. The process is quite challenging because of the absence of indigenous terminologies for certain concepts and words in general. STEM books have a lot of these non-indigenous terms. But by using the meaning approach and transliteration, the challenge is quite eased. I actually enjoy translating them because I get to understand and impart the terms in a way that are simple to grasp.
I don't find picture books to be any different from other story books because each book presents its own challenges, some may be grammatical or orthographical but rising to the challenge is what makes translating any book unique and adventurous.
How do you plan to take the Chinyanja stories to the children?
In our society, doing a venture totally free can be quite challenging because the conveyor of the message needs finances to operate. I would love to have every child who is stationed in a Chinyanja belt to get hold of these wonderful stories. It is a fact that a bigger chunk of my country cannot access internet which can be a transmission port for these books. I need them printed in hard copies so that they are distributed for children to have and read wherever they are, with friends and family.
My plan is to raise funds that can allow me to print and probably sell at a nominal price and for them to be spread where their relevance is. If I can find funds that can allow me to print and transport the books, I don't think there will be any need to sell them but to distribute them to libraries and have them approved for use in schools. For those who are able to browse on the internet, sending the link to people I know and other official arts and educational platforms is helping to spread the books. I have actually started sending the link and people are reading them.
What do you usually read? Which language do you prefer to read in?
Yes I do read quite a lot. A good story is what prompts my language of preference. I do read in Chinyanja and English as well as other Zambian languages that I have quite a considerable amount of knowledge.
A glimpse of the stories Agnes is translating to Chinyanja on StoryWeaver. You can read these stories here.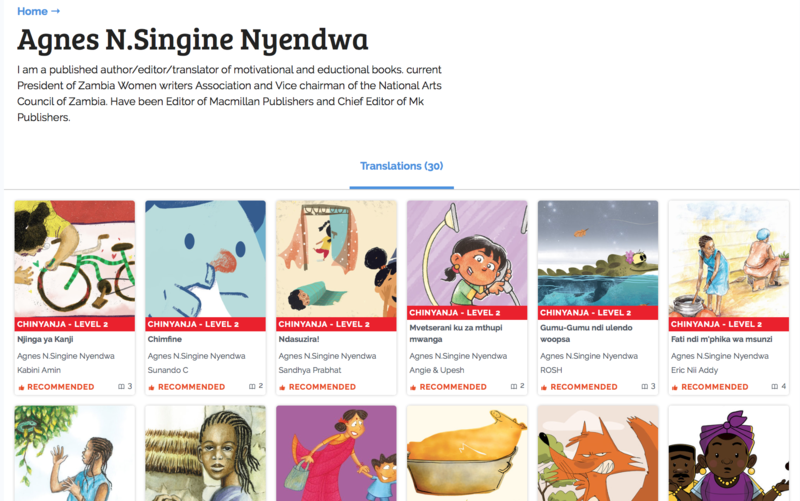 Thank you Agnes! May your tribe increase!
Write in to us at [email protected] if you want us to add your native language.
Be the first to comment.
---
Written by Kirsty Milward, Founder, Suchana Foundation
Settle down for this long read that comes to our blog from Birbhum, West Bengal.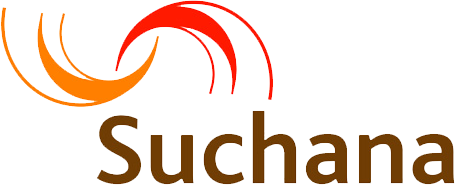 Suchana set out in 2005 to try to solve the problem of low learning levels among many adivasi primary school–going children in Birbhum, West Bengal. For part of the solution, we quickly settled on the fact that when Santal and Kora children start school they do not understand much of what they are expected to learn to read, because all teaching, and all learning materials are in Bengali.
But trying to introduce first language / mother tongue methods – or even multilingual methods – in our teaching programme was made hugely challenging by the fact that there were no written materials for children in the languages the children spoke. For Kora, there were no written materials full stop.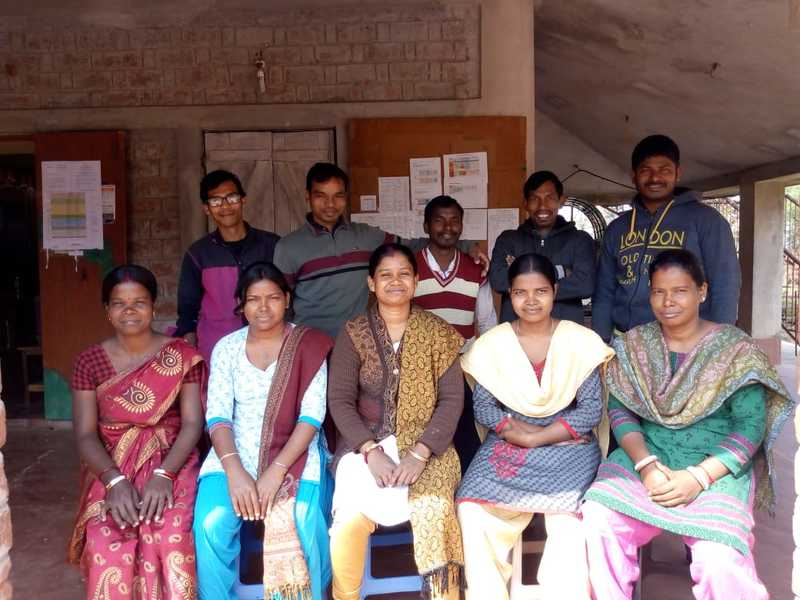 The 10 Santali and Kora translators
So we began to make materials. For Santali, this meant getting some guidance from organisations who had already been using Bengali script to write Santali, and then inspiring Santali teachers working in Suchana to tap into their creativity and write. For Kora, this meant generating a discussion among community leaders on how words should be written using the Bengali script; it meant young Kora teachers doing research among elders to re-learn disappearing Kora vocabularies; and it meant getting groups of young people together to write songs, rhymes, stories and a simple tri-lingual word book.
But this creative process took time, and coupled with lengthy printing processes with hideous proofing challenges and equally challenging costs, this meant we could collectively only produce three or four small books a year. By 2014, we had produced 15 books. And meanwhile, the children in the education programmes were growing up. Their young years, in which access to first language materials could be such a critical intervention, were running out.
Then in 2015, in a moment of serendipity, Suchana discovered Storyweaver. With a creative commons platform, a torrent of lovely stories graded into reading levels, and beautiful layouts to use, creating a varied, usable, children's literature in Santali and Kora, suddenly changed from a daunting task to one within our grasp.
The same young team of fifteen Santali and Kora teachers who had been involved in making books from scratch set to work. Most had acquired some technology skills through Suchana's other programmes in the intervening years. They shared these skills with those who had not; and themselves learned to use the Suchana platform through a mixture of online tutorials, personalized help from the Storyweaver team, and a fair bit of trial and error.
In their first translation marathon, they translated around 50 stories. Teachers chose freely which stories to translate from a pool of Bengali stories available on the platform, which they could translate from easily. With few options for getting their work formally reviewed and checked, they inserted quality control by creating a peer-review system in which they carefully checked each other's work before stories were published online.
We had gone from 15 to 65 in about 3 months.
Concerned about how we would ensure that digital stories would reach the hands of children who had very little access to technology, Suchana arranged to print 20 of these stories. Both print and digital stories were then woven into Suchana's mobile library programme which reaches about 1500 children. Librarians took laptops to remote mobile library villages and showed Santali and Kora digital stories to library members in read-aloud sessions. Children were then free to take home printed stories available in the library stock, where they could read them again, and read with their families.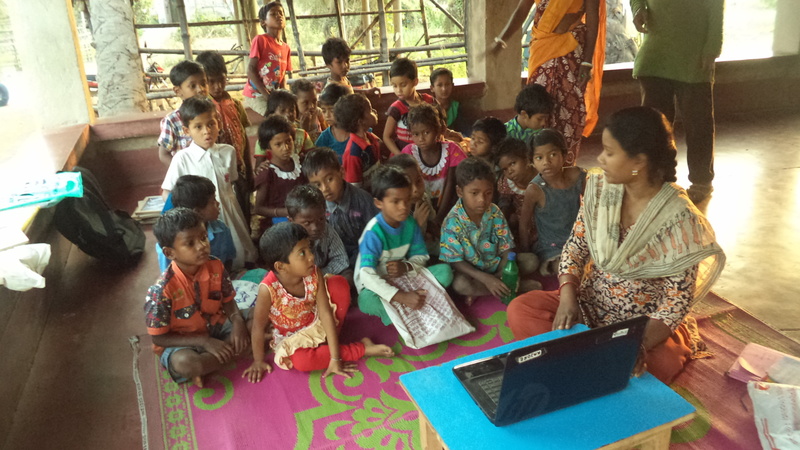 Children looking at stories on the computer
For many children with emerging literacy, being offered a chance to read stories in their own languages was like a light switching on. Suddenly, text which usually seemed dense and difficult made sense and fitted together. Now, when they were not sure how a particular letter in a word worked, they could make deductions based on their understanding of the likely word being represented to figure out what the letter was doing. Suddenly, it was possible to have meaning fall into the place of decoded text, and the story rise out.
But even 50 stories – about 25 in each language – can get read quite quickly among a multi-age group with library sessions every week. So in 2018, Suchana joined Storyweaver's Freedom to Read Campaign and the push to 100 stories in each language. Beyond reaching Santali and Kora stories to children through the mobile library membership, Suchana had just begun to work more consistently with local primary schools and ICDS anganwadis on using mother-tongue methods in early years' classrooms. Most teachers and anganwadi staff teaching adivasi children do not have the luxury of knowing the languages of the children they are charged to teach, and many are acutely aware of the difficulties this presents. So Suchana's second translation marathon focused partly on producing bilingual books in Santali-Bengali and Kora-Bengali – with a view to enabling willing teachers to help their Santali and Kora students access stories in their own languages too. Watch this space for more information in a few months on how this initiative goes.
This week we crossed 212 stories: just over 100 in Santali; just over 90 in Kora; and 15 stories Suchana had produced from scratch. This feels like a very different place we have arrived at. Several hundred children are now reading a real variety of books in their own languages – from very simple, to more complex 'Level 4' books as they progress in their literacy; and books which can help themselves and their teachers transition from their own languages into Bengali, the language of their schools. They read about animals, people, families, friends, trees, maths concepts, science ideas, joy, sadness, and everything in between, in their own languages. The amazing worlds that children's literature can open up have finally become theirs.
Congratulations for this huge achievement to the Suchana translation team: Bhabini Baski, Churki Hansda, Komola Murmu, Sova Tudu, Lakshman Hembram, Subhadra Murmu, Narayan Hembram, Shanto Kora, Kumkum Kora, Debika Kora, Kalicharan Kora, Rajesh Kora, Pathik Kora, Nobin Kora, Anjana Kora and Krishna Kora.
We have not finished, but Storyweaver has started something, and we are on the way.
Be the first to comment.
---