Today is a significant day: It is International Literacy Day, and 5 years since the launch of StoryWeaver. The pandemic has only deepened our resolve to help achieve United Nations' Sustainable Development Goal 4: Quality Education, by giving children around the world access to high-quality multilingual reading materials, and strengthening the publishing ecosystem to enable this.
September is also the 5th anniversary of the Sustainable Development Goals (SDGs). We are delighted to mark this shared milestone with a specially curated set of Book Lists, featuring storybooks that highlight concepts, values and principles related to the SDGs.

We hope that these Lists will be a useful resource for educators and look forward to them sparking meaningful conversations about subjects like equality, peace and climate action – and inspiring the next generation of readers and learners.




Thank you to all the wonderful people who make the StoryWeaver community such a rich and vibrant one: our young readers, committed educators, brilliant creators, talented translators, farsighted publisher partners, and encouraging donors. StoryWeaver now offers more than 24,000 open source storybooks in over 260 languages.
With your support we can make Literacy and Quality Education a reality for all children.
---
Illustrations credits:
Shrujana Shridhar for बेटियाँ भी चाहें आज़ादी written by Kamla Bhasin, published by Pratham Books | Priya Kuriyan for सतरंगी लड़कियाँ written by Kamla Bhasin, published by Pratham Books | Archana Sreenivasan for P.S. What's up with the climate? written by Bijal Vachharajani, published by Pratham Books | Rajiv Eipe for The Novel Coronavirus: We Can Stay Safe, written & illustrated by multiple creators, published by Pratham Books
comments (22)
---
It's that time of the year again, for One Day, One Story – Pratham Books' annual storytelling campaign celebrating International Literacy Day on September 8th. Last year, we had over 6700+ Reading Champions conducting 5500+ sessions, reaching out to 40,000+ children all across India with the stories of Gappu and Nila. And this year, we hope to make it extra special!
Why One Day, One Story?
To help children discover the joy of stories, and fall in love with reading. On September 8th every year, Pratham Books Champions all over India use two books to conduct reading sessions for children in their communities.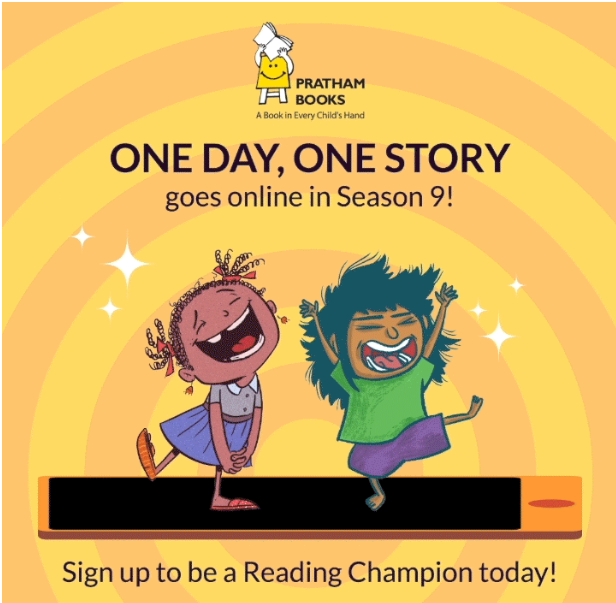 What's the story?
Typically, One Day, One Story is a volunteer-led on-ground event where Reading Champions conduct storytelling sessions with groups of children all over India and the world. Due to the ongoing Covid-19 pandemic, this year is a little different, since children everywhere are still at home and on-ground storytelling sessions or book dispatches won't be possible. So we're taking One Day, One Story online, where we invite you to conduct virtual storytelling sessions and readalouds over the internet, to continue to spread the joy of reading far and wide!
The storybooks for One Day, One Story this year were chosen keeping in mind that children have been at home for many months now and could use a little bit of humour along with some insight on managing their emotions through these uncertain times. The two books for ODOS 2020 are Angry Akku, a Level 2 book written and illustrated by Vinayak Varma for younger kids, and The Girl Who Could Not Stop Laughing, a Level 3 book written by Meera Ganapathy and illustrated by ROSH for older kids.
How does this work?
You could conduct a storytelling session online – through Zoom or Whatsapp with a group of children, or on Facebook or Instagram Live.
OR you could record your storytelling of either (or both!) of the books on your mobile phone and share it on social media with the hashtag #OneDayOneStory2020 and then tag a friend to do a reading of the books! (Don't forget to tag us too!) Check out some basic tips on how to record yourself telling the story.
Whichever storybook or platform you choose, we would love for you to use it in creative ways – read, narrate, enact… so that it's fun for children to watch and listen to.
Sounds interesting? Mark your calendar for September 8, and join thousands of other Champions sharing their love for reading with the children who need it the most!
Note: If you have any queries, please mail [email protected] before you fill in the form.
Frequently Asked Questions
1. This is the first time I am conducting an event. How should I prepare for it?
Read the book a few times. If you are reading to a younger age group, see how you can tell the story without actually reading from the book (to retain their attention). Think of activities to engage the children after the storytelling. Alternatively, read a few more stories around the same theme.
2. Can I conduct multiple storytelling sessions online?
Oh, yes, you can! The aim is to reach as many kids as possible. You can do more than one session on more than one day, on or after September 8th.
3. Will I be receiving physical copies of the books?
Due to the Covid-19 pandemic and ensuing logistical difficulties, we will not be dispatching physical copies of the books and banners for One Day, One Story this year. But once you sign up, we'll be happy to share e-copies of the books in multiple languages. You could read the story aloud from a digital device, like an iPad or a mobile phone, or you could print out the book and hold it up while you read.
4. Should I document the event?
Yes please! You can send us the storytelling video you make, a write-up and tag us on social media when you share your video – just share with us the "real impact" you've helped make.
5. I really want to conduct a session but I am not free on September 8? What should I do?
The aim of One Day, One Story is to spread the joy of stories. In case you are unable to, you can still conduct it on a day close to the chosen date. Because children getting to listen to a fun story is much more important than a date, right? This year, we are running One Day, One Story all through September 2020.
6. How do I do a virtual storytelling session?
Once you sign up for One Day, One Story, check out these tips on how to take a video of yourself reading out the story using a mobile phone. If you are conducting a live storytelling session with a group of children on Zoom, Whatsapp or Instagram/Facebook Live, you would need to keep in mind all the things you would normally do when doing a storytelling session in-person – the only difference this year is that it's online!
Check out some online readaloud videos that others have done with our stories over the past few months here!
Sounds like something you would like to do?
Hop on board! Individuals sign up here and organisations can sign up here.
---
Illustrations by Vinayak Varma and ROSH
comments (10)
---
We are thrilled to announce that Pratham Books has won the prestigious 2020 Library of Congress Literacy Award, recognizing our responsiveness to the unique needs faced by children during the current unprecedented times, and our efforts over the past few months to spread the joy of reading to children everywhere through the COVID-19 pandemic.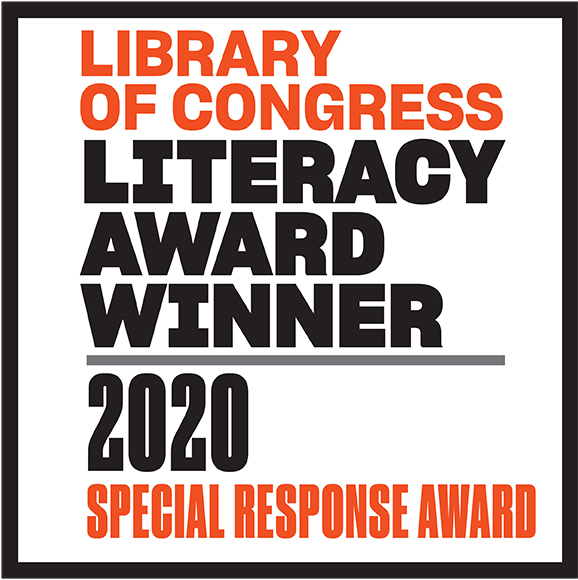 The Literacy Awards, originated by David M. Rubenstein in 2013, honor organizations doing exemplary, innovative and replicable work. Collectively, all of these awards spotlight the great efforts underway to promote literacy and respond to the needs of our time. We are honoured to be one of five global winners this year, and the only organization from India to win the award.
As schools around the world closed indefinitely, and demand surged during the pandemic for digital learning resources, it became increasingly important to find new and innovative ways to keep children engaged and curious. Pratham Books created programs that could be used in low-resource environments, including launching the StoryWeaver Learn at Home programme in Hindi and English, adding to the repository of thematic reading lists and audio-visual books in multiple languages on StoryWeaver, and a phone-based dial-a-story programme called Missed Call Do, Kahaani Suno! that allowed a child to locate a story in a chosen language by dialing a toll-free number.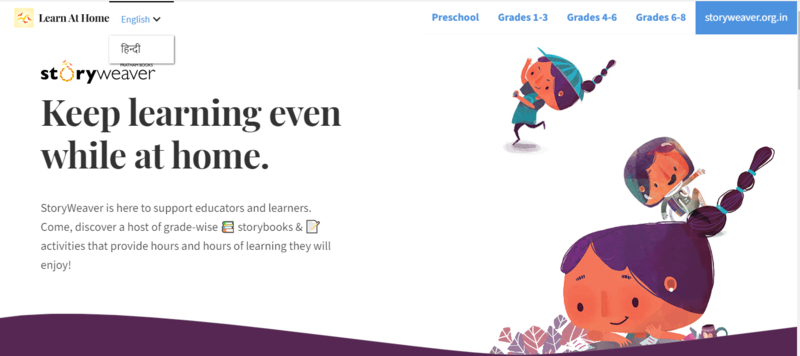 In addition, in just four months, translators on StoryWeaver translated 3,000 books into 28 new languages, including books about the coronavirus, health and hygiene and social and emotional issues. UNESCO and the World Bank have listed StoryWeaver as a resource for the homebound child during the pandemic.
We are grateful to our wonderful network for helping us share the joy of reading during these challenging times, and to the Library of Congress for this recognition.
comments (3)
---