Do best friends always have to be alike? Devi and Bonda are best friends, but Devi is a little girl, while Bonda is a… Well, he can lift heavy boxes, he can extend his arms and legs, he never forgets anything he's told, he can be turned on and off. Can you guess what he is?
Written by acclaimed children's author Roopa Pai and illustrated by the wildly talent Jit Chowdhury, 'Bonda and Devi' invites children to step in to the future to see what might be in store for them.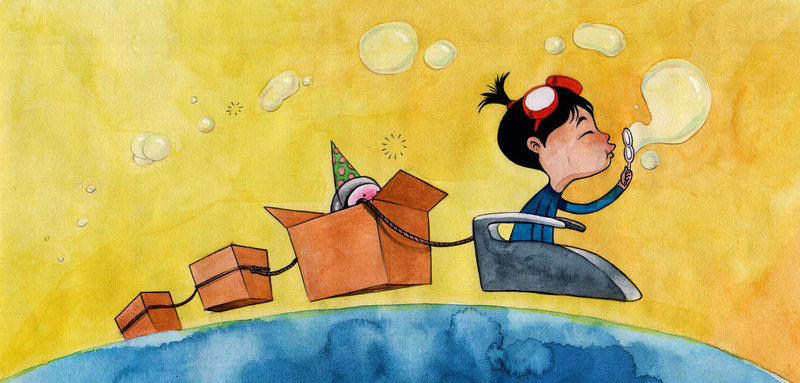 Follow up activities
There's a whole host of fun things to do with children after you've read the book together, here are a few that we loved!
Meet My Robot
Resources
● Paper
● Pen
● Colour pencils
Imagine if you had a robot of your very own! What would you call it? What would it look like? What would you programme it to do?
Ask children to spend a little time thinking about the answers to these questions and then write a creative piece about their very own robot friend. They can then draw their robot and colour it in too!
Cereal Box Robot
Reuse, recycle and recreate! We love the idea of taking old things and making something new with it... especially if that something new, is a shiny robot! Be prepared to get your hands messy with the children, as you create your very own Cereal Box Robot!
Resources
Old cereal boxes of different shapes and sizes
Bottle caps
Toilet paper rolls
Aluminium foil, old newspaper
Paint
Glue
Scissors
Cello Tape
Bowls
Paintbrushes
Loads of imagination!
What to Do
● Create small workstations by spreading newspaper on the ground
● On each workstation leave a collection of supplies
● Let the kids go crazy and create their own robots!
Need a little inspiration? Head to Kids Activities Blog for some!
Maker Space Ideas
If you have slightly older children in your group, do check out these links on making simple robots that actually move!
Resarch Parent has two awesome 'My First Robotics' ideas - a Wigglebot and a Wobblebot! We absolutely love the names, don't you?
Do you have ideas for activities to do after reading 'Bonda and Devi'? Leave us a comment on the blog or share them with us on Twitter or FaceBook.
Be the first to comment.
---