Reading is one of the most essential components of a child's learning & development journey. At Pratham Books and StoryWeaver, we understand this and StoryWeaver came about with the exact purpose of increasing access to books for children in languages and context that they enjoy - in a boundary-less digital way.
StoryWeaver (http://www.storyweaver.org.in/) is an open source, digital repository of multilingual children's stories. StoryWeaver is an especially useful tool for organisations and individuals working in Education, allowing them to:
Browse, read and curate a reading list from over 9700 stories across 122 languages

Download stories for offline reading

Create a new story or a set of flashcards from an image bank of over 13000 illustrations

Re-level or remix a story to suit your child's needs

Translate stories to a language of your choice
And best of all, ALL of this is absolutely FREE
We invite educators, librarians and resource people to attend the StoryWeaver workshop to be held in Hyderabad. To celebrate the diversity of languages we have, we are planning to conduct the workshop session in English on the 29th of November and in Telugu on the 30th of November. You are requested to give your preference for the date/language while signing up and we will confirm the final date and the venue of the workshop to you at a later stage. However, just in case we have lesser number of participants for the Telugu workshop, we will be looking at doing a bilingual one on 29th itself. Please do make a note of this.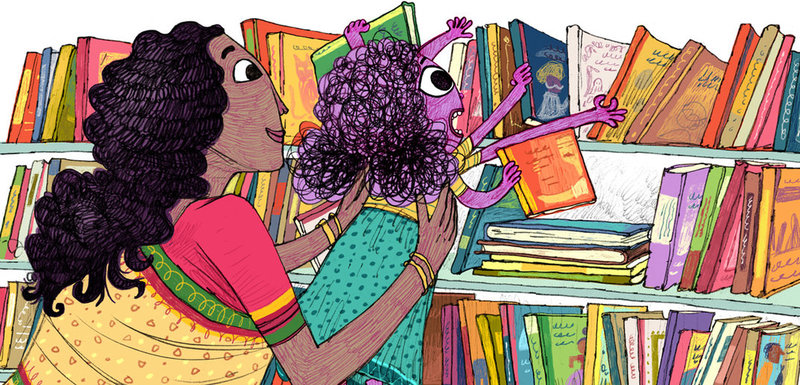 (Image from 'A Book for Puchku' by Deepanjana Pal and Rajiv Eipe.)
The workshop would cover the following:-
1. A detailed Demo of StoryWeaver – how to navigate and use the platform
2. Examples of how educators are using StoryWeaver effectively in their classrooms
3. Dedicated work time for participants to try their hands on StoryWeaver
4. An opportunity to meet other educators and make interesting conversations
If this excites you, REGISTER HERE to book your place in the workshop, latest by 22nd November, Thursday.
Please note that the seats are limited and we might not be able to accommodate more than 2-3 people per organization. Confirmed participants will get a separate email confirming their participation and other logistical details.
The workshop will be held between 9.30 a.m to 4.30 p.m and there is no fee to attend the workshop.
Feel free to reach out with any questions to Khyati at [email protected]. Look forward to seeing you there!
Be the first to comment.
---