We are excited to mark International Day of the Girl 2021 and World Space Week with the launch of a very special collaboration with mEducation Alliance, #InspirationSTEM, a campaign designed to celebrate and support young girls to pursue STEM education and careers — including those focused on space.
With this initiative, StoryWeaver hopes to inspire engagement with STEM themes using relatable storybooks, encouraging girls to continue aspiring.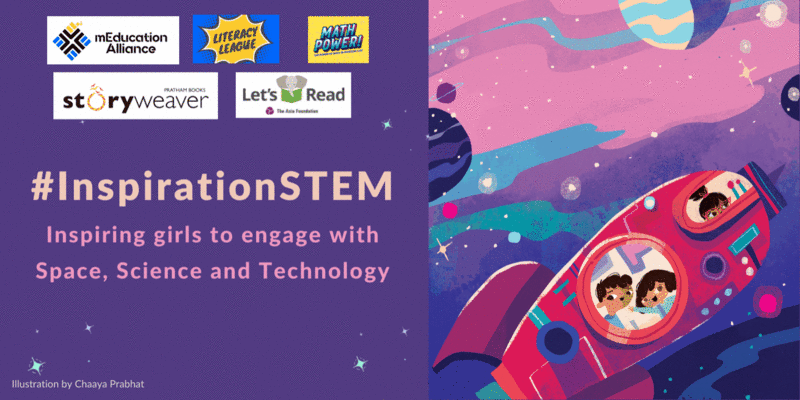 We are thrilled to kickstart this campaign with 'Gul in Space'. A level 3 storybook written by Richa Jha and illustrated by Lavanya Karthik.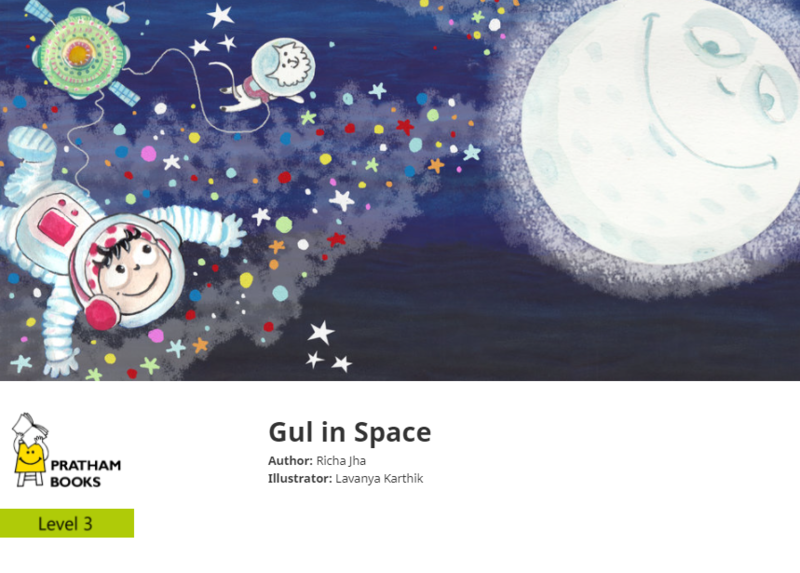 What would you like to do on your birthday? How about taking a walk in OUTER SPACE! Here's a story that will make you jump with joy… and if there's no gravity under you, you might just stay exactly where you are! Get ready to explore space with Astronaut Gul.
Gul, the protagonist, is a young girl who dreams about going to space. When an opportunity presents itself in front of her, she takes it without waiting for any permission from anyone. Her actions are inspiring to children, encouraging them to invest in their dreams. The poetic language in the book captures the sheer joy and excitement experienced by someone who manages to fulfil their dream, subtly but effectively invoking the readers. The illustrations further connect readers to the concepts and way of life about space.
Read 'Gul in Space' here.
Be a part of this year-long engagement with StoryWeaver and the #InspirationSTEM campaign!
For more details about the #InspirationSTEM campaign, visit the mEducation Alliance page here.
comments (2)
---
It is undeniable that wildlife plays an important role in maintaining the ecological balance of nature. Disruptions to the wilderness can negatively impact the ecosystem as a whole. Preserving the natural environment is therefore vital.
We have rounded up some of our favourite books highlighting wildlife. Check out the excerpts and click on the image to read the books.
'Flippy the Flowerpecker' is a level 1 book written and photographed by Garima Bhatia.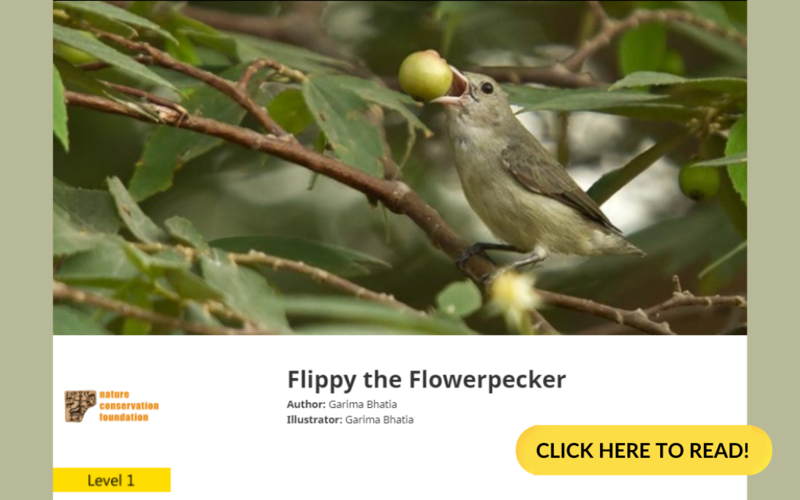 In this book, Flippy the tiny flowerpecker visits a eucalyptus tree to find a meal, but a surprise is in store for her!
'Our Friends in the Wild' is a level 2 book written by Ananta Prasad Wagle, illustrated by Samit Shrestha, and translated by Shannon David.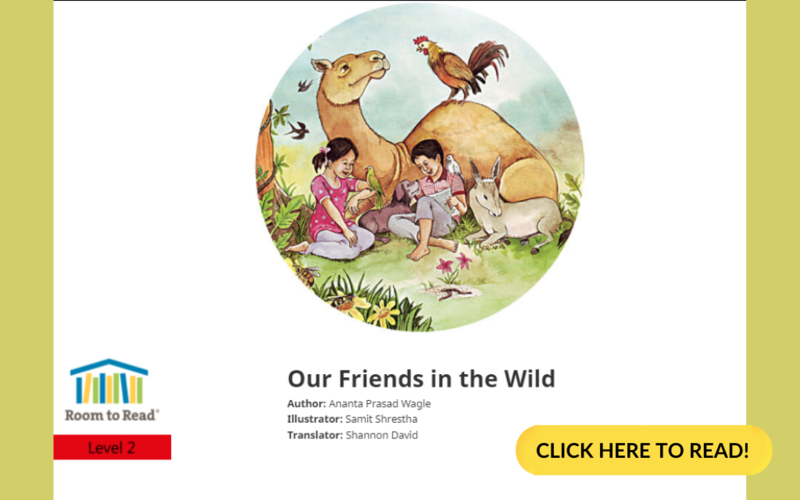 Throughout time, people have shared a strong relationship with animals in nature. This non-fiction poem explores the many ways that animals help humans.
'Tiger, Tiger, Where Are You?' is a level 2 book written by Mujahid Khan and illustrated by Manjari Chakravarti.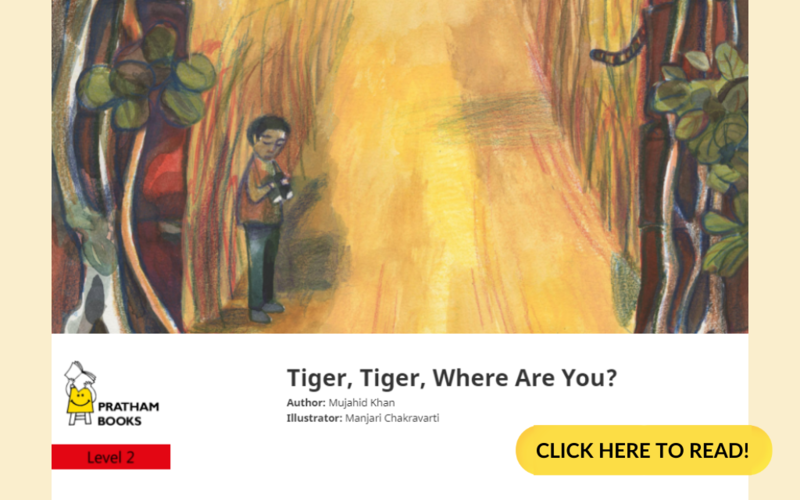 In the book, a tiger researcher is out looking for tiger hair and poop as part of his study. He finds plenty of signs of the tiger, but where is the big cat? After all, there are so many ways to see a tiger without seeing a tiger.
'The great Rifasa' is a level 3 book written by Rohini Nilekani and illustrated by Sangeetha Kadur.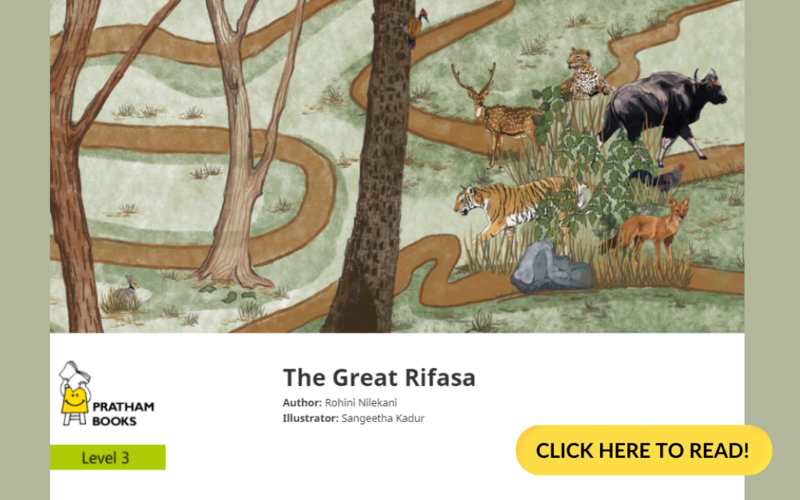 Nothing seemed right in the Kabini forest — the monsoon hadn't come and the human tourists in their safari jeeps seemed to have disappeared as well. The animals of Kabini get together to begin their own safari. A fun story, from a unique perspective, about the far-reaching impacts of the COVID-19 pandemic.
'How to Be an Otter' is a level 3 book written by Nisarg Prakash and illustrated by Rohit Kelkar.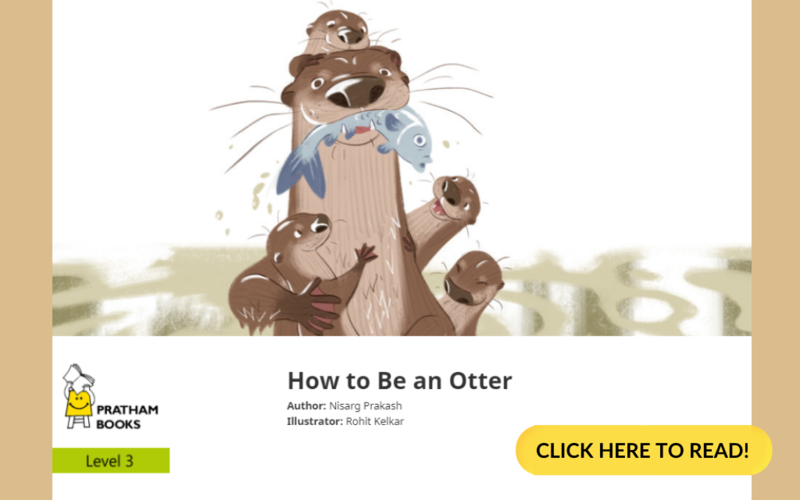 Listen in to find out more about these wonderful river creatures, as an otter passes on wisdom to a group of otter pups.
A level 3 book, 'Fly Safe, Godavan' is written by Cara Tejpal and illustrated by Sanjana Desai.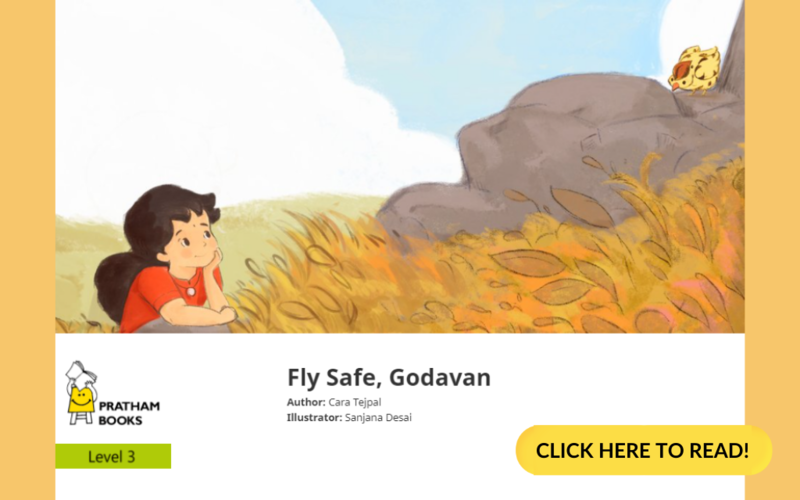 In this book, Rania is determined to keep the little Godavan chick and her Ma safe. But there are so many threats to the survival of the Great Indian Bustard.
'Kanchha, the Rhino' is a level 3 book written by Shilpi Pradhan, illustrated by Abin Shrestha, and translated by Shannon David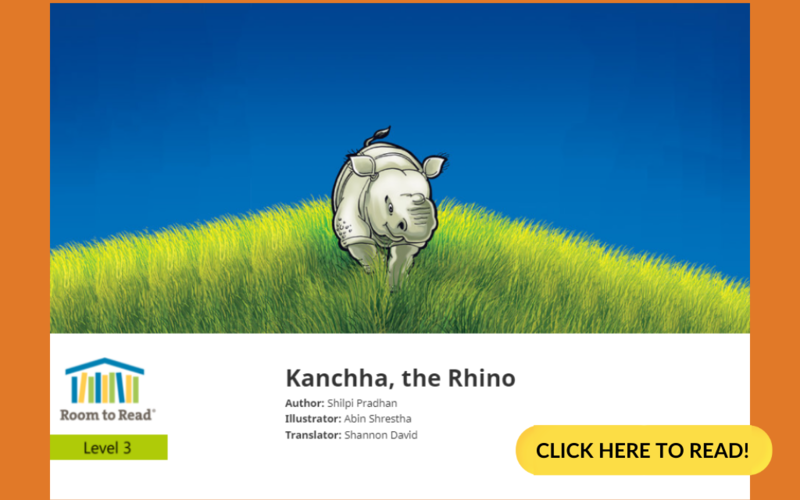 This is the story of a little rhino who lives in a big grassland. He loves to explore, but one day he strays too far from his mother and gets lost. Read on to find out how he gets out of trouble.
'Turtle Story' is a level 4 book written by Kartik Shanker and illustrated by Maya Ramaswamy.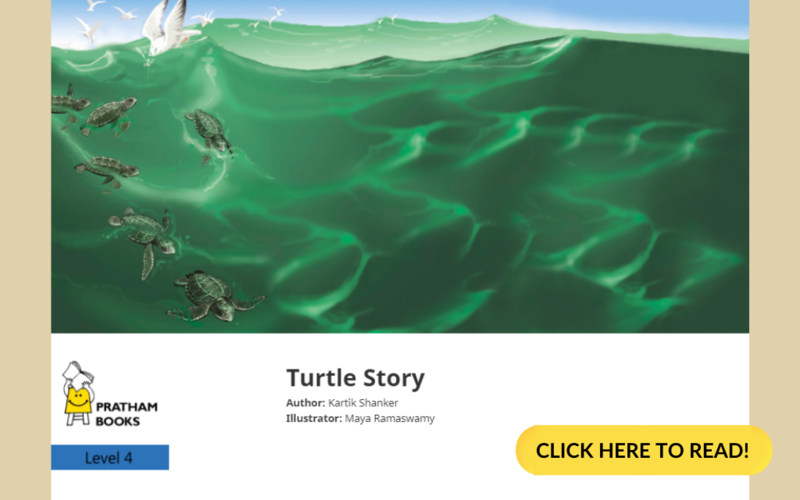 Under cover of darkness, baby olive ridley turtles hatch from sun-warmed eggs on remote beaches. One of them, the little hatchling who is the narrator of our story, is delighted to make it across the beach and into the ocean without losing her way or being captured by predators. But can our little olive ridley survive the dangers of the ocean? Find out in this charming life story of an olive ridley turtle, and meet several other interesting creatures along the way.
'Moonlight in the Sea' is a level 4 story written by Kartik Shanker and illustrated by Prabha Mallya.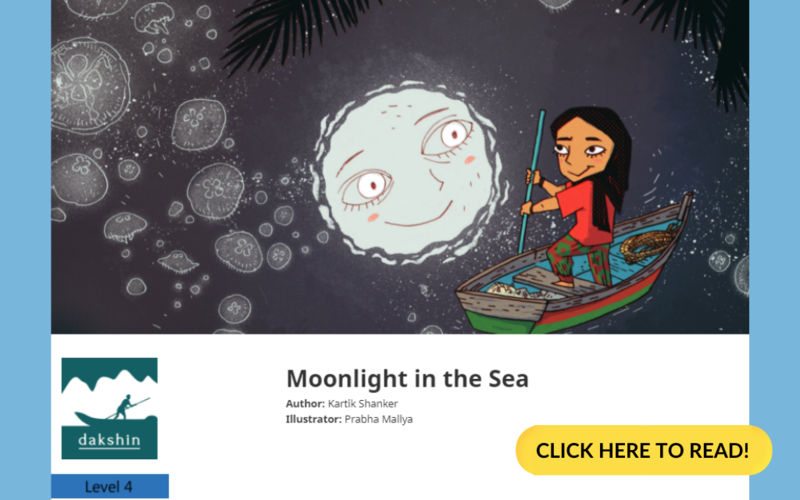 Fatima grows up on an idyllic island in the Lakshadweep, watched over by Nihla, the moon. She falls in love with the underwater world of colourful corals, fascinating fish, mysterious manta rays, grizzled old turtles and dancing dolphins. One day, in a terrible storm, she gets lost at sea. Join Fatima on her incredible adventure on remote islands with wonderful marine creatures.
Learn more about the people and places that inspired the making of 'Moonlight in the Sea', in this blog post by Kartik Shanker, author, ecologist, and founder trustee of the Dakshin Foundation.
A level 4 story, 'Wildlife in a City Pond' is written by Ashish Kothari and illustrated by Sangeetha Kadur.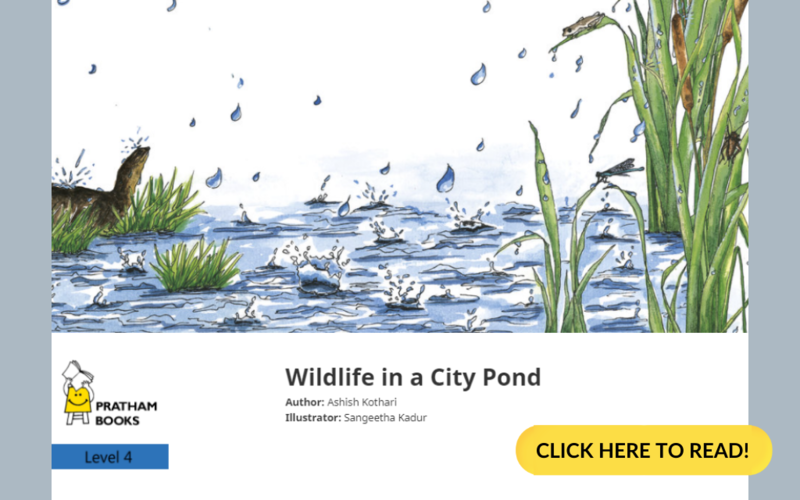 Wetlands in any city are seen mostly as wasteland, waiting to be built over. It takes a tireless environmentalist to show us what city ponds really are – magically rich ecosystems worth preserving. Based on a real-life experience, here is a story that introduces us to the delightful fauna and flora in the urban landscape.
'Gyalmo, the Queen of the Mountains' is a level 4 book written by Ranjini Murali and illustrated by Komal Jain.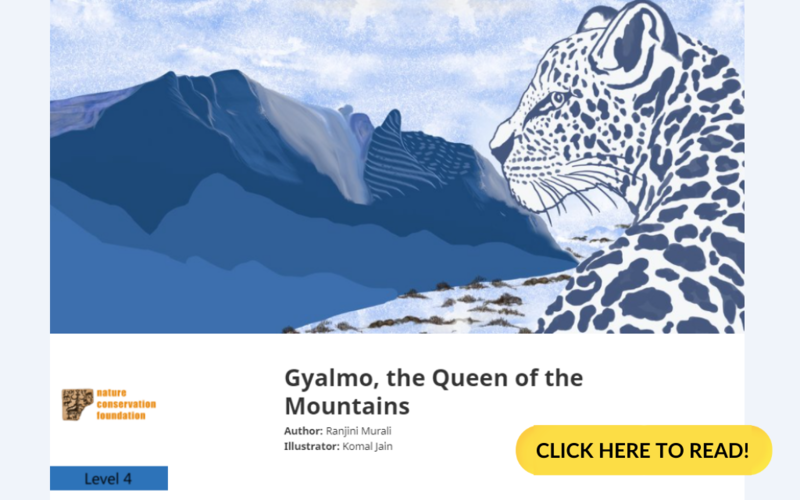 Koyna is in Spiti Valley trying to spot a snow leopard with her friend Lobzang. Gyalmo, the snow leopard, watches from a distance as they try their best to spot her.
Read all about the author's fascination with the mountains and why she wrote a children's book about snow leopards here. Ranjini Murali, the author, is the Conservation Scientist at the Snow Leopard Trust.
Come, explore the natural quirks and intricacies of nature and its wild inhabitants with StoryWeaver!
comments (14)
---
Duration - 6 months extendable up to 1 year

About Us
Pratham Books (www.prathambooks.org) is a not-for-profit children's book publisher that was set up in 2004 to publish good quality, affordable books in many Indian languages. Our mission is to see 'a book in every child's hand' and we have spread the joy of reading to millions of children in India. As a publisher serving every child in India, Pratham Books has always pushed the boundaries when it comes to exploring innovative ways in which to create access to joyful stories and have been fortunate in finding partners to collaborate with who share this vision.
In 2015, Pratham Books increased its footprint by going digital. StoryWeaver (www.storyweaver.org.in)is a digital platform that hosts stories in languages from India and beyond so that every child can have an endless stream of stories in her mother tongue to read and enjoy. The stories can be read, translated, versioned, or downloaded for free. All stories on the platform are openly licensed.

We are looking for a Project Manager based out of Chhattisgarh who can spearhead a statewide campaign. The person is responsible to successfully implement the campaign and deliver on the KPIs while managing internal and external stakeholders.
An ideal candidate should have proven experience in campaign and project management.

Key Responsibilities:
As a Project Manager, you will manage the day-to-day communication and operational aspects of the project. Your core responsibilities will be to:
● Create and maintain detailed timelines/work plans for all project deliverables and key milestones; hold internal and external teams accountable to project plans.
● Serve as the primary point of contact for all operational questions about the project internally and externally
● Establish and nurture government relationships in the state education department to further the campaign outreach and impact
● Design and deliver campaign outreach initiatives in the state and ensure mobilization of resources at the ground level
● Identify stakeholders and attendees for crucial recurring and ad-hoc discussions; capture meeting notes and escalate communications to align on deliverables and troubleshoot roadblocks.
● Deliver project status updates to internal and external teams
● Undertake ad-hoc translation requests for short messages and social media posts.
● Support in preparing project launch, weekly check-ins, to identify and capture recommendations for future execution.
● Working closely with other team members to capture feedback throughout the project lifecycle and to contribute to the iteration of existing processes aimed at making project delivery more effective.
● Support the organization in monitoring and evaluation exercises
● Gathering and summarizing key takeaways for monthly project reports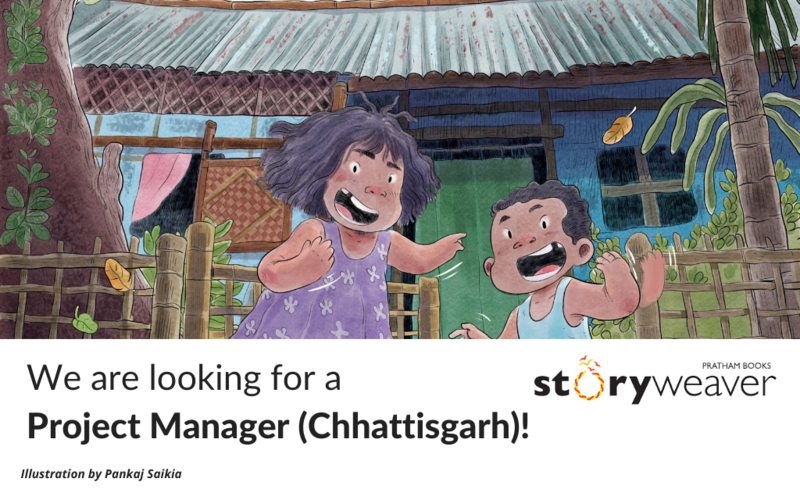 Required skills and experiences:
● Minimum 2 years of experience in the education sector, project management or social media outreach campaigns
● Bachelors / Masters degree with relevant experience will be considered for the role
● Proven experience in project management, social campaigns, digital marketing campaigns and/ or project management preferably in the education sector
● Exceptional communication and project-management / organisational skills
● Proven ability to build consensus and work effectively within a cross-departmental team
● Excellent track record of time management, systems organization, and follow-up
● Agility and flexibility towards evolving responsibilities and last-minute project changes
● A confident facilitator to coordinate discussions between multiple internal stakeholders (such as an interdisciplinary team of different specialists across different geographies)

Language Skills:
Excellent proficiency in reading, writing and speaking Hindi. Additional knowledge of local languages of the state is desirable

Nice to have but not mandatory:
● Past experience in the education sector.
● Masters degree with past work experience in social sector organising and advocacy.
● Experience running lean campaigns that emphasize scaling of success, ideally within the education/social sector
● Willingness to travel around the state if required

Location: Raipur

Write to us:
Email your resume with the Project Manager (Chhattisgarh) -StoryWeaver in the subject line to [email protected]. Also, send us a short paragraph on why you think you are suitable for the position.

Be the first to comment.
---