When Pratham Books launched StoryWeaver two years ago and openly licensed all the content on the platform under CC-BY4.0, we had an inkling of the potential the idea had. In the last 24 months we have been blown away by the amazing ways our community members have used the power of open licensing to adapt the content on StoryWeaver to answer certain needs in classrooms and other learning spaces.
BooksThatSpeak.com is one such initiative. The platform hosts audio and video versions of children's stories in Marathi, Hindi, English and Gujarati. Many of the stories are from Pratham Books. Asawari Doshi, who runs the platform lives in Pune with her husband and two daughters and works part-time on reading and creating audio and video versions of stories for BooksThatSpeak.com.
Q: Tell us a little bit about why you started BooksThatSpeak.com
A: My aim behind starting this initiative was to create a medium through which more kids can listen to and read the fantastic stories that are published by Pratham Books. I currently read out books in four languages that I am familiar with (Marathi, Hindi, Gujarati and English).
But wait, my daughters (age 9 years and 4 years) and my niece (3 years) also are part of the Books That Speak team. You will hear their sweet little voices at the beginning and at the end of the stories, along with their signature tunes.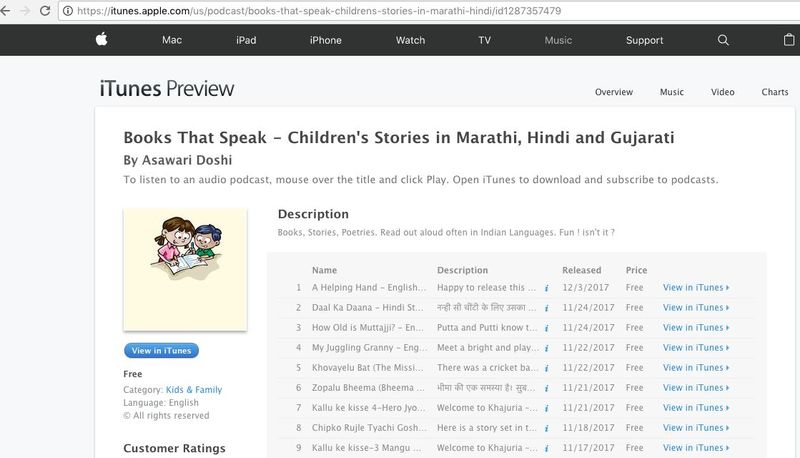 Q: How did you discover the StoryWeaver platform?
I got introduced to the lovely books published by Pratham Books around 6 years ago when my daughter brought some books home from her school library. I (even more than my kids) have been in love these books since then. We must have around 30 books published by Pratham Books in our little book cupboard at home!
From Pratham Books website and blog, I got to know about the StoryWeaver platform around 2 years ago. I was so happy to know that so many of these books are now freely available for everyone to read and also to re-purpose in multiple ways.
Q: What made you want to create audio versions of the books and make videos with them for YouTube?
A: My kids were the inspiration to start this initiative. They just love stories. But more than reading the books themselves they keep asking me to read stories to them. I love reading the stories to them too. My husband suggested why not share this joy with many more children. That was the start of BooksThatSpeak.com
Initially, I started creating audio versions of the books but as I read the books, I felt that the creative illustrations add so much to the experience so that's why I started creating video stories as well using the illustrations.
I must say that I personally enjoy the process of selecting which book to read next. As part of this process, I get to read to a lot of books from the StoryWeaver platform. All of the books are so good, that it makes the decision making very hard :) but I am not complaining because I get to read all these fantastic books.
Q: Where does your love for storytelling come from?
My background in in IT. But, I have been an actor in amateur theatre in my village in Konkan for many years. I think that may have been my accidental training in storytelling. Also, thanks to the inspiration from my father, ever since I was a child I used to read lots of books. I also remember that as a child I used to be mesmerized listening to Pu La Deshpande (A renowned Marathi author and my personal favourite) reading out and enacting his books. I think I might have picked up the liking for reading books aloud from those early years.
5. Do you have any plans for taking these stories to children?
As of now, Books That Speak are available as podcasts on the several platforms like iTunes, Sticher and Player.fm. The stories are also available as videos on our YouTube channel. I read stories in Marathi, Gujarati, Hindi and English. In future, I would love it if I can find other volunteers who want to join BooksThatSpeak.com and read out stories in other languages like Bengali, Urdu etc.
I hope to connect with government schools so that they can download and play these audio or video stories for children in their schools.
6. What kind of feedback have you received from the online community for your recordings?
I am getting to hear a lot of positive feedback from the children and their parents for these stories. I think though that most of the praise really is deserved by Pratham Books, StoryWeaver and the authors, translators and illustrators who have created these books and made their work Open Source.
Some feedback for BooksThatSpeak.com:
"Aunty, I love these stories! Why do you record only one story every day, start recording 2 or 3?"
"Beautifully narrated stories. The changes in voice for different characters make the stories a lot of fun."
"My kid's goodnight sleep starts with these stories, thank you Asawari!"
"My child loves the stories and enjoys the ae-roo-waao-ee signature tune at the beginning and end of the stories"
"These audio stories are very helpful to keep kids engaged during long travels. It's much better than them playing games on the phone all the time"
Here's a photo of me reading my favourite Pratham Books to my daughters!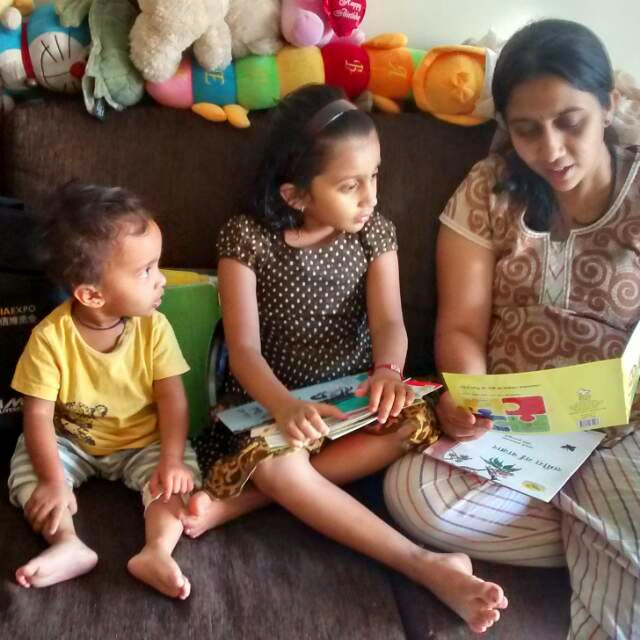 Thank you Aswari for this wonderful platform and taking the joy of reading to more children with your efforts! If you'd like to get in touch with Asawari head over to BooksThatSpeak now!
Are you using StoryWeaver content in interesting ways? Write to us at [email protected] and tell us so we can feature you on our blog.
comment (1)
---