In a world dominated by print, images and videos, imagine not being able to access content vital for your day-to-day functioning: weather updates, homework assignments, timetables… This is the reality for an estimated 285 million people worldwide who are visually impaired. Accessible content is even harder to come by if you belong to the 90% of print impaired individuals who come from low-income settings.
Harnessing technology for the greater good
Enter Benetech. The U.S based organisation isn't your run of the mill tech company. It's a nonprofit whose mission is to empower communities in need by creating scalable technology solutions. Their work is varied: from providing a safe space for human rights defenders in over fifty countries to document human rights violations to equipping environmental conservationists to protect ecosystems and species all over the world. One of Benetech's projects is Bookshare: and it's transforming how over 400,000 people with disabilities read.
Bookshare is the world's largest online library of accessible ebooks for people with print disabilities.
A print-disabled person is "a person who cannot effectively read print because of a visual, physical, perceptual, developmental, cognitive, or learning disability". Through its extensive collection of educational and popular titles, specialized book formats, and reading tools, Bookshare offers individuals who cannot read standard print materials the same ease of access that people without disabilities enjoy. The Bookshare library now has over 475,000 books and serves more than 400,000 members.
BookShare works in 70 countries across the globe, with India having particular focus, as it has the largest number of persons with disability in the world. With outreach in all states, they are providing accessibly content in English, Hindi, Tamil, Telugu, Gujarati and Marathi with plans to add Kannada to their offering.
Providing children joyful reading material in many languages
BookShare is sourcing its multilingual content for children from StoryWeaver. Since all content on the digital repository of multilingual children's stories is openly sourced and available in open formats, BookShare has been able to take ePubs from the platform and convert them to the DAISY Format. DAISY (the Digital Accessible Information System) is the emerging world standard for digital talking books for people who are blind or have a print disabilities. This format has been under development for over ten years, with most of the world's talking book libraries now employing the standard in some form or the other.
Dr. Homiyar Mobedji, Disability Expert, Program Management [India], Benetech says "Daisy is the most accessible format, for persons with print disability as a Daisy Book can be in various forms. Bookshare offers its members the opportunity to download content in either daisy text only, daisy with images, audio or BrF formats (embosser-ready electronic braille files). A reader can either download the book and read it on his own device, such as laptop, desktop, Android or IOS device, or use a dedicated Daisy player. Users can also read our content online using our web based reader."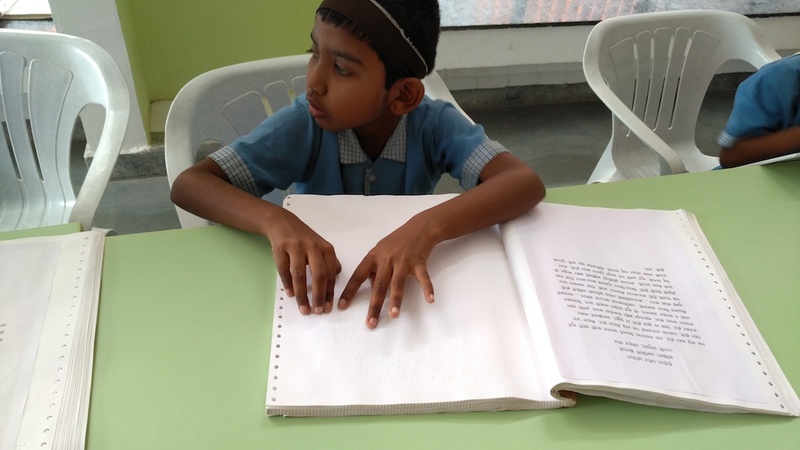 "Our strategy is to empower individual organizations so that they can reach out to many more on our behalf. This leads to a multiplier effect, which can be difficult to monitor in a country as vast as India. However, if our membership numbers give the indication that we are moving in the right direction." shared Dr. Mobedji.
Bookshare's outreach work brings them into close proximity with schools, colleges and institutions working with the print disabled. They have more than 7500 members in the country, and approximately 500 new members every month.
The nonprofit's main focus in India is to create textbooks and children's books, as these are both in high demand. The organisation has already shared the syllabus from a number of states including Maharashtra, Himachal Pradesh, NCERT and IGNOU.
More stories in more languages
"For our section on children's books we are uploading titles in Indian languages from StoryWeaver." shared Dr. Mobedji
Bookshare is working directly with a selection of schools in Pune, where a curated list of Marathi titles have been chosen from StoryWeaver as part of the All Children Reading Project which promotes early grade reading with the help of technology.
"The stories were loved by our children of 2nd, 3rd and 4th grade, who can now almost recite all the stories by heart. The teachers have observed that as the children loved the stories, they accepted braille reading, which was difficult when the children were only given textbooks to read. Some of the children have improved their braille reading tremendously, which is a major achievement." Dr. Mobedji recounted.
By openly licensing all the content on StoryWeaver and making them accessible in open format, we are proud to be associated with Bookshare and their efforts to take reading to ALL children.
Be the first to comment.
---
Communities Rising runs after-school programmes for children attending government primary schools in underserved rural villages in the Villupuram District of Tamil Nadu. The not-for-profit reaches out to over 1,600 students in ten villages in the area, with a focus on English, Tamil, math and computer education. In addition to this, they provide enrichment programmes in art, music and leadership skills. Two years ago, Communities Rising started a new reading programme for students. Betsy McCoy, founder and President of the not-for-profit, asked students "How many of you ever read books for pleasure?"
"Communities Rising was struggling to find affordably-priced, beginner reader books in English and Tamil that the children would enjoy reading," shares Betsy.
This is a common problem faced by organisations working in education and literacy at the grassroots level: not enough books, in not enough languages, compounded by poor access and issues of affordability.
Most publishers cater to middle and upper income audiences in urban areas, often to the detriment of creating joyful books for underserved communities of children. StoryWeaver's relationship with Communities Rising started earlier this year, when they attended a workshop and demonstration in Bangalore. Via the platform, Betsy and her team have access to a wealth of books in both English and Tamil, which they can download quickly and print to share with children. A choice of titles in a variety of genres, including books on STEM subjects, are available across reading levels to suit the needs of all students.
Communities Rising has downloaded 100 stories in English and Tamil, and is in the process of printing one set of all titles and distributing the same to each of its centres, thus reaching 360-400 students.
"We especially love the bilingual books printed in both Tamil and English that allow our students to read in both languages on the same page. These books are a tremendous help with comprehension – it's like getting two books for the price of one!" says Betsy. "Plus, if a particular title is not available in Tamil, we can translate it on the platform and have it ready for the children to enjoy."
Printing is often expensive and another roadblock so, Communities Rising experimented with a number of formats before narrowing down on one that worked best for them.
"We tried printing the books in two formats. One with single pages hole-punched and attached with rings, and the second with the pages stapled in the center. Durability is an issue so we printed samples on heavy, cardstock," shares Betsy.

The organisation believes that reading makes children learners for life, and encourages reading in a big way in their after-school programme. They have just opened their first community library in an area where there there are no other such spaces.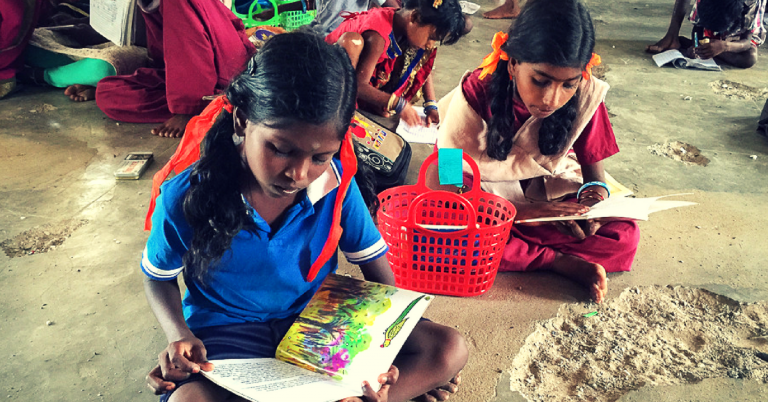 The organisation is running two other initiatives to great success. One is the 'Daily 5,' a reading programme developed by educators in the US; and the other is 'CR Super Readers,' a homegrown reading incentive programme. Both programmes are working wonders! Students are first taught how to pick 'Good Fit Books' that they can read comfortably. The books are then kept in a book basket which they share with a friend.
Each day the students have to read to themselves for 5 to 10 minutes. Other days they have to read to their partner. In this way they can help and learn from each other.
Students keep a list of all the books they read and have it checked by a teacher for comprehension. This forms the basis of the 'Super Reader' program.
"In addition to the book basket which contains books, we also give the children a 'reading necklace.' They get a bead for each book that their teacher certifies they have actually read. After reading 10 books, they get 'Readers Are Leaders' pencils, and after 20 books, they get pins that proclaim them 'CR Super Readers'."
"I'm happy to say that we are giving out many pencils," says Betsy, who believes that the necklaces, reading pencils and Super Reader pins help build a sense of community and sense of belonging to Communities Rising, amongst the children.
"At the end of the year, the top readers from each center will travel to Chennai to visit Tara Books for a program there and the top reading center will have a book party!" she says. "All of our students are now reading everyday; story books, non-fiction books, biographies, all kinds of books. They are discovering the joy of reading! Without StoryWeaver, this remarkable change in our students' reading habits would not have been possible," shares Betsy.
"Last year, I told some of our kids, that I was looking forward to hearing complaints from their parents that they were spending too much time reading, instead of playing or helping at home. We aren't quite there yet, but with access to so many stories now, I have no doubt those complaints aren't far away," says Betsy.
We look forward to hearing those complaints too!
Be the first to comment.
---
In the hilly terrains of Phaltan, Satara district, Maharashtra a movement to seed the joy of reading in classrooms is being quietly seeded in 150 Zilla Parishad schools.
Pragat Shikshan Sanstha is an educational enterprise that supports schools, teachers and children in the district of Phaltan and other nearby areas. The organisation works with students through their own flagship school and after school programmes, and also trains teachers in good educational practices in government schools. By engaging researchers, government officials and the general public in an ongoing dialogue Pragat Shikshan Sanstha hopes to positively impact the education ecosystem.
"We are trying to impact the educational ecosystem by changing the image of 'the child' and 'the teacher' through excellent classroom practices, sound pedagogies, elements of classroom research and education for equality." Manjiri Nimbkar, Secretary, Pragat Shikshan Sanstha.
Drop Everything and Read
One of Pragat Shikshan Sanstha's areas of focus is setting up more libraries in the region. This, they felt was something that would not only benefit the schools in the area but also children from other nearby communities. The organisation felt that it was imperative to make books and read aloud sessions a part of their training offering to teachers. The idea was to get more teachers to use more books in their classrooms and libraries through read alouds and storytelling sessions.
Reading in so important in early childhood as books can free a child, and give them the opportunity to think and imagine. By helping children express themselves in varied ways, books encourage them to understand and empathise with the lives and experiences of those who are marginalised.
Pragat Shikshan Sanstha came across StoryWeaver - a digital repository of multilingual stories for children from Pratham Books and in it, discovered a source of stories in Marathi, the language of the region. All content on StoryWeaver is openly licensed under CC-BY4.0 and can be read, translated, downloaded, printed and shared for free. Through StoryWeaver, the organisation has access to many joyful stories in Marathi but without having to heavily invest in buying books regularly.
It's story time!
Pragat Shikshan Sanstha curated a list of stories, in different levels across a variety of themes and topics and circulated it amongst the teachers who were being trained in using storytelling as a medium for language development.
These teachers also double up as librarians! The teachers choose from the circulated list the stories they think will work best for their students, downloaded them as per their class's requirement and conduct read aloud sessions. Each library is equipped with a tablet and a projector which the teachers use to project stories off StoryWeaver. They also conduct various activities - art & craft, book reviews, games, skits etc around the books to help extend learning.
Pratham Books was fortunate to watch one of these wonderful sessions at a Zilla Parishad schools in the region. The classroom was equipped with a projector donated by a local badminton association and some computers (in working condition) from a corporate.
Bohra Bai, who teaches grades 2 and 3 in the school, first did a little warm up with the children before asking them to sit down. The story she had chosen that day was 'Sam's Christmas Present' by Annie Besant and Alicia D'Souza in Marathi. Bohra Bai started from the cover page and urged the children to note everything that was there on the cover and predict what could the book be about. She got them to make connections, relate it to their own lives and pointed out sight words. Basically, everything you would expect a good teacher to do with a good book.
"We have regular sessions with teachers on how good read alouds are done, what are the different activities one can do with the books and the teachers value these training."
When we took Bohra Bai aside to ask her a few question, young Diksha took over and continued to read the story aloud to her classmates, and did a tremendous job of it!
"Storybooks with illustrations help children imagine and understand better, along with learning about new cultures or things they don't see otherwise. For example with this book Sam's Christmas Present, they got to know about the festival of Christmas or the food that is eaten during Christmas as children from villages have never seen or eaten things like that." shared Bohra Bai.
When asked about using technology in the classroom, she had this to say: "Projecting stories help catch children's attention better because this is new for them. Its interesting because it looks like TV to them."
Stories can be an excellent tool in the classroom, an idea Bohra Bai strongly agrees with! "Stories really help children expand their vocabulary. For example, they get to know options of words in proper language that they use otherwise in their day to day lives, in dialects of that language. This really helps language development."
A total of 150 Government schools in the Phaltan district have libraries & digital set up from PSS. About 30000 children from Grades 2 to 7, get to listen, read and enjoy stories in Marathi and Hindi.
"Going forward we hope to create more books for children with imaginative illustrations and help people understand the importance of illustrations. Create literature to help children understand and tackle issues and problems. Encourage children's own creative writing."
Be the first to comment.
---