Written by Pallavi Krishnan
We are incredibly proud to share that Pratham Books' StoryWeaver is a winner at the mBillionth Awards South Asia 2019-2020 in the Learning and Education category.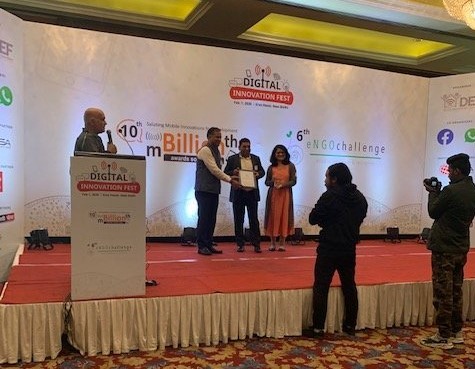 With the rapid increase in penetration of mobile technology across almost all socio-economic strata around the world, the mobile phone has emerged as the most powerful digital tool for empowerment across the world. This is more so in South Asia, Asia Pacific and other parts of the developing world.
Recognising this phenomenon, in 2010, Digital Empowerment Foundation (DEF) launched the mBillionth Awards South Asia to highlight, recognise, and reward best practices, excellence and innovations in the development and usage of mobile phone applications. With the theme of "Smart Phones to Smart Communities", the award looks at mobile applications which can create transformative content and services and help engender remarkable and long-term changes in the lives and livelihoods of people, especially the underserved and socio-economically disadvantaged section.
The Learning and Education category recognises the use of mobile applications that empower the education sector and serve the needs of learners to acquire knowledge and skills. The aim is to identify and honour applications that try to transform schools, universities and other educational institutions through interactive, personalised and distributed learning resources; address the learning needs of all, and create active e-Learning communities.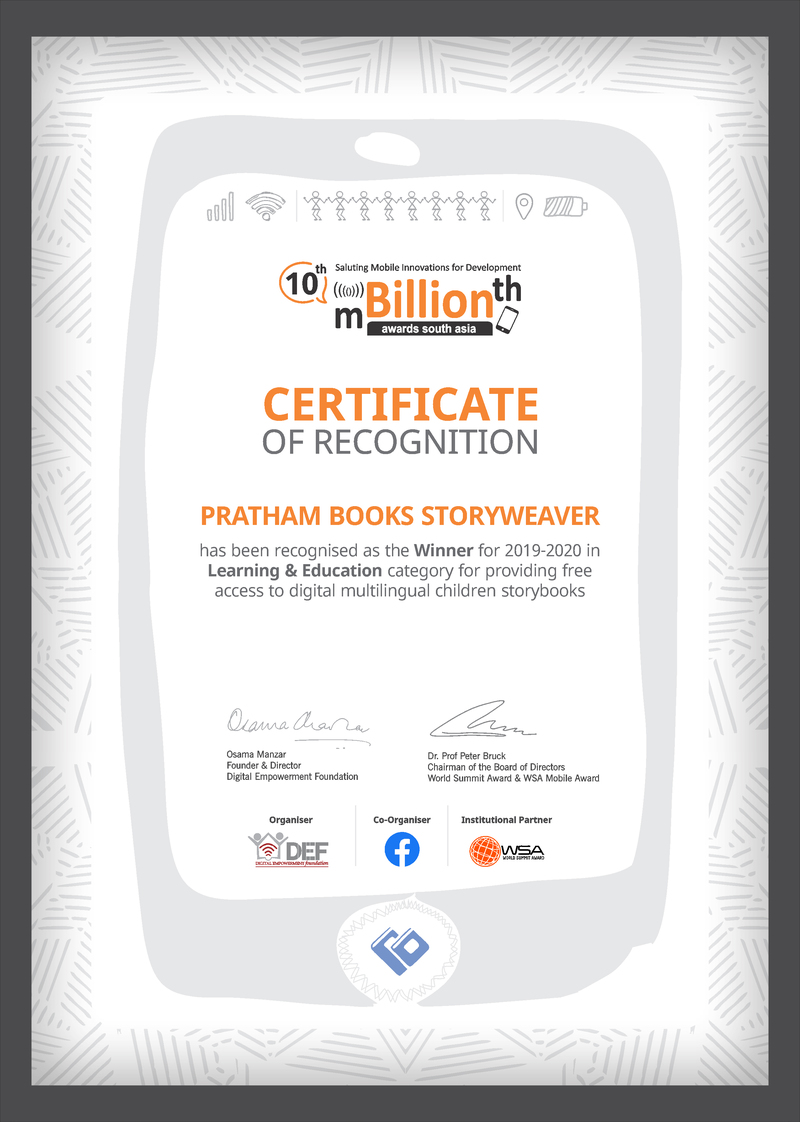 Suzanne Singh, Chairperson Pratham Books, Himanshu Giri, CEO Pratham Books and Anamika Radhakrishnan, Senior Product Manager, StoryWeaver attended the 10th mBillionth Award Gala 2019 at The Eros Hotel, Nehru Place, New Delhi on February 1st, 2020.
Be the first to comment.
---
Written by Chetana Divya Vasudev and Sherein Bansal, Assistant Editors, Pratham Books
Even a kilometre away from Agastya Foundation's Science Campus in Kuppam, we're greeted by the fresh scent of its green landscape. We all wake up (or are made to) after a three hour journey, and look out the windows to see hills and farmland all around. As we reach the gate, we see their motto 'Aah Aha! Haha!' inscribed on it - a philosophy that drives their 18 year old science education programme.
Children from under-served backgrounds experience the wonderment of discovery (Aah!), to understanding the concept (Aha!), to having fun with learning (Haha!) here. The science campus, situated on the border of the three Southern states- Andhra Pradesh, Karnataka and Tamil Nadu, attracts about 600 children from neighbouring villages, who come to the campus about once a week to experience learning.

Pratham Books and Agastya Foundation have been collaborating for years, driven with a common philosophy of making children curious. With the launch of StoryWeaver, getting books into the hands of the hundreds of children that visit the campus has been made even easier. The digital library sits in the computer center where the children can choose a book to read in either Tamil, Telugu, Kannada or English, including many of our STEM titles, along with learning animation and mastering basic computer skills. The Pratham Books team is on a visit to the amazing campus to get a sense of all the initiatives Agastya Foundation has undertaken to nurture this curiosity further.
We roll ahead and everyone is looking out of the van windows pointing at the sculpture of a dismantled batsman, or a huge ant hill with child-sized ants crawling over it, or a mini-bus randomly sticking out on a pole. We come to know later that all the sculptures and installations across this beautiful 172 acre land were created by the renowned architect, Sharukh Mistry and Agastya Design team.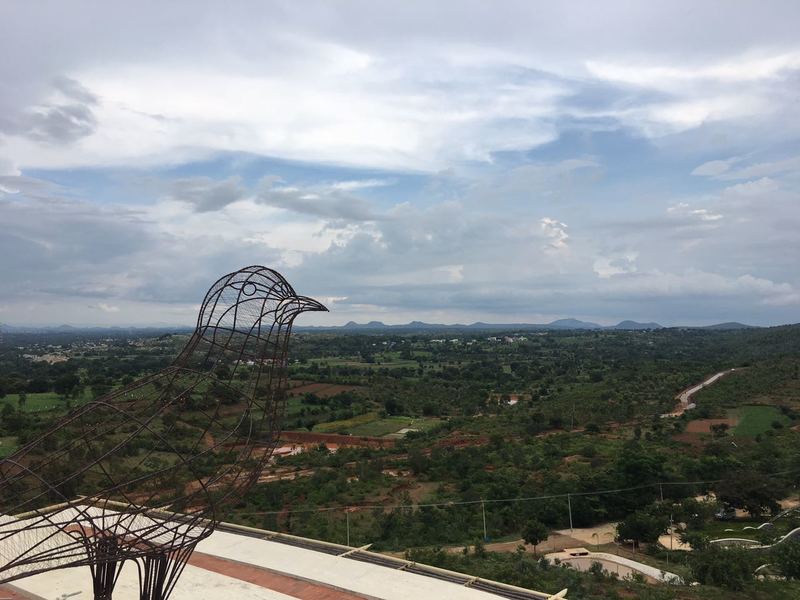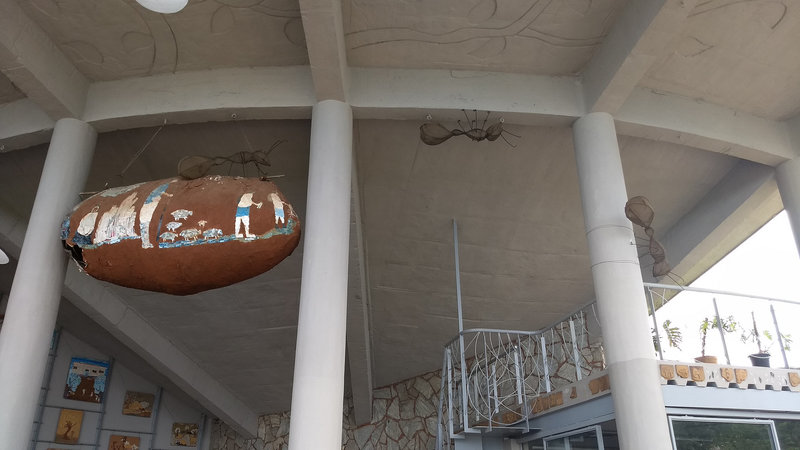 We have our fill of the sight of the faraway hills that circle us, and reach the stone-walled auditorium situated in the midst of this biodiversity. It's nearly lunch time when we walk into the cool auditorium. Jagadeesa, an ace storyteller and head of the library program at Agastya Foundation, has just finished the narration of 'Kottavi Raja and His Sleepy Kingdom' in English and Telugu. His audience of about 200 children, scattered across the space, are clearly delighted. One girl even volunteers to tell the story in English again.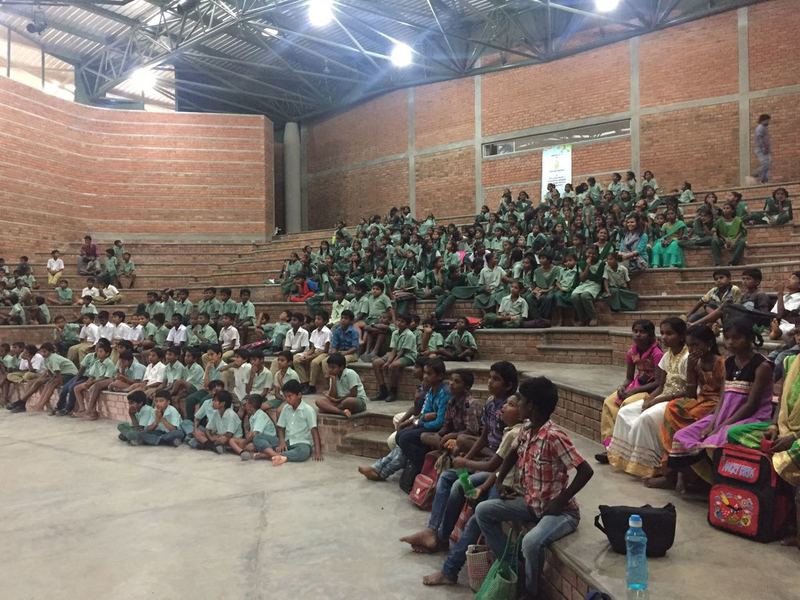 Once she's done, our team spreads out among the children, and an easy chatter resumes. Soon, they start filing out for their noon break. We meet some of the Agastya staff members, and they tell us more about the work they do.They lead us out, along a concrete path strewn with imprints of leaves of the Indian almond tree, up to the canteen. By the door are tyre and metal pawns that go with an outdoor chess board! The meal is simple yet delicious and we discuss Agastya's philosophy behind setting up this campus in detail.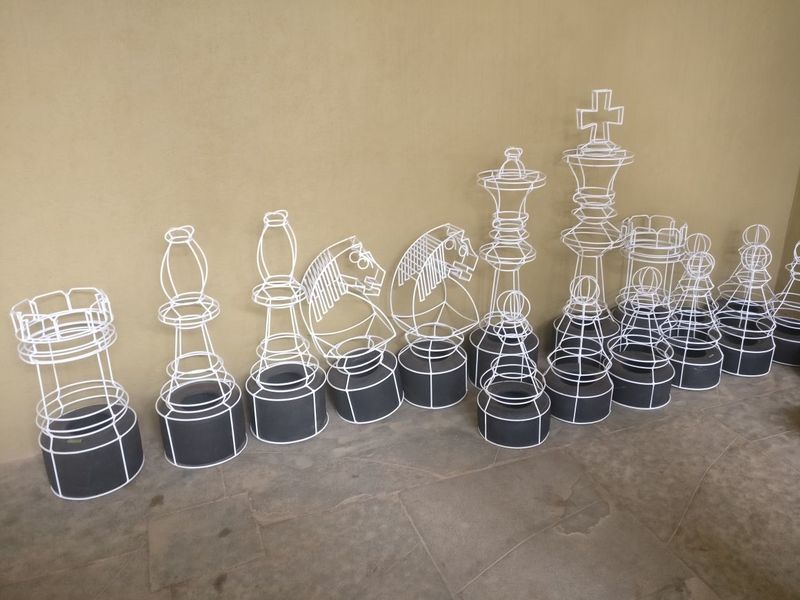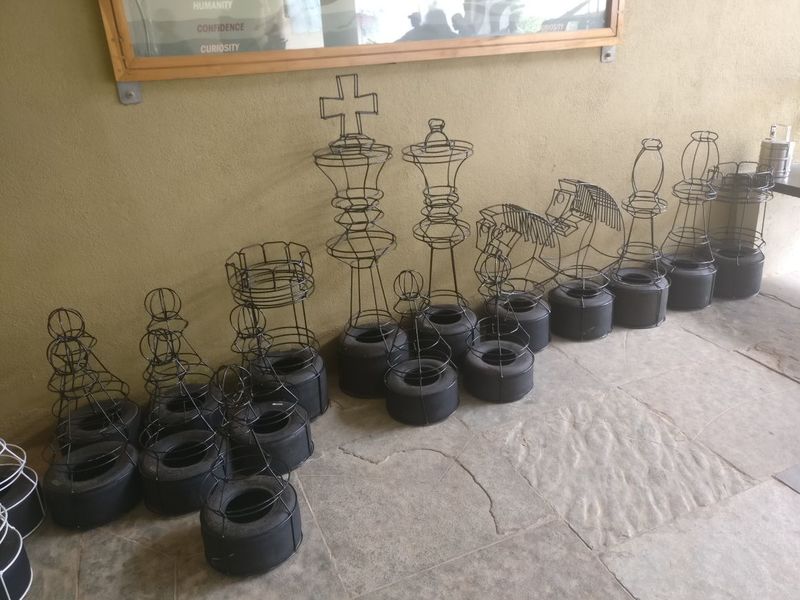 A little later, Aparna Kapur, author of 'Ghum-Ghum Gharial's Glorious Adventure', takes the stage and narrates the story of Ghum Ghum, a baby gharial who separates from her family in the river and must make her way back to them somehow! The children giggle their way through the animal sounds that punctuate the book. Jagdeesa live-translates the story into Telugu.
Our Editor, Bijal Vachharajani is up next. She makes the children laugh with the narration of her story 'What's Neema Eating Today?'. We watch children repeat after her. Funny expressions and sounds of 200 satisfied tummies, and the auditorium goes "Mmm-mmmmmmmmmmm!" Everybody has fun identifying their favorite seasonal fruits in the colourful picture book.
The final session with the children is the Food Rakshasa Activity conducted by Bijal and Aparna. Children are divided into groups and together they draw their idea of a monster on paper by substituting body parts with fruits and vegetables -- chilli, ladies' finger, bottle gourd, apple, carrot and more. And what lively, scary, yummy monsters we get to see by the end of it!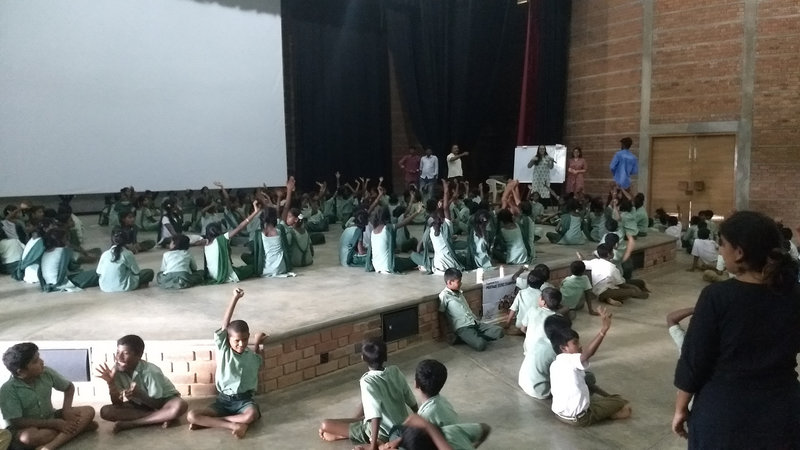 Post the session, the Pratham Books Team follows Subramanya Shastry, a key team member of the Foundation who has generously agreed to give us a detailed tour of the campus. "The children observe the nature around, pick up things from their surroundings, and create art from it," our host is explaining. But his words nearly skip our attention; the display around us is distracting.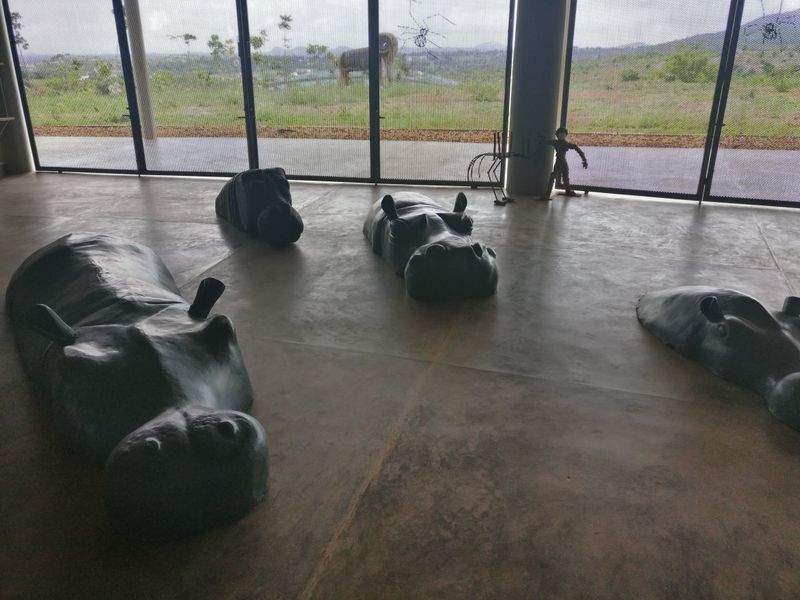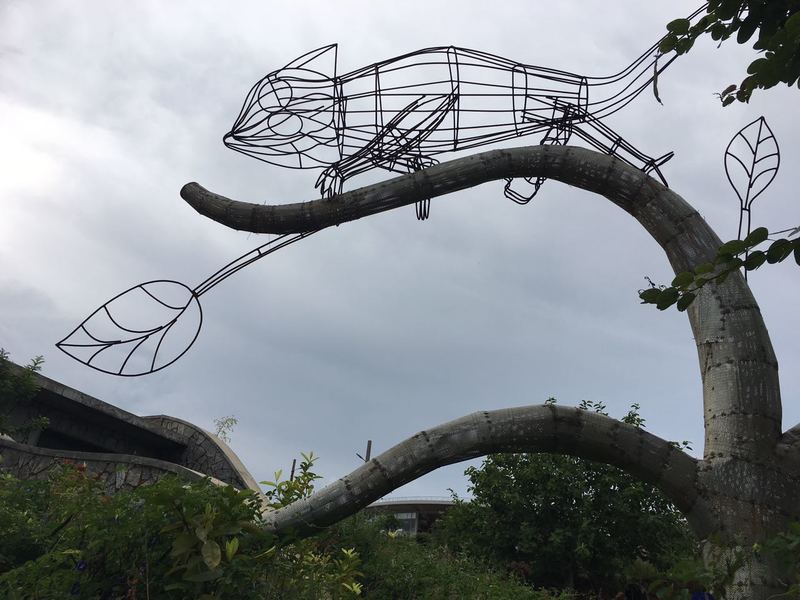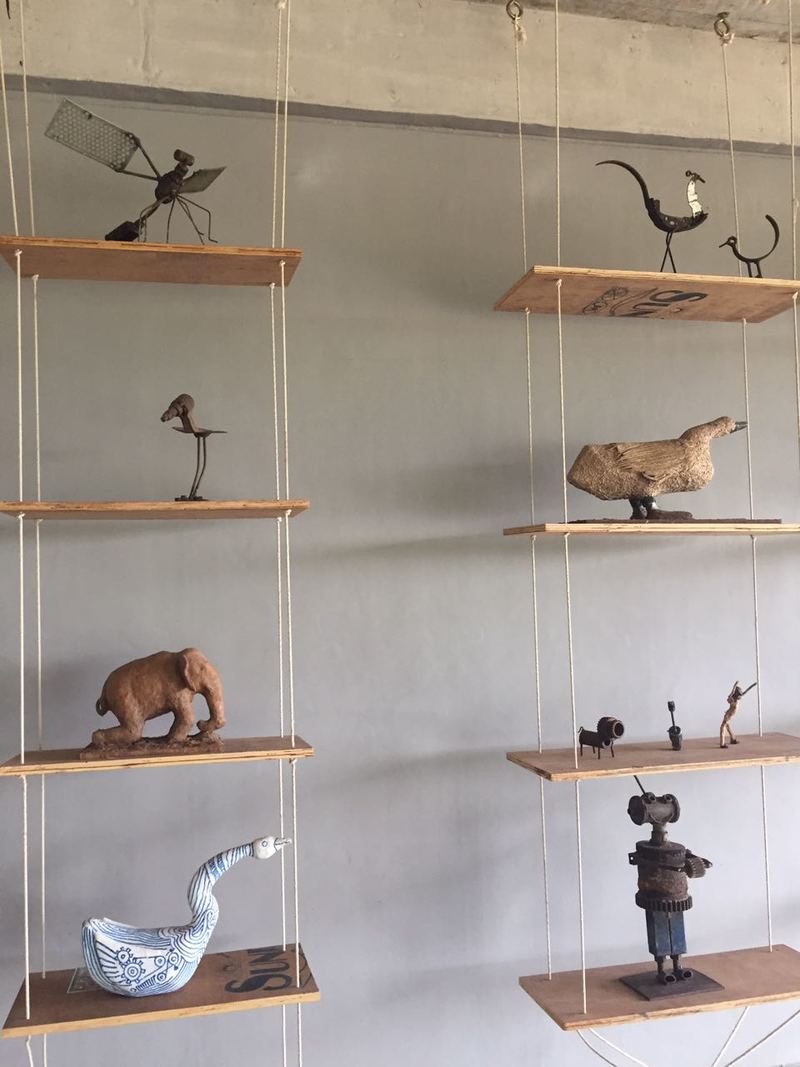 We tear ourselves away from this building with some difficulty and head to the innovation centre. Here the children, in groups, come up with devices or social interventions that impact their day-to-day life. For example, since water supply is erratic in most villages, one group has devised a sensor to alert people when water has been released. In the summer months, the supply can be as infrequent as once in ten days, so it's crucial not to miss every opportunity to fill up the buckets. Another group's device, to be installed at bus stops, would indicate how many buses of a certain route have passed.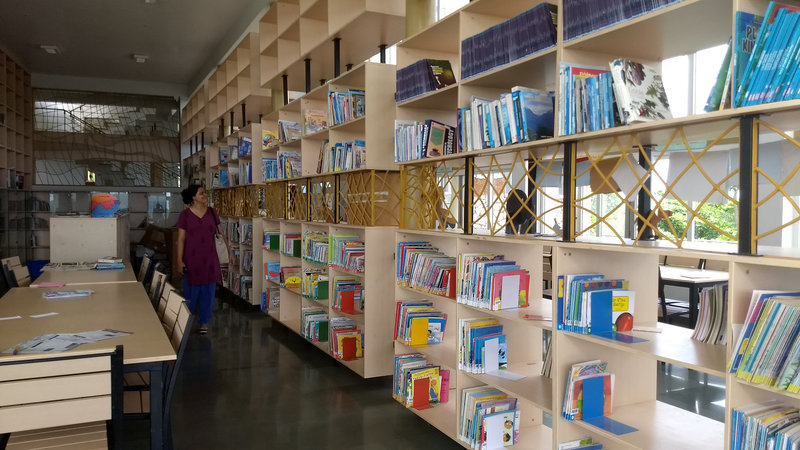 Our tour includes the media centre where we get to see photographs, animations and short films by the children. We wrap up with a short visit to the library and the robotics lab.
Too soon, it's time to get back on the bus. As we wave goodbye to the staff and children, we're certain we'll be back here before long.
More pics from our visit can be seen here: https://flic.kr/s/aHsm4sDAMf
Be the first to comment.
---
Since its inception, Pratham Books has published a range of picture books that explore STEM (Science, Technology, Engineering and Math) topics in interesting ways. But it is since 2015 that we have been doing this in a much more focussed manner. The main reason for this was the realization that there aren't enough multilingual information books available for early readers in India. The fact that many children find science and math slightly daunting made this even more of an interesting challenge because we felt that we could help change this perception by creating fun, memorable books around STEM topics.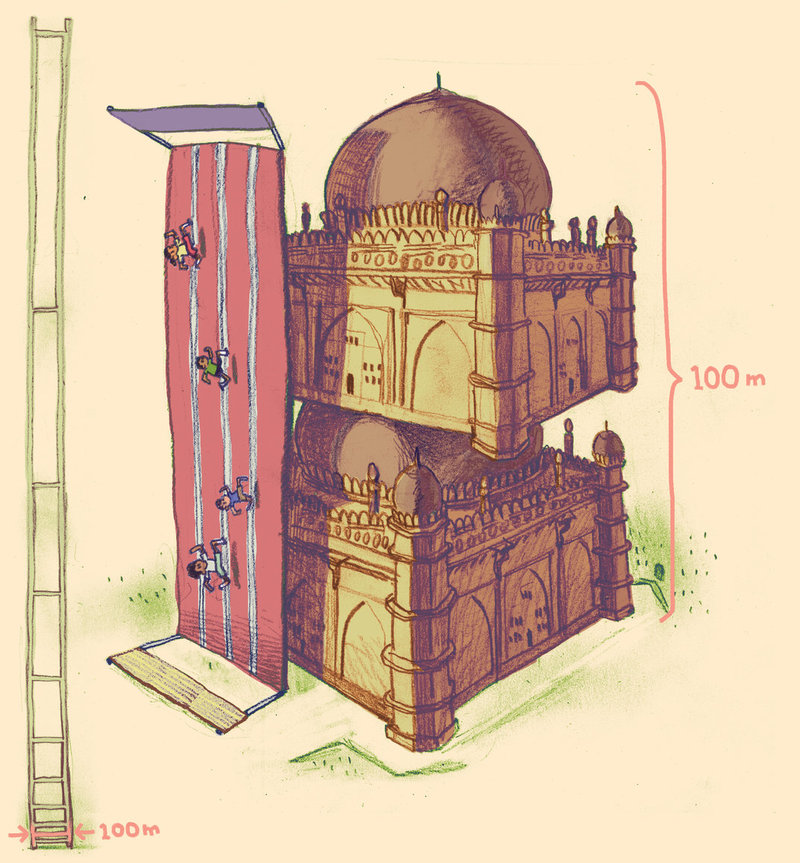 While we've been exploring a number of ways to introduce STEM topics to children, one of the biggest challenges has been to present information accurately, imaginatively and in a simple way without making it seem 'textbookish'. So it was essential that we paid attention to the narrative, plot and tone of each book so that children are drawn to it.

Since we work extensively with children from economically disadvantaged backgrounds, it is important that our books are relevant to these children. Conversations with partner organizations who work closely with these children reveal the need for simpler books as their reading fluencies are still developing. Bearing that in mind, our focus has been on creating simple books that encourage children to explore the world around them with an open mind, ask as many questions as they possibly can and find ways to apply their knowledge.

We continue to be keen to create STEM books, so we thought it might be interesting to highlight a few books that were created over the last couple of years, mainly as a way for us to reflect and share our learnings. So what worked?
Clarity of concept – An important aspect of a STEM book is its ability to demonstrate the concept clearly. I Spy! (by Samvida Venkatesh & Sandhya Prabhat) explains the concept of subtraction wonderfully - using play and humour.
Simplicity – Most of our conversations with our outreach partners lead us to the same conclusion: the need for simpler books that match the reading levels of the children we work with. Sunando Chakraborty's Sniffles, a story about how flu spreads, is an excellent example of this. Also, we adore the central character of this book. Satya, Watch Out! is another good example of simplicity of narrative and plot.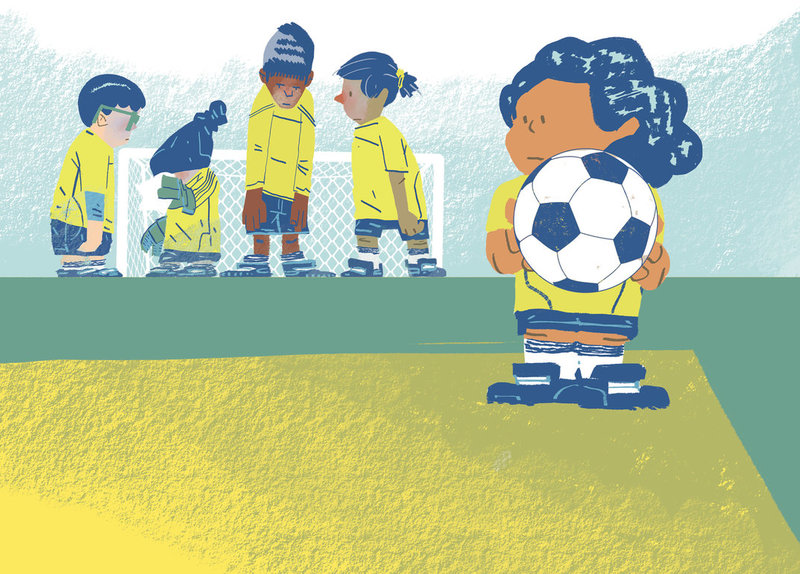 Good storytelling – Jadav and the Tree-Place won the Best Digital Book award at the Publishing Next conference last year. This story – about forester Jadav 'Payeng' Molai - stood out for us as well mainly because it is an inspiring story narrated powerfully by Vinayak Varma.
Using humour – Rajiv Eipe's Ammachi's Amazing Machines has been a big hit with our readers for many reasons! But one reason for its popularity is the gentle humour that runs through the story, especially in the art. While it can be challenging to include humour in STEM books (imagine having done this in a story about simple machines!), we can tell you that it works wonders.
Seamlessly blending fiction and non-fiction – It isn't easy to strike the right balance between fiction and fact, so we were delighted to publish A Butterfly Smile (by Mathangi Subramanian & Lavanya Naidu) which has managed to achieve this. In this, a girl who is new to the city shares her knowledge of butterflies with her classmates and also learns new facts about them. At the same time, it highlights migration due to environmental and economic reasons. Another story that managed to do this successfully is Dum Dum-a-Dum Biryani! (by Gayathri Tirthapura & Kabini Amin) which explores the fascinating relationship between math and cooking.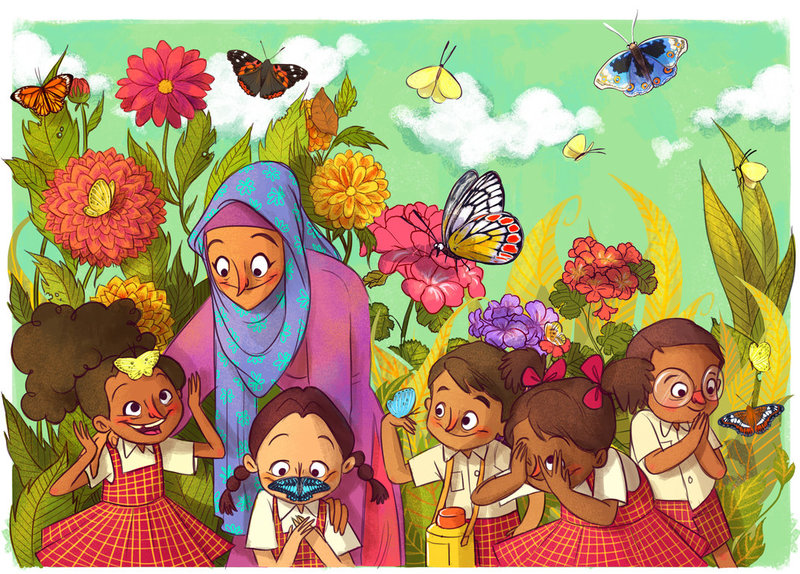 Widening the imagination – What better way to talk about this than directing you to How Far is Far? A book about distances, big numbers and measurement, Sukanya Sinha and Vishnu M Nair have created an exceptional math book which stays true to the core ideas of math: play and exploration.
Memorable characters – Being able to create characters that stick in our memory is an admirable skill. Including memorable characters naturally makes it easier for children to retain the concept and story. In that regard, some of our favourite characters are: the quirky grandmother from How Old is Muttajj? (by Roopa Pai & Kaveri Gopalakrishnan), the endearing gharial from Ghum-Ghum Gharial's Glorious Adventure (by Aparna Kapur & Roshan K), adventurous Arya from Arya in the Cockpit (by Nandita Jayaraj & Upamanyu Bhattacharyya) and the perpetually hungry Neema from Bijal Vachharajani and Priya Kuriyan's What's Neema Eating Today?.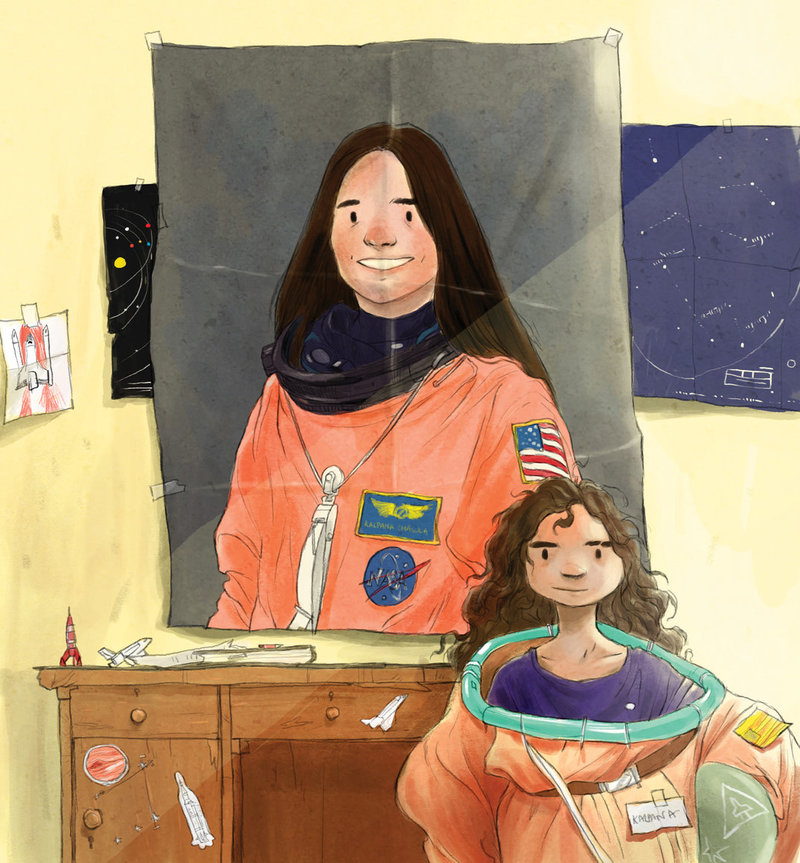 Reinforcing the concept through activities – In the case of STEM books, it's very helpful to have fun, practical activities at the end of the book. Children seem to enjoy this as it allows them to engage with the concept in a real way and not be passive consumers of information. A Butterfly Smile has a really fun activity at the end of the story. We've been told by teachers that How Old is Muttajji? was well received because children enjoyed the interactive nature of the narrative which challenged them to think, much like solving a puzzle.
Pure non-fiction – Although we haven't done much in terms of straightforward non-fiction, we are beginning to see the massive potential of this. The only reason we didn't do much of this is for the fear of seeming 'textbookish'. But the response to books like How Does Toothpaste Get Into the Tube? (by Veena Prasad & Rajiv Eipe) has made us realize that we should look at publishing more of these. This book has certainly done well in choosing the right question – a question that is likely to baffle us, and one that doesn't have very obvious answers.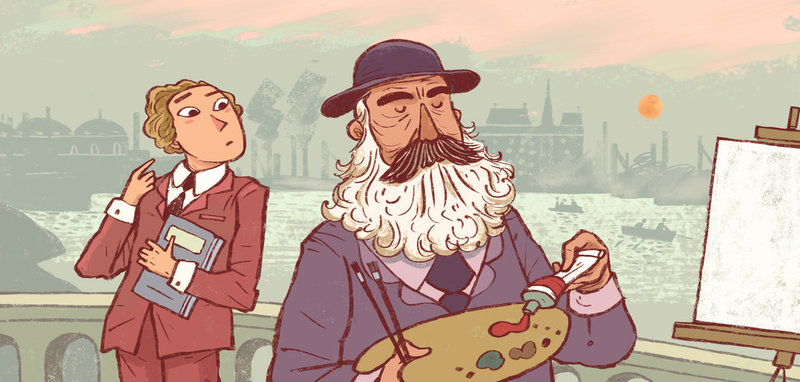 Ability to relate – Some of the stories that children have quickly taken to are the ones that they find easy to relate to. For instance, One by Two (by Maya Bisineer & Shreya Sen) which is essentially about division but involves a lot of food sharing which is familiar to most of us.
Fascinating topics – Very often, finding a theme that is of interest to children is half the battle. Of course, this is an old trick! But, it's a useful one – especially for STEM stories. Just last year, we commissioned Gul in Space (by Richa Jha & Lavanya Karthik) and Kaakaasaurus (by Shalini Srinivasan & Prabha Mallya) because... well, space and dinosaurs!
Good for Read Aloud – We decided to include this point only because we find that a lot of our books are read aloud in schools. So it's always wonderful to have STEM stories that are fun to read aloud. A perfect example of this is Anupama Ajinkya Apte's Gulli's Box of Things - a STEM book we published a few years ago (in print).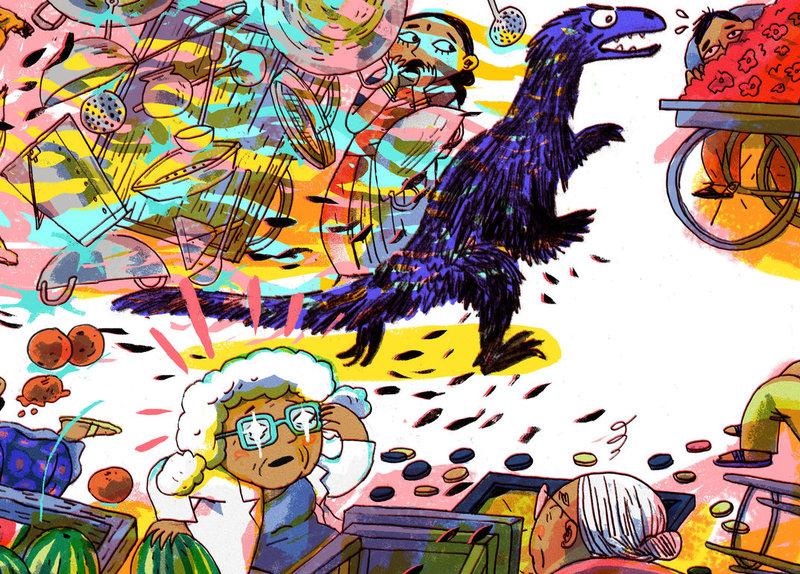 All the STEM books that are mentioned here are available for free on StoryWeaver in English, Hindi, Marathi, Kannada and Tamil.
Be the first to comment.
---