As the stories on StoryWeaver are travelling further, we need more hands on board!
StoryWeaver is a digital repository of openly-licensed, multilingual children's stories. A Pratham Books' initiative, StoryWeaver allows its users to read, create and translate stories into many, many Indian and international languages in the hope that children across the world can read quality stories in languages of their choice.
Currently, we're looking for a full-time, Editorial Assistant to join our Digital Team in Bangalore.
As an Editorial Assistant at StoryWeaver, this is what will keep you busy:
Working with a designer to adapt our legacy content (Pratham Books' print books) for StoryWeaver

Co-ordinating with authors, illustrators, translators, reviewers and proofreaders

Reviewing and editing manuscripts

Co-ordinating with the administrative team for documentation, records and payments (contracts, work orders, etc)

Identifying and working with other content creators who may want their stories on StoryWeaver

Nurturing StoryWeaver's user community

Support campaigns aimed at improving content on StoryWeaver

Finding creative ways for stories on StoryWeaver to travel wide and far

Uploading books on StoryWeaver which involves tagging stories and images in a way that makes it accessible to users
Preferred Requirements
Degree in Literature/Journalism/Mass Communication/Media /Language

Excellent Communication skills in English, and ability to read and write well in any one Indian language (preferably Kannada or Telugu)

1-2 years of work experience; freshers may also apply

Ability to multi-task and coordinate between different stakeholders

Be a good team player

Tech-savvy

Sharp eyes to check copy

Love for languages
Salary will be commensurate with qualifications and experience. Please send your resume to [email protected] with 'Editorial Assistant for StoryWeaver' in the subject line of the email.
We look forward to hearing from you!
Be the first to comment.
---
Mangoes... MmmmmMmmmmMmmm... Alphonso, Hapus, Mundappa....is it raining mangoes where you are?
Well it sure is at StoryWeaver. We have a wonderful mango-ey tale to share with you, so why don't you sit back with a bowl of your favourite fruit and read on?
'Mangoes for Moidootty' was one of 2015's most read stories on StoryWeaver. Created by Sreedevi Gopakumar, the tale of young Malu, Moidootty and their run-in with the terrible Aamasura was a big hit with our readers. It also happened to be one of the stories chosen for our Weave-a-Story Campaign, where we asked our community to help create 100 translations of a curated list of our stories.
A few months ago, we received an email from an illustrator named Sahitya Rani. A graduate from NID, Sahitya loved browsing through StoryWeaver and its amazing illustration bank (3000 images from some of the country's finest illustrators) and wanted to contribute to the platform.
"...I was wondering if I could illustrate for someone else's story (honestly, I'm stumped for story ideas of my own). How would it be possible for me to get in touch with any of the writers?" she asked.
Our digital content manager was wondering how to help Sahitya out, when she remembered 'Mangoes for Moidootty'. Sreedevi originally created the story with illustrations by the super-talented Greystroke from our image bank. We asked Sahitya if she'd like to illustrate something new for Sreedevi's story and connected her with the enthusiastic author.
Sreedevi loved the idea and the news inpsired her to go back to the story and tinker around with it.
"I'm thrilled to have a second chance at weaving stories around mangoes and Moidootty. Spinning stories on StoryWeaver was fun, but working with and watching an illustrator bring your words to life is an exciting yet humbling experience."
The duo have been busy working on the project all through the summer: tweaking the storyline and experimenting with visual character sketches. And the good news doesn't stop there! Recently, a well known pre-school in Kochi - Sreedevi's home town - reached out to her expressing interest in planning to use 'Mangoes for Moidooty' as a resource for teaching! The school has planned an entire day of fun, hands-on activities for the little ones around the book. Lucky kids!
Here's a sneak peak at the eveolution of Aamasura...
We've been thrilled to watch this collaborative journey and can't be more delighted that a Community Story is growing from strength to strength. Watch this space and our Social Media handles on Twitter, Facebook and Instagram for news about the book!
Be the first to comment.
---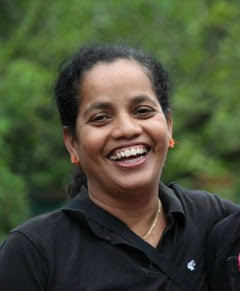 Ms. Ratnamala Divkar of the Konkani Bhasha Mandal writes in...
On this day, 29 years ago, Goa was declared a state. This was the culmination of a long struggle of the Goans - a struggle to establish identity to reclaim the origins of expression and belonging. The struggle of Konkani as the official language of its land has been intrinsically intertwined with this journey. And in a lot of ways, the struggle to populate our expressions in Konkani is still on..
As part of our Konkan journey, we were introduced to StoryWeaver, Pratham Books and its efforts to enrich children's literature with stories across many, many languages. It was a great pleasure collaborating with them for their venture in Konkani. The opportunity came to us at the Konkani Bhasha Mandal at the right time, as we had been struggling to find ways in which we could contribute to children's literature in our language, Konkani. It was a great experience interacting with like-minded people such as the StoryWeaver team.
Konkani unfortunately has suffered greatly since pre-independence and the language has not received the patronage it deserves. Konkani was not been recognised by many as an independent language but was considered a dialect of Marathi for too long. Konkani language enthusiasts and writers have had to spend much of their resources on the fight to get recognition for Konkani as a language, thus, diverting their energy from contributing to the development of the language. Finally after long drawn struggle, Konkani was included in the eighth schedule of our Constitution in 1992. There is much more to express, a struggle that still continues till today. Our Leader Dnyanpeeth Awardee Shri Ravindra Kelekar always used to say that we are fighters first and then writers.
Children's literature in Konkani was a casualty of this struggle. It's something we have been keenly aware of and we are consciously trying our best to contribute to this area. While doing so we know that children's literature is not an easy job.
Plus, like any other state the issue of medium of instruction did surface in Goa and we at Konkani Bhasha Mandal( KBM) realised that we have to provide supporting material in education besides academics. We have made an attempt to meet the expertise in this field. We conducted workshops, had interactive sessions, produced material required in education. We are still working on this mission with our committed and passionate group of writers. There is much more to be done.
The books* created by StoryWeaver cover a wide range of topics, catering to children with all types of interests. The illustrations are lively, very attractive and makes the stories more interesting.
I'd like to take this opportunity to thank you for allowing us translate these beautiful stories to Konkani and reach out to our children. We look forward to working with you on original stories in Konkani.

Cheers to that!

*The books mentioned were created under a grant from Oracle India.
Be the first to comment.
---