Illustrator and tattoo artist Barkha Lohia has created stunning art in Walking in the Wild for Pratham Books this year.
Barkha lives in Gurgaon, Haryana. She loves working on morbid illustrations, tattoos, paintings of bird and trees and can be found drinking chai at any given time. She is currently working on a poem-based picturebook.
In this short email interview, Pratham Books' Assistant Editor Zeba Imtiaz talks to Barkha about her illustration approach and inspiration.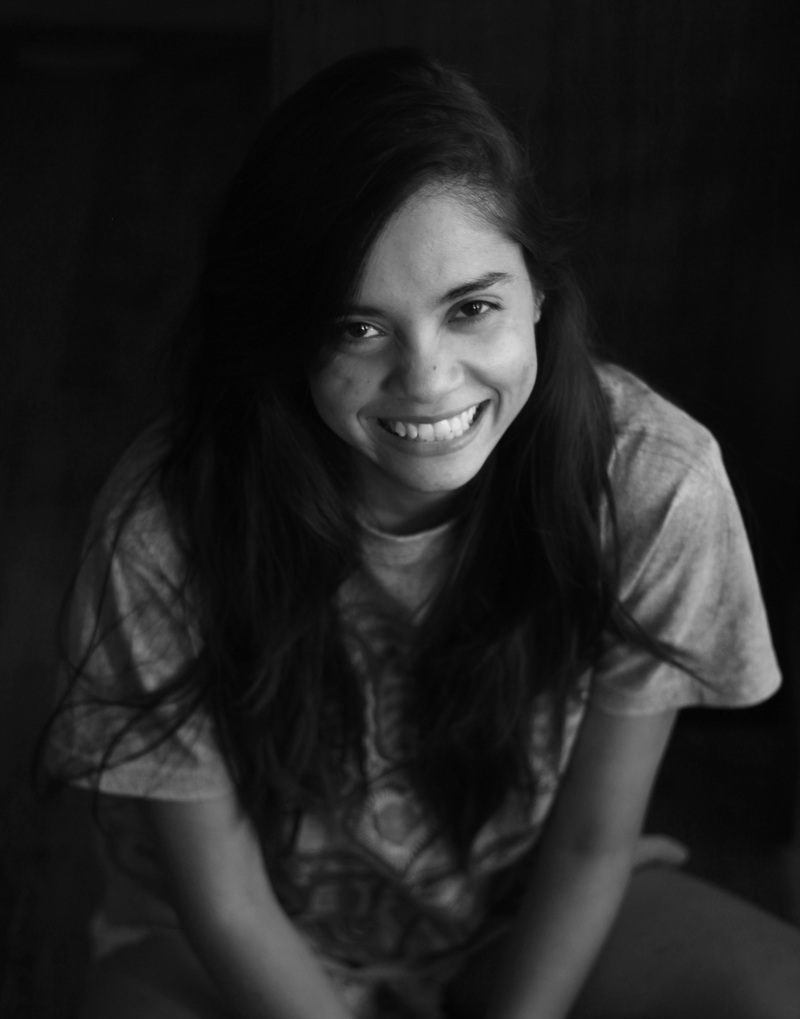 How do you find inspiration for your work?
I take inspiration from everywhere, but mostly nature. I love reading, so that influences my work as well. Then there are events in your life and people around you that also flow back into the work. Sometimes it's a conscious decision, sometimes it just flows - without much thought about what should be the subject or the output.
We know that you are a tattoo artist as well. Could you tell us more about your journey as a tattoo artist - the decision to be one, what drew you to it, and so on?
My maternal grandmother and paternal great grandmother had a lot of tattoos on their bodies. In India, communities have had a rich tradition of tattooing and the case was same here. As a child I was very fascinated with the ink on their body and would often ask them what it meant, or why they got it done. Growing up, shows like Miami Ink, LA Ink influenced me as well. The creative process of it all was really intriguing. How one took a concept and made something so personal for the client, to be permanently inked was very fascinating to me. Also, I really connected to this art form, I'd often keep doodling on myself or my friend's skin in school and college. I decided to go for it when I was working as an illustrator at my second job. I ordered a kit for myself to practice and decided later on to join a studio as well. It's been great fun.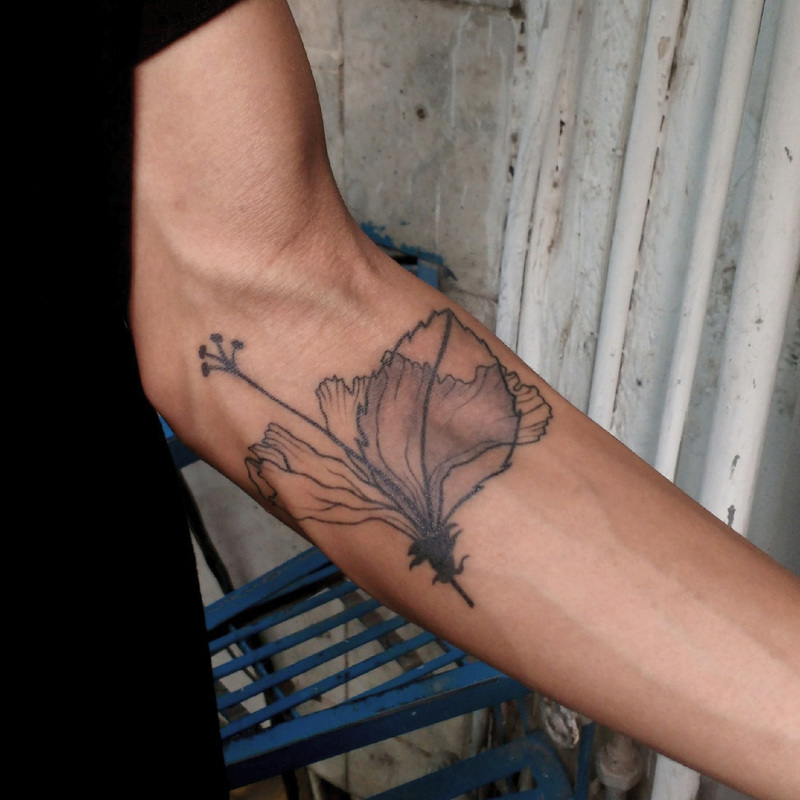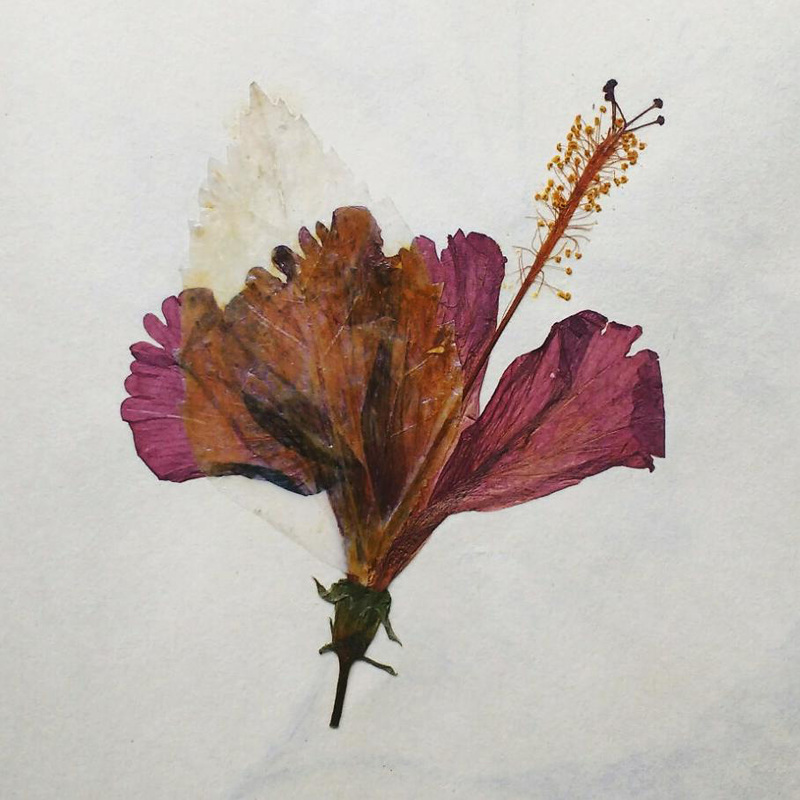 Do you find that your work as a tattoo artist influences your other work, or vice versa?
I don't think it has till date. In my case, since I love working with nature - the theme has trickled down to the various mediums I use - be it tattooing or illustration. I also feel that I'm still experimenting and not really down to one style, so I think I have the liberty to go at different styles in different mediums. With tattooing, you have to keep some aspects in mind while drawing - with regards to what will work on a live canvas. So, it has its own limitations and set rules that are not there for traditional illustrations for books and such. Illustration on paper, digital illustrations are more freeing.
Is this your first time illustrating for children? What do you most enjoy about illustrating for children, and what are the challenges?
Yes, this was my first time illustrating for kids. I have worked on smaller projects before but not on a complete book. I learned a lot during the process and it was great fun. I remember as a kid, I would pore over pictures and paintings in books and really look at them for long hours. Simply in terms of story, what must this character be doing, why is this cat here in drawing, etc. I was just creating a different world altogether. And I think kids tend to do that. They will put more into text, drawing and story in more ways than we do. So, I was trying to create that. I can't say what works for them since this is my first time illustrating for them, but if asked to do something I'd probably make a completely wacky world for them, filled with strange characters, peculiar sights, familiar sights. They would connect more with a talking bird than we'd ever. I think my style would be like that. With this book, the challenge came with the brief to have a more realistic character rather than cartoony. So, mostly it was to get the real look of a forest and the ongoing events and to do justice to the story of Zakhuma. And still make it engaging for the kids.
What kind of preparation and research went into illustrating Walking in the Wild?
I was provided with a brief about the place and Zakhuma. I was given his picture and his daily activities and asked to make a character that was more realistic than cartoony. I developed the character of Zakhuma first and then later on worked on the surroundings of the forest. I looked through a lot of pictures and articles on Dampa tiger reserve and the forests in Mizoram to get a feel of the place. Same goes for the animals, birds in the story. Rough layouts were then made for the pages, which were then discussed with the art director - for suggestions and iterations before working on the final drawing. Similarly for colouring in the pieces, some rough coloured layouts were shared with the Pratham Books team to collectively decide on which would suit the overall theme better.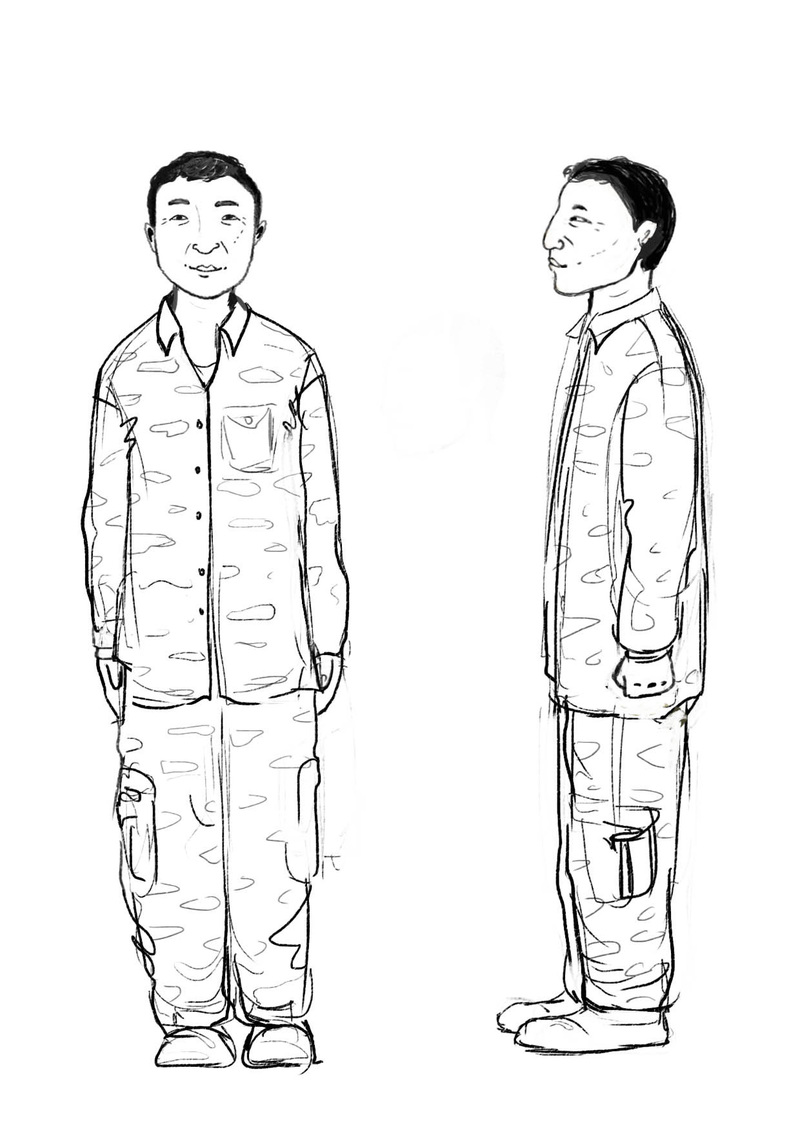 Walking in the Wild is filled with beautiful and detailed drawings of different animals. What did you most enjoy drawing?
I really loved the scenes where different animal descriptions were to be given. I particularly enjoyed illustrating the opening scene and the moonlit scene of the Dampa forest reserve.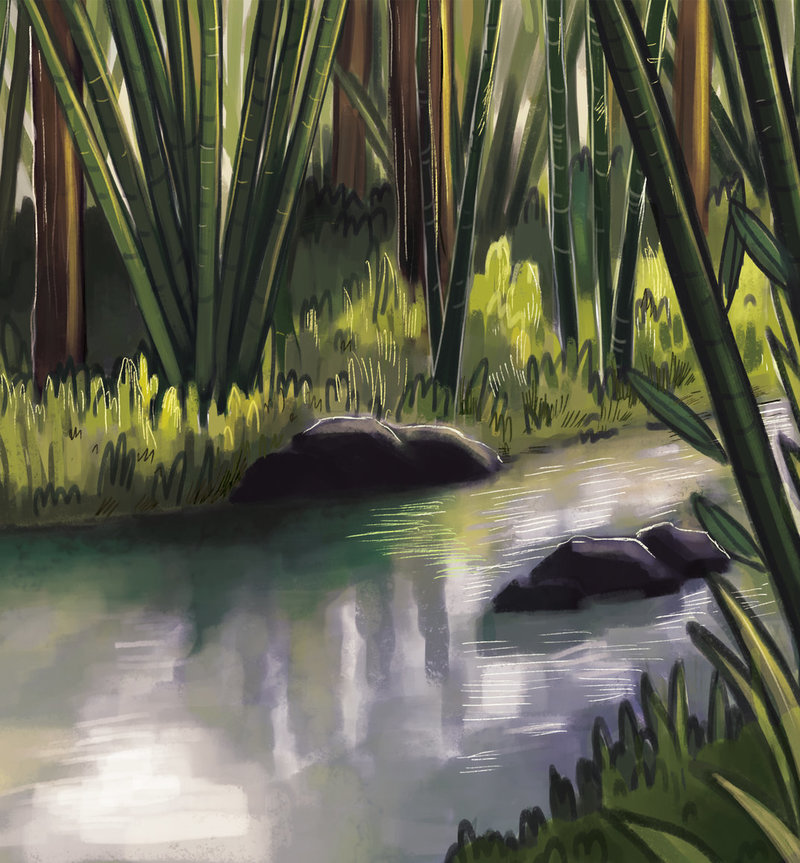 If you had to choose one medium for your art, what would you pick?
I don't think I can decide on one. I love working with different mediums. Each lends a different feel to the work. That being said, I enjoy doing more hand drawn stuff than digital - be it acrylics, oil paints, posters etc.
Who are some artists you admire?
There are many! When it comes to picture books - Shaun Tan is someone I'm really inspired by. His work is phenomenal. Lots of tattoo artists as well - Dzo Lama, Balaz Bercsenyi, Sol Tattoo in particular. Lots of Indian artists - Hemlata Pradhan, Rajiv Eipe, Sajid Wajid Shaik, Abhishek Singh. There are many actually. I can only think of a few right now.
How do you deal with creative blocks?
Not well. I don't like that part at all. I think I take to binge watching T.V. series and books to get over it and walks.
You can read Walking in the Wild on StoryWeaver for free. This is available in Hindi, Marathi, Kannada, Tamil, and English.
Be the first to comment.
---
Fahad Faizal, illustrator and animator, has illustrated two books - Unni's Wish and Fly in Space for Pratham Books this year.
He started drawing at the age of three and hasn't stopped since. He is married to Sunaina, his classmate from NID, and they work together from their cozy home-studio in Kochi calling it BABAKIKI. Fahad is a foodie, he loves cycling and tending to the plants in his balcony garden. But what he loves the most is playing with his son, Orhan.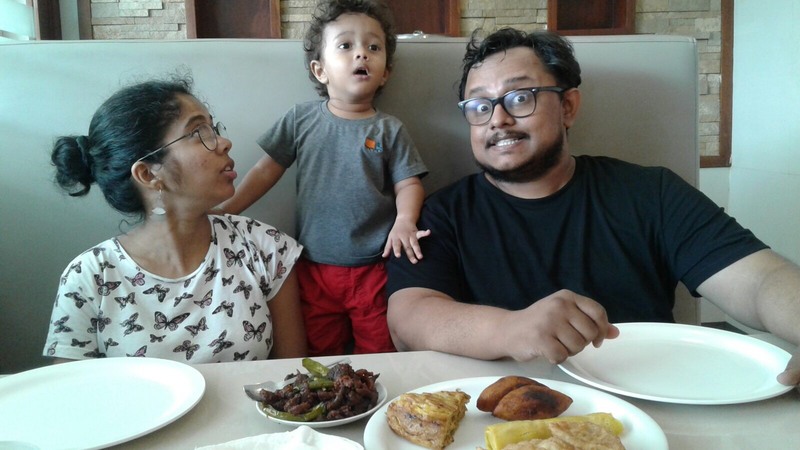 Read Assistant Editor Zeba Imtiaz's interview with Fahad to learn more about his illustration process, approach, and inspiration.
You illustrated two books for Pratham Books this year. What excites you about illustrating children's books?
The sheer act of drawing always excites me. It is a good break from animation, which is fundamentally the main thing we do. Unlike animation here I get to spend more time on one image. Exploring the details is always fun.
How did you decide your approach for each of these books?
I did Unni's Wish first. I really liked that story because I was able to relate to it somehow. And to add to that I took a trip to this place called Wagamon and stayed in a house like the one I drew. That was fun. I always enjoyed drawing black and white images. Just with shades of grey you can add a lot of depth and it's not that common to see children's book in Black & White. The story supported it.
Fly in Space on the other hand, I took a different route of flat colours. In fact, fly as a character is something I did recently in an indie comic called Autobiografly. Though that was not exactly for kids. But here I tried to keep it simple. Even this story was really inspiring. I believe the concept is the king.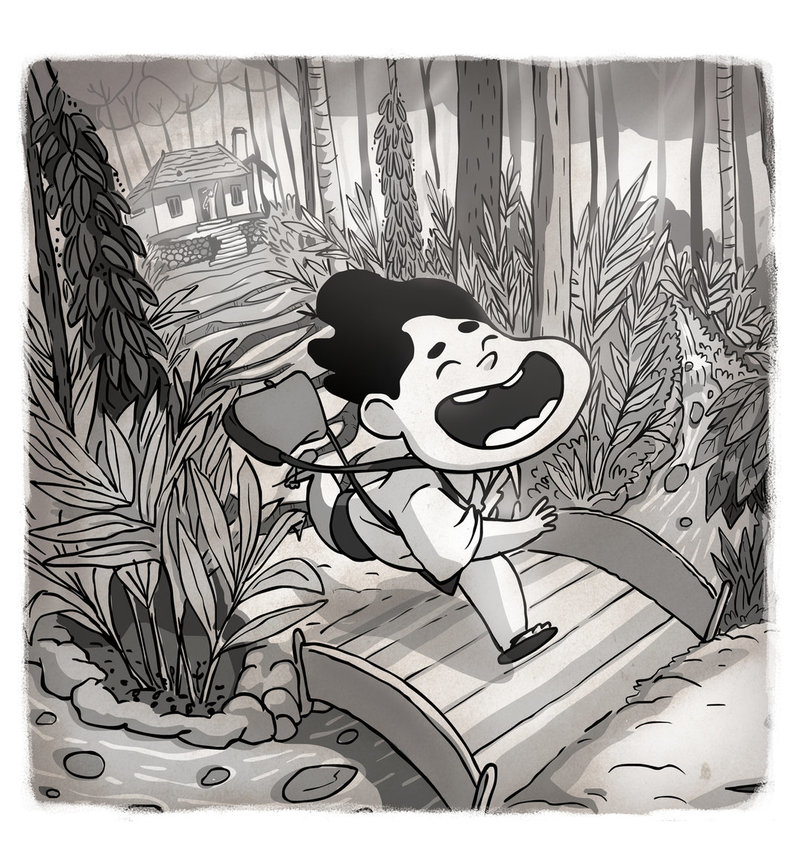 Do you think there's a difference between illustrating for children and adults?
Fundamentally, there is not much difference between illustrating for adults or children! For both, it's the child in me who is drawing. The content makes the difference. Being a father of a 2 year old I think sometimes we underestimate kids. They are way more intelligent than us.
You have created some absolutely wonderful and memorable characters in your stories. Could you tell us more about the process for creating these characters?
Like I mentioned the story was my base, then I gathered all my memories of being a Malayali boy, and to add to that, the trip to Wagamon really helped. There we met a boy who helped us get back to our cottage through the coffee and cardamom farm. Putting all these together I drew Unni, a boy with little over grown curly hair, who wears an oversized shirt, who looks a bit like my son. What we are exposed to, is what we are.
For Fly in Space again like I mentioned the fly as a character is something I have been working on from my previous work. I tried to keep up the age.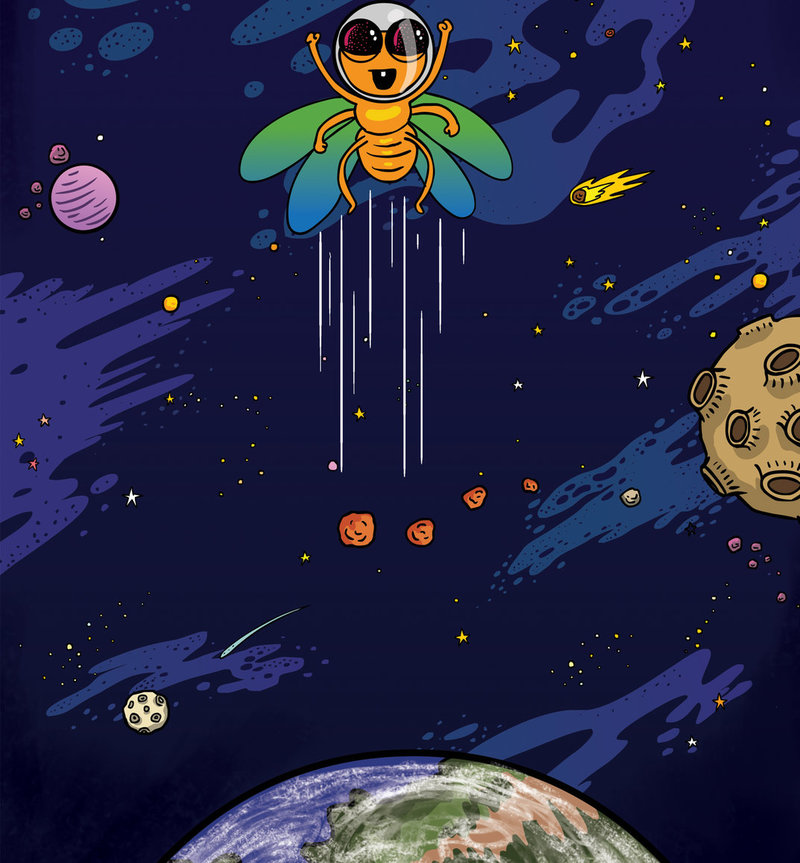 Your visual narratives contain a distinct sense of humour. Is this something you consciously do?
Being in Kerala I am exposed to lots of uncensored humour. I think that is very important to be able to think free. I tried to be there in each of the frames I drew, say if it's Unni enjoying the wind from fan or drinking chilled lime juice. I was aware of what I drew by might not be with too much planning.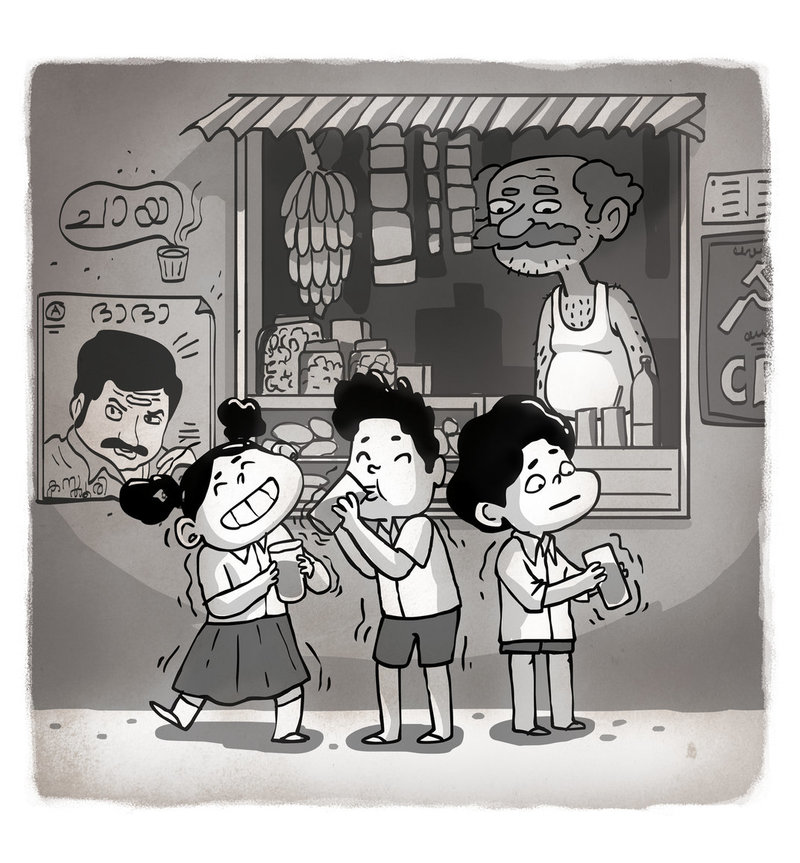 You run a studio called Babakiki along with your wife Sunaina Coelho, also an illustrator and animator. What sort of projects interest you?
We are interested in working on socially relevant projects. Anything that gives us an opportunity to create something new: idea-wise or technique-wise. We believe animation and illustration is a very strong medium that can communicate universally.
What do you most enjoy drawing?
That is tricky question! That's like asking a foodie what you enjoy about eating. From time to time I immerse myself in studying anatomy, small details of structures or imaginary creatures inspired from what is there in nature. It is all connected.
How did you decide that you wanted to be an artist?
It's the other-way around, the artist decided to be me. I just went along. The sheer act of drawing always excites me.
You can read Unni's Wish and Fly in Space for free on StoryWeaver in Hindi, Tamil, Marathi, English, and Kannada.
Be the first to comment.
---
Radha Rangarajan, author of Keya's Day at the Beach, is usually found lost in either a forest or a book. A photographer, Radha dabbles in filmmaking, art, and writing. She's a natural history buff and is partial to elephants, fungi, owls, and trees. She posts as @radharangarajan on Instagram.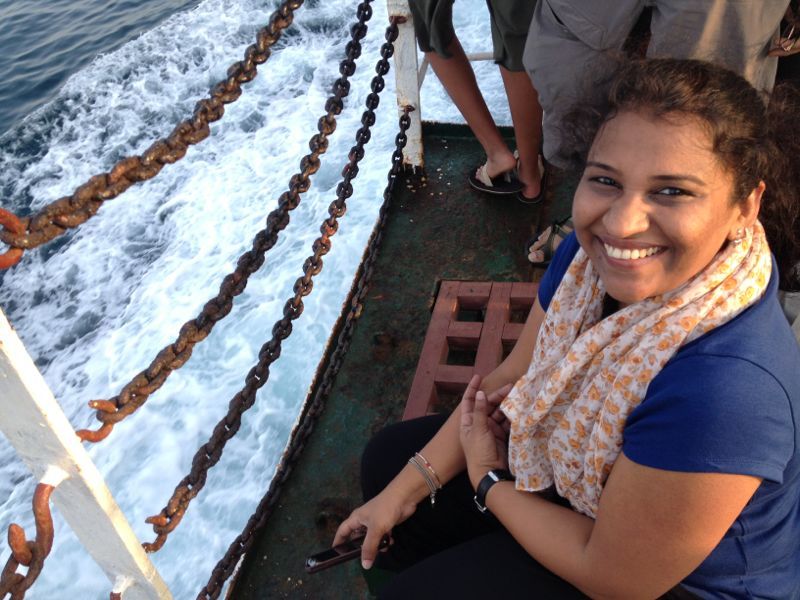 Photograph by Arati Kumar-Rao
Fans of her beautiful photographs of various intriguing animals, and her children's book on different kinds of crabs, we sent her some questions to answer.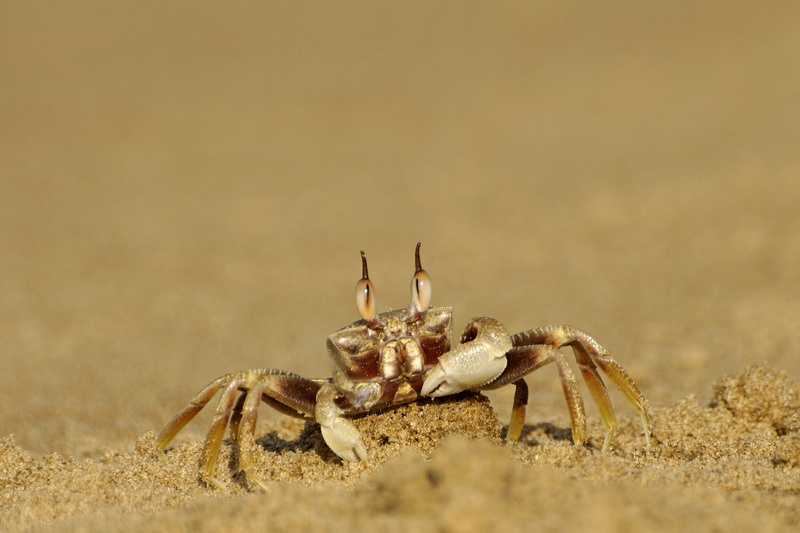 Read on to know more about Keya – the central character in Keya's Day at the Beach – and how she came into being.
How was Keya's Day at the Beach conceived?
I took a fancy to photographing crabs after a trip to the Andamans in early 2013. Later, I had to visit Devbagh Island in Karwar for a story on mangrove plant species. What I saw there left me astounded. There were several thousands of Soldier Crabs out on the beach at low tide everyday. Along with them, I saw hundreds of Ghost Crabs, Fiddler Crabs, Sand Bubbler Crabs and many more. I ended up spending all my time wandering about the beach at low tide, observing them. At the time, I wanted to try my hand at filmmaking and decided to work on a short film on crabs for JLR Explore. I went back to Karwar with two friends and we spent some glorious days filming and photographing crabs.
Bijal Vachharajani happened to watch this short film, Crabs of Karwar, at the Moving Waters Film Festival here in Bangalore and suggested that I write a book for children. That is how I ended up writing about crabs!
All the research and photographs for Keya's story came from my filming and photography project. I didn't have to do any extra/specific research while writing because a lot of work had gone into writing the script for the film.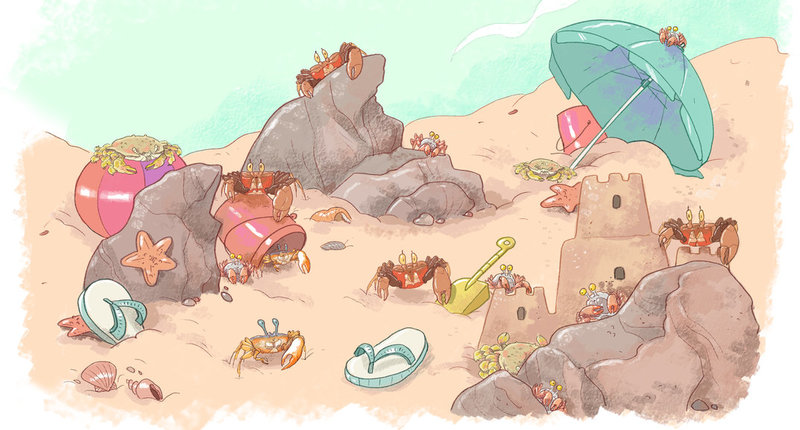 What kind of reactions do you hope this story will inspire in children?
When one says 'crabs', the first thing that most people think of is seafood. This instant recall is very hardwired into us, and that is what I wanted to challenge, with my film and now this book. Before they are thought of as a form of food, I would love it if they are thought of as wildlife, as wild as a spider, a fish, a bird or an elephant - that they have specific behaviours, mannerisms, seasonality, etc. And I hope that children who read this book will try to relate to them as wildlife first.
What qualities do you think children will notice in Keya?
Keya is a bright, curious child and asks many questions, just like all the children we know! I think and hope that they will be able to associate these qualities with her.
What are some wildlife books for children that you have enjoyed?
M Krishnan's Book of Beasts: An A to Z Rhyming Bestiary is one of my all time favourite books for children; the verses are simply delightful.
I happened to read Charlotte's Web very recently and I am fascinated by how beautifully EB White describes Charlotte, the spider's webs and her behaviour.
The Harry Potter series has some of the best and detailed narratives around animals - imaginary or not. Dragons, phoenixes, hippogriffs, blast-ended skrewts, unicorns, basilisks, thestrals, nifflers, pygmy puffs, acromantulas - it is an amazing world. And apart from all these magical creatures, there are so many owls!
What advice would you give to children who want to be a wildlife photographer like you?
Wildlife and nature photography is a wonderful hobby and is an enriching experience. One doesn't have to go far to find wildlife, because there are many forms that live around and among us. A simple walk in the garden can be a lesson in natural history if one pays attention to every leaf, twig, stone and sound. And this is most important because a good understanding of the subjects we intend to photograph makes the photographs better and more meaningful.
Do you have a favourite crab?
I absolutely love and adore hermit crabs. They are the crabs I first observed and photographed when I went to the Andamans and my crab-journey began from there. Hermit crabs are not true crabs - while other crabs have a fixed, hard shell, hermit crabs have soft shells. To protect themselves from heat and predation, they use shells that have been abandoned by other molluscs and wear them like armour; it is as if they are walking around with portable homes on their backs. Not only do they look cute, their behaviour when they are with fellow hermit crabs, and when they are looking for bigger and better shells to fit into is very very interesting.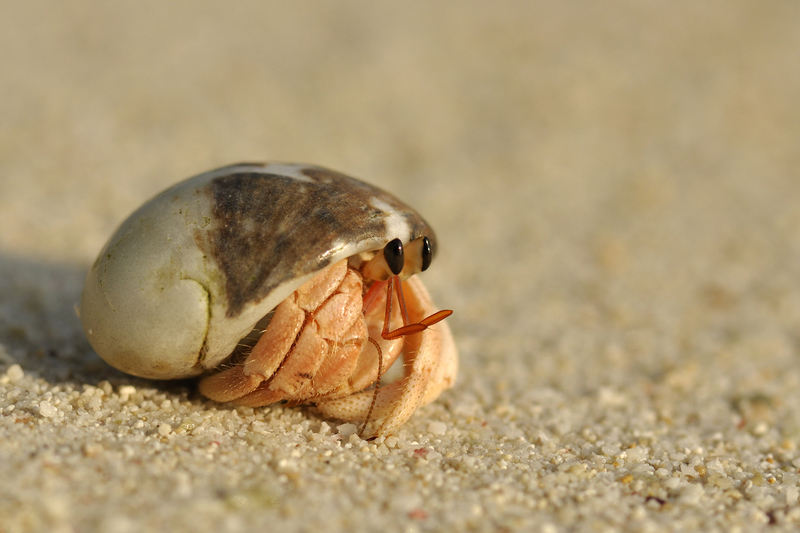 You can read Keya's Day at the Beach on StoryWeaver for free. This story is also available in Kannada, Marathi, Tamil and Hindi.
Be the first to comment.
---