Pratham Books (www.prathambooks.org) is a not-for-profit children's book publisher that was set up in 2004 to publish good quality, affordable books in many Indian languages. Our mission is to see 'a book in every child's hand' and we have spread the joy of reading to millions of children in India. As a publisher serving every child in India, Pratham Books has always pushed the boundaries when it comes to exploring innovative ways in which to create access to joyful stories and have been fortunate in finding partners to collaborate with who share this vision.
In 2015, Pratham Books' increased its footprint by going digital. As an industry leader, we were one of the first publishers in the country to open license our content. All this content is now available on StoryWeaver, which is a digital platform that hosts stories in languages from India and beyond, so that every child can have an endless stream of stories in her mother tongue to read and enjoy. The stories can be read, translated, versioned or downloaded for free. All stories on the platform are openly licensed.
We are looking for a Content Manager for the StoryWeaver team.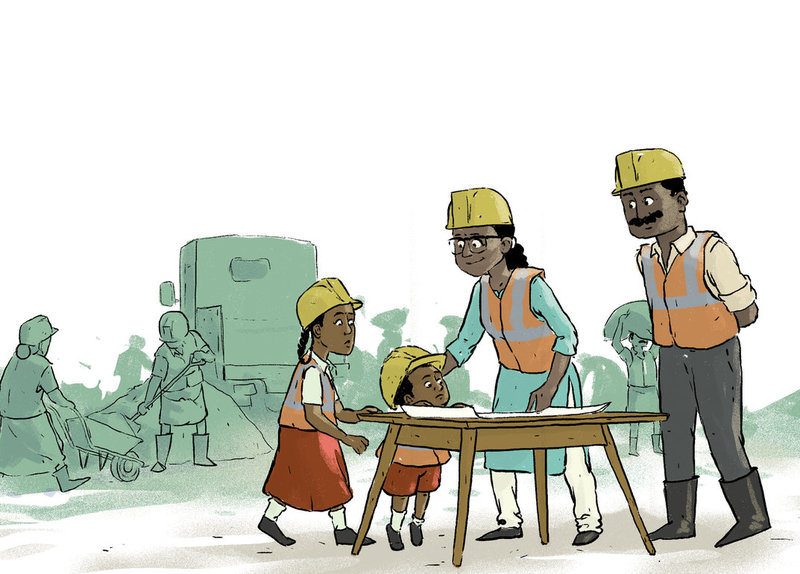 Illustration by Mohith Mohan from Building a Building, written by Kavitha Punniyamurthi, published by Pratham Books
We are looking for a dynamic individual for the position of Content Manager - StoryWeaver. A self-motivated individual with experience and skills in curating content from multiple sources, forging strategic partnerships and anchoring the process of migrating content to the platform. The person will lead a team and be responsible for timely execution to expand the content available on the platform to serve the needs of children globally. The role will report to the Director - StoryWeaver and will work closely with different internal and external stakeholders. This is a full time position based out of Bengaluru.
Key Responsibilities:
Lead the strategic planning, development, and management of content on StoryWeaver

Curation of Content

Continual development of new, innovative ideas to curate the content on the platform

Curate content based on requirements of organisations and partners so as to ensure users access quality content

Licensing and Sourcing Content

Create partnership opportunities with other publishers to open license their content on the platform

Work closely with the content team for sourcing children's storybooks under open licences from across the globe

Create, implement and showcase the best practices around open licensing of content through easily replicable frameworks

Orienting to Curriculum

Liaison with educational and governmental partners and teachers on curating content based on curriculum and structured frameworks.

Collaborate with internal and external stakeholders and subject matter experts to create and source curriculum based content.

Hygiene and Maintenance

Liaison with collaborators and internal and external stakeholder to ensure that high quality standards are met for crowd-sourced content - including review processes and red flagging of inappropriate content

Work closely with operations and studio teams to ensure processes and work-flows are created and well implemented

Work closely with the editorial, research and marketing teams on promotions and campaigns and to deliver the project goals

Other Tasks

To take on other tasks or responsibilities, as required for the project

Archiving and documentation
Required Skills
Post graduate in Literature / Education / Journalism with 6-8 years of experience in related fields. Experience with digital platforms is favourable

Experience in curriculum development or classroom experience

The candidate must have hands-on experience in review, proofreading and production related processes.

Exceptional communication skills

Highly organized and detail oriented

A proven track record to manage, lead and deliver large-scale operations

Proven ability to build consensus and work effectively within a cross-departmental team
Nice to have but not mandatory
Experience working with non-profits

1-2 years working in a partner-facing role

Indic language and digital publishing experience
Location:
This is a full-time position in our Bangalore office.
Compensation:
Salary will be commensurate with qualifications and experience
Write to us:
Email your resume with 'Content Manager - StoryWeaver' in the subject line to [email protected]
---
---