StoryWeaver is celebrating #LaughterMonth to ring in the new year! Here are some books that will bring a sprinkle of laughter, a dash of chuckles and even a guffaw or two into your life.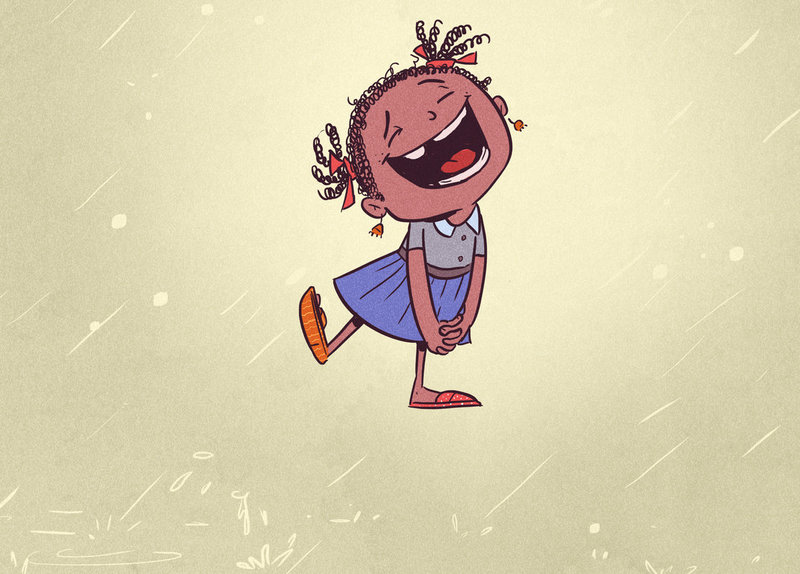 This illustration by ROSH originally appeared in 'The Girl Who Could Not Stop Laughing' wriiten by Meera Ganapathi and published by Pratham Books.
1. The Girl Who Could Not Stop Laughing written by Meera Ganapati and illustrated by ROSH, revolves around little T.Sundari who just can't seem to stop laughing even when it gets her in trouble. She wonders if it's a problem that she should do something about. Her plans to control her laughter fails until she goes to her brother. Does he have a cure? Find out in this riotously lovely book here.
2. Lesley Beake's It Wasn't Me from BookDash is beautifully illustrated book by Gwendolene van der. This cheerful book tells the tale of what happens when a mother leaves her kids and the pets home alone. What could possibly go wrong? Let's find out here.
3. It's All the Cat's Fault written by Anushka Ravishankar and illustrated by Priya Kuriyan is about a boy who gets scolded for not completing his homework. He, however, has a legitimate excuse! Read about what happened to him, and you'll see how one thing can lead to another, and another, and another... Find out how it all ends here.
4. What Are These For? written by Bhavini and illustrated by Chaaya Prabhat. The cat enters the kitchen and topples all the utensils, much to the awe of the children. The kids want to know all about the objects splattered on the floor. Bhavini's fun rhymes makes this a delightful read for children! Read the story here.
5. Achoo written by Sudhir, illustrated by Subinita Deshaprabhu and translated to English by Gouri Srinidhi. Kabir is our troubled protagonist who sneezes all the time. It makes him spill his milk, gets him thrown off the bicycle and the list just goes on! Can he stop his sneezes? Read to find out what fresh troubles his sneezes bring to him, his friends and his family! Read the story here.
---
Do leave your thoughts in the comments section below. You can also reach out to us through our social media channels: Facebook, Twitter and Instagram.
Be the first to comment.
---
Pratham Books (www.prathambooks.org) is a not-for-profit children's book publisher that was set up in 2004 to publish good quality, affordable books in many Indian languages. Our mission is to see 'a book in every child's hand' and we have spread the joy of reading to millions of children in India. As a publisher serving every child in India, Pratham Books has always pushed the boundaries when it comes to exploring innovative ways in which to create access to joyful storybooks and have been fortunate in finding partners to collaborate with who share this vision.
In 2015, Pratham Books increased its footprint by going digital. As an industry leader, we were one of the first publishers in the country to open license our content. All this content is now available on StoryWeaver, which is a digital platform that hosts books in languages from India and beyond, so that every child can have an endless stream of storybooks in her mother tongue to read and enjoy. The books can be read, translated, versioned or downloaded for free. All books on the platform are openly licensed.
We are looking for a Content Manager for StoryWeaver.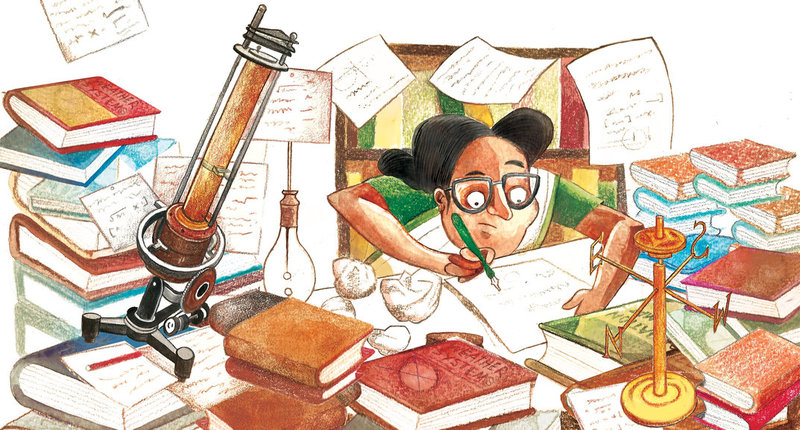 Illustration by Priya Kuriyan for Anna's Extraordinary Experiments with Weather
Key responsibilities:
Work closely with the StoryWeaver product, content and partnerships teams to document impact stories and create an organization knowledge base on key insights and learnings.
Researching, documenting and publishing the StoryWeaver use cases and impact stories - qualitative and quantitative - through video and written case studies

Exploring multiple digital formats and generating thoughtful content pieces with long-term value (essays on Medium, podcasts, etc.) that strengthen StoryWeaver's positioning

Working closely with cross-functional teams on reports, press releases, award and grant applications

Staying up-to-date with current technologies and trends in video production, social media, design tools and applications

Willingness to travel on work as and when required
Required Skills:
4-8 years of experience in development sector communications

A passion for storytelling, narrative structure

Film-making, editing, knowledge of relevant video tools and software

Project management, ability to work with timelines

An eye for detail
Nice to have but not mandatory:
Location:
This is a full-time position in our Bangalore office.
Compensation:
Salary will be commensurate with qualifications and experience.
Write to us:
To apply, email your resume with 'Content Manager- StoryWeaver' in the subject line to [email protected]
Be the first to comment.
---