This position is now closed. Do keep following us on Social Media for news on other openings on the Pratham Books team.
Pratham Books is a not-for-profit children's book publisher that was set up in 2004 to publish good quality, affordable books in many Indian languages. Our mission is to see 'a book in every child's hand' and we have spread the joy of reading to millions of children in India.
In the last 3 years, we have invested deeply in technology based initiatives to further our mission. We are now looking for an experienced Product Manager that can lead our digital projects as we significantly scale these initiatives.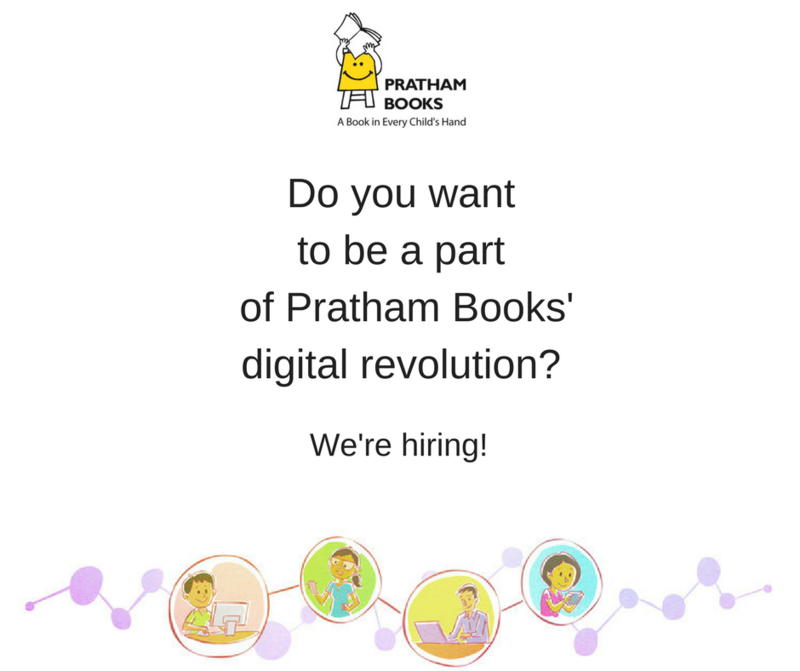 About the Digital Properties
Pratham Books has two digital platforms - StoryWeaver and Donate-a-Book.
Storyweaver is a digital platform that hosts stories in languages from India and beyond, so that every child can have an endless stream of stories in her mother tongue to read and enjoy. The stories can be read, translated, versioned or downloaded for free. All stories on the platform are openly licensed and the goal is to open source the code as well. In just one year, StoryWeaver has scaled from 800 stories in 24 languages to 2800 stories in 59 languages by engaging with a community of users. We want every child to have access to quality reading resources in their own language.
StoryWeaver is being recognized as an emerging innovation that can transform the early literacy reader ecosystem globally. Our vision is for StoryWeaver to be the largest multilingual open library in the world for children by empowering communities to address the scarcity of reading resources in their mother tongue languages and scale the quantity and quality of content being produced.
Donate-a-book from Pratham Books is a unique, crowdfunding platform that helps raise funds for organizations that want to build children's libraries.
Job Description
We are looking for a passionate individual wanting to make a difference, one who believes that technology can be a powerful enabler in creating equitable access to resources.
This role requires a seasoned manager and technologist who can work effectively, both independently and collaboratively, in a team environment and deliver the project in a timely manner within allocated resources and budgets. The Product Manager will play a strategic role in defining the product roadmap, translating it into detailed requirements and developing a roadmap for delivery. S/he will work closely with the domain, outreach and content teams to define the user requirements which will guide feature development. All aspects of managing the project including the RFP process, vendor selection, hiring of people, documentation and project delivery will be managed by the Product Manager.
The position will report to the Head of Digital Projects but also requires working closely with the top management. In a 3 year time-frame the project outcomes are expected to scale by 10x and the Product Manager will play a critical role in ensuring the smooth functioning of the platform at this scale. Most importantly the person needs to be an out-of-the box thinker and should be a strong believer and propagator of use of open technologies.
Responsibilities
Understand the user requirements and define the product roadmap

Generate RFP's and manage the process of technology vendor selection

Prepare the user stories, documentation and compile the platform requirement and workflow documents

Scope and prioritize the product feature sets

Work closely with technology vendors on all aspects

Ensure the project is done within the budgeted resources

Optimize the user experience

Be an evangelist in the tech community to build awareness around the platform.
Mandatory Requirements
BTech/MSc/MCA degree in Computer Science or related disciplines

Proven work experience in product management

Strong technical background with hands-on experience in open source web and mobile technologies

Very good written and verbal communication skills

8 -10 years of experience
Nice to have but not mandatory
Experience working with non-profits.

Domain knowledge in publishing industry, Indic language experience
Location: This role is based out of Bangalore and is full-time. The project is expected to complete within a 3 year time-frame.
Salary: Compensation will be commensurate with experience.
Interested candidates are requested to send in their resume to [email protected]
Be the first to comment.
---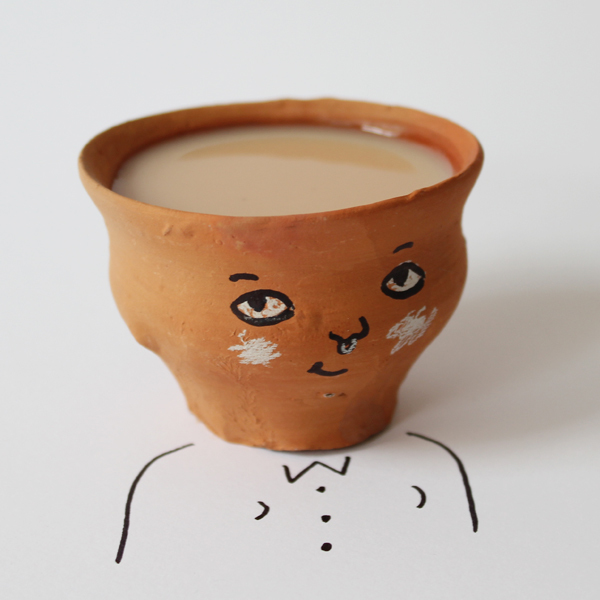 Aindri Chakraborty is a communications designer specializing in narrative illustration and animation. She is one of the members of The Kadak Collective.
Apu's Giant Earthquake is not only about why and how earthquakes happen, it is also a story inside a story. It is a story of the off-tune Bey-asura who likes to sing. It is also about Apu and his sister Pia, their grandmother and pet dog who are in the middle of both Bey-sura's song and an earthquake.
I wanted to start with the characters. They were based on Sudeshna Shome Ghosh's picture below.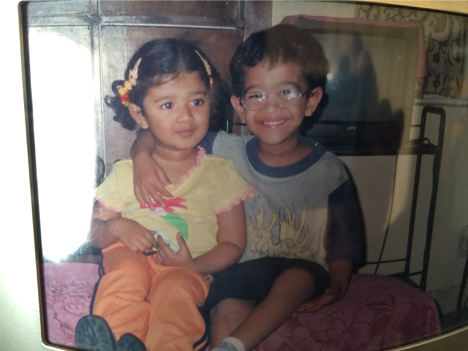 This is how the character Pia evolved.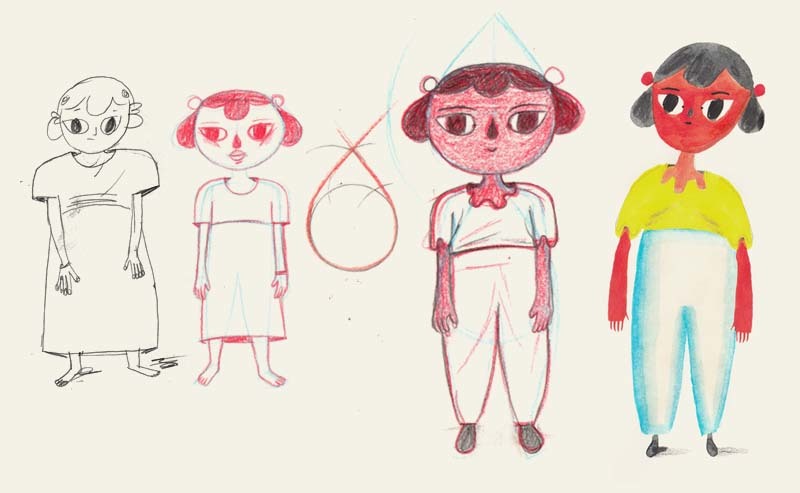 Bey-asura is an Asura who causes a lot of destruction when he sings! I felt pity on Bey-asura in the story because I like to sing but I am not a very good singer! I had to find a way to justify why Bey-asura was a bad singer. I shaped his head like a string instrument and then realised, maybe he is a bad singer because he hasn't been tuned yet. So there is a broken string which I designed as his hair.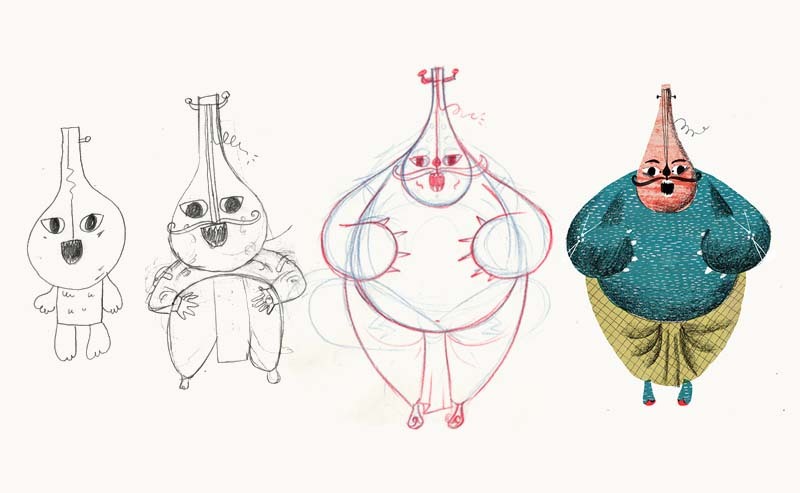 I made lots of textures of the earth. This is based on geology diagrams.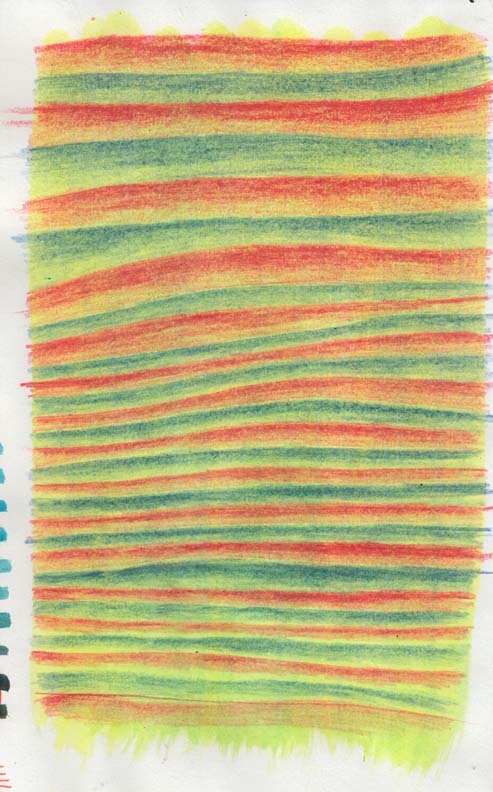 I tried this one using salt while the ink was drying, so it created a nice rocky texture.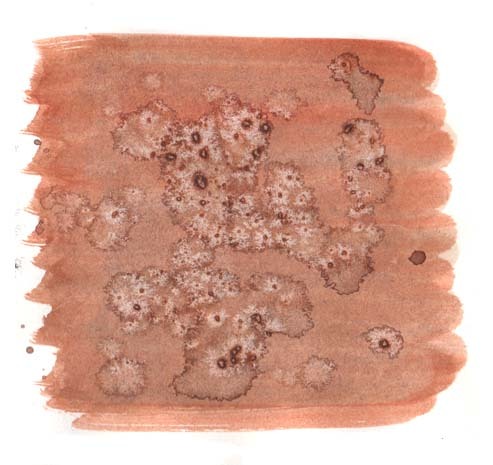 I then collaged the textures to create landscapes for the story.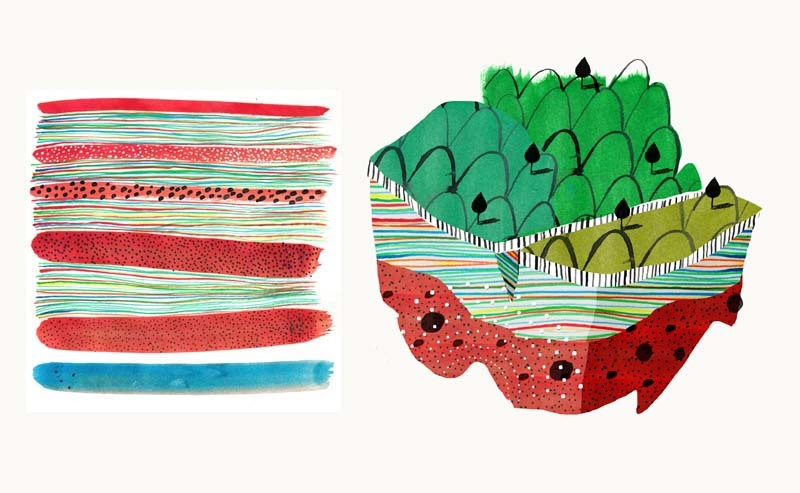 'Apu's Giant Earthquake' is both informative and imaginative so I tried to keep it sciency but also whimsical. It was exciting to work on StoryWeaver's digital-first children's story which will be available to everyone as it's openly-licensed.
'Apu's Giant Earthquake' will be available to read in 5 languages on StoryWeaver. If you can't find the story in a language you're fluent in, feel free to translate the story on www.storyweaver.org.in and share it with us!
Be the first to comment.
---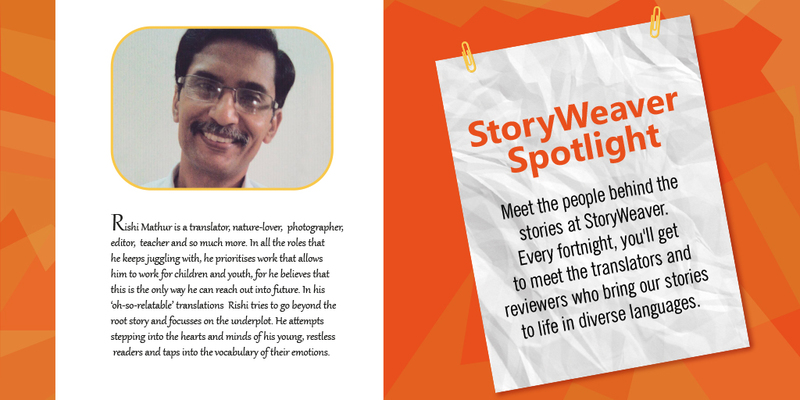 Q: What do you usually read? Which language do you prefer to read in?
I can read anything that I come across, but content on 'how things evolve or change' draws me most, whether it's covered in philosophy, psychology, spirituality, life sciences, cosmology or for that matter, fiction, which I'm a bit sceptic about, in English.
Q: Is there a favourite book / author and why is it a favourite?
There are many, but a few of them always figure in my all-time favourite list:
'The Prophet' by Khalil Gibran for its profound thought on the basics of life, and simplicity of expression. 'Origin of Species' by Charles Darwin for the way he connected his observations with the realities of the natural world bit by bit to create this 'enormous whole' of knowledge. 'A Brief History of Time' by Stephen Hawkings for the way complex phenomena are explained with such clarity therein. 'Conversations with God' sequence of books by Neale Donald Walsch for the style and utility as manuals of spiritual understanding. 'Manwatching' by Desmond Morris, whom I've always deemed as my master in absentia, for the rich scientific study in non-verbal communication it is. And all the books by Osho, the great master, whom I could never meet. Though I learned a lot from his mate Dowser S Bhan of Nepal.
Q: You have contributed for us immensely. How has the StoryWeaver journey been?
A: Fantastic! Working for the young readers is always a joy! Wish, it continues as long as I can think and see.
Q: How does it feel when your story gets published online?
A: Nice. But, anticipating another one in my inbox for translation feels a lot better!
Q: You have translated / reviewed a handful of stories for us. Which one has been your favourite and why?
A: Ladle ka Dhol, the very first I translated still tops the list of my favourites. Also developed a special relationship with the Brahmaputra, as I travelled into Tibet through its text!
Q: What is your key driver in taking up these translations?
A: Frankly speaking, being a communicator, I do feel 'something for all languages,' but I'm more bent towards the non-verbal aspects, so the key driving force behind translating books or writing something is usually for having the remittances credited into my bank account.
Q: How else do you think we can join hands in taking bigger steps for children's literature?
A: We can. Through greater and more informal outreach programme. I am really grateful to Pratham Books for giving me an opportunity to interact with young readers in the Pink City during Jaipur Literature Festival. Sharing in person, live interactions by people from the publishing trade can take literature and readership farther than anything else.
Q: How has the overall experience with SW been?
प्रथम बुक्स और स्टोरी वीवर की श्रेष्ठ बाल कथाएं मूलतः चाहे किसी भाषा में लिखी गयी हों, नन्हें पाठकों की दिलचस्पी बनाए रखने के लिए अनुवादक को भाषा की सीमा से पार जाकर, बालमन की कोमल भावनाओं और कथावस्तु से मेल खाती शब्दावली का ध्यान रखना ज़रूरी होता है। ताकि कहानी परायी सी न लगे। यह चुनौती बार-बार सामने आयी। और कामयाबी के साथ इसका सामना किया जिससे ख़ूब ख़ुशी मिली। रचनात्मकता के ऐसे अवसर एक अनुवादक को लेखक के बिकलकुल क़रीब पहुंचने का एहसास कराता है। दूसरों की कलम की जायी कहानी अपनी सी लगने लगती है। ऐसी दत्तक रचनाओं को पोसने का मौक़ा देने के लिए प्रथम बुक्स और स्टोरी वीवर के संपादक मंडल का आभार। इस सुखद स्वाद में जोश का तड़का लगाने का काम किया प्रथम की युवा संपादक आमना सिंह ने। झटपट काम पूरा करने का दबाव बनाने के लिए छुट्टी के दिन भी ख़ुद लगातार संपर्क बनाए रखकर ऐसी चुनौतीपूर्ण समय सीमा में काम करवाया कि हैरान हूं, पर ख़ुश हूं।
The overall experience was good. It was especially nice, because of the great motivation offered by the Pratham Books' team who sounded hard-pressed for deadlines even on Sundays, making me work odd hours at breakneck speeds, making me feel more alive and kicking than I actually am?
Q: You wear many hats - which one is your favourite?
A: I've always been a nature lover, and will always be one! But being in the field of communication, I had to yield different tools during different phases of my career, more so for survival than anything else; starting with illustration work for a newspaper, to photography, project documentation for NGOs, new-reporting, editing, television production, research, teaching, translations, and even writing SOPs for students applying for overseas education and finally counselling. Working with children is best, and working for them is next!

Be the first to comment.
---