Riddhi Dastidar recently joined Pratham Books as Outreach Manager. Here she writes about our recent workshop in Delhi, with Humana India.
On a scorching summer day in June, we found ourselves in the winding bylanes of Kishangarh in Delhi, looking for the Humana India Office. We entered to wooden floors, quiet reading spaces filled with books in multiple nooks and a massive German Shepherd dog draped languorously across the gate to welcome us in.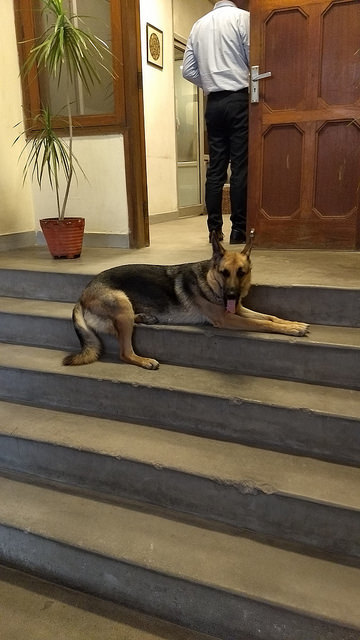 Humana People to People India is a part of Humana International's network of 31 organisations in Europe, Africa, Asia and the Americas working across a range of issues from from health to microfinance. Our overlap in interest comes from their work in Education.
HPPI's educational programmes aim to equip people with knowledge and skills to break the cycle of poverty and fulfill their potential. Their five programmes are Necessary Teacher Training Programme (NeTT), Academy for Working Children, Girls Bridge Education, Step up Centers and Prarambh. NeTT and Prarambh focus on incubating quality teachers. Humana had invited their NeTT master trainers from different states to spend the day with us to know about StoryWeaver and how can it be used to bring in a reading culture in the classroom, as well as serve as a resource pool for our teachers. We also had trainers from other organizations like Stir Education and Pratham who added to the diversity of the group.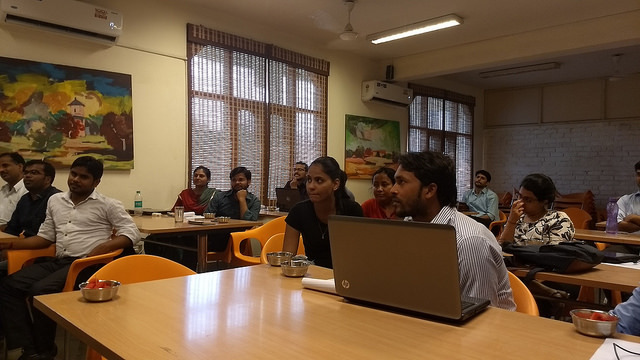 We started by getting to know the workshop participants a little better by discovering their hidden talents. Someone mentioned they were good at working with special needs children while another teacher found travelling interesting. Stories give way to many emotions and what better way to establish that than to begin the session with a story? The audience giggled and winced and tried to come up with a solution to Bheema's problem in the process realising with us how important stories are to classrooms!
How stories help kindle curiosity and develop lateral thinking in children.
After we walked through how StoryWeaver works, our philosophy of reaching as many children in need as possible in their native tongue, and hence our embrace of Creative Commons, it was time for the teachers to get their own hands dirty. They practiced curating lists of stories on specific themes (from Math concepts through biryani making to a Level 1 reading on Traffic lights). They got into groups to take a stab at translating stories into Hindi and finally even creating their own story from our set of open illustrations.
To break down the concept of 'filters' on StoryWeaver to help select the desired kind of tale we drew a parallel to online shopping - Amazon and Flipkart being commonly recognized.
An interesting story we explored brought out the critical role illustration can play in a book. We read 'दीदी का रंग बिरंगा खज़ाना', and the teachers pointed out that as Didi became happier, the book bloomed from black and white into colour - hence even a child struggling to read the words would be able to grasp what was happening!
By the end of the workshop we had a couple of first-time story-writers in our midst. The teachers were beginning to share the challenges of balancing something as 'inessential' and essential as the time to read for joy in class with the demands of administrative work and completing the syllabus. Waseem, one of the trainers from Stir mentioned that the main reason we work is actually the children. Very often lost in the pressures of checking very real demands and tasks off the checklist, we forget the heart of it - which is the relationship being built with the child. He pointed out that stories could be a great option to reverse this disinvestment and foster strong relationships.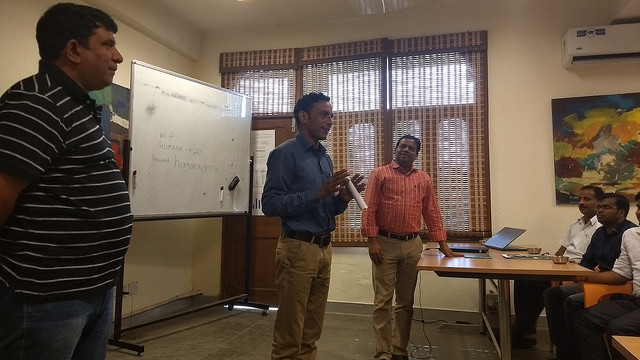 We came out of the workshop with many of the teachers coming up to us to ask for follow-up training with their organisations, and excited to see how they would go on to integrate stories into making different kinds of academic learning interesting - be it learning about division through biryani or just taking 20 minutes out of the day to Drop Everything And Read!
To see more images from the workshop, click here.
If you would like us to conduct a workshop with your organisation, drop us an email at [email protected]
Be the first to comment.
---
Amrita Tripathy, Marketing and Communcations Manager at Pratham Books does a round up of her favourite stories starring Daddy dearest.
Call him Daddy, Appa, Baba, Acchan, Abbu, Babuji or Pitaji. He is strong. He is loving. He is the protector and nurturer. He is no less than a superhero. My 'baba' is my role model. I'm sure your father must be your idol too. This Father's Day, we bring to you some of our interesting stories on this real-life superhero – father.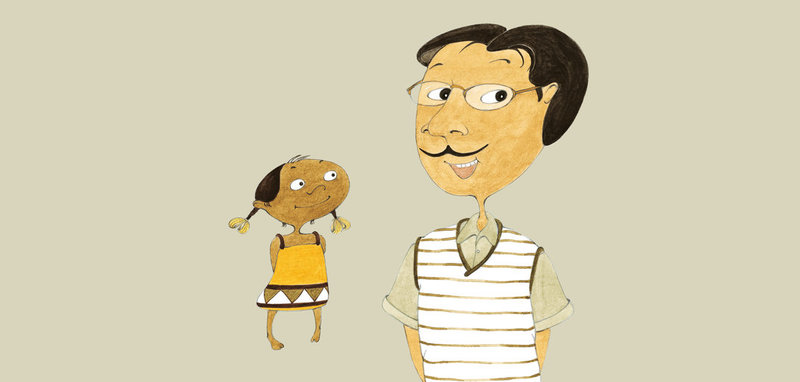 Anu and her love for moustaches- adapted from the original story by 'बाबाच्या मिश्या' (in Marathi) by Madhuri Purandare and translated by Jayashree Gopinath
Moustaches are so interesting and it becomes double intriguing when dads have it. Some have thick ones, while some have thin ones. There are many without one and some have long ones forming a beard. Our little Anu is in love with his daddy's moustache! Actually, Anu likes anyone who has a moustache. No sooner has Anu seen a moustache and her mind brims with wonderful ideas. To know the ideas, read this interesting story.
Biju Spins Some Magic by Jaya Jaitly and Bhramara Nayak
Biju and his family are weavers in rural Odisha. They create beautiful fabrics and sell them in big cities in India and abroad. This is the tale of Biju's adventures when he accompanies his father to Delhi to sell the saris, and in the process, impresses a city boy with his skill. With the traditional patachitra artwork, this story is truly a nostalgia of my childhood memories, of my homeland and those train journeys with baba. Not to ignore the Odisha handicrafts. A must read is what we suggest!
Cheenu's Gift by Sridala Swami and Suvidha Mistry
We all have waited eagerly in our school days for our dads to pick us from their busy schedule. Add to it, the joy of going around the city and helping dad get his works done. You never know when he gets happy with your help and gets you a surprise gift. Cheenu also gets a wonderful gift from his appa for being a good child.
DeeSy short stories 3 : Connecting the Dots... by Dr. Deepti S., Alicia Souza and Upamanyu Bhattacharyya
This wonderful short story showcases the importance of parents giving time to their kids in the midst of their busy schedule – office appointments, working on laptops and mobile phones and even on weekends and vacations. Sweet and impactful, this story says a lot about a father-son relationship in today's time. So, why wait anymore! Let's just connect the dots…
Raza Meets the King by Subhadra Sen Gupta and Tapas Guha
Who doesn't love reading stories of Akbar, The Great? We all did. We all still do. Here's a story from history when great Mughal King ruled the country where Raza's father Rahmat Khan is the royal tailor to the emperor. When they go to the palace to deliver the Emperor's new summer clothes, Raza realizes that the emperor is not completely satisfied with his father's designs. Raza wants desperately to help his father. But what can a little boy do? Find out.
Come Home, Papa by Apoorva Mathur, Hari Kumar Nair, Kabini Amin, Kaveri Gopalakrishnan, Soumya Menon, Vartika Sharma and Vishnu M Nair
What do you do when our father goes missing? Would you look for him? To whom will you turn for help? Read Vishakha's tale to unravel this mystery.
A girl with a lantern by Ravi Ranjan Goswami, Sonal Goyal, Sumit Sakhuja and Sumit Sakhuja
In the pitch-dark night, little Neelima goes in search of her dad. Did she manage to find him? Was she scared? Why did her dog bark? Know more.
Springloaded by Chenél Ferreira, Sam Wilson and Thea Nicole de Klerk
Neo's father is an inventor. When he invents a helicopter hat and flies away, Neo decides to make an invention of her own. Like father, like son! A book with no words, just wonderful pictures that tell a beautiful story.
The Parrot with a Broken Beak adapted from ٹوٹی چونچ والا طوطا by Shahid Anwar, Shailja Jain Chougule and translated by Manisha Chaudhry
Her father's pen calls out to Kasni. Should she, or should she not pick it up? After she uses it, she finds an angry father and an angry parrot. A tale with charming colours to make any child happy! And for grown-ups, this story is a childhood memory. To know why, read the entire story.
The Magic Powder - A Folktale from Myanmar by Greystroke and P.G. Dinesh
Once upon a time, in a little village on the banks of the Irrawaddy river, there lived a young woman called Thuza. She was very happily married to handsome young Theingi. But there was one problem that nagged Thuza – her husband believed he would find a way to turn dirt into hold! Did he succeed? Read this delightful tale from Myanmar to find out.
So, what are waiting for. Celebrate this Father's Day with us in our style.
Happy reading!
Be the first to comment.
---