Post written in collaboration with the team at Nature Conservation Foundation
---
On World Wildlife Day 2021, StoryWeaver is pleased to announce a partnership with the Nature Conservation Foundation (NCF), an organisation that works towards conservation of India's unique wildlife heritage. The aim of this partnership is to create more stories about nature, birds, and wildlife, that inspire children to develop a love of the natural world that they will inherit.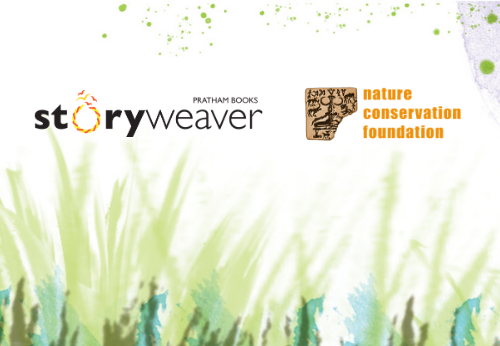 Through these stories, NCF's scientists and naturalists who work in a range of wildlife habitats - from coral reefs and tropical rainforests to the high mountains of the Himalayas - relive their experience of studying and encountering the wild.
We are delighted to launch the first 2 books: Gyalmo, the Queen of the Mountains and Birds That Sing Their Name.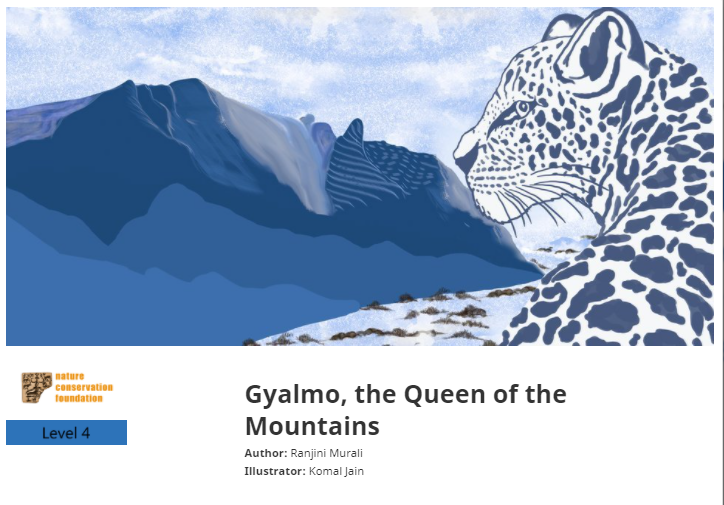 In Gyalmo, the Queen of the Mountains, Koyna and her friend Lobzang are in Spiti Valley, trying to spot the most elusive cat in the world, while Gyalmo, the snow leopard, watches from a distance as they try their best to see her. Read this humorous tale of humans and leopards by Ranjini Murali. Illustrated by Komal Jain.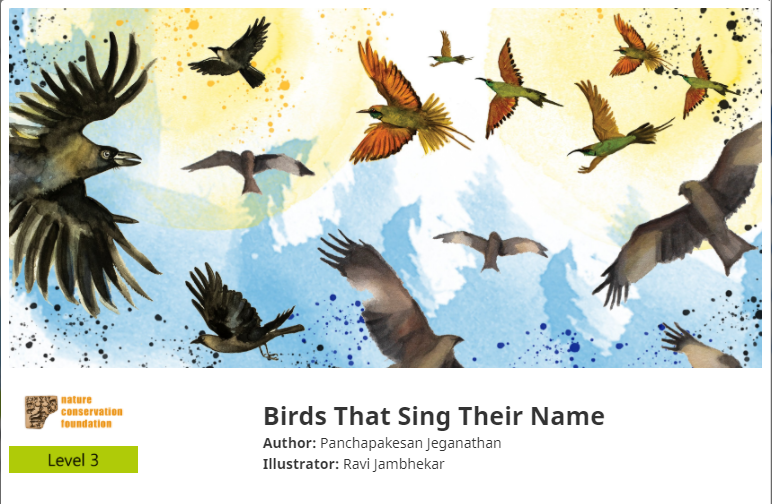 In Birds That Sing Their Name, Jegan, a scientist working in bird conservation, talks about birds and the beautiful songs they sing in the wild. How do birds get their names? Sometimes people name them after their colours, size and food they eat. Sometimes, they get their names from the way they call or sing. Come meet some of the birds that sing their names. Read this riveting story on sounds by P Jeganathan, illustrated in watercolours by Ravi Jambhekar. We can still hear the echo of these songs!
Happy reading!
---
These books are an effort by the Nature Communications team at Nature Conservation Foundation to encourage awareness and appreciation of India's wildlife in children and adults. We are delighted to have them on board as publishers on StoryWeaver.
comments (3)
---

About the 'Goshticha Shaniwar' Reading Programme
2020 was a year like no other. All over the world, the shadow of COVID-19 loomed large. Schools and students had to find and adapt to new channels and ways of learning from home. In Maharashtra, India, 53 lakh students of government schools and anganwadis were affected, and had to cope with a challenging learning environment and the stresses of COVID-19.
Pratham Books' StoryWeaver, the State Council of Educational Research & Training, Maharashtra (SCERT), Integrated Child Development Services (ICDS), and UNICEF joined hands to co-create the 'Goshticha Shaniwar' (Saturday of Stories) Reading Programme for the children of Maharashtra, to encourage learning through stories, while addressing children's socio-emotional needs.
'Goshticha Shaniwar' was launched in October 2020, and for 5 months, provided free high-quality reading material every week to students from grades 1 to 8, across the state of Maharashtra. Every Saturday, one storybook in Marathi was shared for anganwadi children. A set of four age-appropriate storybooks in each of the three languages: Marathi, Urdu, and English, was shared with children in grades 1 to 8. These e-books were curated by the StoryWeaver team, and were then shared via WhatsApp with children - through Supervisors and Anganwadi Workers in the case of ICDS, and by District Coordinators (from DIETs), Block Resource Persons, Cluster Leaders, and teachers, in the case of school children. These digital storybooks were supported by posters, and interesting activities based on concepts from the stories, to encourage greater involvement.
Since the books were openly licensed, they were free to read, download, print, project, adapt and share. This allowed for projection in places that had TVs or screens, printouts to be distributed, and several grassroot level innovations like the Bicycle Library of Gadchiroli. To bridge the digital divide and reach those who did not have internet or smartphones, stories were also delivered through Pratham Books' audio stories initiative: 'Missed Call Dya, Ani Goshta Aika' ('Give a Missed call, Listen to a Story').
---
Programme Impact
5 months
36 districts of Maharashtra
1 lakh schools and anganwadis
2.6 lakh teachers, anganwadi supervisors and workers
25 lakh children
The 'Goshticha Shaniwar' Reading Programme has demonstrated beyond doubt the benefits of integrating joyful reading into the child's daily routine. The implementation of this Programme has provided us with directions for newer, more innovative ways of reaching children even in the most remote areas. It has also highlighted the strengths of conceptualising, implementing, and monitoring a reading programme in close partnership with all its stakeholders.
Engaging, contextualised storybooks can play a great role in building foundational reading skills, and help children learn, grow and achieve their potential. The stakeholder network and open licensed content from platforms like StoryWeaver can help provide uninterrupted online and offline access to high-quality storybooks in multiple languages. If we are to achieve foundational literacy and numeracy for every Indian child studying in Grades 1 to 3 by 2025, we shall need to make reading a part of her timetable, every single day.
---
World Storytelling Day 2021
StoryWeaver, SCERT, ICDS and UNICEF are marking World Storytelling Day 2021 with an online symposium to celebrate the success of the 'Goshticha Shaniwar' Reading Programme.
The symposium will feature a panel discussion on 'Reading for Joy & Language Proficiency' and remarks from leadership from SCERT, UNICEF, Pratham Books, award-winning author Mr. Rajiv Tambe, Mr. Mangesh Gondavale, CEO, Zilla Parishad (Aurangabad), Mr. Dhir Jhingran, Founder & Director, Language and Learning Foundation. The symposium will be addressed by Ms. Varsha Gaikwad, Minister, School Education & Sports (Maharashtra) and Ms. Vandana Krishna, IAS, Additional Chief Secretary, School Education (Maharashtra). The event will also include the unveiling of a book that captures the 'Goshticha Shaniwar' model, impact and sustainability, and caselets from the field.
Watch the symposium online on March 20, 2021 at 11 am: https://www.youtube.com/watch?v=icvmbmPjbGI
---
comments (2)
---
We are delighted to host books published by the Nature Conservation Foundation, and make them available for free under the CC BY 4.0 license on StoryWeaver. We hope that our community will enjoy reading & learning more about India's wildlfe through these stories, and that they will be translated into many more languages. The first 2 books resulting through this partnership are Gyalmo, the Queen of the Mountains and Birds That Sing Their Name.
In this post, we'll give you a closer look at the making of 'Gyalmo, Queen of the Mountains'!
About the book: Koyna and her friend Lobzang are in Spiti Valley, trying to spot the most elusive cat in the world, while Gyalmo, the snow leopard, watches from a distance as they try their best to see her. Written by Ranjini Murali and illustrated by Komal Jain.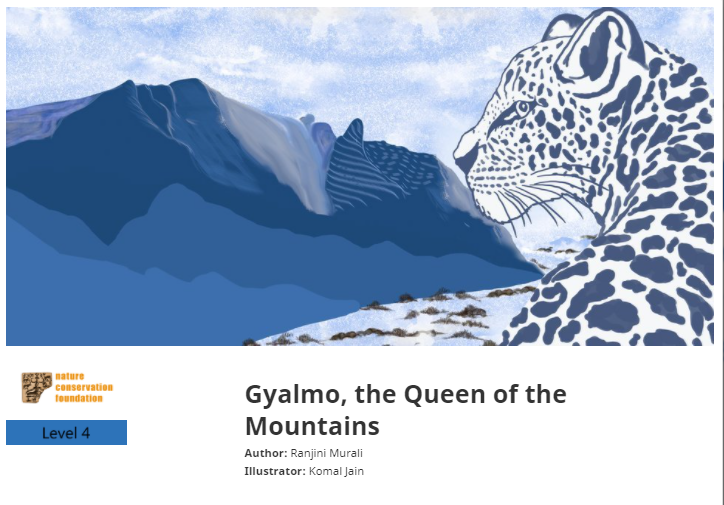 Ranjini Murali, the author, is the Conservation Scientist at the Snow Leopard Trust. In this interview, she tells us about her fascination with the mountains and why she wrote a children's book about snow leopards.
---
Tell us why you chose to write about the mountains?
This story was first written for the 'Hindu in School' newspaper supplement which was meant for children studying in Bangalore and Chennai. I wrote this story then, as I wanted to introduce children to the fascinating animals of the Trans-Himalaya.
What is the message that you hope to share through these stories?
When I was a student in Bangalore, I didn't know there were snow leopards in India, nor did I know of these stunning landscapes or the amazing biodiversity present here. Maybe children now are more aware of this, but through this story, I hope to bring a bit more awareness to these landscapes.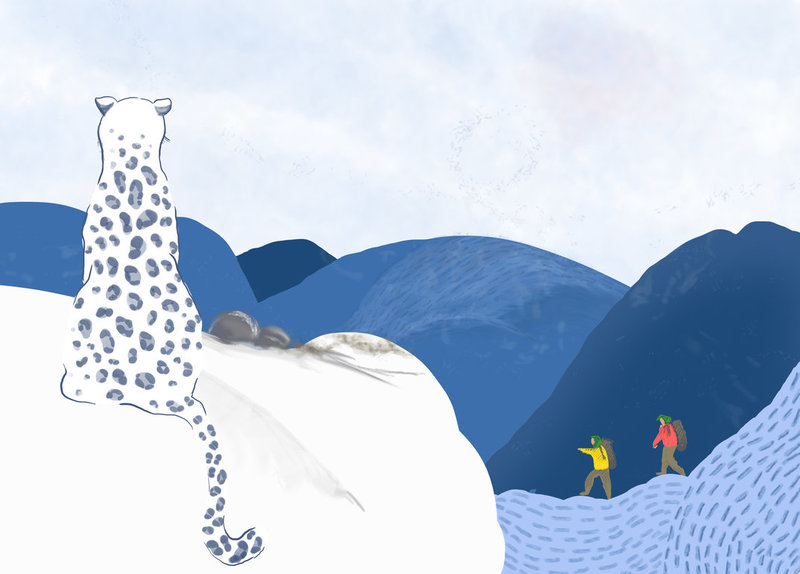 Illustration by Komal Jain
What inspired you to conceptualize this story?
I've worked in the Trans-Himalaya for more than 10 years now and have never really seen a snow leopard! Part of this story was inspired by my constant search to see the snow leopard. The chase sequence was inspired by an video I had seen online of a snow leopard chasing a bharal!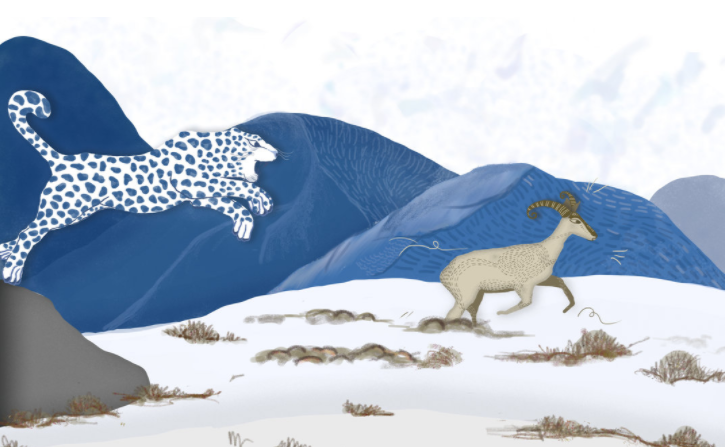 Illustration by Komal Jain
How did you get to know about StoryWeaver, and what prompted you to make your story available on our platform?
I knew of the amazing work that StoryWeaver was doing, making reading accessible to children everywhere, so I jumped at the opportunity when a colleague reached out to me about plans of creating books on the platform. I especially love how the stories on the platform are accompanied by amazing illustrations. I was so excited to see this story come alive through the illustrations! I also like that the stories are available to be translated, so they are accessible to more children around India.
---
Read Gyalmo, the Queen of the Mountains
(Post in collaboration with the team at Nature Conservation Foundation)
comment (1)
---