Due to the COVID-19 pandemic, more than 1.5 billion children and youth are out of school. With this, the need for reading materials for children that can be accessed at home, is more urgent than ever. StoryWeaver is collaborating with UNHCR, UNESCO, The Global Digital Library, The Global Book Alliance, The Asia Foundation and Learning Equality, to call for translation volunteers to accelerate the creation of multilingual digital reading material via the #TranslateAStory campaign.
You can participate in this campaign by volunteering to translate on StoryWeaver. It's easy!
Step 1: Find the book that's just right for you
StoryWeaver has over 1000 high quality books to translate from. A simple Level 1 book usually takes under 20 minutes to publish on StoryWeaver. You can also choose to translate books from 60 languages, like English, Hindi, French, Spanish, Thai, and many more.
Looking for some inspiration for which storybooks to translate? We've put together a list of books here, which includes wonderful books like Incredible Insects: A Counting Book, Bobo and the Worms, The Runaway Pig, Ira Investigates the Invisible, and several others.

And if the book you have selected has already been translated - no problem! The StoryWeaver recommendation engine will share some more options for you to choose from.
Step 2: Translate - Online or Offline!
The StoryWeaver Translate tool supports translation into 234 languages, and has a Dictionary to help you choose the appropriate words for your translation. Have a limited Internet connection? We are still here for you! You can save the book to your Offline Translate Library and sync when you have connectivity.
Here is a step-by-step guide on using the StoryWeaver Translate tool.
Can't find your language? Have some queries? Write to [email protected] or review our FAQ page.
Step 3: Publish & Share
As soon as you hit publish, your storybook will be published under New Arrivals. Don't forget to share your storybook with your friends. And of course build your author profile!
Join the #TranslateAStory campaign: TRANSLATE NOW
By submitting your translation to StoryWeaver, you are agreeing to a CC-BY 4.0 license being applied to it. Terms and conditions apply.
comments (2)
---
Tenzin Choedon is a teacher, who is presently working as the headmistress at Mewoen Tsuglag Petoen School run by Sambhota Tibetan Schools Society under the Department of Education, CTA, Dharamsala. She loves reading and writing poetry. Her husband, Tenzin Dorjee has been working as the head of Traditional and Modern Academic Section, Department of Education, CTA since June 2016.
In this blog post, the husband-wife duo write about being part of a translation sprint to translate storybooks into Tibetan for Pratham Books.
Our relation with Pratham Books had been really wonderful and we owe this to MES (Manjushri Educational Services) for providing us the opportunity to translate 5 of their STEM stories. Our relation became stronger later after the interactive session we had in the Tibet Fund office at Mcleod Ganj followed by another informal meeting at Dhauladhar, Dharamshala. Just recently we translated four of the stories on the theme 'Water' for Pratham Books. We are grateful to the Pratham Books team for believing in us for this important translation work.
On 3rd September, I along with five teachers and 25 students from our school had the opportunity to be part of a translation sprint during which we translated a total of 15 level 1 storybooks from Pratham Books with Mr. Buddha Kyab and Mr. Ngawang Tsetan (MES Team members). It was a wonderful experience.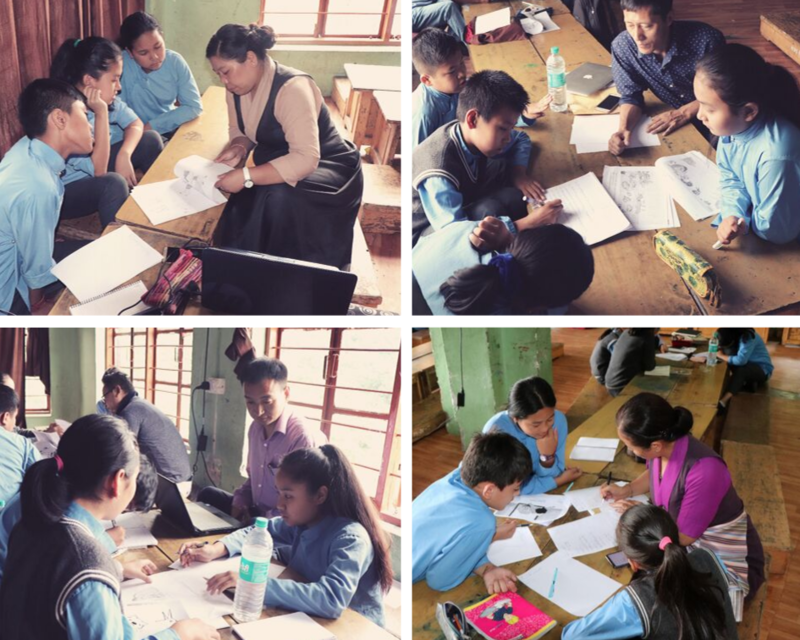 Pictures from the Tibetan translation sprint conducted by MES with teachers and students of Piteon school in Dharamshala.
Before being part of the translation team for the translation of STEM stories into Tibetan language, my husband and I had no experience of translating stories. Only after being involved in the translation work, many facts about translation work gradually unfolded for us. The translation of children storybooks may appear to be easy one for those who are not involved in the process but our past experiences had made one thing very clear - writing and translating children stories is not at all an easy task. It requires a lot of thoughtful considerations and patience to draft, reread, review and edit the story at your end as the translator before making the final draft to be reviewed by the reviewing team.
The most difficult part in translating a story from English to another language is deciding on a child-friendly language which does not affect the grammatical structure of the language or the flavour of the story. The most challenging part is the time you have to devote for the translation work but if you are interested then you will be able to meet this challenge happily. Moreover, to be able to do well in translating children stories one has to have a good understanding of children's language and their taste.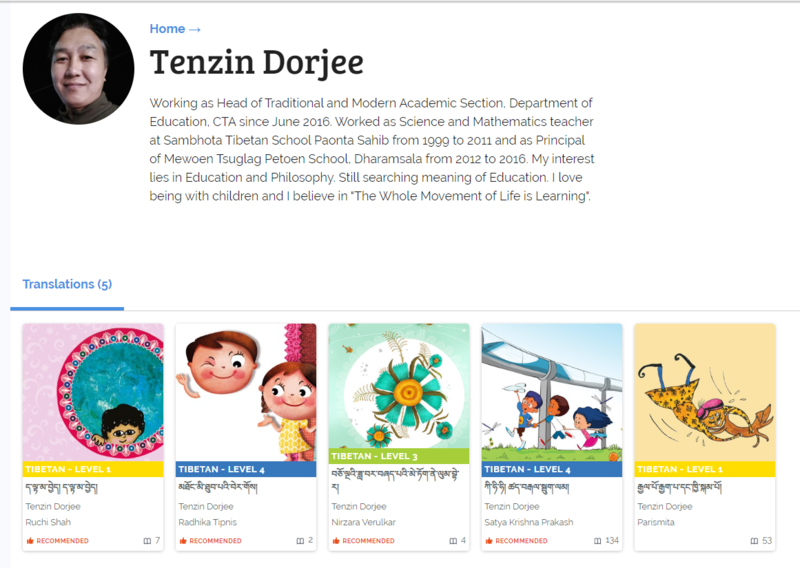 Stories translated by Tenzin Dorjee into Tibetan
Being a part of the translation team for STEM stories and our experience thereafter with Pratham Books had really changed our outlook towards children literature besides giving us a very rich learning experience. We are highly indebted and grateful to everyone involved in our journey as translators (beginners), though not full fledged. We are also grateful to our daughters for reading each of our translated stories as a trial for further changes before our final drafts, on behalf of the rest of the children. Their reading of the stories reflect their understanding, and this has been really very helpful in making the necessary changes that we as adults might have failed to see.
We thank Pratham Books for this wonderful initiative and for your contribution towards Children Literature. Lastly, we wish the whole team of Pratham Books a very Happy Translation Day!
---
We would love for you to join the conversation by leaving your thoughts in the comments section, or on social media: Facebook, Twitter, Instagram.
Be the first to comment.
---
Manning Sutton is the founder and director of Apprendre Sans Frontieres (Learning Without Borders), a non-profit organisation that provides technology and educational materials to primary schools in French-speaking African countries like Senegal. To supplement the course curriculum, the organisation provide books (in the form of PDFs and creative commons), websites (Wikipedia, Khan Academy etc.), photos and videos to teachers.
The organisation currently has about 200 books for primary school students. However, low literacy rates, no internet access and the absence of library materials including children's books are some of the challenges that the organisation faces. To create storybooks in mother tongue languages like French, Learning Without Borders partnered with StoryWeaver.
Jordan Hairabedian, who works as a researcher at Learning Without Borders, is a student at Sciences Po Aix, an Institute of Political Sciences in France. In May 2019, he organised a week-long translation hackathon with fellow students at the university to translate storybooks into French for Learning Without Borders.
This was Learning Without Borders' first experience organising a StoryWeaver translation sprint. A closed Facebook group was formed to aid communication regarding translation and review of each story. Jordan translated StoryWeaver's translation sprint guide, which provided the best practices on translating for children, to French.
Jordan shares, "The stories translated were published after peer-to-peer reviews. This was followed by each story being rated by the language/ translation experts from within the group. These ratings were made the basis of assessment and awards for best translations from the sprint."
53 stories were translated into French in this sprint. You can browse through some of the stories from the sprint here.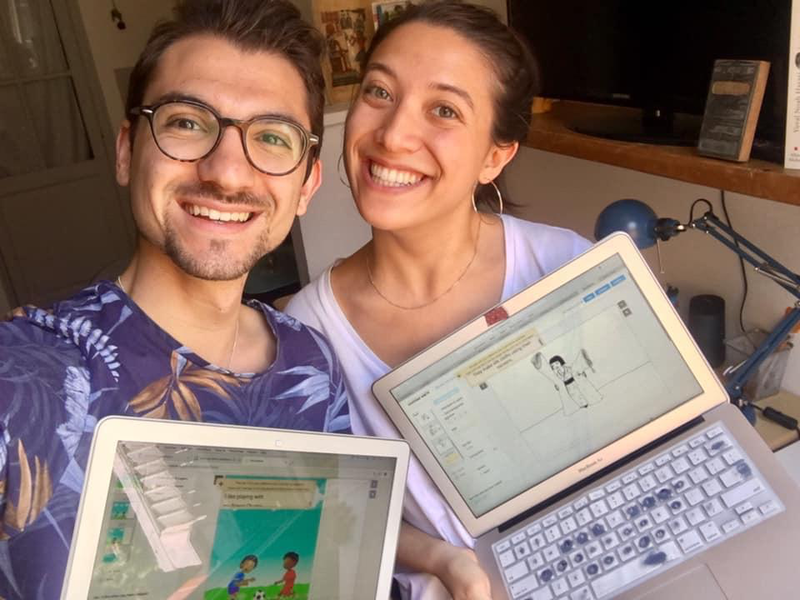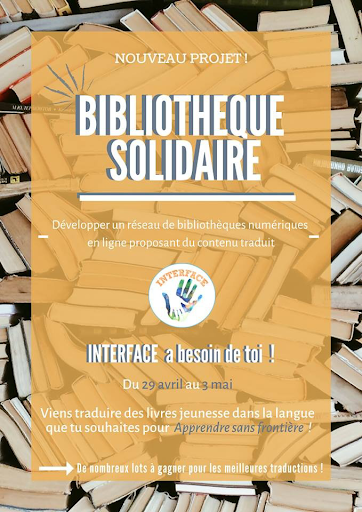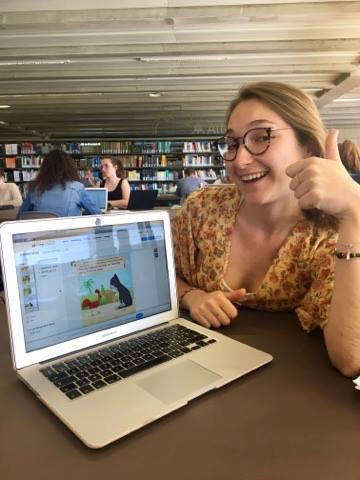 Julia Hang and Jordan Hairbedian translating stories into French as part of the hackathon organised by Learning Without Borders.
Learning Without Borders has piloted an offline, solar-powered digital library in Senegal, that can be used in the remote areas of the country that do not have access to electricity or the internet.
Sutton hopes to see story books translated from French to languages like Pulaar and Serer, and eventually to Mandinka, Balanta-Ganja, Mandjak, Hassaniya Arabic, Noon, Jola-Fonyi, Soninke, and Mankanya. He also plans to share the StoryWeaver methodology with the Ministry of Education to see if books can be created locally, in local languages.
As for us, we're just excited that our translation resources are being used to translate storybooks into languages around the world, so that more children can benefit from it and partake of the joy of reading!
If you would like to conduct a StoryWeaver translation sprint, please feel free to reach out to us at [email protected].
Be the first to comment.
---