Hello, Developers! On Pratham Books' StoryWeaver, all storybooks are open-licensed, and can be used and adapted freely - with appropriate attribution - to suit a user's needs. To amplify our reach, we are open sourcing the code under the OSI-approved MIT license, so that developers across the world can use it as is, or adapt it to meet their needs.
It's also your chance to help make StoryWeaver even better!
StoryWeaver is built on Rails, a web application framework with ReactJS as its front-end technology. The third-party libraries we use are also open-source. All our code is on GitHub where anyone can view and participate in the further development of StoryWeaver - make sure you take a look at our participation guidelines. All the code that we release is mature. The platform continues to be actively developed by Pratham Books and new code will be released as soon as it passes internal QA processes.
Your contributions - in any kind, like bug reports, patches, suggestions, and feature requests - are not just welcome, they're eagerly anticipated.
Having seen the rapid adoption and extensive usage of StoryWeaver in India, as well as globally, we believe that many more can benefit from our platform. Educators can customise reading material for their classrooms. Parents can co-create stories with their children. Readers, of all levels, can discover storybooks of their choice and language.
Developers may wish to contribute to the standalone components and algorithms - the recommendation engine, image processing tools, cropping and formatting features, and more.
If you'd like to adopt StoryWeaver as a platform for your needs, our developer team would love to connect. Drop us an email at [email protected]
For more information please go to https://open.storyweaver.org.in/
Be the first to comment.
---
"Open source is a philosophy and a movement, and what makes open source thrive is the community that grows up around it." says Abby Kerns in The Newstack. Community has no physical or geographical definition but rather is defined by a shared attitude, interest and goal and spans geography, religion and political affiliations. Stories are the soul of open-source platforms, which prompt children to rapid fluency in their mother tongue, before they can read simple sentences in English.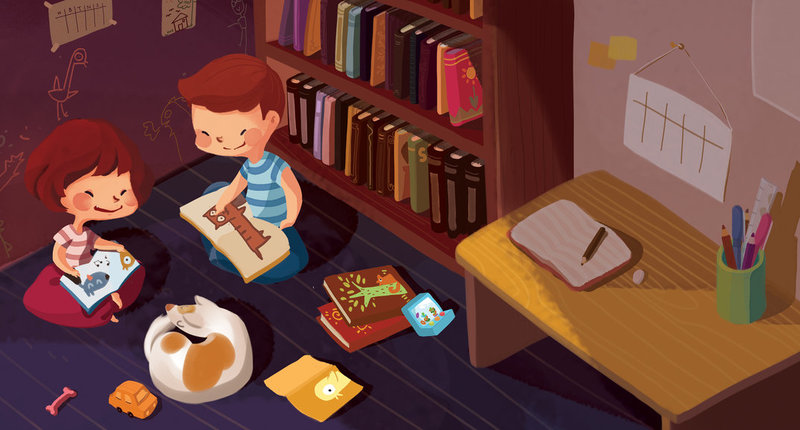 Illustration by Huynh Thi Kim Lien for 'Don't Wake the Baby!'
Pratham Books' StoryWeaver and Room to Read are partnering to combine the power of open, community and stories so that children can read over 400 storybooks in English, Bengali, Chinyanja, Chitonga, Hindi, Khmer, Lao, Marathi, Nepali, Sepedi, Sinhala, SiSwati, Kiswahili, Tamil, and Vietnamese. "Room to Read and Pratham Books share a common commitment to providing underserved children with high quality storybooks. We are delighted to have Room to Read's books on our digital platform, StoryWeaver, which are now available under open licences, so that children everywhere can discover the joy of reading", says Suzanne Singh, Chairperson Pratham Books.
Room to Read is a non-profit organization that seeks to transform the lives of millions of children in low-income countries by focusing on literacy and gender equality in education. Founded on the belief that "world change starts with educated children," the organization focuses on working in collaboration with local communities, partner organizations and governments to develop literacy skills and a habit of reading among primary school children.
They have partnered with StoryWeaver to publish 200 of their original language titles and their English versions on the StoryWeaver platform under the Creative Commons CC BY 4.0 license. The StoryWeaver team has worked closely with Room to Read on editing these titles for publishing in Engalish, doing image enhancements and migrating the books to the platform. Alisha Berger, Global Publisher at Room to Read says "We are thrilled to partner with Pratham Books' StoryWeaver to bring our books into the digital space for the first time. We hope these 400 openly-licensed books will inspire, motivate, and share the joy of reading with the wide and engaged audience on Storyweaver, as well as showcase Room to Read's 20-year commitment to making exciting and fun books for children in their local languages."
Having these storybooks under the CC BY license on StoryWeaver takes these Room to Read stories to a larger audience, worldwide. At the same time, it gives the StoryWeaver community new stories to read and translate, thereby giving children around the world access to more stories in their mother tongue. Many of these stories have already been versioned into other languages like Punjabi, Filipino, Malayalam, French, Italian and others. Here's hoping the stories continue to grow so as to put a book in every child's hand.
If you would like to partner with us please write to [email protected]
Be the first to comment.
---
When Pratham Books launched StoryWeaver two years ago and openly licensed all the content on the platform under CC-BY4.0, we had an inkling of the potential the idea had. In the last 24 months we have been blown away by the amazing ways our community members have used the power of open licensing to adapt the content on StoryWeaver to answer certain needs in classrooms and other learning spaces.
BooksThatSpeak.com is one such initiative. The platform hosts audio and video versions of children's stories in Marathi, Hindi, English and Gujarati. Many of the stories are from Pratham Books. Asawari Doshi, who runs the platform lives in Pune with her husband and two daughters and works part-time on reading and creating audio and video versions of stories for BooksThatSpeak.com.
Q: Tell us a little bit about why you started BooksThatSpeak.com
A: My aim behind starting this initiative was to create a medium through which more kids can listen to and read the fantastic stories that are published by Pratham Books. I currently read out books in four languages that I am familiar with (Marathi, Hindi, Gujarati and English).
But wait, my daughters (age 9 years and 4 years) and my niece (3 years) also are part of the Books That Speak team. You will hear their sweet little voices at the beginning and at the end of the stories, along with their signature tunes.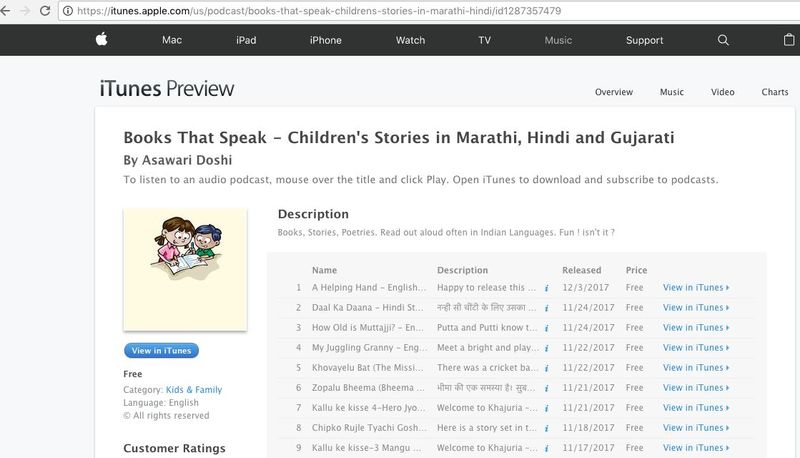 Q: How did you discover the StoryWeaver platform?
I got introduced to the lovely books published by Pratham Books around 6 years ago when my daughter brought some books home from her school library. I (even more than my kids) have been in love these books since then. We must have around 30 books published by Pratham Books in our little book cupboard at home!
From Pratham Books website and blog, I got to know about the StoryWeaver platform around 2 years ago. I was so happy to know that so many of these books are now freely available for everyone to read and also to re-purpose in multiple ways.
Q: What made you want to create audio versions of the books and make videos with them for YouTube?
A: My kids were the inspiration to start this initiative. They just love stories. But more than reading the books themselves they keep asking me to read stories to them. I love reading the stories to them too. My husband suggested why not share this joy with many more children. That was the start of BooksThatSpeak.com
Initially, I started creating audio versions of the books but as I read the books, I felt that the creative illustrations add so much to the experience so that's why I started creating video stories as well using the illustrations.
I must say that I personally enjoy the process of selecting which book to read next. As part of this process, I get to read to a lot of books from the StoryWeaver platform. All of the books are so good, that it makes the decision making very hard :) but I am not complaining because I get to read all these fantastic books.
Q: Where does your love for storytelling come from?
My background in in IT. But, I have been an actor in amateur theatre in my village in Konkan for many years. I think that may have been my accidental training in storytelling. Also, thanks to the inspiration from my father, ever since I was a child I used to read lots of books. I also remember that as a child I used to be mesmerized listening to Pu La Deshpande (A renowned Marathi author and my personal favourite) reading out and enacting his books. I think I might have picked up the liking for reading books aloud from those early years.
5. Do you have any plans for taking these stories to children?
As of now, Books That Speak are available as podcasts on the several platforms like iTunes, Sticher and Player.fm. The stories are also available as videos on our YouTube channel. I read stories in Marathi, Gujarati, Hindi and English. In future, I would love it if I can find other volunteers who want to join BooksThatSpeak.com and read out stories in other languages like Bengali, Urdu etc.
I hope to connect with government schools so that they can download and play these audio or video stories for children in their schools.
6. What kind of feedback have you received from the online community for your recordings?
I am getting to hear a lot of positive feedback from the children and their parents for these stories. I think though that most of the praise really is deserved by Pratham Books, StoryWeaver and the authors, translators and illustrators who have created these books and made their work Open Source.
Some feedback for BooksThatSpeak.com:
"Aunty, I love these stories! Why do you record only one story every day, start recording 2 or 3?"
"Beautifully narrated stories. The changes in voice for different characters make the stories a lot of fun."
"My kid's goodnight sleep starts with these stories, thank you Asawari!"
"My child loves the stories and enjoys the ae-roo-waao-ee signature tune at the beginning and end of the stories"
"These audio stories are very helpful to keep kids engaged during long travels. It's much better than them playing games on the phone all the time"
Here's a photo of me reading my favourite Pratham Books to my daughters!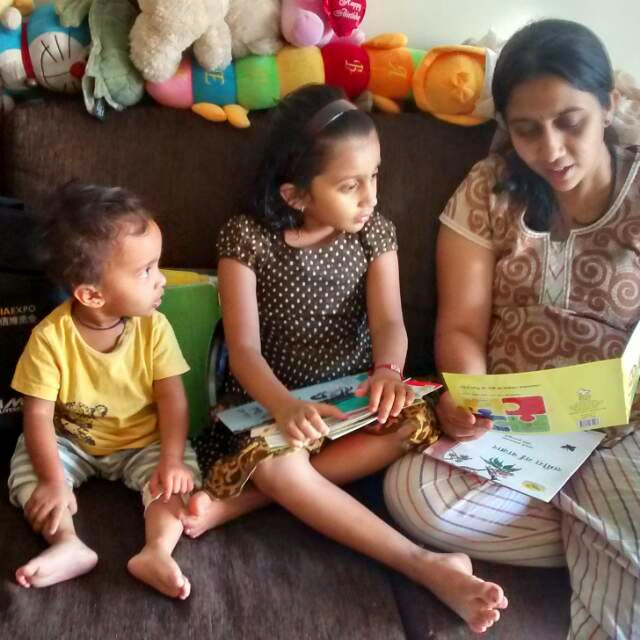 Thank you Aswari for this wonderful platform and taking the joy of reading to more children with your efforts! If you'd like to get in touch with Asawari head over to BooksThatSpeak now!
Are you using StoryWeaver content in interesting ways? Write to us at storyweaver@prathambooks.org and tell us so we can feature you on our blog.
comment (1)
---