Almost seven weeks ago, we asked YOU the question "Who is Ameena?" and now, we have an answer!
The contest to find an illustrator for What is Ameena Up To?, a cheery story written by Roopa Banerjee, gave StoryWeaver a great collection of merry, adventurous, whimsical, curious girls. But the Ameena-est of them all was the character drawn by Preetam Dhar.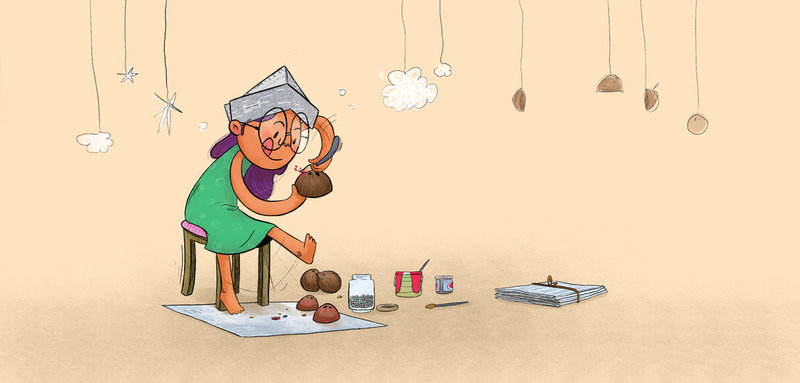 Having received over 50 fabulous entries, the task of selecting a winner was not easy. At the final stage, it was down to four contenders -- Sangeeta Das, Preetam Dhar, Rahil Mohsin and Alankrita Amaya -- who had all created splendid work.
But something about Preetam's Ameena struck Vinayak Varma, the contest judge - "Preetam's Ameena looks friendly and approachable, but also slightly strange and quirky -- this is exactly the right mix of traits for an appealing children's book character. His illustration is very well drawn, shows detail without being overdone, and demonstrates good command of colour and composition."
Preetam's understanding of the crux of the story and the character is clear from his vision note, where he says, "Aspirations bigger than her size and gleam of curiosity in her eyes -- that's Ameena for you. She's the girl who lives an ordinary life like you and me, made extraordinary by her imagination and inquisitiveness."
We'll all be able to see Preetam's take on the story in a few months, because winning this contest has earned him a paid contract with Pratham Books!
Thank you to everyone who participated in the contest. Keep an eye out for how your delightful illustrations are being used by our community on StoryWeaver!
Be the first to comment.
---