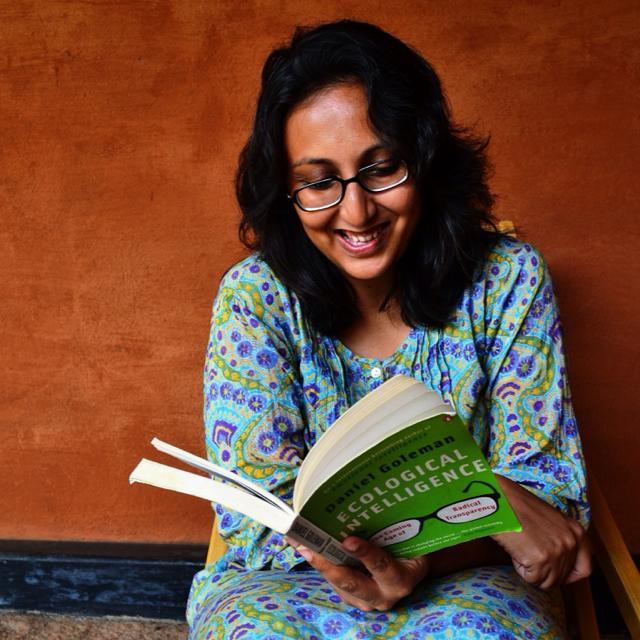 When Bijal Vachharajani is not reading Harry Potter, she can be found looking for tigers in the jungles of India. In her spare time, she works to fund the trips and books. She did this by working as the Editor at Time Out Bengaluru. After having studied climate change at the University for Peace, she now writes about education and sustainable development and is a consultant with Fairtrade Asia Pacific. She tweets at @bijal_v.
When it comes to writings about nature and children, I often find myself returning to Rachel Carson's The Sense of Wonder. "A child's world is fresh and new and beautiful, full or wonder and excitement," wrote the biologist in her book. And it's up to us, the Grown Ups to accompany children and encourage them to engage with nature. Which is why when Pratham Books' StoryWeaver asked me to commission and edit a set of environment books for children, I was quite excited.
There was a long list of topics to choose from – should we commission picture books on climate change or food security, biodiversity or water conservation, the joy of being in a forest or seed sovereignty? The wonderful thing was that the good folks at Pratham Books were enthusiastic about all ideas.
Neha Sumitran, the web editor of National Geographic Traveller India, loves everything about food. And so it wasn't a surprise when she decided to write 'Let's Go Seed Collecting!', a picture book about these precious tree-babies. There isn't any text bookish detail about cotyledons and endosperm. Rather, it's a charming story about three best friends who love to collect seeds and learn about them from a wise old tamarind tree. Neha also offers a handy seed guide at the end of the book, which connects the dots between seeds and the foods we eat and drink. No more Match the Columns and Tiresome Tables, thank you very much. Archana Sreenivasan gave life to Tooka, Poi and Inji the protagonists of the book, painting them with affection and joy.
One of the most exciting things about the project is the translations. The Hindi and Tamil versions of Neha's story have just been published, opening it to many, many more young readers. And there are more to come. As well as three more environmental books in the pipeline.
One of the stories is by artist and writer Vinayak Varma. His picture book 'Jadav and the Tree-Place' is about Jadav Mulai Payeng and his efforts to green Jorhat. Vinayak's prose is exuberant – he makes you want to read the story out loud, with expressions, and imagine Mulai as he plants one tree after the other. No tedious memoir this one.
Of course, there were challenges in the process. For example, how do you talk to really young readers about complex subjects such as climate change? It was a question I explored in my thesis topic when I was pursuing my masters in Environment Security and Peace with a specialisation in Climate Change and Security at the University for Peace. Artist Alison Byrnes used the metaphor of a mountain goat to talk about the complexities of over-consumption, migration, and resource scarcity in her story. How do you strike the balance when it comes to narrating bleak stories but offer that glimmer of hope? That was one of our biggest struggles, but I think Alison's beautifully textured drawings manage to do just that.
Content Manager Yamini Vijayan (who I call my partner in prose) and I learnt so much from Padmaparna Ghosh, as we edited her delightful story about the biodiversity of canopy forests 'Up World, Down World'. A girl and a dormouse become tentative friends as they take the reader on a whirlwind journey of the forest's many denizens. Stories where children and animals intersect often become ethnocentric, and that was something that the three of us were aware of. We didn't want children to always be the ones to swoop in and save the day or the idea of the forests being "of use" to humans. Instead, Padmaparna's insightful narrative coupled with Sunaina Coelho's stunning illustrations spotlight the lushness of the canopy forests.
These stories are all going to be picture books. And one of the compelling reasons for children, parents, and educators to tap to the next page is the images. Archana, Vinayak, Sunaina, and Alison have been working with the wonderful Kaveri Gopalakrishnan to infuse our carefully-written words with images. All of that comes together to hopefully make these stories enduring, compelling, and memorable, which foster that sense of wonder in children and maybe even for the Grown Ups.
comment (1)
---