We are excited to mark International Day of the Girl 2021 and World Space Week with the launch of a very special collaboration with mEducation Alliance, #InspirationSTEM, a campaign designed to celebrate and support young girls to pursue STEM education and careers — including those focused on space.
With this initiative, StoryWeaver hopes to inspire engagement with STEM themes using relatable storybooks, encouraging girls to continue aspiring.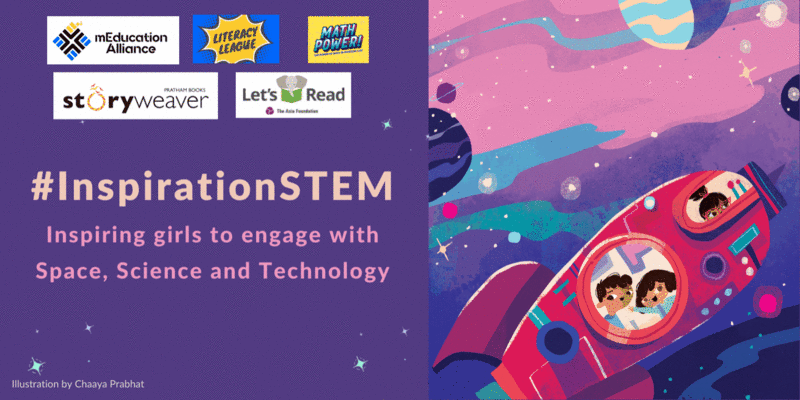 We are thrilled to kickstart this campaign with 'Gul in Space'. A level 3 storybook written by Richa Jha and illustrated by Lavanya Karthik.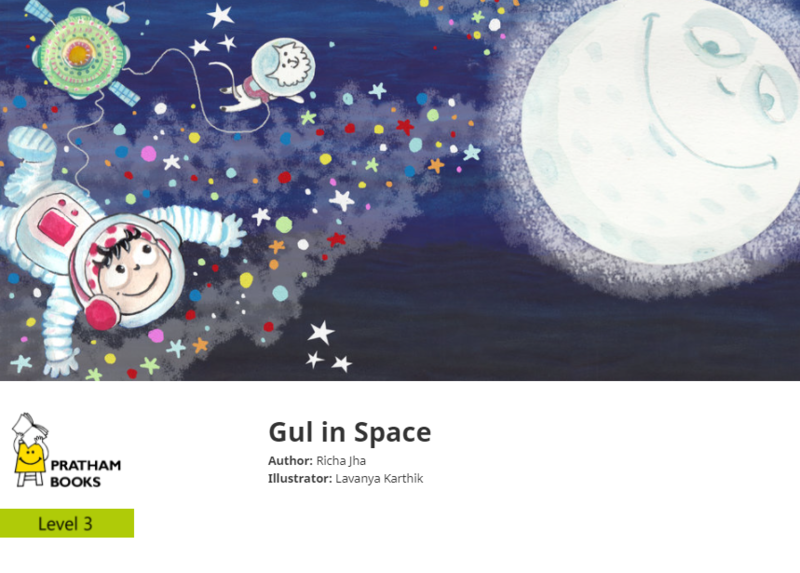 What would you like to do on your birthday? How about taking a walk in OUTER SPACE! Here's a story that will make you jump with joy… and if there's no gravity under you, you might just stay exactly where you are! Get ready to explore space with Astronaut Gul.
Gul, the protagonist, is a young girl who dreams about going to space. When an opportunity presents itself in front of her, she takes it without waiting for any permission from anyone. Her actions are inspiring to children, encouraging them to invest in their dreams. The poetic language in the book captures the sheer joy and excitement experienced by someone who manages to fulfil their dream, subtly but effectively invoking the readers. The illustrations further connect readers to the concepts and way of life about space.
Read 'Gul in Space' here.
Be a part of this year-long engagement with StoryWeaver and the #InspirationSTEM campaign!
For more details about the #InspirationSTEM campaign, visit the mEducation Alliance page here.
comments (2)
---
Last week, while I was at a government office on some personal work, I got a call from my colleague Zeba, also an editor at Pratham Books.
"Listen, I wanted to ask about the Oviraptor's eggs," she began.
And while I waited, got my photo taken and submitted heaps of documents to government officials, Zeba and I spoke softly and grimly about the finer details of the oviraptor, the T-rex and the mammoth. It was a strange experience, talking about extinct creatures in the middle of a dusty office where people were hanging around, trying to get all sorts of practical things done.
"Have you brought your Aadhaar card? Do you have 3 passport-size photos? Where are your bank statements?"
"Is the mammooth looking too tall?"
---
Around February every year, we're in a great state of excitement and nervousness because the books we've spent months and months creating are finally being released to the world (that should explain our conversations about dinosaurs and mammoths). At Pratham Books, this is our third year of creating STEM picture books in a focussed manner. In three years, we have created over 50 STEM titles (more than 250 books!) for early readers in English, Hindi, Marathi, Kannada and Tamil. And we're delighted that these are part of 300 STEM libraries that we have helped set up around the country.
So what do we have for you this year?
Our aim for this year was to continue creating simple and engaging picture books that explore STEM topics creatively. The idea, in essence, remains the same: to nurture curiosity in children.
We strongly feel that it's important to highlight the more playful aspects of math and science. So we're very pleased with this amazing book on different kinds of animal tongues. We are also excited about these upcoming books: a book of patterns by Aditi Dilip in which the reader has to spot the odd one out, and a book on the concept of heavy and light by physicist Sukanya Sinha and Hari Kumar Nair.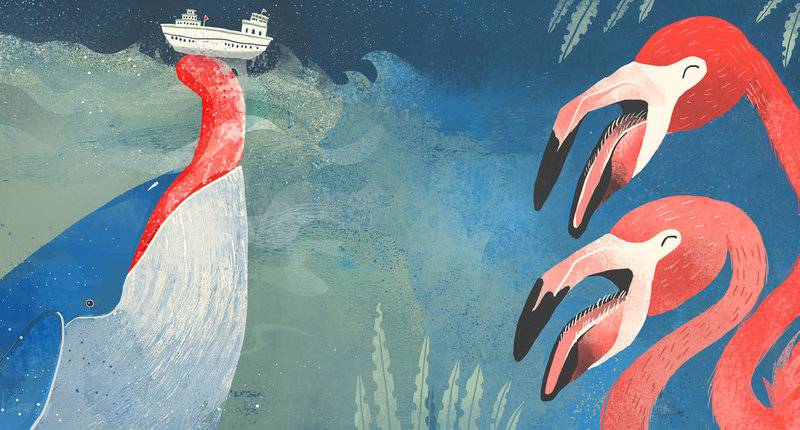 We do refer to the school curriculum as well though, and pick topics that have picture-book potential. This year, after sifting through a bunch of textbooks, we decided to make books on friction, magnets, bones, blood, time, division and electricity.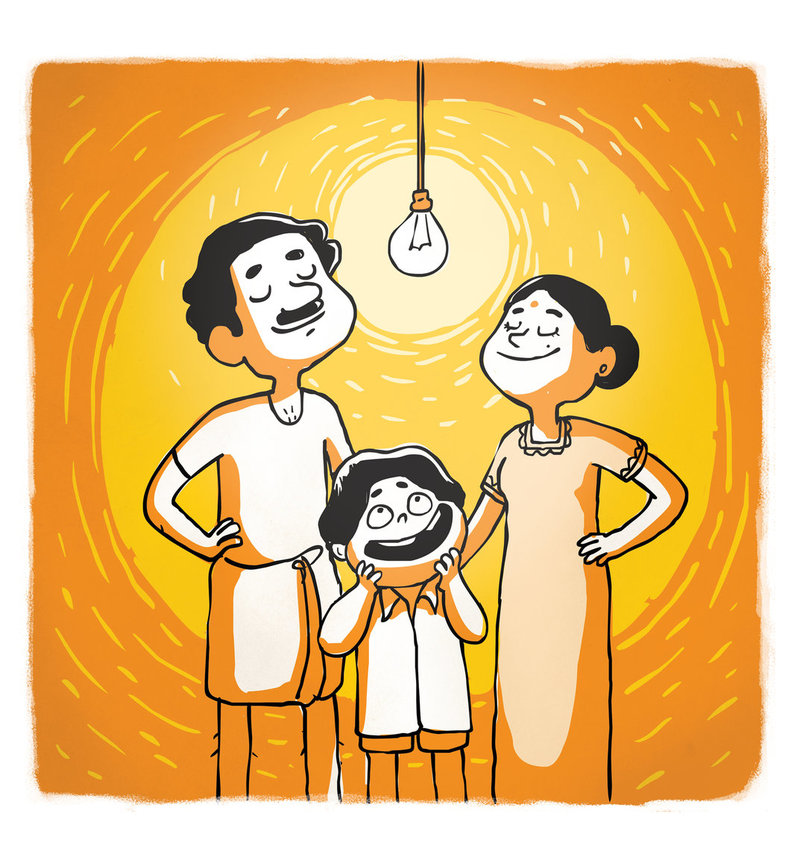 Have you noticed that children have a natural affinity for books about animals, birds and insects? Goby's Noisy Best Friend explores the idea of symbiosis through the friendship between a goby fish and a pistol shrimp. This year, we have also made books on crabs, spiders and blue whales – all written by accomplished subject-matter experts and illustrated by artists who are incredible with getting all the intricate details right. And not to miss --- an enchanting island adventure by marine biologist Shreya Yadav and illustrator Sunaina Coelho which features flying fish, angler fish, firefly squid, plankton, and the moon – who makes a last-minute appearance!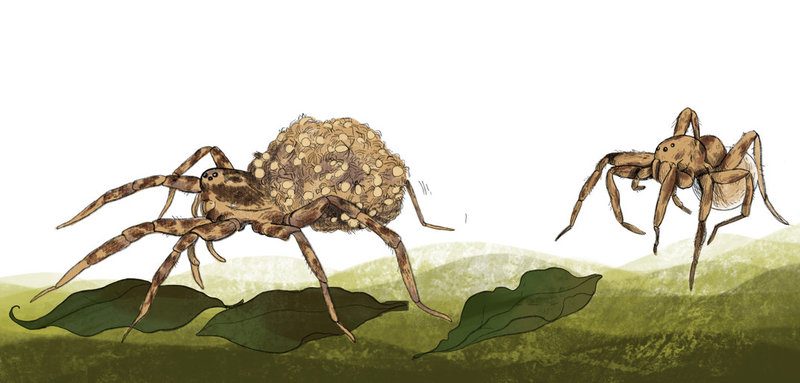 We've been told by our wise outreach team that children enjoy stories inspired by real life. So we are mighty pleased to have two short biographies based on the lives of two inspiring people: Anna Mani, a meteorologist who invented nearly a hundred weather gadgets (by Nandita Jayaraj and Priya Kuriyan), and Zakhuma, a forest guard and wildlife photographer (by Sejal Mehta and Barkha Lohia).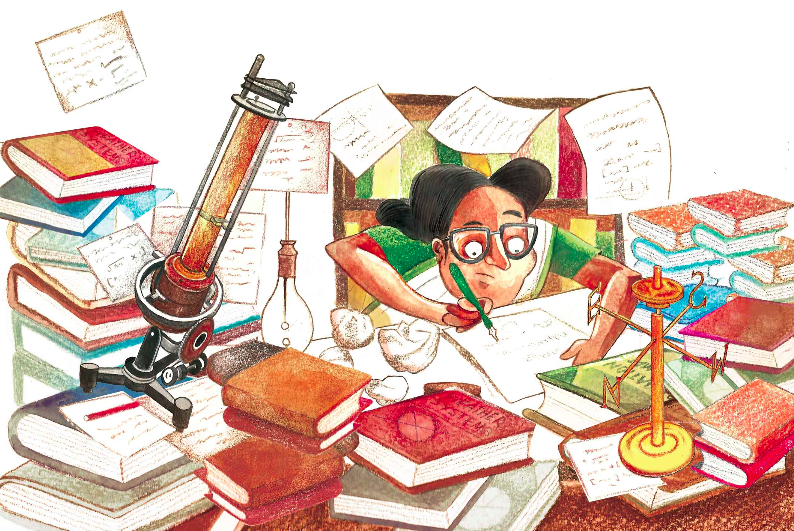 This year, we also wanted a couple of stories that demonstrate the importance of building and creating. Upcoming titles to look out for are: 'The Grand Patch Up' in which a girl uses her building-skills to make up with her friend, and 'A Whistling Good Idea' which is centred around the concept of a Rube-Goldberg machine.
Then there are the books that introduce children to interesting STEM careers. Shalini Srinivasan and Upamanyu Bhattacharyya's book on water conservation features a spunky girl who aspires to be a sanitary engineer. Aashima Dogra and Fahad Faizal's story on 'animals in space' features a woman who is always dreaming about exploring space. And, we finally have a book on paleontology (this has been on our wishlist) and all the marvellous things you get to do as a paleontologist.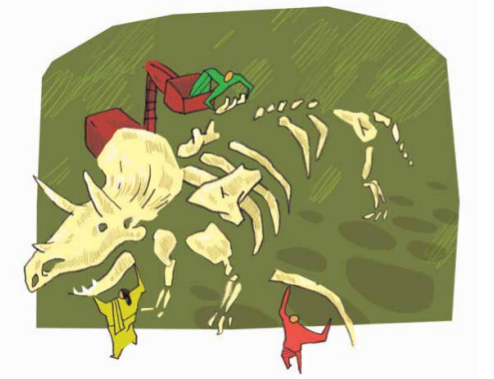 Stories around technology are always tricky because of how rapidly technology evolves. Don't forget to read Lazy Mama -- a story by Vidya Pradhan and Rohit Kelkar on Virtual Reality.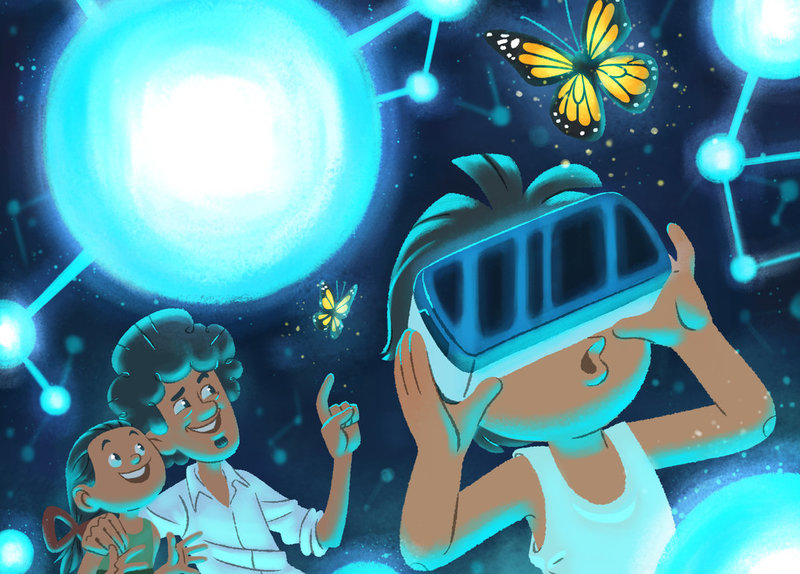 All these stories will be available on StoryWeaver in at least 5 languages. You can read, download and print them for free! You can also translate it to any language that you are fluent in.
Below are the titles we have already published this year. We'll continue to update this last as we publish more books so that you can see all the titles in a single place.
5. Unni's Wish
7. Lazy Mama
(Yamini is an editor at Pratham Books. The development of these books has been supported by Oracle.)
Be the first to comment.
---
Written by Chetana Divya Vasudev and Sherein Bansal, Assistant Editors, Pratham Books
Even a kilometre away from Agastya Foundation's Science Campus in Kuppam, we're greeted by the fresh scent of its green landscape. We all wake up (or are made to) after a three hour journey, and look out the windows to see hills and farmland all around. As we reach the gate, we see their motto 'Aah Aha! Haha!' inscribed on it - a philosophy that drives their 18 year old science education programme.
Children from under-served backgrounds experience the wonderment of discovery (Aah!), to understanding the concept (Aha!), to having fun with learning (Haha!) here. The science campus, situated on the border of the three Southern states- Andhra Pradesh, Karnataka and Tamil Nadu, attracts about 600 children from neighbouring villages, who come to the campus about once a week to experience learning.

Pratham Books and Agastya Foundation have been collaborating for years, driven with a common philosophy of making children curious. With the launch of StoryWeaver, getting books into the hands of the hundreds of children that visit the campus has been made even easier. The digital library sits in the computer center where the children can choose a book to read in either Tamil, Telugu, Kannada or English, including many of our STEM titles, along with learning animation and mastering basic computer skills. The Pratham Books team is on a visit to the amazing campus to get a sense of all the initiatives Agastya Foundation has undertaken to nurture this curiosity further.
We roll ahead and everyone is looking out of the van windows pointing at the sculpture of a dismantled batsman, or a huge ant hill with child-sized ants crawling over it, or a mini-bus randomly sticking out on a pole. We come to know later that all the sculptures and installations across this beautiful 172 acre land were created by the renowned architect, Sharukh Mistry and Agastya Design team.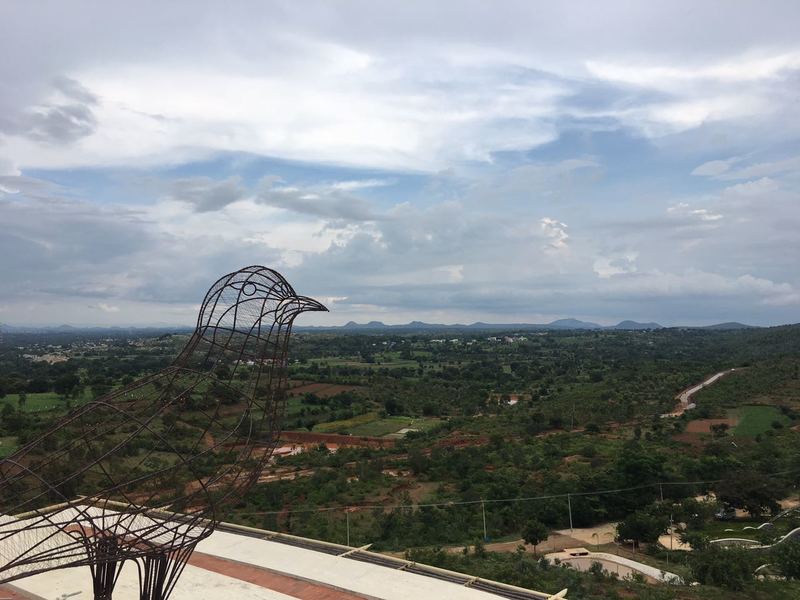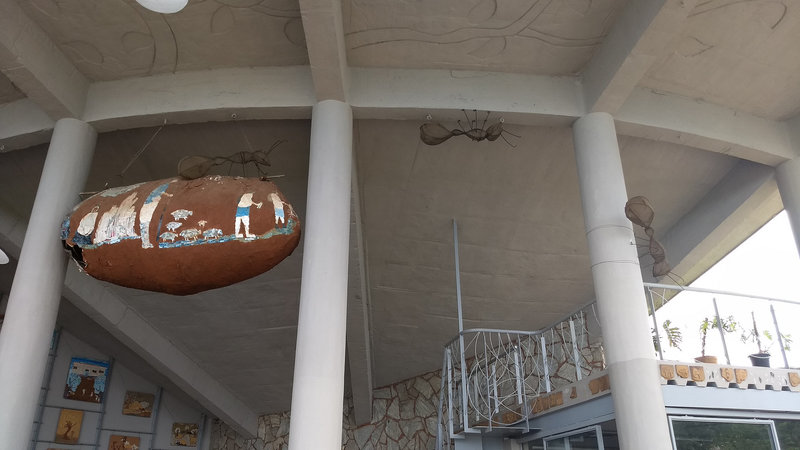 We have our fill of the sight of the faraway hills that circle us, and reach the stone-walled auditorium situated in the midst of this biodiversity. It's nearly lunch time when we walk into the cool auditorium. Jagadeesa, an ace storyteller and head of the library program at Agastya Foundation, has just finished the narration of 'Kottavi Raja and His Sleepy Kingdom' in English and Telugu. His audience of about 200 children, scattered across the space, are clearly delighted. One girl even volunteers to tell the story in English again.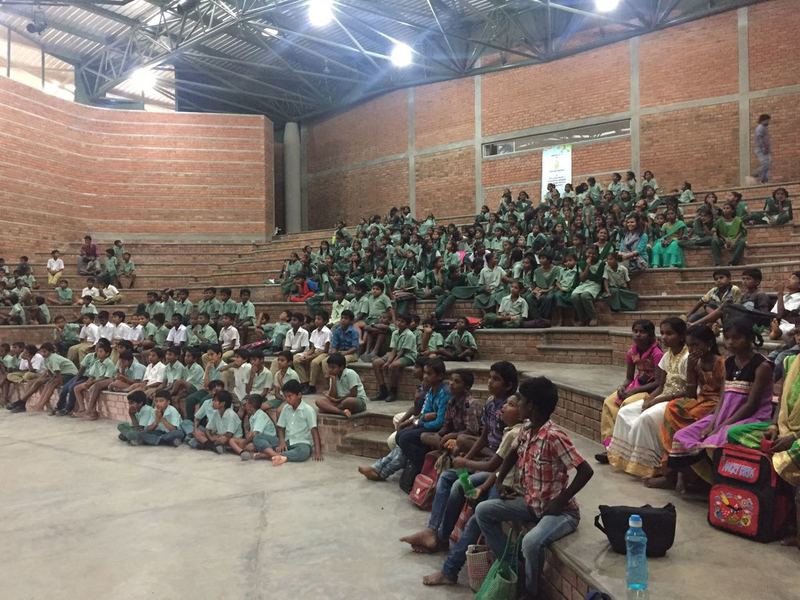 Once she's done, our team spreads out among the children, and an easy chatter resumes. Soon, they start filing out for their noon break. We meet some of the Agastya staff members, and they tell us more about the work they do.They lead us out, along a concrete path strewn with imprints of leaves of the Indian almond tree, up to the canteen. By the door are tyre and metal pawns that go with an outdoor chess board! The meal is simple yet delicious and we discuss Agastya's philosophy behind setting up this campus in detail.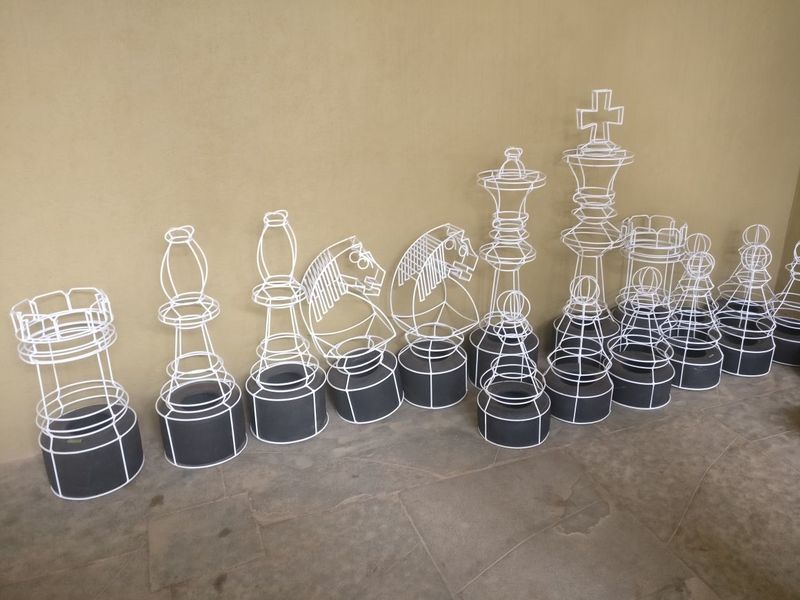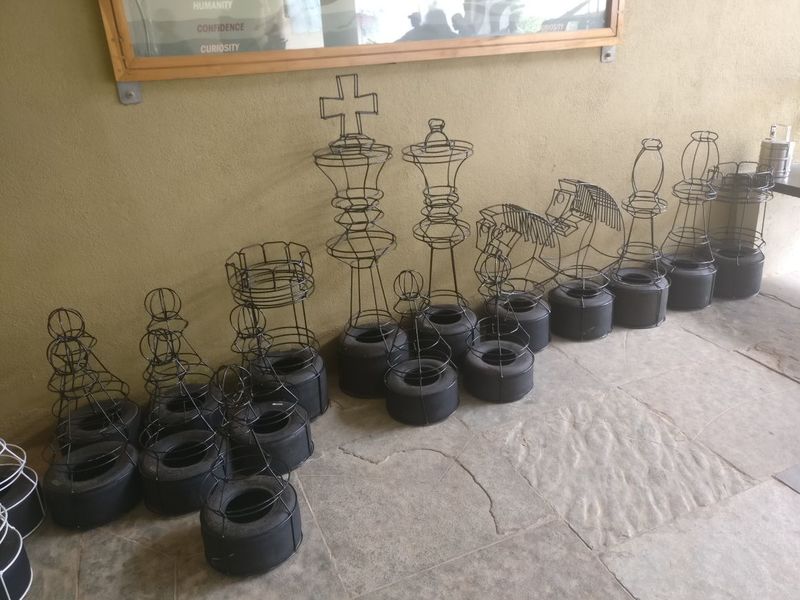 A little later, Aparna Kapur, author of 'Ghum-Ghum Gharial's Glorious Adventure', takes the stage and narrates the story of Ghum Ghum, a baby gharial who separates from her family in the river and must make her way back to them somehow! The children giggle their way through the animal sounds that punctuate the book. Jagdeesa live-translates the story into Telugu.
Our Editor, Bijal Vachharajani is up next. She makes the children laugh with the narration of her story 'What's Neema Eating Today?'. We watch children repeat after her. Funny expressions and sounds of 200 satisfied tummies, and the auditorium goes "Mmm-mmmmmmmmmmm!" Everybody has fun identifying their favorite seasonal fruits in the colourful picture book.
The final session with the children is the Food Rakshasa Activity conducted by Bijal and Aparna. Children are divided into groups and together they draw their idea of a monster on paper by substituting body parts with fruits and vegetables -- chilli, ladies' finger, bottle gourd, apple, carrot and more. And what lively, scary, yummy monsters we get to see by the end of it!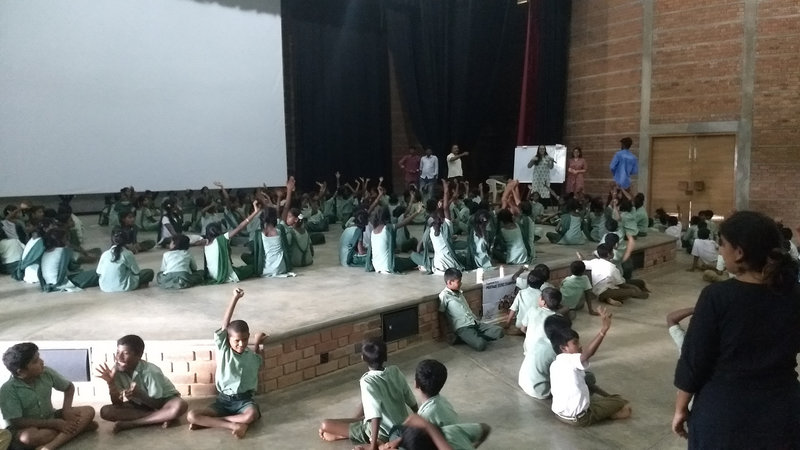 Post the session, the Pratham Books Team follows Subramanya Shastry, a key team member of the Foundation who has generously agreed to give us a detailed tour of the campus. "The children observe the nature around, pick up things from their surroundings, and create art from it," our host is explaining. But his words nearly skip our attention; the display around us is distracting.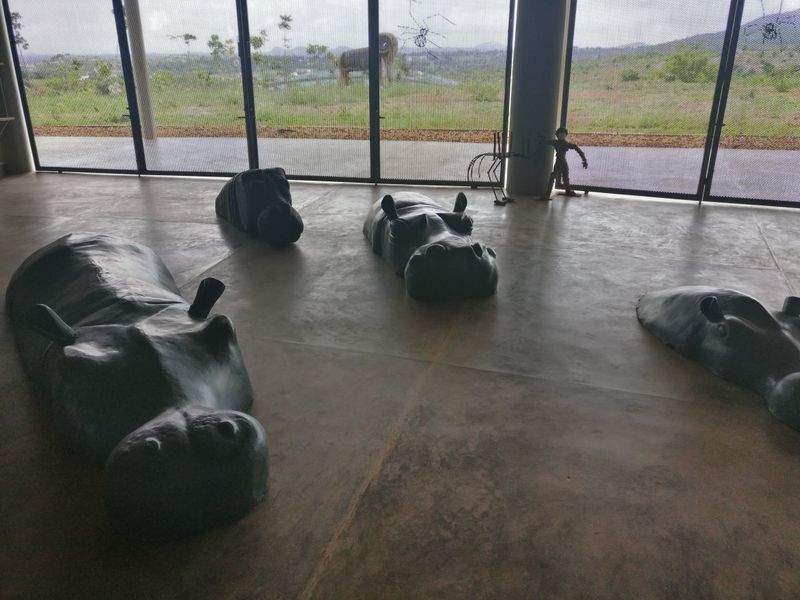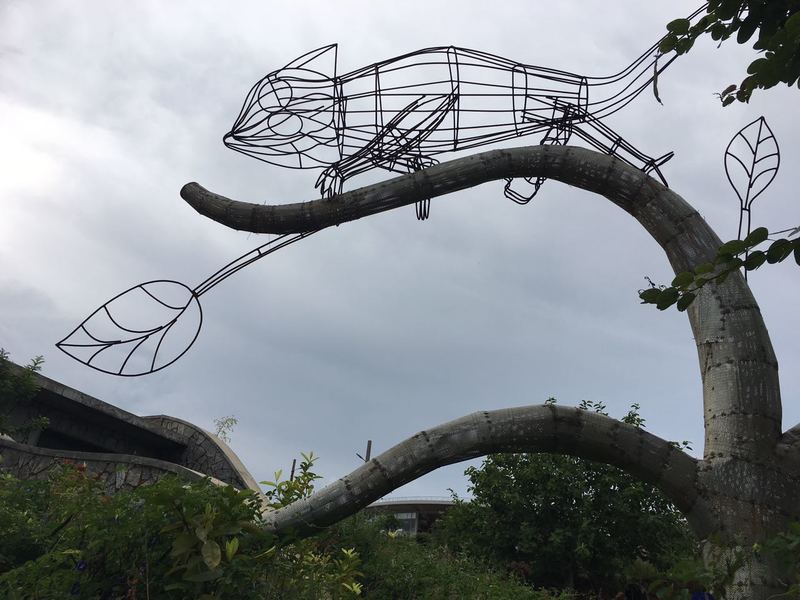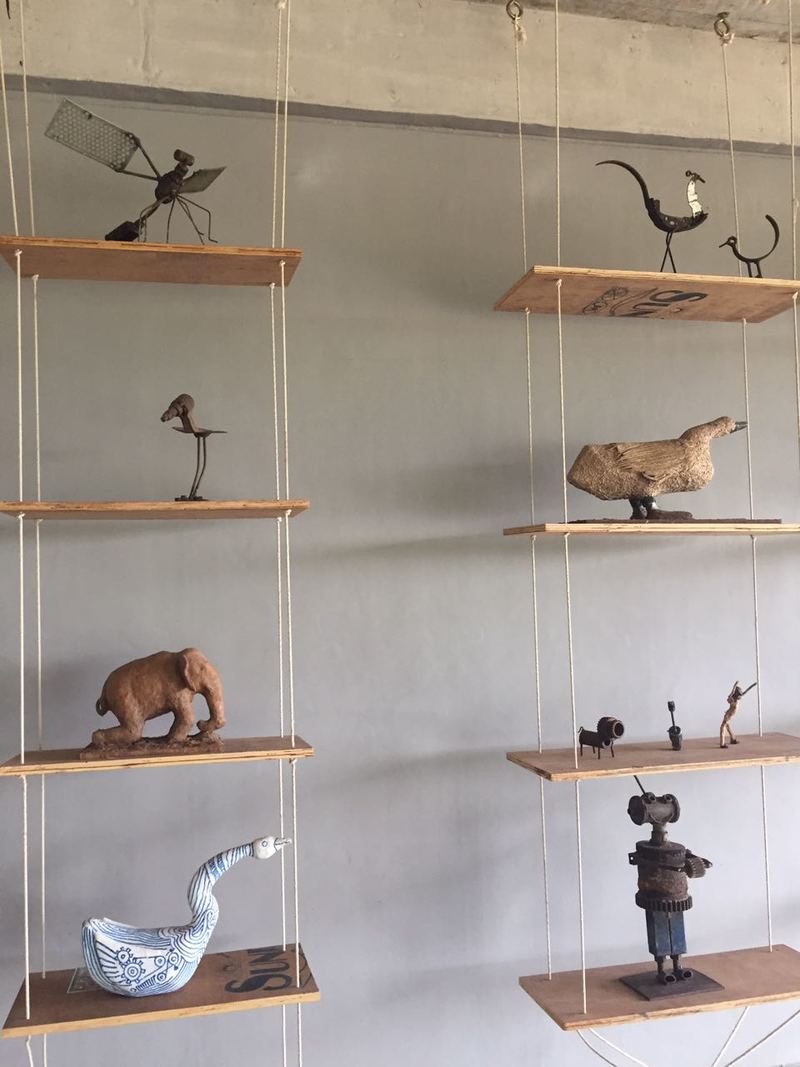 We tear ourselves away from this building with some difficulty and head to the innovation centre. Here the children, in groups, come up with devices or social interventions that impact their day-to-day life. For example, since water supply is erratic in most villages, one group has devised a sensor to alert people when water has been released. In the summer months, the supply can be as infrequent as once in ten days, so it's crucial not to miss every opportunity to fill up the buckets. Another group's device, to be installed at bus stops, would indicate how many buses of a certain route have passed.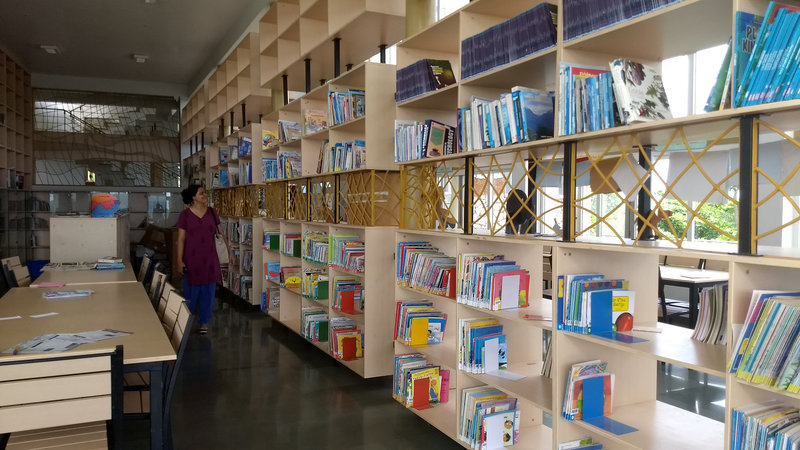 Our tour includes the media centre where we get to see photographs, animations and short films by the children. We wrap up with a short visit to the library and the robotics lab.
Too soon, it's time to get back on the bus. As we wave goodbye to the staff and children, we're certain we'll be back here before long.
More pics from our visit can be seen here: https://flic.kr/s/aHsm4sDAMf
Be the first to comment.
---