New books on StoryWeaver!
Presenting 'The Sustainability Stories' - a collection of stories conceptualised and published by not-for-profit organisation Why Waste?, written by young adults, for young adults in the making. Explore concepts of water conservation through the lives of Zelly the Zebra, Hali the Elephant, Lonely Cloud, and many more. Learn about the water cycle, Why Waste's famous #GlassHalfFull concept, the mindful usage of water, and most of all, inspire young minds to be the change that they wish to see in the world!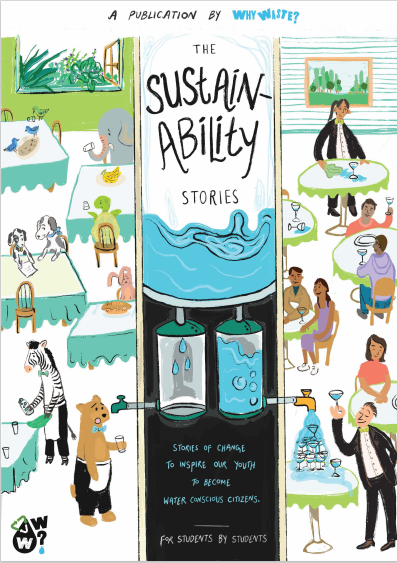 Learn about Why Waste's work and the inspiration that led to the creation of the Sustainability Stories, in this conversation with their Founder & CEO, Garvita Gulhati:
---
Tell us about Why Waste?, and your work in the area of water conservation.
Garvita: Why Waste? is a not-for-profit organisation, with a team of like-minded youth who are taking water positivity to the world stage, by means of innovative education and ideas that bring about a systemic change. Why Waste? was founded in 2015 with the aim of changing the mindsets of people towards natural resources, specifically water and envisioning building a world of water conscious citizens. Why Waste?'s #GlassHalfFull movement to conserve water in restaurants went viral in 2019 and continues to have a massive positive impact on the industry with the support of NRAI. Why Waste? has been recognised as an 'Ashoka Youth Venture' in 2016. In 2020, the team became India's largest youth-led movement by an organisation working towards water conservation and have been named as "Water Heros" by Republic TV in a collaborative initiative with the Government of India (Ministry of Jal Shakti).
Some of our initiatives include:
The Urban Water Challenge which is an annual child development programme that helps rural children to come up with innovative ideas towards sustainability.
Prerana- Story-telling sessions at NGOs and rural schools where the team talk about the sustainable stories created by Why Waste?.
Annual World Water Day Event where the team of Why Waste? celebrate water and demonstrate the importance of water conservation with fun-filled activities.
Hopeschooling, a recent initiative by Why Waste? in order to spread hope, motivation and raise awareness about pressing issues in the current world. This initiative was started during the peak of Covid-19, to encourage people to be better.
What inspired you to conceptualise the Sustainability Stories book series?
Garvita: I remember celebrating more birthdays at orphanages than at parties - Always having to finish all the food that I took on my plate. Through my early life, I learnt to empathize and enforce positive habits. The social sensitivity in me comes from practices like this, inculcated through my formative years. Understanding how crucial those experiences were, I conceptualised this series.Through the stories in this series, we hope that children inculcate these same values from a very young age, in a way best known to them - through fables and fairytales.
We are at a point where the world is now restructuring and reconsidering what the youth learn. The team at Why Waste? decided to take a step towards this by introducing stories that inspire our generation to not just love our planet, but also work towards a more holistic and sustainable world. Thereby, shaping our futures.
We would love to know more about the making of these books, especially the "For students, by students" aspect.
Garvita: Being a 100% youth-led movement, Why Waste? has always had wonderful young people volunteer and our goal is to always ensure that they are using their best talents to support our efforts and channel their changemaking energy. When the book was conceptualised, it was almost an obvious choice to have young writers, editors and illustrators create the entire book. It was fascinating to see the energy and new-world concepts that came in with this and truly a perfect amalgamation of varied perspectives.
I would like to thank the entire creative team of writers & designers for putting together a wonderful collection of inspiring stories.
What is the message that you hope to share through these stories?
Garvita: Each story talks about taking the lead and making a difference. We hope that this series will create a conservationist mindset in our future generations. Tomorrow may be far, but what we make of our children today is what we will see tomorrow.
How did you get to know about StoryWeaver, and what prompted you to open-license the Sustainability Series and make it available on our platform?
Garvita: I've been reading Pratham Books since I was a little girl. I still remember this particular book with Warli illustrations all over intrigued me so much I went on to not only enjoy the story but also learn Warli painting after that and create a lot of art. That's the power of Pratham Books!
With the world spending more time online due to COVID-19, I learned that Pratham Books was online too, giving access to their wonderful books via StoryWeaver. I was incredibly intrigued by the power of this platform. Hence, open-licensing and putting our books out on StoryWeaver became an absolute no-brainer! The Sustainability Series is available to purchase on Amazon, but we are going to change the format to make it available for free and then let people donate as much as they want. This would also go in tandem with our work with StoryWeaver!
We are truly inspired by the work happening here and the phenomenal independence given to creators. Moreover, the simple goal of getting stories to as many young people as possible is truly what mattered the most, and made us really want to share our books here too!
Thank you, Garvita and Team 'Why Waste?'. We are delighted to have you on board as publishers on StoryWeaver!
---
Click on the link to read the Sustainability Series on StoryWeaver: https://bit.ly/37apTFP
Learn more about Why Waste? here.
comment (1)
---