A year ago, on Children's Day 2020, StoryWeaver and Pratham Education Foundation announced a collaboration to develop and grow a repository of free, openly licensed reading resources for young children. As the first step, 50 storybooks from Pratham Education Foundation were launched on the StoryWeaver platform.
Kahaniyaan hi Kahaniyaan - A treasure trove of storybooks
To mark the first anniversary of this collaboration, we are delighted to share the progress that has been made since then, in creating, translating, and curating storybooks across many languages. This Children's Day, over one thousand storybooks will be made available for public access across two platforms – StoryWeaver and Pratham Education Foundation's Pratham Open School.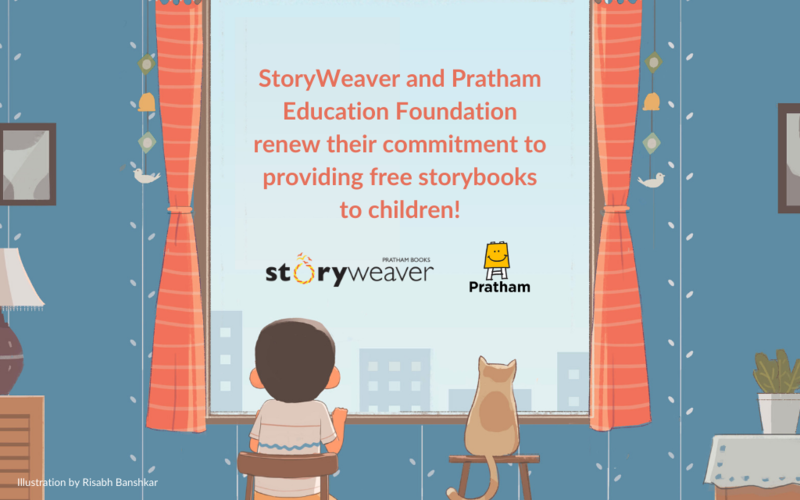 Storybooks in ten Indian languages and English
The Pratham-StoryWeaver collaboration now has uploaded more than 600 storybooks in Assamese, Bangla, English, Gujarati, Hindi, Kannada, Marathi, Odia, Punjabi, Telugu, and Urdu. This allows for open, and easy access to simple, interesting and fun storybooks.
Having these storybooks under the CC BY 4.0 license on StoryWeaver makes them available to a larger audience worldwide, and the books are free to read, download and use. At the same time, these books will give the StoryWeaver community new stories to translate, giving children around the world access to more books in their own languages.
In addition to the collection of new storybooks on StoryWeaver, a rich variety of additional storybooks are also available on the Pratham Open School website. You can "read", "listen" and use "highlighted" storybooks. What makes these packs special is that they are context-specific libraries with storybooks created by unique individuals from various backgrounds focusing on the local community and capturing the flavour of the region they represent. The packs include books from Himachal, Tripura, Assam, Bihar and Bengal with stories in the regional languages.
Campaign for celebration
Starting November 14, for a week, Pratham Education Foundation teams in 20 states will work with local volunteers, mothers, and community members to share one storybook a day through the 'Kahaniyaan hi Kahaniyaan' campaign and do a variety of activities like role-playing, drawing, and storytelling among others.
This partnership is a small step towards the goal of building a vast treasure trove of thousands of storybooks that will be freely available for children in their mother tongues.
Come join us on an exciting journey for the week of 'Kahaniyaan hi Kahaniyaan'!
Follow us on our social media for campaign updates!
Facebook | Instagram | Twitter
Explore all the storybooks available for free on StoryWeaver here: https://bit.ly/3wHyGf6
comments (9)
---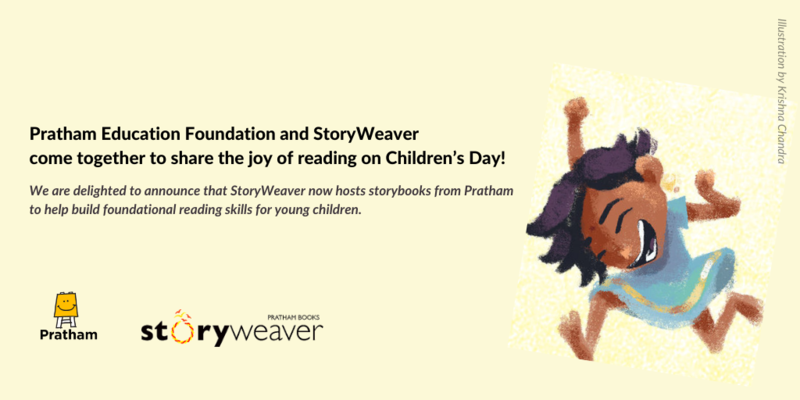 This Children's Day, Pratham Education Foundation and StoryWeaver are delighted to announce their partnership to add to the repository of reading resources to help build foundational reading skills among young children. The announcement is the start of a process in which stories developed by teams from Pratham Education Foundation will be hosted on StoryWeaver. Having these storybooks under the CC BY 4.0 license on StoryWeaver makes them available to a larger audience worldwide, and the books are free to read, download and use. At the same time, these books will give the StoryWeaver community new stories to translate, giving children around the world access to more books in their own languages.
To kick off the collaboration, 50 stories from Pratham are being launched on StoryWeaver today. These books will be part of StoryWeaver's new collection for Emergent Readers, which are storybooks with simple text, colourful illustrations and familiar words, to help introduce children to the #JoyOfReading!
Explore the storybooks here: https://bit.ly/38DUe25
While most of these 50 storybooks are in Hindi, the partnership aims at building a collection of 200 books in 11 Indian languages and English in the next two months, and scaling the repository to 1000 books in the coming months. The languages include Assamese, Bangla, English, Gujarati, Hindi, Kannada, Marathi, Odia, Punjabi, Tamil, Telugu and Urdu.
The first 5 years of a child's life are crucial, with over 85% of brain development occurring at this stage. Fostering reading and development abilities at this stage has a positive impact on learning outcomes, and preparing children for school. At present, millions of children do not have access to quality Early Childhood Education. In keeping with United Nations' SDG 4 - Quality Education for All, the National Education Policy 2020 has laid out a blueprint for the universal provisioning of quality early childhood development, care and education. The key priorities of the National Education Policy 2020 include the achievement of Foundational Literacy for all primary school students by 2025, and the creation of enjoyable, inspirational books for children.
Suzanne Singh, Chairperson, Pratham Books, says: ​ "Children's Day serves as an important reminder of our responsibilities towards nurturing our children to achieve their potential. We are delighted to partner with Pratham and leverage the power of open licensing, to address the inequity in the availability of storybooks for emergent readers. Pratham's vast experience with early learning is reflected in the content produced by them and we are delighted to make this content available to the rest of the world so that children have the opportunity to learn to read, and read to learn."
Rukmini Banerji, Chief Executive Officer, Pratham Education Foundation, says: "We, at Pratham, have long believed that for learning to read and for loving to read, children must have easy access to a wide variety of stories at all times. We love stories and use stories extensively in our programs. Since StoryWeaver was born, we have been big admirers and users of StoryWeaver. We are also producers of stories. Every year we also generate a lot of stories ourselves in many regional languages for use in our own programs. Thus, the new partnership with StoryWeaver enables us to share our stories with a wider audience and to add to the growing repository of reading material that is available to children in India and across the world. Our collaboration with StoryWeaver is yet another step towards the dream of every child in India reading a story every day."
comments (12)
---
Khyati Datt, a member of our outreach team writes about two of our recent workshops in Mumbai and Mysore.
It's not often that you have 25 Master Teachers from different walks of life, speaking 5 different languages, living in 4 different states and still engaging with each other and sharing their thoughts.
This was the scene at our recently conducted StoryWeaver Workshop in Mysore. Pratham Education Foundation invited their wonderful Master Teachers for a training workshop in Mysore and we, at StoryWeaver, got the chance to interact with them on the last day of their training. Our facilitators, Mala, Shruthi and Payoshni ensured that the session was multilingual- in Kannada, Tamil, Telugu, English and Hindi.
The beautiful weather at Mysore served as the perfect setting for a 3-hour long session where interesting teacher practices came to light. As the session progressed, we deep dived into the intriguing world of stories and explored how stories open a child's eyes to a world filled with joy and learning.
The teachers, then, went on to try their hands at StoryWeaver. They decided on themes and explored the platform for five stories/flashcards that talked about their theme. Their biggest takeaway from this exercise was that they can use the platform in their classrooms and combine storytelling with teaching. The second part of their task was getting down to becoming authors! Each group was given a task sheet with a specific theme and encouraged to create a story/flashcard. The most exciting bit was teachers realizing how easy it is for them to create in their regional languages and taking it to their classrooms back home.
We got some great stories from the teachers, who presented their idea for the story and the flow behind it. With so many tongues in the room, everyone promptly translated what was being spoken in the room which ensured language was not a barrier for a fantastic session of idea-exchanges.
A discussion ensued on what are the different ways in which the teachers can use StoryWeaver in the classrooms. It was wonderful to see how the teachers could align their existing classroom ideas with storytelling practices, like by getting their students excited about a topic by narrating them a story about it. Using illustrations as writing prompts, and spotting books for teaching sight words were one of the many ideas that the teachers dwelled on.
We closed the session by showing the participants videos of teachers using StoryWeaver to build a reading culture in their classrooms. The rain shower that followed was the perfect end to a wonderful workshop!
In the previous week, a similar workshop was conducted in Bombay with 30 teachers from Pratham's ECE wing from Maharashtra and Gujarat. The crackling energy in the room led to a session that was interactive and fun! The teachers came up with ideas to use stories in the classroom to make the lessons engaging and to ensure that the students learn in a different manner. As Smitin Brid, Program Head of Early Childhood Program for Pratham Education Foundation, puts it, " I'm thankful to the StoryWeaver team for conducting wonderful and useful sessions at Mumbai and Mysore workshops. The key resource people in both these regions have got information about this platform and we'll ensure continuous engagement with them on using the resources available on StoryWeaver."
A big thank you to Pratham Education Foundation and its ECE wing for giving us the opportunity to interact with the teachers and their consistent support.
If you are interested in hosting a similar workshop for your organisation, drop us an email on [email protected]
Be the first to comment.
---