This position has now been filled.
Pratham Books is a not-for-profit children's book publisher that was set up in 2004 to publish good quality, affordable books in many Indian languages. Our mission is to see 'a book in every child's hand' and we have spread the joy of reading to millions of children in India.

In 13 years, we have published over 3,000 books and distributed over 14 million copies of our storybooks and 16 million story cards. Last year, Pratham Books' increased its footprint by going digital. As an industry leader, we were one of the first publishers in the country to open license our content. All this content is now available on StoryWeaver, our digital platform that hosts stories in 60 languages. The stories can be read, translated, versioned or downloaded for free.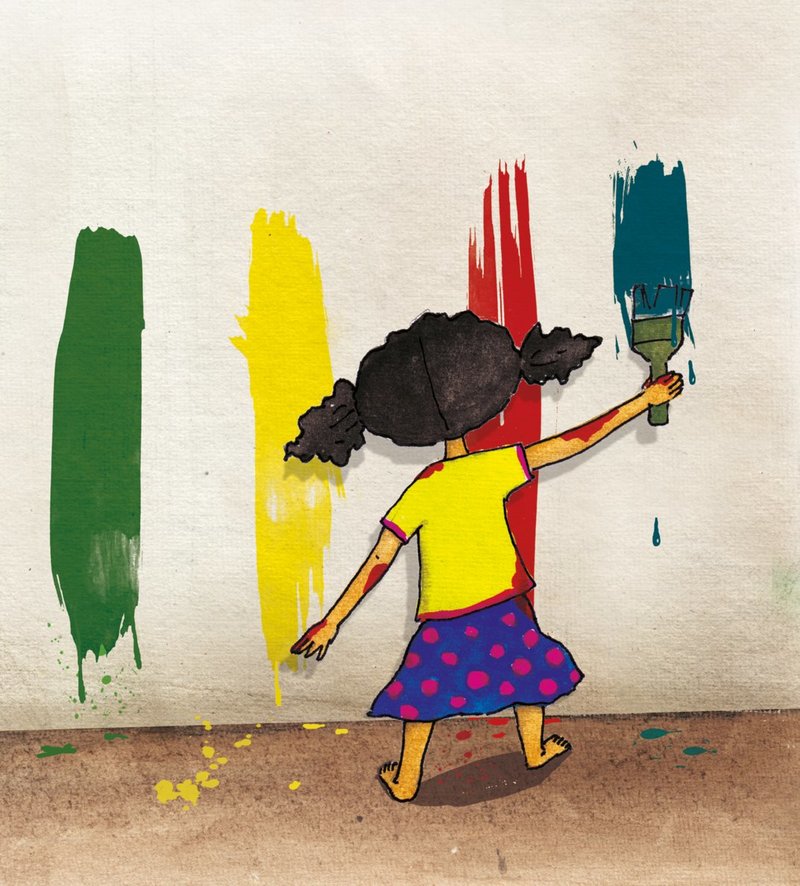 We are looking for an Art Director

Today, Pratham Books creates books suited to both print and digital mediums in multiple languages. We are looking for an Art Director to help us create visually appealing picture books with a strong understanding of how each of these mediums work.

As an Art Director, you will be responsible for the design and production of books created for both print and digital. As most of our titles are migrated to StoryWeaver, we are looking for someone who is tech-savvy and eager to find ways of minimising loss between print and digital book design. This will require you to work closely with our editorial team and external content creators we collaborate with (illustrators, consultant art directors). The candidate needs to have excellent graphic design skills and experience in print production.

Key Responsibilities
Manage a team of graphic designers to ensure that the book design is completed within agreed timelines
Work with freelance illustrators and consultant art directors to create visually-appealing books keeping in mind print and digital requirements
Find innovative ways of reducing losses when a book is adapted from print to digital, or vice versa
Ensure highest quality of print books
Work closely with the editorial team to create stories with rich, diverse and nuanced visual narratives
Bring in expertise of typography, keeping in mind multilingual content
Required skills
6-8 years of experience in Graphic Design
Strong understanding of print production
Strong communication skills
Expertise in Photoshop, InDesign
Ability to multi-task
Be a team player
Nice to have but not mandatory:
An interest in illustration and book publishing
Knowledge of children's books
Location: The position is based out of Bangalore

Salary: Will commensurate with experience. We are looking for a passionate individual who wants to be part of a team that is creating a new model in multilingual publishing to address the scarcity of books for children in need.

Write to us: Email your resume with Art Director in the subject line to careers(at)prathambooks(dot)org
Be the first to comment.
---
We are no longer recruiting for this position! Please do continue to follow us on Social Media for other exciting positions on the Pratham Books Team!
At Pratham Books, we believe in the power of stories – good stories. For well over a decade we have strived hard to reach children across India with a variety of award-winning stories across 18 Indian languages. With our digital crowd-sourcing platform – StoryWeaver we now share the power of stories with a global community of educators, parents, authors, illustrators and translators.
StoryWeaver is a digital repository of openly-licensed, multilingual children's stories. It allows its users to read, create and translate stories into Indian and international languages in the hope that children across the world can read quality stories in a languages of their choice.
Currently, we're looking for a full-time, Assistant - Projects to join our Digital Team in Bangalore.
As an Assistant - Projects at StoryWeaver, this is what will keep you busy:
Working with a designer to adapt our legacy content (Pratham Books' print books) for StoryWeaver

Co-ordinating with reviewers and proofreaders

Support campaigns aimed at improving content on StoryWeaver

Finding creative ways for stories on StoryWeaver to travel wide and far

Uploading books on StoryWeaver which involves tagging stories and images in a way that makes it accessible to users

Identifying and forging partnerships with other open repositories to bring their stories onto StoryWeaver
Preferred Requirements
Degree in Literature/Journalism/Mass Communication/Media /Language

Good communication skills in English, and ability to read and write well in one South Indian language (preferably Kannada, Telugu or Tamil)

1-2 years of work experience; freshers may also apply

Ability to multi-task and coordinate between different stakeholders

Capable of working within a team and tight deadlines

Tech-savvy

Sharp eyes to check copy

Love for languages
Salary will be commensurate with qualifications and experience. Please send your resume to [email protected] with 'Assistant - Projects for StoryWeaver' in the subject line of the email.
We look forward to hearing from you!
Be the first to comment.
---
"The Book Illustrators Gallery (BIG) is a display of diverse collections of works by illustrators and artists from Singapore and the region, featuring both published and unpublished art pieces. BIG not only presents quality artworks for the public to enjoy and appreciate, it also acknowledges and promotes the works of talented illustrators and artists in the region!"
We were so excited and pleased to hear illustrators we collaborated with on our digital-first STEM books have been selected to display their work at BIG 2017! Sunaina Coelho's art from 'Up World, Down World' , Kabini Amin's art for 'Dum Dum-a-Dum Biryani' and Vishnu M.Nair's illustrations from 'Satya, Watch Out!' will be displayed in the gallery this year.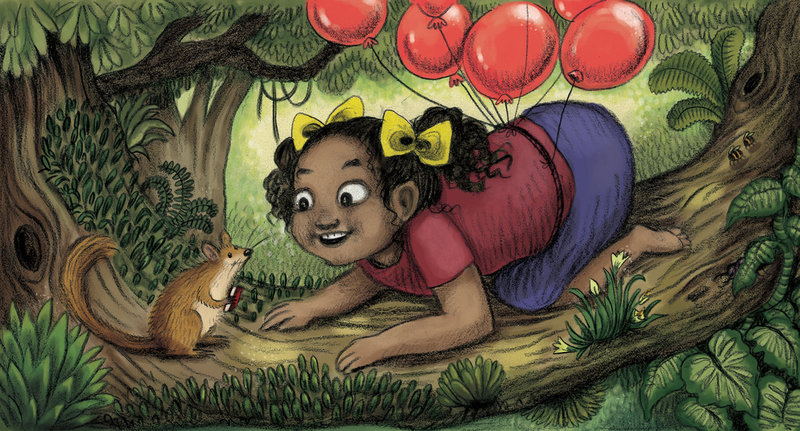 (An illustration by Sunaina Coelho from Padmaparna Ghosh's 'Up World, Down World'.)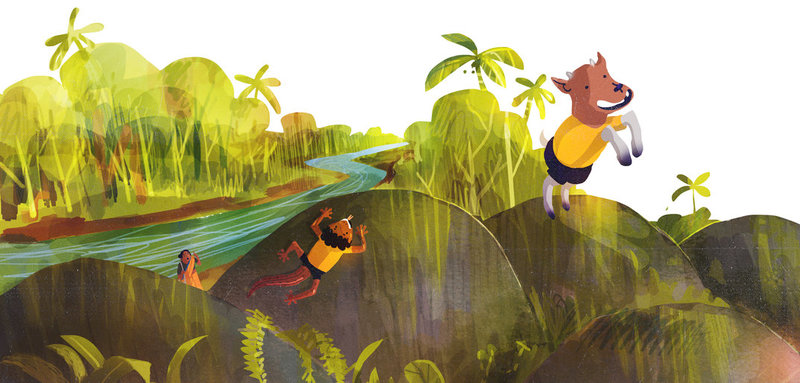 Vishnu M. Nair's vibrant illustrations bring young Satya's character to life in 'Satya, Watch Out!')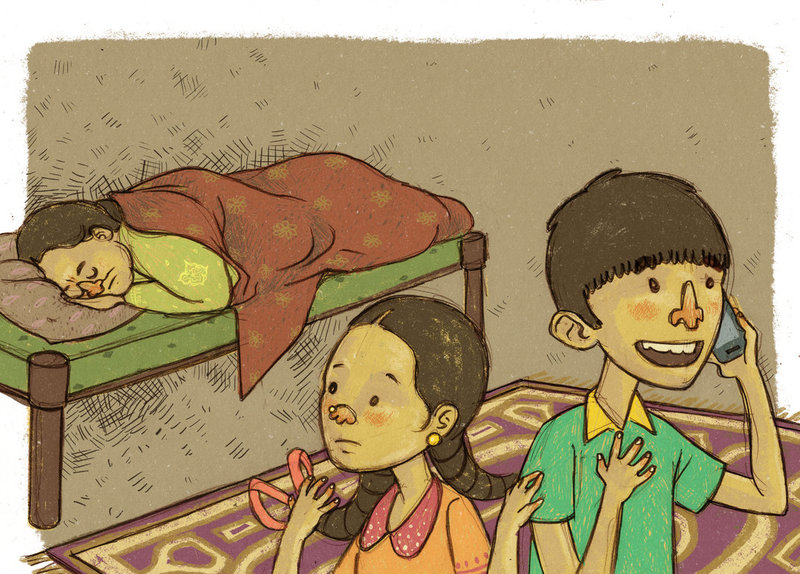 Kabini Amin's brother-sister team from 'Dum, Dum-a-Dum Biryani'
Also on display is illustrator Niloufer Wadia's work for Tulika Books. Niloufer is the magical illustrator who created 'निराली दादी' and brought the excitement of a friendly hockey match to life in 'A Perfect Match' by Ramendra Kumar.
Congratulations to all these talented illustrators!
You can read more about The Book Illustrator's Gallery here.
Be the first to comment.
---