For our educator community, we've added a brand new feature called Lists. The objective was to create curated reading lists for our partners to help them find relevant content in an efficient manner. You'll find reading lists for Read Aloud books, Primary Maths Skills and much, much more on StoryWeaver. Additionally, the Lists serve children of different reading levels, for eg we have a a Read Aloud List for young children and another one for older children! Here's how Maegan Dobson Sippy, who helmed the project went about putting the lists together.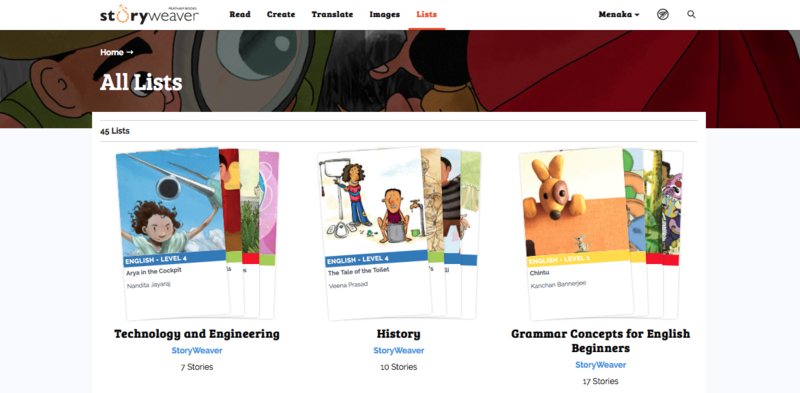 Getting started
Our Outreach team first put together a list of organisations who use StoryWeaver regularly for Maegan to interview. This ensured that the Lists would be grounded in the needs of educators." I went into the interviews with a set of talking points I devised with the Outreach Team." recounts Maegan.
Maegan asked each of the organisations about their mission, and spent a considerable amount of time talking to them about the kinds of themes they worked with in their classroom/schools/centers and how often these themes were changed. She also asked them how they were currently using the StoryWeaver platform, and how they searched for stories and whether they found this an easy or difficult task. Organisations shared their own methodology for curating reading lists and if they had activities or lesson plans for certain stories. Teachers were also asked to share feedback on how StoryWeaver could improve the platform and if there were features they'd like to see on StoryWeaver that would be of particular use to them as educators.
"It was still important to keep the discussions as organic and free-ranging as possible, as we found that was the best way to collect as much useful information as possible." shares Maegan.
Putting the lists together
Before and while conducting the interviews with partners, Maegan read all (yes all!) the StoryWeaver/Pratham Books titles that were on the platform in English; plus a few community stories, which helped her create a matrix which summarised the books and categorised them by them theme/subject/reading level/vocabulary etc.
"It was pretty organic: I added new categories to my matrix as I started to get feedback from organisations about how they used books or wanted to search for them. For example, when I found out that lots of organisations like to use StoryWeaver for picture comprehension exercises, I added that as a category, and started thinking about whether books, or certain pages within books, would lend themselves to that, even if they weren't necessarily wordless books." says Maegan.
Similarly, when Maegan found out that many of the organisations were using StoryWeaver to teach English to older students, she started thinking about which books with simple language might hold the interest of older students. Based on what the organisations told her about how they used or wanted to use StoryWeaver books in their work, Maegan devised lists. Each list you see is based on needs articulated by the educators she spoke to.
"For me, this exercise demonstrated the importance of talking to end-users before attempting 'solutions' - a useful lesson for any kind of work! It was also a fantastic opportunity to read and reflect upon a large amount of content for children. Though the prolific rate at which StoryWeaver is adding fantastic new content means that my reading is already out of date!"
If you're an educator who has created their own curated reading lists of StoryWeaver titles we'd love to hear from you! Also, if you have any feedback or siggestions on Lists, do write to us at [email protected]
About Maegan
Maegan Dobson Sippy is an editor and writer, who works with not-for-profit companies and publishers on a freelance basis. Recent collaborations include work for HarperCollins India, Duckbill Books, Pratham Books, Little Latitude, Quest Alliance and Humane Society International/India. Much of her free time is spent reading picture books, and uploading her favourites to the BAM! Books Instagram handle, which curates children's stories with Indian themes. She has also written and Guest Edited books for Pratham Books. You can read her book 'Farida Plans a Feast' on StoryWeaver.
Be the first to comment.
---
When StoryWeaver launched in September 2015, we envisioned the platform as a creative space where the creators and readers of stories could meet. In the last 22 months we've been blown away by the creative talent of our community.
We're listening
We take feedback seriously and we've taken your comments about your StoryWeaver experience on board. We will be rolling out a series of upgrades across the next month, but first up is an all new story creation tool! We've added some cool new features, grouped tools together for easier access and made the interface even easier to use.
Watch this quick video tutorial to find out what's new before heading over to StoryWeaver to create a brand new story on our brand new creator!
Click on the 'create' button at the top of this page to try it for yourself!
Once you've created a story we hope you'll take a minute to fill out the feedback form at the end and tell us what you liked about the new design!
Be the first to comment.
---