Launching StoryWeaver Marathi: An exciting new YouTube channel!
---
महाराष्ट्र्र दिनाचे निमित्त साधून, मराठीत गोष्टी वाचण्याचा आनंद स्टोरीविव्हरला तुमच्यापर्यंत पोचवायचा आहे. त्याचसाठी आहे हे नवीन यू ट्यूब चॅनेल, 'स्टोरीविव्हर मराठी'!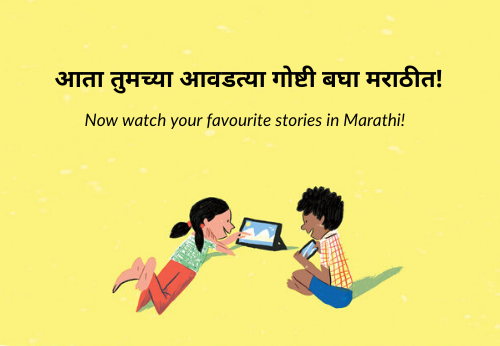 Illustration by Hitesh Sonar, for Black Hats White Hats written by Siddharth Mehta, published by Pratham Books
'रीडअलॉंग' म्हणजे सहवाचन हा उपक्रम मराठीत यशस्वीपणे राबवल्यानंतर आता यू ट्यूबवर घेऊन येत आहोत व्हिडीओ, म्हणजे दृक-श्राव्य गोष्टी.
व्यावसायिक कलाकारांनी सहज शैलीत या गोष्टीचं रंगतदार वाचन केलं आहे. त्याला मजेदार संगीताची जोडही दिलेली आहे त्यामुळे गोष्टी जिवंत होतात. शब्दाचा उच्चार झाला की तो लिखित शब्द उजळतो आणि त्या उच्चाराचं बोट धरून मुलांना तो शब्द निवेदकाबरोबर वाचणं, सोपं जातं. लिखित शब्द आणि त्याचा उच्चार असं एकत्रितपणे समोर आल्यानं मुलांना वाचनाची गोडी लागायला मदत होते.
अगदी लहान गटातल्या वाचकांना डोळ्यासमोर ठेवल्यानं, वाचन पातळी १ आणि २ अशाच गोष्टी यात आहेत. शिवाय व्हिडिओचा कालावधी ५ मिनिटांपेक्षा कमी ठेवल्यानं मुलांचं लक्ष चांगलं लागतं. पुन्हा पुन्हा येणारे विशिष्ट शब्द आणि आवाज, आकर्षक चित्रं, नाट्यमयता यांची मुलांना मजा वाटते. हे लक्षात ठेवून मोठ्यानं वाचायला मजा येईल अशा गोष्टीं निवडल्या आहेत. शिवाय 'स्टोरीविव्हर'वरील 'रीडअलॉंग'ची वैशिष्ट्ये जशीच्या तशी राखली आहेत.
यू ट्यूब वर 'स्टोरीविव्हर मराठी' याठिकाणी जाण्यासाठी इथे क्लिक करा.
दर आठवड्याला नवीन व्हिडीओ बघण्यासाठी सबस्क्राईब करा.
मजेत बघा!
---
Leave your thoughts in the comments section below! You can also reach out to us through our social media channels: Facebook, Twitter and Instagram.
Be the first to comment.
---
Pratham Books (www.prathambooks.org) is a not-for-profit children's book publisher that was set up in 2004 to publish good quality, affordable books in many Indian languages. Our mission is to see 'a book in every child's hand' and we have spread the joy of reading to millions of children in India. As a publisher serving every child in India, Pratham Books has always pushed the boundaries when it comes to exploring innovative ways in which to create access to joyful storybooks and have been fortunate in finding partners to collaborate with who share this vision.
In 2015, Pratham Books increased its footprint by going digital. As an industry leader, we were one of the first publishers in the country to openly license our content. All this content is now available on StoryWeaver, which is a digital platform that hosts books in languages from India and beyond, so that every child can have an endless stream of storybooks in her mother tongue to read and enjoy. The platform contains easy-to-use tools to read online and offline, create and translate books. All the books on the platform are openly licensed.
We are looking for a Social Media Manager for StoryWeaver
The role involves developing and implementing strategic engagement initiatives by building and sustaining relationships with multiple stakeholders, and advocating the brand across a variety of social networks.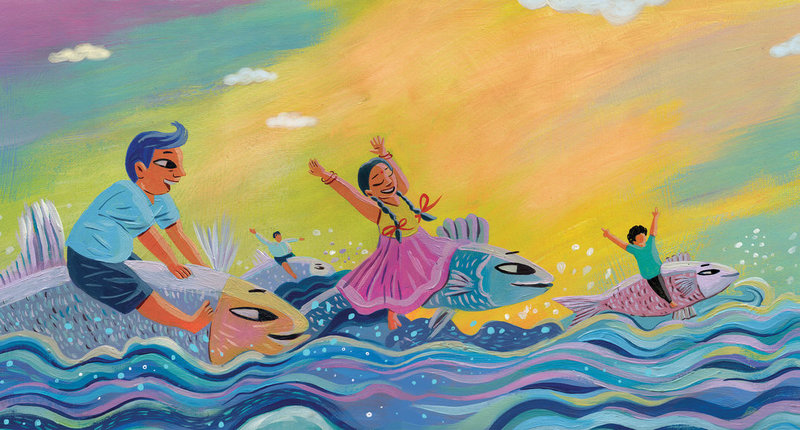 Illustration by Sayan Mukherjee, for Catch a Ride on Raindrops written by Anjali Vaidya, published by Pratham Books.
Key Responsibilities:
Responsible for all social media handles for StoryWeaver, engaging with and growing our audiences, and contributing towards building StoryWeaver's brand and visibility. This includes:
Managing the social media content calendar

Implementing and Creating campaign promotion and documentation videos

Implementing paid digital marketing initiatives

Distributing the brand's content across a variety of different social networks, and the StoryWeaver Blog.

Documenting the use cases of a diverse group of stakeholders from non-profits, community groups, authors, illustrators, publishers, children, parents, etc.

Using Analytics and other measurement tools to provide reports on metrics, and continually find ways to improve on those metrics through testing and new initiatives.
Required skills
3-4 years of experience in social media management

Familiar with the latest technology, trends and analytics in social media

Project management, ability to work with tight timelines

Eye for detail
Nice to have but not mandatory:
Location:
This is a full-time position and is based out of Bangalore
Compensation:
Salary will be commensurate with qualification and experience.
Write to us:
Email your resume with 'Social Media Manager - StoryWeaver' in the subject line to [email protected]
comment (1)
---
Due to the COVID-19 pandemic, more than 1.5 billion children and youth are out of school. With this, the need for reading materials for children that can be accessed at home, is more urgent than ever. StoryWeaver is collaborating with UNHCR, UNESCO, The Global Digital Library, The Global Book Alliance, The Asia Foundation and Learning Equality, to call for translation volunteers to accelerate the creation of multilingual digital reading material via the #TranslateAStory campaign.
You can participate in this campaign by volunteering to translate on StoryWeaver. It's easy!
Step 1: Find the book that's just right for you
StoryWeaver has over 1000 high quality books to translate from. A simple Level 1 book usually takes under 20 minutes to publish on StoryWeaver. You can also choose to translate books from 60 languages, like English, Hindi, French, Spanish, Thai, and many more.
Looking for some inspiration for which storybooks to translate? We've put together a list of books here, which includes wonderful books like Incredible Insects: A Counting Book, Bobo and the Worms, The Runaway Pig, Ira Investigates the Invisible, and several others.

And if the book you have selected has already been translated - no problem! The StoryWeaver recommendation engine will share some more options for you to choose from.
Step 2: Translate - Online or Offline!
The StoryWeaver Translate tool supports translation into 234 languages, and has a Dictionary to help you choose the appropriate words for your translation. Have a limited Internet connection? We are still here for you! You can save the book to your Offline Translate Library and sync when you have connectivity.
Here is a step-by-step guide on using the StoryWeaver Translate tool.
Can't find your language? Have some queries? Write to [email protected] or review our FAQ page.
Step 3: Publish & Share
As soon as you hit publish, your storybook will be published under New Arrivals. Don't forget to share your storybook with your friends. And of course build your author profile!
Join the #TranslateAStory campaign: TRANSLATE NOW
By submitting your translation to StoryWeaver, you are agreeing to a CC-BY 4.0 license being applied to it. Terms and conditions apply.
comments (2)
---