We are excited to mark International Day of the Girl 2021 and World Space Week with the launch of a very special collaboration with mEducation Alliance, #InspirationSTEM, a campaign designed to celebrate and support young girls to pursue STEM education and careers — including those focused on space.
With this initiative, StoryWeaver hopes to inspire engagement with STEM themes using relatable storybooks, encouraging girls to continue aspiring.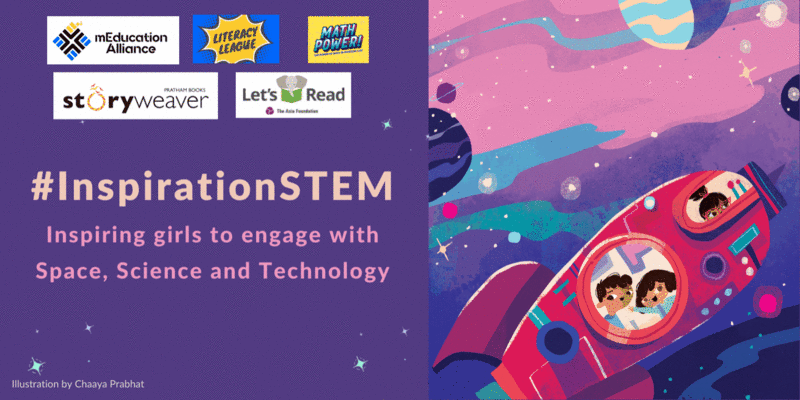 We are thrilled to kickstart this campaign with 'Gul in Space'. A level 3 storybook written by Richa Jha and illustrated by Lavanya Karthik.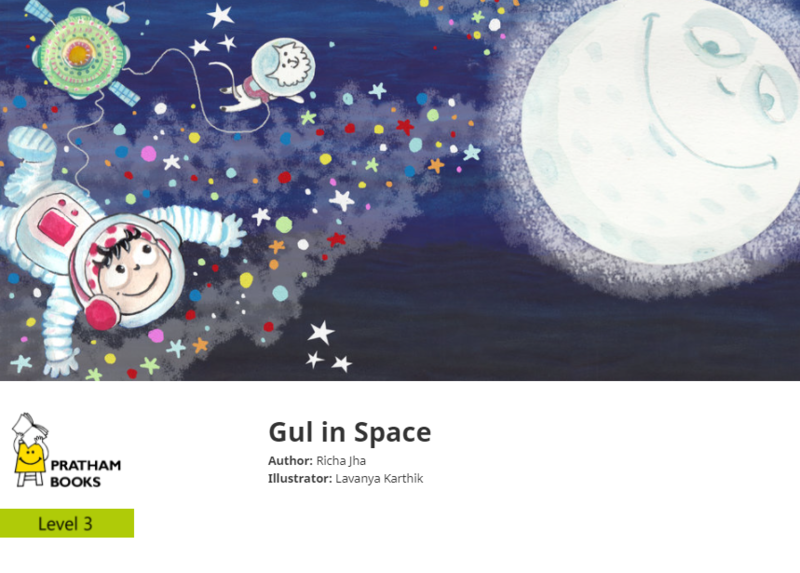 What would you like to do on your birthday? How about taking a walk in OUTER SPACE! Here's a story that will make you jump with joy… and if there's no gravity under you, you might just stay exactly where you are! Get ready to explore space with Astronaut Gul.
Gul, the protagonist, is a young girl who dreams about going to space. When an opportunity presents itself in front of her, she takes it without waiting for any permission from anyone. Her actions are inspiring to children, encouraging them to invest in their dreams. The poetic language in the book captures the sheer joy and excitement experienced by someone who manages to fulfil their dream, subtly but effectively invoking the readers. The illustrations further connect readers to the concepts and way of life about space.
Read 'Gul in Space' here.
Be a part of this year-long engagement with StoryWeaver and the #InspirationSTEM campaign!
For more details about the #InspirationSTEM campaign, visit the mEducation Alliance page here.
comments (2)
---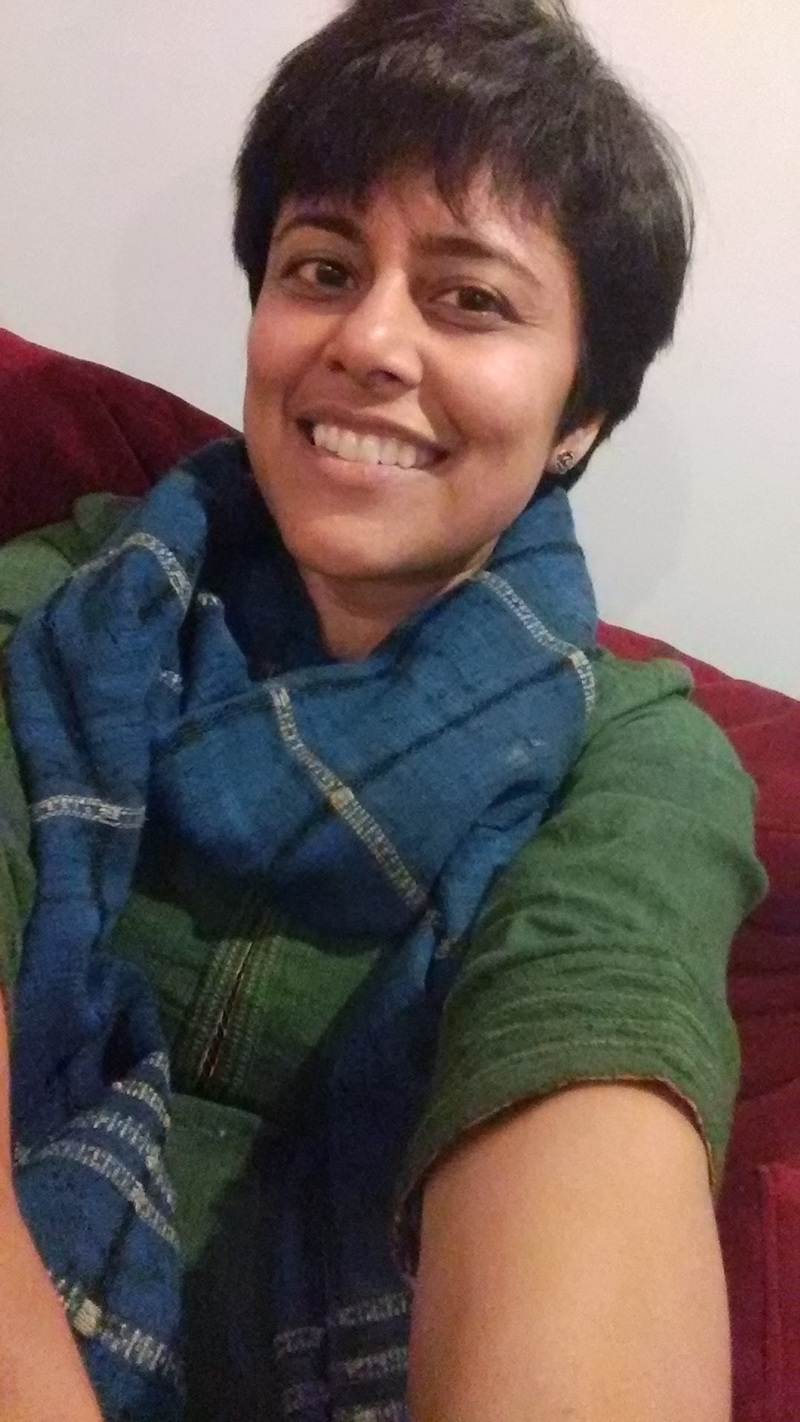 Roopa Pai is a computer engineer who always knew she was going to write for children. She is the author of Taranauts, India's first fantasy-adventure series for children in English,and several others, including some for Pratham Books. Her latest bestseller is 'The Gita For Children'.
This is why I love my job. Every so often, a project comes along that holds out the tempting prospect of a never-before challenge. I take such projects on with (an admittedly nervous) alacrity, because a challenge helps to keeps things fresh - it forces one to shift gears, to look at things through someone else's eyes, to tap into hitherto unexplored veins of creativity. And when it has been met to the best of one's ability, a challenge leaves one with a sense of accomplishment, of life having been enriched in some small way.
It was precisely such a challenge that Pratham Books' Storyweaver initiative dropped into my lap a few months ago. We want to create wonderful new stories, they said, and we want to create them quick. We want to hear new voices, on a myriad subjects. We want to help children discover disparate worlds - math, the environment, artificial intelligence, good values - through stories that are fun, engaging, and lushly illustrated. And we want to share them all, translated into a dozen different languages, with the world.
And once it is all online, they said, their eyes shining, anyone, anywhere in the world will be able to read them, for free! What's more, anyone, anywhere, can download them, print them, distribute them, translate them into any language in the world, use pictures from different books to weave new stories, or weave together different story threads to spin out brand new tales. Wasn't it all terribly exciting? And would I please be part of it?
It most certainly was, I said. And of course I would!
And that's how I landed my first job as editor. 'Guest editor', more correctly, with the responsibility of finding new children's writers, and generating, through them, four stories involving maths. The stories could be fiction or non-fiction, but they would have to deal with mathematical themes. As a sop to a first-time editor, they graciously allowed that I could write one of the stories myself.
I tossed ideas around in my head - what themes existed in primary-school level maths? Numbers, distances, patterns, measurements, arithmetic... What stories could be woven around them? The Storyweaver team and I went back and forth for weeks, until we came up with a list of ideas that we all agreed held promise. Then I went out to look for my crack team of debutante writers.
I didn't have to look far. Over the past couple of decades, I have had the pleasure of interacting and working with a number of talented, accomplished people who also work with children, but not necessarily as writers. When I had sliced and diced that contacts list to find people with backgrounds in science and / or math, AND people who lived in Bangalore (this for no other reason than that editorial meetings could then involve lots of laughing and chai-drinking), three names emerged. Fortunately for me, they all agreed instantly to be collaborators on an adventure that was new for all of us.
And who were these three people?
There was Gayathri Tirthapura, who trained as an engineer at REC (now NIT) Surathkal, before going off to the US for a double masters (Masters in Science from Stanford, Masters in Education from Harvard) and 10 years in the telecom industry. Since she returned a few years ago, Gayathri has run Kutoohala, a children's activity centre, library and bookstore where she puts all her theories on what makes for a fun, enriching education into practice.
There was Sukanya Sinha, a PhD in Physics from the University of Maryland, who has held research positions in several scientific institutes not just in India but elsewhere and is now a Visiting Professor at the Indian Statistical Institute. But Sukanya is also as much at home with demystifying complex scientific concepts to children - she is part of the founding team of Curiouscity, an organisation that promotes creativity in science among young people.
And there was Shonali Chandy Chinniah, a marine biologist from Cornell who has taught undergrad courses at both American and Indian universities, apart from conducting educational tours at the New Jersey Aquarium and working with NGOs in India to promote science education among the less privileged. Shonali is also part of the founding team of Curiouscity.
Over the course of the next few weeks, at several delightful and wonderfully stimulating editorial meetings (given the formidable - and creative - brainpower I was dealing with, it could not have been any other way), we picked different ideas, toyed with them, wondered if they would work better as fiction or non-fiction, and drank plenty of chai. Then everyone went off to write their stories.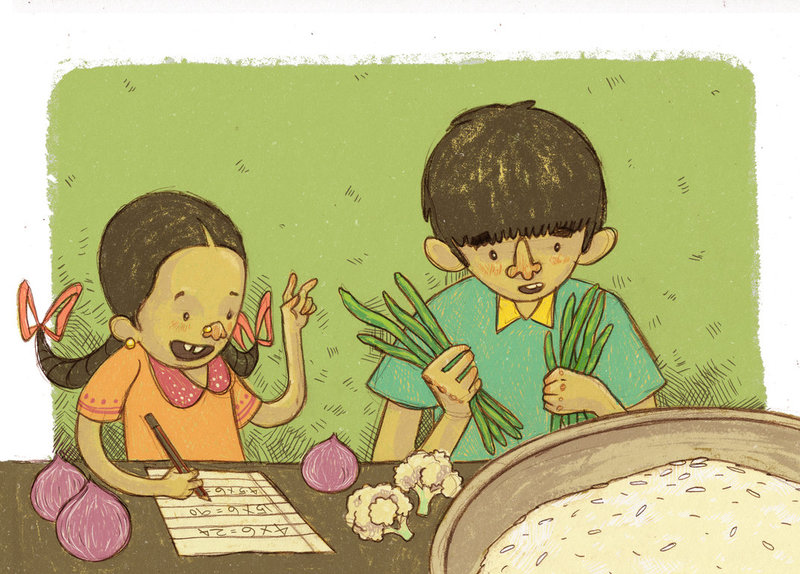 The results of that most enriching experience is - or will soon be - up there on Storyweaver for all of you to enjoy. Already up are Sukanya's awe-inspiring non-fiction story on distances - 'How Far is Far?', and Gayathri's heartwarming fiction story on math in cooking - 'Dum Dum-A-Dum Biryani'. Coming up soon are Shonali's enjoyable non-fiction story - The Fabulous Fibonaccis - on the endlessly fascinating number sequence called the Fibonacci (or Hemachandra) sequence, and my own fiction story based on history and arithmetic - How Old Is Muttajji?
How would I rate my editorial challenge on a scale of 1 to 10? I would go off the scale - it's all allowed in maths - and say 0. Because, like that old song goes, no matter how big the challenge, you can always get by with a little help from your friends.
Be the first to comment.
---