UPDATE: This position has been closed. Thank you for your interest!
Pratham Books (www.prathambooks.org) is a not-for-profit children's book publisher that was set up in 2004 to publish good quality, affordable books in many Indian languages. Our mission is to see 'a book in every child's hand' and we have spread the joy of reading to millions of children in India. As a publisher serving every child in India, Pratham Books has always pushed the boundaries when it comes to exploring innovative ways in which to create access to joyful stories and have been fortunate in finding partners to collaborate with who share this vision.
In 2015, Pratham Books' increased its footprint by going digital and launching StoryWeaver. StoryWeaver (www.storyweaver.org.in) aims at enabling book security at scale, by pioneering a new, inclusive approach to book creation and distribution. StoryWeaver provides open access to multilingual storybooks that can be read online, offline or downloaded & printed for non-digital environments. Easy-to-use tools enable further translation & versioning, so that the books can be customized for local requirements. In just 5 years, StoryWeaver has grown from providing 800 storybooks in 24 languages to 34,000 books in 297 languages.
StoryWeaver is being recognized as an emerging innovation that can transform the early literacy reader ecosystem globally. Very early on, StoryWeaver was featured in the World Bank's report on 20 innovative EdTech projects from around the world, and more recently was the recipient of the prestigious Library of Congress Literacy Award 2017 International Prize.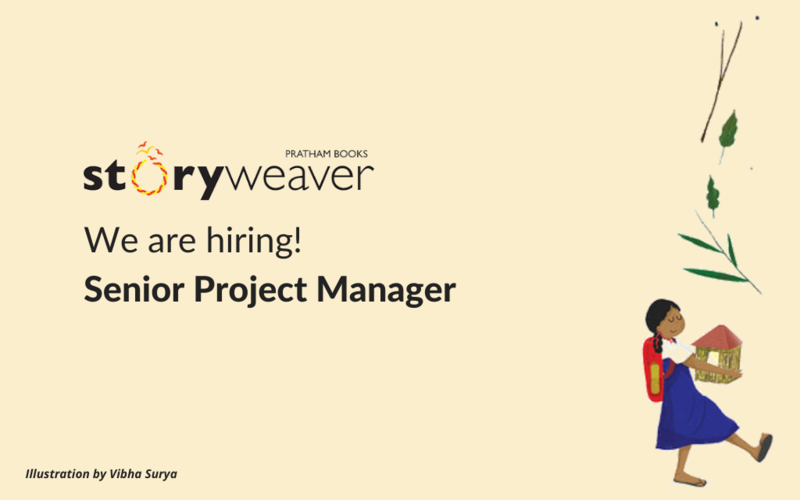 We are looking for a Senior Project Manager: StoryWeaver
This position will work closely with the senior leadership to manage all projects related to the platform and shape the strategic direction of StoryWeaver. There will be significant opportunities for innovation, working closely with internal and external stakeholders to further develop, nurture and scale a world-class digital platform that is redefining the way reading resources can be created and distributed globally. In light of the NEP (2020) which accords highest priority to achieving universal Foundational Literacy and Numeracy by 2025, StoryWeaver has been working on several Foundational Literacy Programmes. This position will play a critical role in all aspects of design and delivery of these programmes.
Key Responsibilities:
Work closely with the internal teams to design strategies to implement StoryWeaver's strategic and operational plans
Align processes and resource-planning with overall strategy
Develop plans to materialize strategy and analyze strategic partnership opportunities
Track and monitor user trends and usage data to develop insights that will drive future product enhancements
Monitor and analyze industry trends and market changes
End to end ownership of all deliverables in the product lifecycle. Design, implementation, user testing and data tracking. Develop product collaterals including product explainers, protocols, dashboards, case-studies, user training modules and advocacy communication
Project manage key programme design and implementation
Ensure effective usage of the new foundational literacy programmes by collecting data on learning, teaching and user-satisfaction metrics
Work closely with senior leadership on grant proposals
Required skills
Masters in Business Administration, Marketing or a related field
Minimum 6-8 years of experience
Proven experience as a Strategic Planner or Business Consultant
Understanding of market research and data analysis
Knowledge of business operations and procedures
Demonstrable project management abilities
Analytical mind with problem-solving attitude
Excellent organization skills
Excellent verbal and written communication skills in English
Sophisticated ICT skills
Nice to have but not mandatory:
Experience working with non-profits
BTech/MSc/MCA degree in Computer Science or related disciplines will be a plus
Location: This is a full-time position based out of Bangalore
Compensation: Salary will be commensurate with qualification and experience.
Write to us: Email your resume with 'Senior Project Manager - StoryWeaver' in the subject line to [email protected]
comment (1)
---