CGNet Swara has been working with the Gond community since 2014 and believes that creating relevant Gondi language content and using modern technology to bring it to people is the only way to ensure it can survive and flourish. The effort in translating children's books to Gondi with StoryWeaver involves creating content for children, who are critical for any language's long-term survival. The translated books will be distributed to children in schools, while the audio version will also be played over Adivasi Swara. Microsoft Research India and IIIT-Naya Raipur are also planning to use the translation of these books as data input for a Gondi machine translation algorithm that can facilitate the languages use on the internet and other forums. Devansh Mehta from CGNet Swara writes for the StoryWeaver blog.
The Gondi speaking Adivasis (tribals) residing in 7 states across central India face a unique problem. They are not able converse with each other because they speak Gondi influenced by the state languages – Andhra Adivasis speak Telugu influenced Gondi, Maharashtra Adivasis speak Marathi influenced Gondi, etc.

Beginning in 2014, the Adivasi community has mobilized themselves to save their language and culture. Over 8 workshops, Gondi speakers from all 7 states got together to create the first standard Gondi lexicon. In the 9th workshop, Gondi speakers met with researchers from Microsoft Research India to discuss how their language can be taken online. The consensus at the meeting was that before any work could start, there needed to be 100,000 lines of translation from Gondi to a mainstream language.
In the 10th and most recent workshop with

Pratham Books'

StoryWeaver team, over 20 Gondi speakers from 3 different states gathered together from September 18th to September 28th to translate children's books from Hindi to Gondi. The purpose of the workshop was two-fold: creating a repository of children's stories in Gondi which can be distributed in schools, and gathering enough data to build a machine translation tool.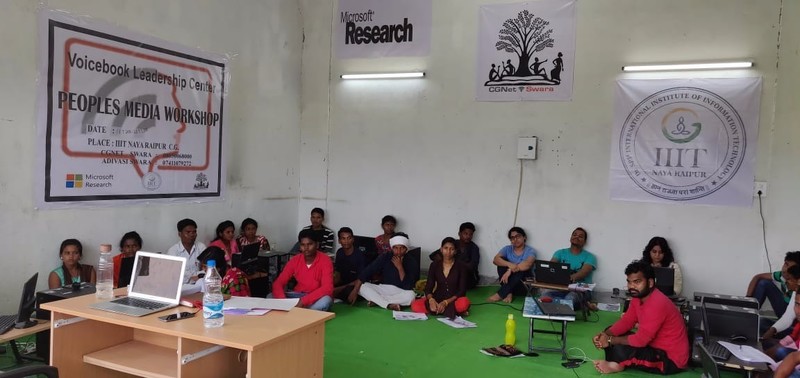 Workshop participants translating children's stories to Gondi
The workshop had a good mix of people from a variety of backgrounds. There were some attendees like Suresh Kumar Katrani who were pursuing their master's degree in physics and had taken leave from his job to attend the workshop. As a high school teacher in Bastar, one of the largest Gondi speaking areas, Suresh attended the workshop as he felt their language was diminishing and would die out with his generation unless the community pulled together and did something.
Most participants were unlike Suresh and had never even seen a computer prior the workshop. They had been recruited through CGnet Swara's yatra team, a group of actors and musicians who travel and perform at remote, Gondi-speaking villages.

The truck that CGnet uses to travel and perform at Gondi-speaking villages
One of the participants who joined the workshop through the yatra was Kumari Shashila, a 5th grade dropout. Due to a basic knowledge of Hindi, her translation skills were rudimentary and she had to work with people like Suresh to understand the meaning of words that needed to be translated to Gondi. However, the participation of people like her ensured that the children's books and the machine translation tool would accurately mirror the Gondi spoken by the vast majority of Gondi speakers, not just the affluent, educated sections.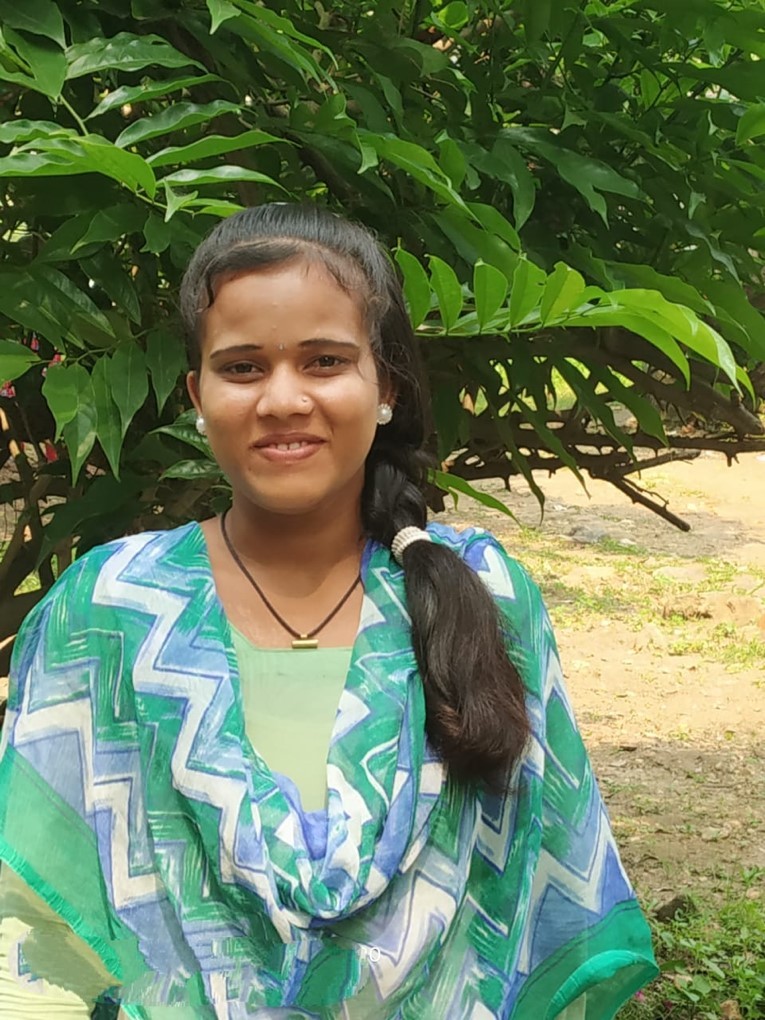 Kumari Shashila, a Gondi speaker from Orchha, Koilebeda, Kanker, who attended the Gondi translation workshop after meeting the yatra team
Over the course of the workshop, a total of 400 children's stories were translated to Gondi, out of which 175 have already been put online as of today. As most of these communities lack Internet access, many of these books were printed and given to the workshop participants to take back to their village. A total of roughly 10,000 lines were translated over the course of 10 days.
In the coming few months, we are planning to build on this effort and obtain funding to print and distribute these books in the villages that the yatra team travels to. We also plan to hold many more such workshops to reach the magical figure of 100,000 lines. If you would like to help or contribute to this effort, you can email [email protected]
You can read the stories translated at the Gondi workshop here.
Be the first to comment.
---
THIS POSITION HAS BEEN FILLED. THANK YOU FOR YOUR INTEREST.
Pratham Books is a not-for-profit children's book publisher that was set up in 2004 to publish good quality, affordable books in many Indian languages. Our mission is to see 'a book in every child's hand' and we have spread the joy of reading to millions of children in India.
In the last 3 years, we have increased our impact by investing deeply in technology based initiatives to further our mission. We are now looking to hire a Quality Assurance Engineer to test and support Story Weaver ensuring the end-to-end quality assurance of the platform.
About the Project
StoryWeaver is a digital platform that hosts children's stories in multiple Indian and international languages, so that children have access to reading resources in their mother tongues to learn and practice reading. All the stories are available under open licences and not only can they be read for free, they can also be translated or versioned, using simple tools embedded on the platform. In 2 years, StoryWeaver has grown from 800 stories in 24 languages to 6500 stories in 104 languages. We have built a robust global community that uses our content as well as contributed to creating more content on the platform.
StoryWeaver is being recognized as an emerging innovation that can transform the early literacy reader ecosystem globally. Recently, StoryWeaver was featured in the World Bank's report on 20 innovative EdTech projects from around the world, and was also the recipient of the prestigious Library of Congress Literacy Award 2017 International Prize. Our vision is for StoryWeaver to be the largest multilingual open library in the world for children by creating a collaborative publishing model that can address the scarcity of reading resources in their mother tongue languages.
(Image by Thea Nicole de Klerk from the BookDash book 'Springloaded' written by Chenél Ferreira and Sam Wilson, published on StoryWeaver)
Job Description
This position will be a member of the Digital Team at StoryWeaver to test and support ensuring the end-to-end quality assurance of the StoryWeaver platform. There will be significant opportunities for communication with Business and Technical teams to further develop, nurture and scale a world-class digital platform that is redefining the way reading resources can be created and distributed globally. In a 2 year time-frame, the project outcomes are expected to scale by 10x and this position will play an important role in helping the organization meet this objective.
Key Responsibilities
Work in close coordination with functional team to articulate and document test cases thoroughly to ensure adequate coverage of requirements.

Conduct User Acceptance Testing and Live testing on the Story Weaver platform to identify and report bugs to the Technical Team.

Work closely with technical team to track reported bugs to closure in order to regressively maintain the quality of the Story Weaver platform.

Provide support for coordinating the User related requests with the Technical team.
Requirements
2-3+ years experience in software quality assurance and manual testing of mobile and web based applications

Ability to understand business requirements and articulate test scenarios

Must have excellent analytical skills to identify bugs and issues within the software before they occur in real user environment.

Good understanding of testing practices for Web applications.

Understanding of issues surrounding multiple device and browser compatibility.

Experience working in an SCRUM agile environment.

Excellent verbal and written communication skills in English

Effectively interface with the Functional team to understand Business requirements.

Effectively interface with the Technical Team to support User related requests, report and track bugs to closure.
Nice to have but not mandatory
Experience working with non-profits

BE/BTech/MSc/MCA degree in Computer Science or related disciplines will be a plus
Location
Position is based out of Bangalore and is full-time. Project is expected to complete within a 2 year time-frame.
Salary
Compensation will be commensurate with experience.
Write to us: Email your resume with 'Quality Assurance Engineer:' in the subject line to [email protected]
Be the first to comment.
---
Aindri is a communications designer specializing in narrative illustration and animation. She is one of the members of The Kadak Collective. She has illustrated two books for Pratham Books: Apu's Giant Earthquake by Sudeshna Shome Ghosh and Food Monster by Meenu Thomas. Both the stories are very to read, download, print and share on StoryWeaver. Aindri writes about how she created the distinctive textured illustrations for 'Food Monster'.
Meenu's story Food Monster instantly reminded me of the potato and bhindi block printing classes I had in school. I felt the same approach and materials would go perfectly with her story.
When returning to that memory, I came across the technique of Gyotaku (gyo "fish" + taku "rubbing") a traditional Japanese method of fish printing that originated in the mid-19th century as a way for fishermen to record the size and characteristics of their daily catches. So block printing with food was not just child's play. Infact, before cameras, fishermen often recorded large or unusual specimens by making ink block reproductions of their catch. The Sumi ink which was used to take the impression would be easily washed away after recording the catch, so the fish was in perfect condition to be consumed. (You can read more about Gyotaku here and here.)
Video: Gyotaku by Naoki from YouTube
I scanned the images which I later layered and collaged with hand drawn illustrations.
Some of the shapes were easy to spot, like the circles and rings in the cross-section of peppers and cucumbers, some impressions especially of the herbs looked like tiny version of trees and some impressions like strawberries made seamless patterns on the page. Here are impressions of strawberry and corn:
A fairground favourite, the carousel, made with celery, lemon, basil, pepper & pepper seeds.
A panipuri stall near a tree: made with basil, corn, cucumber, celery and garam masala.
Aindri has generously shared a library of the prints she created for our community to use.You can find them on Aindri's profile page (scroll down to see them all!)
You are most welcome to use them as you wish, do please tag us @pbstoryweaver and @aindri_c with your favourite food shape. Good luck!
Be the first to comment.
---