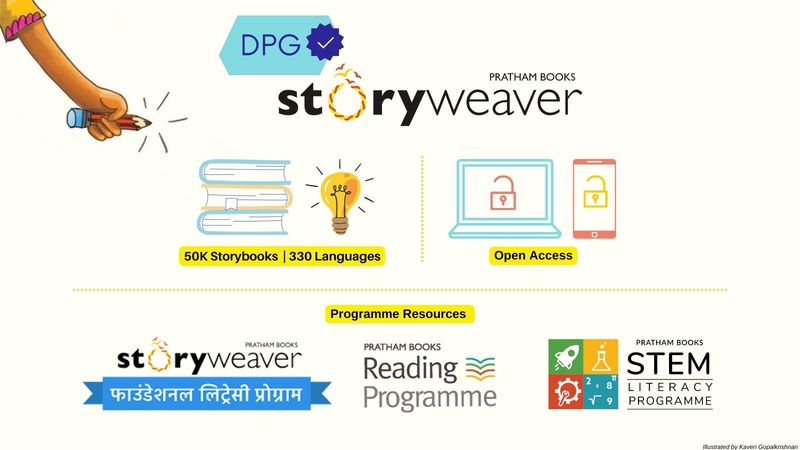 StoryWeaver, is an open source digital repository of multilingual stories for children from Pratham Books launched in 2015, that hosts 53K storybooks in ~330 languages today. In 2020, StoryWeaver was India's first recognised Digital Public Goods for Foundational Literacy and Early Grade Reading in 2020. This year, we were reviewed by Digital Public Goods Alliance (DPGA) and found to be a digital public good in alignment with the Digital Public Goods Standard for the third year in a row!
The Digital Public Goods Standard, requires a project to be an open-source software, with open data, open AI models, open standards, and open content that adhere to privacy and other applicable best practices, do no harm by design and are of high relevance for attainment of the United Nations 2030 Sustainable Development Goals (SDGs).
The Digital Public Goods Alliance is a multi-stakeholder initiative endorsed by the United Nations Secretary-General, working to accelerate the attainment of the Sustainable Development Goals in low- and middle-income countries by facilitating the discovery, development, use of, and investment in digital public goods.
StoryWeaver is one of the 36 DPGs recognised by the alliance that are working towards Sustainable Development Goal 4: Quality Education, and as such is available on the digital public goods registry alongside other open source projects that are meaningfully contributing to bringing about quality education in the world.
Through the power of collaboration, technology and open licensing, StoryWeaver seeks to provide children with the very first step in their reading journey - storybooks. Our approach to creating book security is three-pronged: creating storybooks, enabling open access to these books and providing free resources to encourage the use of these books to help children read.
For almost a decade now, StoryWeaver has been publishing books under open licences. We are one of the world's largest platforms for children's books in mother tongue languages. As India's first vetted digital public good for early reading, we are extremely delighted to be recognized by the Digital Public Goods Alliance for three consecutive years. Initiatives such as the DPGA have provided the much needed spotlight and conversation around the urgent need for public digital goods to help solve societal problems.

-Purvi Shah, Senior Director, Pratham Books StoryWeaver
comment (1)
---