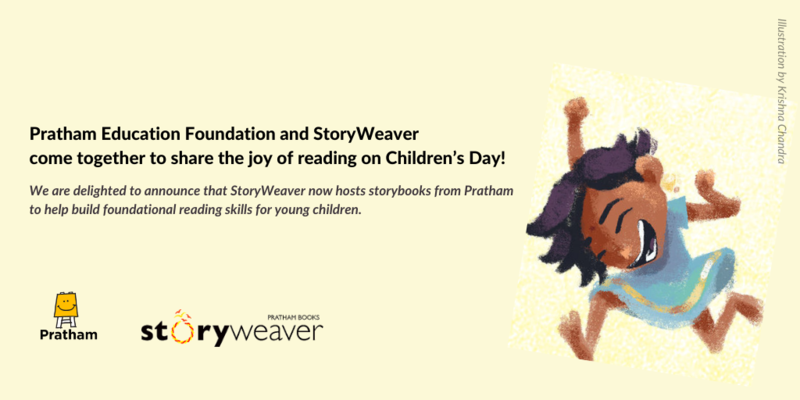 This Children's Day, Pratham Education Foundation and StoryWeaver are delighted to announce their partnership to add to the repository of reading resources to help build foundational reading skills among young children. The announcement is the start of a process in which stories developed by teams from Pratham Education Foundation will be hosted on StoryWeaver. Having these storybooks under the CC BY 4.0 license on StoryWeaver makes them available to a larger audience worldwide, and the books are free to read, download and use. At the same time, these books will give the StoryWeaver community new stories to translate, giving children around the world access to more books in their own languages.
To kick off the collaboration, 50 stories from Pratham are being launched on StoryWeaver today. These books will be part of StoryWeaver's new collection for Emergent Readers, which are storybooks with simple text, colourful illustrations and familiar words, to help introduce children to the #JoyOfReading!
Explore the storybooks here: https://bit.ly/38DUe25
While most of these 50 storybooks are in Hindi, the partnership aims at building a collection of 200 books in 11 Indian languages and English in the next two months, and scaling the repository to 1000 books in the coming months. The languages include Assamese, Bangla, English, Gujarati, Hindi, Kannada, Marathi, Odia, Punjabi, Tamil, Telugu and Urdu.
The first 5 years of a child's life are crucial, with over 85% of brain development occurring at this stage. Fostering reading and development abilities at this stage has a positive impact on learning outcomes, and preparing children for school. At present, millions of children do not have access to quality Early Childhood Education. In keeping with United Nations' SDG 4 - Quality Education for All, the National Education Policy 2020 has laid out a blueprint for the universal provisioning of quality early childhood development, care and education. The key priorities of the National Education Policy 2020 include the achievement of Foundational Literacy for all primary school students by 2025, and the creation of enjoyable, inspirational books for children.
Suzanne Singh, Chairperson, Pratham Books, says: ​ "Children's Day serves as an important reminder of our responsibilities towards nurturing our children to achieve their potential. We are delighted to partner with Pratham and leverage the power of open licensing, to address the inequity in the availability of storybooks for emergent readers. Pratham's vast experience with early learning is reflected in the content produced by them and we are delighted to make this content available to the rest of the world so that children have the opportunity to learn to read, and read to learn."
Rukmini Banerji, Chief Executive Officer, Pratham Education Foundation, says: "We, at Pratham, have long believed that for learning to read and for loving to read, children must have easy access to a wide variety of stories at all times. We love stories and use stories extensively in our programs. Since StoryWeaver was born, we have been big admirers and users of StoryWeaver. We are also producers of stories. Every year we also generate a lot of stories ourselves in many regional languages for use in our own programs. Thus, the new partnership with StoryWeaver enables us to share our stories with a wider audience and to add to the growing repository of reading material that is available to children in India and across the world. Our collaboration with StoryWeaver is yet another step towards the dream of every child in India reading a story every day."
comments (12)
---