Radhika Oberoi writes for The Wire on how platforms like African Storybook are helping children overcome academic difficulties by making culturally specific stories borderless. She also mentions StoryWeaver and Pratham Books' 'Missed Call Do, Kahaani Suno' campaign.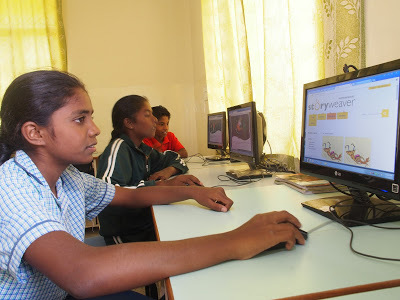 'But before a story can be uploaded, downloaded, translated and shared, it has to be written. Among the ASb's inexhaustible source of narratives is an Indian publisher of children's literature, Pratham Books. Several original titles like Listen to my Body, The Moon and the Cap and The Elephant Bird have found their way to the ASb and captured the fascination of young readers across continents. Pratham Books's own digital initiative, StoryWeaver, is a treasure trove of multi-lingual books, which, through a liberal Creative Commons licence, allows users to share and adapt stories as well as images in any medium. There are close to 1,800 stories, available for reading and sharing in 41 Indian and international languages. "While our Hindi and English stories continue to be very popular, we have seen the user community respond with great enthusiasm to Malayalam, Sanskrit, Telugu and recently, Tibetan and Santhali as well," says Suzanne Singh, chairperson of Pratham Books.
Stories are the élan vital of open-source platforms, which prompt children to rapid fluency in the mother tongue, before they can read simple sentences in English. And perched upon the diaphanous wings of broadband transmission, stories can reach eager listeners through any digital medium. Pratham Books's recent initiative, 'Missed Call do, Kahaani Suno' allows children to listen to audio stories in English, Hindi, Marathi or Kannada by leaving a missed call at a given number. An auto-generated call in response lets them pick the language of the story, followed by an SMS that links them to the story on StoryWeaver.'
You can read the entire article here.
A curated collection of African Storybook's stories can be found on StoryWeaver here.
Be the first to comment.
---