With our mission of 'a book in every child's hand', it is our constant endeavour to take more books and stories to more children. With StoryWeaver, our open-source, multilingual digital repository of children's stories, access to good quality reading material has become much easier. Children and educators can read 14000+ stories in over 180 languages!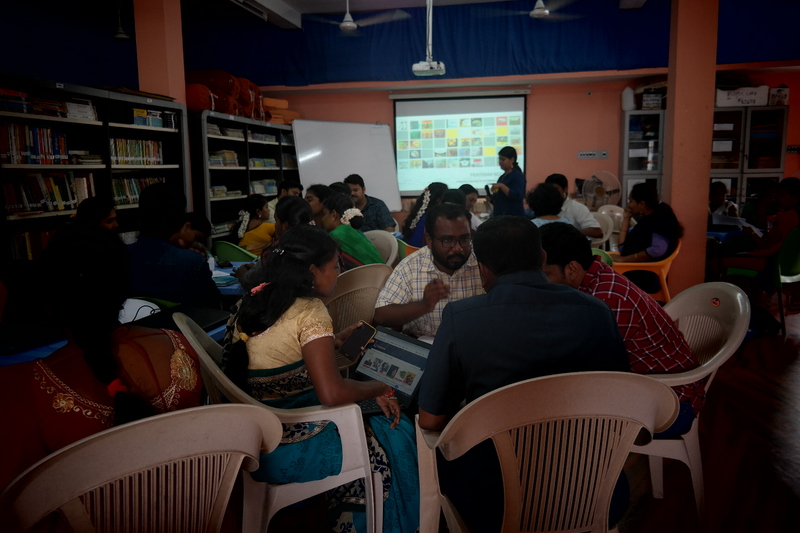 One of the ways in which we engage directly with organisations and educators is by conducting StoryWeaver workshops with them. The day-long session focuses on why reading is important and explores the platform in detail. Participants also get dedicated time to try the platform on their own and engage with the Pratham Books team and network with other participants. The workshops participation is free of cost, but on a first come first serve basis.
We are planning two workshops in June & July. One is Mangalore and the other one in Raipur. If you are an organisation that works with under-served children wanting to bring more stories to them and engage with StoryWeaver, please fill the form here and we'll contact you with further details.
Interested organisations based in and around Mangalore, please sign up here. Interested organisations based in and around Raipur , please sign up here.
If you want to know more about our efforts to engage with organisations or have anything else to say, please write to us at [email protected].
Be the first to comment.
---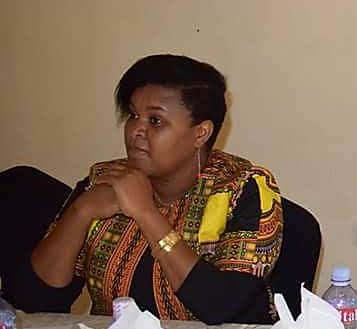 Writer, translator, editor and poet Agnes N.S. Nyendwa has always been best friends with books — right from her days as a warehouse clerk where she read up all the books in stock to her rise to an editor with publishing houses. Along the way, she was always passionate about her mother tongue Chinyanja, a language belonging to the Bantu language system of Africa and spoken widely across Malawi, Zambia and the Mozambique. Agnes is translating books on the StoryWeaver platform to her mother tongue and tells us in an email interview on why children need to read more stories in Chinyanja in her country and how she plans to make sure that more of them have access to these books.
Tell us a bit about yourself?
I am a writer, translator, editor, poet (English and Chinyanja), president of the Zambia Women Writers Association and Vice chairman of the National Arts Council, and have been in publishing circles since 1994. I started off as a Warehousing clerk being the first employee to have been engaged in that position at Macmillan Publishers Zambia Limited. I studied Purchasing and Supply (CIPS) and emerged as best student in the field. In my job as a warehouse clerk, I became friends with a bunch of books which I took time to read and enjoy. I cultivated the culture of reading each and every book that was in the warehouse. I later knew each book by its content and what to present if anyone wanted to buy any book in any field. I made it a point after that to read any new title as it came.
Due to the immense interest that I had in books, I was promoted to be Assistant Editor when the Zambia curriculum transitioned into a new one. My first assignment was to handle local languages because the whole project was a challenge. I managed to have the project take off and in the process I was seconded for an in-house training at Oxford Macmillan Education in the UK, which later catapulted me to be an Editor of the organisation back home.
What is your personal relationship to Chinyanja and to translation?
Apart from learning the language at school, Chinyanja/Chichewa is actually my mother's language. As it is truly my mother's tongue – my parents (my mother being a teacher by profession) made sure we honed the skill of speaking and writing it. They would not allow us to mix any other language when speaking with them, let alone writing to them. We were encouraged to read Chinyanja/Chichewa books, which I certainly do even now. This made us know the language without measure. Our home was our training ground for the local language where neighbours would be amazed at how we spoke it even when we grew up in a low density area where only people with high education lived. Friends would laugh at our tongue because sometimes they would request us to interpret the words we spoke.
Later in life I still had a challenge convincing my husband that the words I spoke were actual Chinyanja/Chichewa. He thought that as a family we had developed a language that we alone would understand not until I bought a dictionary from a bookstore in Malawi. He took time to refer to it on every word that he thought was specific to my family. He was amazed to have found the very words in the dictionary.
That is the power of teaching a child her mother tongue. It is easy for me to understand other languages because I can relate them to my own. I now thank my parents for imparting that priceless skill to me. I look at myself as one of those who is open to learning and embraces criticisms when it comes to the local languages. I have written and translated a number of books that are currently being read in schools.
You have been translating STEM stories. Describe the process to us. Would this process be different for a joyful picture book?
The process is not easy when you are just starting as a translator of STEM books. The process is quite challenging because of the absence of indigenous terminologies for certain concepts and words in general. STEM books have a lot of these non-indigenous terms. But by using the meaning approach and transliteration, the challenge is quite eased. I actually enjoy translating them because I get to understand and impart the terms in a way that are simple to grasp.
I don't find picture books to be any different from other story books because each book presents its own challenges, some may be grammatical or orthographical but rising to the challenge is what makes translating any book unique and adventurous.
How do you plan to take the Chinyanja stories to the children?
In our society, doing a venture totally free can be quite challenging because the conveyor of the message needs finances to operate. I would love to have every child who is stationed in a Chinyanja belt to get hold of these wonderful stories. It is a fact that a bigger chunk of my country cannot access internet which can be a transmission port for these books. I need them printed in hard copies so that they are distributed for children to have and read wherever they are, with friends and family.
My plan is to raise funds that can allow me to print and probably sell at a nominal price and for them to be spread where their relevance is. If I can find funds that can allow me to print and transport the books, I don't think there will be any need to sell them but to distribute them to libraries and have them approved for use in schools. For those who are able to browse on the internet, sending the link to people I know and other official arts and educational platforms is helping to spread the books. I have actually started sending the link and people are reading them.
What do you usually read? Which language do you prefer to read in?
Yes I do read quite a lot. A good story is what prompts my language of preference. I do read in Chinyanja and English as well as other Zambian languages that I have quite a considerable amount of knowledge.
A glimpse of the stories Agnes is translating to Chinyanja on StoryWeaver. You can read these stories here.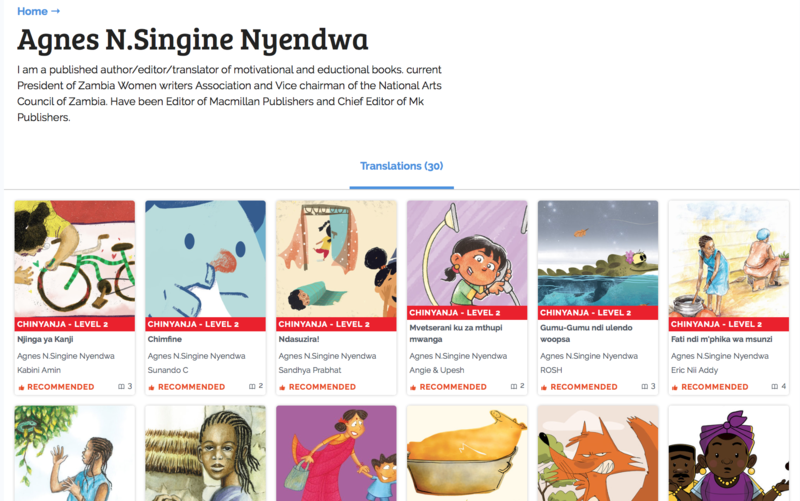 Thank you Agnes! May your tribe increase!
Write in to us at [email protected] if you want us to add your native language.
Be the first to comment.
---
Vineetha from the Partnerships team talks about the first StoryWeaver workshop of 2019
The best part about being in a room full of educators is the stories they always have to share. And, what makes this even better? A room full of educators in a workshop on, yes, stories.
This January, we hosted the first StoryWeaver workshop of 2019 at the Pratham Books office in Bangalore - a day full of classroom stories, sharing, and smiles. Workshops are a great opportunity for us to interact with educators from across organisations who can help take the magic of stories to more children and classrooms.
This workshop had participants from a range of organisations - from curriculum designers to CSR professionals to project coordinators to teachers, both young and experienced. What they all shared was their love for books, their belief in the power of stories as resources in classrooms, and an excitement to take the learnings from the workshop back to the children they work with. We had participants from Parikrma foundation (who run an end-to-end program where children receive education right from kindergarten to college), Orchids school, Naasih public school, BrickWork Foundation, and Youth4seva (who support schools, destitute shelters, government hospitals and other organizations in the social sector through their volunteers). As participants joined us at the brightly coloured Pratham Books conference room, the venue of our workshop, I could observe how keenly they were looking to absorb everything they could to take back to the classroom.
As we started the session with the story No Smiles Today, I couldn't stop smiling as I saw the participants enthusiastically participate in the discussions. As people who often have to don multiple hats in the classroom - teacher, mentor, guide, parent, confidante, I couldn't help but notice how deeply they were immersed in their new roles for the day - that of students. It was wonderful to see their eyes light up when they saw a story they liked, their animated discussions when they had something to share, and the smiles on their faces as they spoke about their students and classrooms.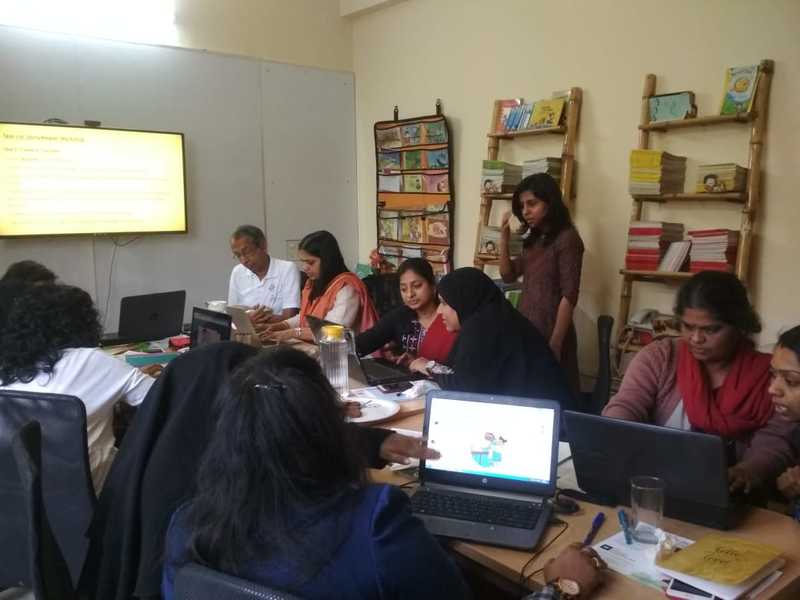 In the next session, we began exploring how the content on StoryWeaver could best be used in the classrooms to improve learning, increase engagement, and create joyful learning spaces. Through my journey as a teacher, I had often found myself underwhelmed and overwhelmed at the same time - underwhelmed by the lack of contextual reading material for my students, and overwhelmed by the work there was to be done to bridge that gap.
Even on StoryWeaver, I could see how a new user could be overwhelmed at the prospect of browsing through over 11,000+ stories. Through our workshops, we're trying to understand what exactly teachers are looking for and to make that process faster and easier. Many of our features such as Lists - a section on StoryWeaver which has curated sets of stories, categories, and themes such as Lifeskills, Humour, and more, have come about as a result of our interaction with the educator community. Another challenge that most teachers face is handling the different reading proficiency levels in the same classroom. One of the participants from Parikrama shared how her guiding principle through 11 years of teaching has always been to not leave a single child behind in her classroom and to ensure that she does whatever it takes to cater to every child's unique needs. Participants agreed that the Re-level feature on StoryWeaver is a great way to differentiate instruction in the classroom using different versions of the same story, so children at the same cognitive level but different reading ability levels are still able to enjoy the same story.
As we explored the different categories and themes on StoryWeaver, it was heartwarming to see how educators were looking for resources to raise more sensitive children and create inclusive learning spaces. One of our participants shared how fun stories like the GIF story, Gappu Can't Dance, can be used to discuss difficult topics like bullying, and also to touch upon diversity and acceptance in the classroom and beyond. Another participant shared how stories like Angry Akku could help integrate aspects of Social Emotional Learning into the curriculum.
Another aspect that really shone through was how participants come up with cross-disciplinary use cases for the same stories. So, for example, the story, When Will Amma Be Back, could be used to integrate concepts as diverse as reading time, numbers, and even grammar concepts like verbs. Participants working with young children remarked how the Readalong feature could be a great way to build reading fluency while also teaching more advanced concepts like punctuation, intonation, and reading with expression.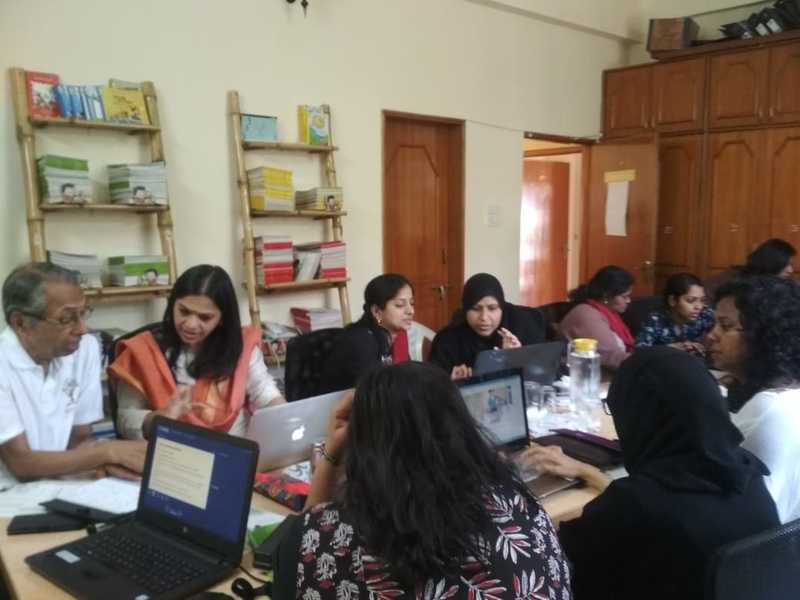 Once the participants began working on their own stories, the space was buzzing with ideas, suggestions, and questions. As they created their own stories and translated existing ones, they debated the choice of words and their reasons for why a certain word should or should not be used. For us at StoryWeaver, these sessions are enormously helpful as the educator lens has been critical to developing and guiding some of the most popular StoryWeaver features. By the end of this session, as participants shared their stories and saw their published stories show up on 'New Arrivals', we knew this had been an afternoon well spent for all of us.
All through the day's session, I couldn't help but notice how big a role stories play in our lives. As the academic year comes to a close, we would like to thank all our wonderful participants for making these workshops an amazing learning experience for us and more importantly, for helping us take the magic of stories to children across the country.
If you are interested in hosting a similar workshop for your organisation, drop us an email on [email protected]
Be the first to comment.
---