During Pratham Books' Storyweaver's #WonderWhyWeek in celebration of National Science Week, at Edukul we conducted three story telling sessions with Rukma Sadekar. The story was from the Pratham Book 'How do aeroplanes fly?' written by Aditi Sarawagi.
Flying is a topic that excites both, the young and the old. The children loved the character of Sarla. The story session was followed by an open discussion on the different parts of an aircraft, the importance of seat belts, role of air hostesses, emergency exits, the duties of the pilot, co-pilot, and radio engineer were discussed.
Post this, the children were guided to make paper aeroplanes and fly them to see whose flew the farthest. The children tried different ways of launching the aeroplanes and observed and discussed the how and why of flying. They watched a short video showing the early attempts at inventing aeroplanes, the Wright Brothers and their aircraft. This was followed by a short video that showed how aeroplanes fly providing an audio-visual experience of what they had heard in the story. The children were fascinated with the PowerPoint presentation on the different types of aircrafts – the largest passenger aircraft, the fastest, the different types of aeroplanes as per usage such as fighter planes, cargo planes and so on. Children found the session informative and fascinating and were most excited while flying their aeroplanes!
Thank you Pratham Books' Storyweaver for the inspiration and inputs.​
Be the first to comment.
---
Saturday morning 9 am. In a narrow lane in Banaswadi, Bengaluru. A school. Vibrant, bursting with energy! Hundreds of children, chattering away in English, Hindi, Kannada, Tamil, Telugu. It's a full house. You can almost smell the excitement in the air. Akkas and Annas have come. New faces with new stories. This was the Storytelling Saturday!
One fine day in March, just before the exams started, we decided to give the tiny-tots a break and let them spend a Saturday listening to stories, thanks to volunteers from Oracle Banaglore. A school that our dear friends at Akshara Foundation do commendable work with, was the chosen destination. We gathered children from standard 4 to 8 and set the ball rolling. Our Pratham Books colleague Shruthi, opened the session by introducing the volunteers, the session and playing a little game with the children to wake them up completely! Once the entire hall was bubbling with excitement, volunteers from Oracle started with Gayathri Tirthapura and Kabini Amin's 'Dum Dum-a-Dum Biryani' - story about a sibling team, their love for cooking and the power of Maths! The children listened in rapt attention, joining in every now and then to do mental calculations as Basha and Sainabi went about measuring the ingredients.
Once the story finished, we slipped into the activity mode with children dividing themselves in groups and playing a game based on maths and numbers. This was followed up with another lovely tale, 'Up World, Down World' by Padmaparna Ghosh and Sunaina Coelho which took children through the canopy forests and introduced them to its various inhabitants. The session ended with a prize distribution for the winners in the activities and lot of cookies going around.
Pranjala P, one of the Oracle Volunteers had this to say about the session-
"Walking into a land of fantasy is always an exciting experience. When you have a room full of enthusiastic kids with you, it is even more fascinating. Such was my experience as I got the opportunity to be a part of the storytelling initiative at the Government Kannada Higher Primary School. One can never match the children's level of enthusiasm. As all the volunteers from Oracle, introduced themselves to these adorable children, they were more than happy to greet us and often paid us a compliment with 'Nice name!'.
As Bhanu started with our first story, 'Dum Dum-a-Dum Biryani', and Pramodh helped with the translations to Kannada, children got into the mood and we were all transported into the world of Basha and Sainabi as they cooked the world's best Biryani. I know I was drooling with the details of the Biryani! Once the story was done, we engaged the kids with mathematical activities related to the story. They were all divided into groups and each of us took on responsibility for one group. Of course, we had all the support from the teachers & staff of the school.
Manini took over the next story, 'Up World, Down World', and the children seemed engrossed in the story and the vivid pictures of the little girl, Fatima and her animal friends.
The children were playful and naughty and adorable throughout. There was no hint of inhibitions as they surrounded us, asked questions & shook hands. The cookies and the toffees were a hit with them. Their joyous spirit was beautifully captured by Pradeep.
I would like to thank all the volunteers who came with family or by themselves and made the event a success. Vivek & Pradeep came with their families, Manini brought her mom along, Bhanu's son was present, Pramodh and Shashank, Mohammed Saleemuddin, Prathik and Devey came too. I know I speak on behalf of all of us, when I say that we had the most wonderful time and I can't express enough gratitude to Payoshni and her team from Pratham Books, for giving us this opportunity. Finally, we walked away with happiness and memories of those million dollar smiles filling our hearts & brightening up our day!"
By the time the session ended, the sun was beating down on us with all its might but everyone in the school had a smile on their face, a smile that expressed a day well spent! We thank Oracle volunteers for their time and enthusiasm and the Akshara Foundation and Government Kannada Tamil Higher Primary School for opening up their classrooms for the session.
Click here to see more pictures from the session!
Be the first to comment.
---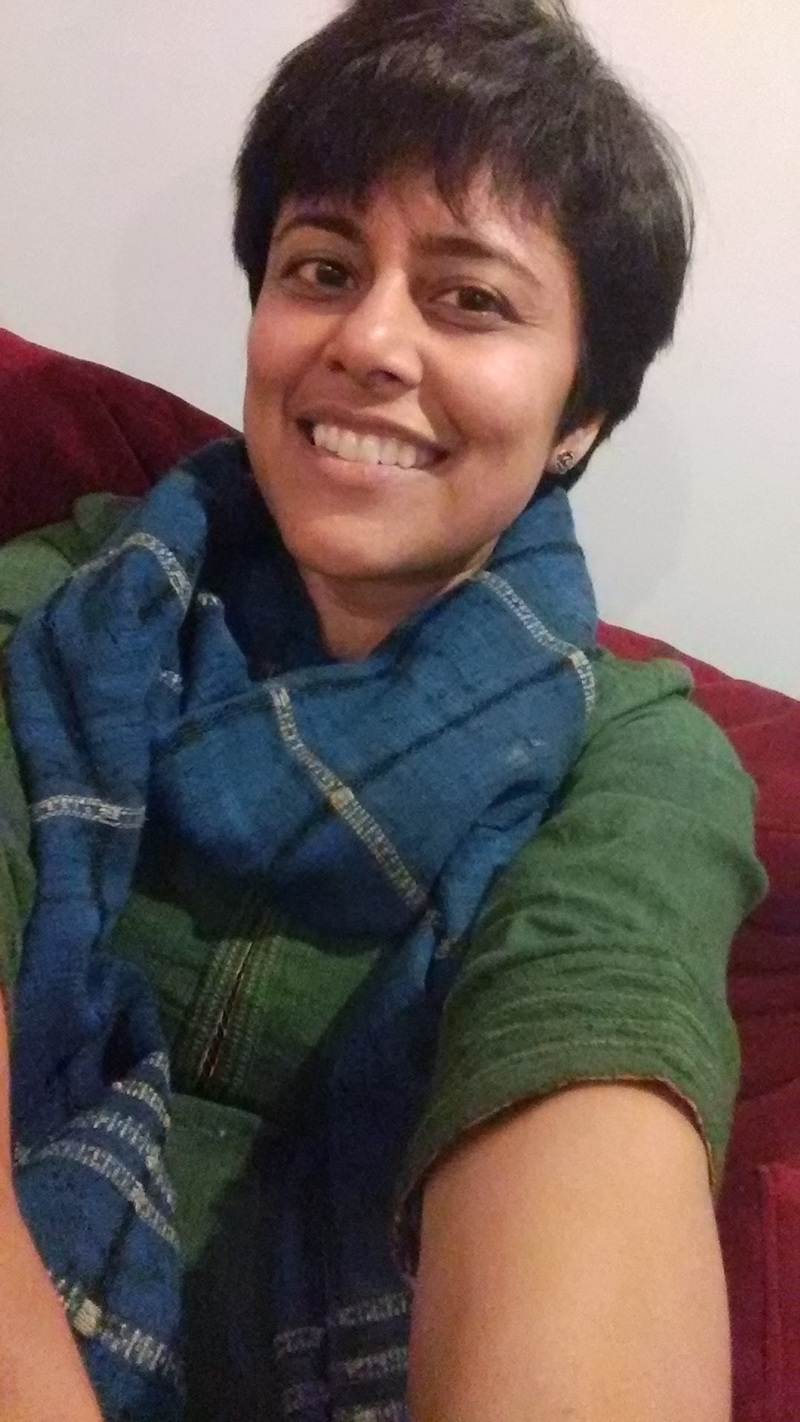 Roopa Pai is a computer engineer who always knew she was going to write for children. She is the author of Taranauts, India's first fantasy-adventure series for children in English,and several others, including some for Pratham Books. Her latest bestseller is 'The Gita For Children'.
This is why I love my job. Every so often, a project comes along that holds out the tempting prospect of a never-before challenge. I take such projects on with (an admittedly nervous) alacrity, because a challenge helps to keeps things fresh - it forces one to shift gears, to look at things through someone else's eyes, to tap into hitherto unexplored veins of creativity. And when it has been met to the best of one's ability, a challenge leaves one with a sense of accomplishment, of life having been enriched in some small way.
It was precisely such a challenge that Pratham Books' Storyweaver initiative dropped into my lap a few months ago. We want to create wonderful new stories, they said, and we want to create them quick. We want to hear new voices, on a myriad subjects. We want to help children discover disparate worlds - math, the environment, artificial intelligence, good values - through stories that are fun, engaging, and lushly illustrated. And we want to share them all, translated into a dozen different languages, with the world.
And once it is all online, they said, their eyes shining, anyone, anywhere in the world will be able to read them, for free! What's more, anyone, anywhere, can download them, print them, distribute them, translate them into any language in the world, use pictures from different books to weave new stories, or weave together different story threads to spin out brand new tales. Wasn't it all terribly exciting? And would I please be part of it?
It most certainly was, I said. And of course I would!
And that's how I landed my first job as editor. 'Guest editor', more correctly, with the responsibility of finding new children's writers, and generating, through them, four stories involving maths. The stories could be fiction or non-fiction, but they would have to deal with mathematical themes. As a sop to a first-time editor, they graciously allowed that I could write one of the stories myself.
I tossed ideas around in my head - what themes existed in primary-school level maths? Numbers, distances, patterns, measurements, arithmetic... What stories could be woven around them? The Storyweaver team and I went back and forth for weeks, until we came up with a list of ideas that we all agreed held promise. Then I went out to look for my crack team of debutante writers.
I didn't have to look far. Over the past couple of decades, I have had the pleasure of interacting and working with a number of talented, accomplished people who also work with children, but not necessarily as writers. When I had sliced and diced that contacts list to find people with backgrounds in science and / or math, AND people who lived in Bangalore (this for no other reason than that editorial meetings could then involve lots of laughing and chai-drinking), three names emerged. Fortunately for me, they all agreed instantly to be collaborators on an adventure that was new for all of us.
And who were these three people?
There was Gayathri Tirthapura, who trained as an engineer at REC (now NIT) Surathkal, before going off to the US for a double masters (Masters in Science from Stanford, Masters in Education from Harvard) and 10 years in the telecom industry. Since she returned a few years ago, Gayathri has run Kutoohala, a children's activity centre, library and bookstore where she puts all her theories on what makes for a fun, enriching education into practice.
There was Sukanya Sinha, a PhD in Physics from the University of Maryland, who has held research positions in several scientific institutes not just in India but elsewhere and is now a Visiting Professor at the Indian Statistical Institute. But Sukanya is also as much at home with demystifying complex scientific concepts to children - she is part of the founding team of Curiouscity, an organisation that promotes creativity in science among young people.
And there was Shonali Chandy Chinniah, a marine biologist from Cornell who has taught undergrad courses at both American and Indian universities, apart from conducting educational tours at the New Jersey Aquarium and working with NGOs in India to promote science education among the less privileged. Shonali is also part of the founding team of Curiouscity.
Over the course of the next few weeks, at several delightful and wonderfully stimulating editorial meetings (given the formidable - and creative - brainpower I was dealing with, it could not have been any other way), we picked different ideas, toyed with them, wondered if they would work better as fiction or non-fiction, and drank plenty of chai. Then everyone went off to write their stories.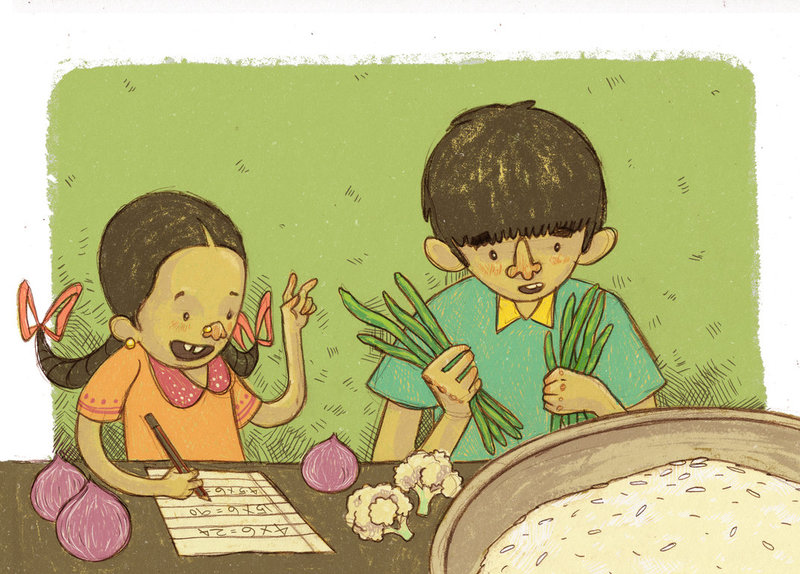 The results of that most enriching experience is - or will soon be - up there on Storyweaver for all of you to enjoy. Already up are Sukanya's awe-inspiring non-fiction story on distances - 'How Far is Far?', and Gayathri's heartwarming fiction story on math in cooking - 'Dum Dum-A-Dum Biryani'. Coming up soon are Shonali's enjoyable non-fiction story - The Fabulous Fibonaccis - on the endlessly fascinating number sequence called the Fibonacci (or Hemachandra) sequence, and my own fiction story based on history and arithmetic - How Old Is Muttajji?
How would I rate my editorial challenge on a scale of 1 to 10? I would go off the scale - it's all allowed in maths - and say 0. Because, like that old song goes, no matter how big the challenge, you can always get by with a little help from your friends.
Be the first to comment.
---